The Inspired Vengeance of Mythic Icelandic Women
Kassandra Montag on Learning to Write Blunt, Unabashed Characters
In college, I occasionally wrote short stories. More often than not, the stories revolved around a woman's reaction to a man's power in her life. One short story detailed a woman's emotional response while posing as a nude model for an artist; another described the internal upheaval a wife experienced after her husband committed suicide. The woman rarely spoke or acted but seemed to spend a lot of time walking around thinking about things other people did. In one particularly cliché and overwrought scene a wife cuts an onion, peeling its layers away as she thinks about her marriage.
Writing that captures interiority in all its complexity, inherent conflict, and depth is thought-provoking and necessary. But my writing stayed within this realm because I hadn't yet stretched beyond it. I hadn't learned the skills to leave interiority and return to it, purposefully, with enough skill to illuminate the mind. My characters stayed trapped in their own minds because to assert themselves physically and vocally felt foreign to me.
I grew up in a small town in the Midwest, my weeks punctuated with events and Bible studies at my church. I'd memorized vast portions of the Bible. When I spoke, sometimes I thought of the verse that commands women to be silent in churches. Voice is power that others may not want you to exercise and I didn't realize to what extent I struggled reclaiming that power even in my writing. Instead, I valued language almost as much as I feared speaking my mind.
Ancient literature was not foreign to me. And yet, when I read the Icelandic sagas for the first time in class called "Women and Revenge in Western Literature," something released in me; a kind of unfurling like a ball of twine that rolls from a table, leaving a trail in its wake.
Two female characters, both named Gudrun, made the strongest impression on me. Their last names combine their father's first name with the Icelandic word for daughter: Osvifrsdottir and Gjukadottir. These women didn't live outside patriarchy, and yet, they were fierce and assertive in ways I hadn't seen before.
The story of Gudrun Osvifrsdottir is found in the Saga of the People of Laxardal. This saga traces Gudrun's four marriages and the treachery, betrayals and murders that result from them. She divorces her first husband when he hits her and takes half his estate with her. Her second husband dies in a drowning. Deception and ill-timing convince her to marry her third husband instead of a man she prefers, who later returns to Iceland more handsome and rich than ever. Filled with greed and jealous spite, she goads her third husband into killing the man she intended to marry. His kinsmen then seek revenge by killing her third husband. Near the end of the saga, Gudrun's son asks her which of her four husbands she favored. She answers: "Him I treated worst was the one I loved the best," meaning the one who wasn't actually her husband, but whom she desired.
It was refreshing to see these women own their desire and act on it, even if that included murder.
Her voice, stoic and firm, gives me an image of Gudrun as someone who didn't waver. Her speech isn't filled with apologies and self-recrimination. Instead, she engaged in the pagan code of vigilante justice through the verbal action of whetting: inciting men into violence on her behalf.
Gudrun Gjukadottir differs in that she takes vengeance into her own hands. In Gudrun's first marriage, she engages in a jealous rivalry with a Valkyrie, which results in her husband's death. But it's in the Saga of the Volsungs and the Prose Edda when Gudrun's aptitude for violence reaches a new pitch. In this saga, Gudrun is married to a king who kills her brothers for their gold. Gudrun proceeds to kill her own two sons and feeds them to her husband. Then she tells him what she's done, murders him, and burns down his hall.
Her actions are so atrocious they can be difficult to stomach. Because the prose in the sagas is economical and spare, it doesn't investigate Gudrun's attitude about her own behavior or indulge in long descriptions of her sense of guilt. Instead of modern literary subjectivity, there is simply the presentation of events. But it is this very focus on character, action, behavior, and voice, rather than interiority, that helped me mature as a writer.
I spent years growing up in the conservative purity culture of the 90s, which told me I could tempt a man to sin by walking past him. I'd had my fill of meekness; now I wanted something else. So it was refreshing to see these women own their desire and act on it, even if that included murder. They were agents of change in the world around them, not naval-gazing victims of their own guilt and fear.
While these women behave in reprehensible ways and never achieve any kind of moral stability in their lives, they embodied something I didn't see in my own writing: they were human. Which meant, they didn't just think and wait, they acted and spoke. They were more apt to throttle others than their own passions, and while that might be terrible, at least it was interesting. More interesting than my wife who could at most peel an onion in distracted silence.
The change in my own writing began at the level of voice. I wrote poetry after first reading the sagas and the Poetic Edda, and I noticed my speakers' voices had thinned and hardened, like a blade. They became incisive, bold, and clear, as if they were emerging from the mist of their own restraint.
Over a decade later, I still read the sagas. My favorite edition is The Sagas of the Icelanders with a brilliant introduction by Jane Smiley. I also love Gunnar's Daughter, a modern novel inspired by the sagas and written by Nobel Prize winner, Sigrid Undset. Today I read them not so much to mine them for ideas, as to take comfort in their strange universality. People will be people, and while we may judge them, our human nature cannot be confined by that judgment. Instead, it continues rolling, like a wave without a shore. I read the sagas to soak in their world, to be held aloft in a different space, one that is filled with brutal action and its never-ending consequences.
When I wrote my debut novel, After the Flood, my main character reminded me in some ways of these two Gudruns. Like them, my protagonist experiences violation and betrayal, and the desire for vengeance brews under the surface of her other motivations, a steady fire she can neither resist nor extinguish. While my protagonist suffers from more of a moral conscience, she matches the two Gudruns in terms of her willingness to act on the world as much as it acts on her. With each blow the world gives her, she returns it in speed and strength, a tiny hurricane unto herself, blistering and timeless.
____________________________________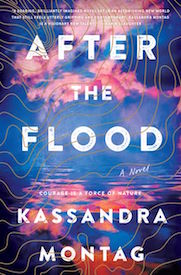 After the Flood by Kassandra Montag is now available from William Morrow. Used with permission of the publisher. Copyright © by Kassandra Montag.
---