The Humor—and Grief—of the Modern-Day "Guncle"
Steven Rowley Digs Into a Contemporary Cultural Phenomenon
I've had a long fascination with Auntie Mame, the 1955 Patrick Dennis novel that was quickly adapted for the stage with Rosalind Russell as Mame, then for a film also starring Russell, then as the Broadway musical Mame showcasing Angela Landsbury, then finally as a ghastly movie musical featuring a miscast Lucille Ball. As a sensitive young boy, I longed for a relative like Mame. I thought, what fun it would be to be tag along on madcap adventures and bear witness to a woman thumbing her nose at the conventionality of her time. (For Mame, that was Eisenhower's post-war America.) I can't be the only one—Mame made Dennis (born Edward Tanner III) a millionaire, and he enjoyed unprecedented success, for a time having three books on the New York Times bestseller list at once. Auntie Mame made Dennis quite wealthy, and turned high camp mainstream for American readers.
Dennis lived a complicated and, for the most part, closeted existence which saw him marry and have children while living a double life; only later would he become very active in the Greenwich Village gay scene before his life was tragically cut short by pancreatic cancer at the age of fifty-five. Mame is often described as being inspired by his own aunt Marion Tanner, a characterization that Dennis denied. And perhaps she was, in part; writers are loathe to give away all their secrets. To many, including myself, it seems clear Mame's outsized personality, exuberance and general joie-de-vivre bloomed from the stifled parts of himself that were dying to break free. In short, Mame, like a number of other fabulous female characters created by closeted male writers of that era, was a stand-in for a gay man.
The light comedic novel fell out of fashion in the latter half of the 20th century, literature perhaps taking on a heft that was never intended (at least when compared to movies and TV). But writers from Jane Austen to Edith Wharton to Evelyn Waugh to Tom Wolfe have long been fascinated by social mores, acting as reporters as much as critics. I had a desire not to simply resurrect Mame, but to reinvent her for our time, imagining her perhaps as a him. Palm Springs, where I live, sprang up in the 1950s and has a timeless mid-century charm, the perfect echo of sorts to a time when Mame stood out.
But times have decidedly changed, and so have the lives of children. I have no kids of my own, but like any good cultural critic (or armchair quarterback), I had plenty I wanted to say on the topic of raising them. The ridiculousness of gendered clothing and toys, and the interests forced on both girls and boys. Why people have children if they only want them to grow up to be carbon copies of themselves. (Are any of us so great that what the world is missing is more of us?) How being a self-documenting generation can be harmful, when everyone is performing everything all the time for everyone and there's no reason for it. Unless you can learn to recite Little Edie's monologue from Gray Gardens. That's a performance. Even simple life lessons. Bottomless mimosas are not the same as pantsless mimosas—not knowing the difference could get you bounced from restaurants.
In a bit of fortuitous timing, gay uncles—now, guncles, if you will—are having a cultural moment. (I myself am the guncle to five.) Why? It's anyone's best guess. Perhaps gay men are more likely to have left their hometowns for cities, so when they fly in to visit, they do so with an air of urban sheen. They make an impression, then leave before overstaying their welcome. Without children of their own, guncles are able to dote fully on their niblings. Gay men often have disposable income and the tendency to send lavish gifts. They're familiar enough with a familial resemblance, but are also just mysterious enough to draw curiosity. And many, not knowing how to talk to kids exactly, treat their nieces and nephews like tiny adults, something many children seem to respond to.
Or maybe it's just a clever bit of branding, a new family member to sell merchandise around. I've seen more than a few "World's Best Guncle" mugs and "My guncle loves me" onesies. There's even a Guncle's Day, celebrated on the second Sunday in August. (If you want to send me a gift, I'll tell you where I'm registered.) With a quick rereading of Auntie Mame and back-to-back viewings of her films, the idea for my new novel The Guncle was taking shape.
In the summer of 2018 as I sat down to write, two things happened. My brother and his family, including his two young boys, came to visit me for a week at my home in Palm Springs. I had quite a week planned for them, their first to the area, showcasing the best of the Coachella Valley. Hiking in the hills to see mountain goats, visiting the zoo, taking the rotating, glass tram up to an elevation where there snow still capped the mountains, inflating every pool float in my collection until you could barely see blue from the swimming pool's surface.
But after only a day, my brother, a corporate attorney and partner in his law firm, was called to appear in court in Boston on behalf of his clients. And so he flew back across the country, leaving me with his kids for our planned weeklong adventure in Palm Springs. Their dad works long hours, and my nephews were looking forward to a week with him as much as a week with their uncle in his pool. Thank goodness I had their mother to help me navigate their disappointment, but it gave me a small taste of what it took to distract them from dismay, and it involved, in part, conjuring my inner Mame and being amusingly larger than life.
Even with its deep exploration of grief, I was determined to make my book funny as all hell.
A few weeks later, one of my closest college friends lost her fight with a particularly aggressive form of breast cancer, leaving behind a six-year-old son. The loss was devastating, made even more so by the thought that as he grew, memories of his mother would dim. As adults, how much do we remember of our lives before we were six? In the absence of a Mame-like relative to take up the charge, our college friend group banded together and made a promise: we would make sure as he grew he would know how remarkable his mother was and how much she fiercely loved him.
My light comic novel was no longer so light; perhaps that was never its destiny. It became a book about grieving. Mame's nephew came to her as an orphan, a part of the story that got short shrift. It was important to me to not to gloss over the loss of a parent. In doing so, I tapped into some latent grief of my own. There were childhood experiences that were not available to me, or that I at least knew instinctually to hide. First crushes and the freedom to act on them without the fear of violence. Activities other than sports. The freedom of being myself. I learned at a young age to hide how I might carry myself, to firm up a weak arm or find a more confident gait. Likewise, I was robbed of a guncle myself, role models who could show me that there was a community waiting to embrace me; the generation of gay men just above me was dying at an terrifying rate.
Today there are many wonderful LGBTQ+ families raising remarkable kids and I am in awe of them all. But there are just as many opposite forces trying to ban gay adoption, overturn marriage equality, or devalue the lived experience of queer people. To comment on the social issues of our time would be to tackle gender and discrimination and toxic masculinity, issues not inherently humorous. And, since Dennis wrote his novel, the world has changed in remarkable ways with increased sensitivity for others. This is a good thing. But it increases the level of difficulty in writing a character that's both bawdy and irreverent. Still, even with its deep exploration of grief, I was determined to make my book funny as all hell.
I will always be grateful to Auntie Mame in all her incarnations. And in writing The Guncle I certainly don't want to take anything away from her, or all the remarkable women who are icons for closeted gay boys. Even a miscast Lucille Ball. But I'm so grateful that in 2021 we can openly tell queer stories and I hope that Guncle Patrick from my novel (named in honor of Patrick Dennis) will stand alongside her. Or perhaps they will make fabulous bookends, with nearly seven decades of progress between them.
__________________________________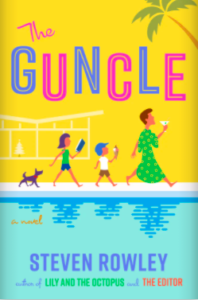 The Guncle by Steven Rowley is available via G.P. Putnam's Sons.
---