Marisa Silver Revisits the Golden Dawn of Girlhood
The Author of The Mysteries in Conversation with Jane Ciabattari
In a series of imaginative and insightful novels, Marisa Silver has explored the impact of collateral damage, in life as well as in war, and illuminated the lives of characters with the courage to face their troubles. In Mary Coin, she fictionalized the migrant mother in the iconic Dorothea Lange photograph. ("Silver unleashes a kaleidoscope of images, then slows down long enough for us to absorb the emotional resonance of each," I wrote when I named it to my BBC Culture Best of 2013 list. "Most surprising is Mary Coin's late-life recognition of what the portrait—'frozen into an indelible past like an insult you can never take back'—means to the world outside her own.")
Silver delved into fairytale-like transformations of the female body in Little Nothing (2016) and followed the journey of 12-year-old Ares and his younger brother, who live on the dangerous edge of the Salton Sea, in The God of War (2008).
Her new novel, The Mysteries, delineates the effect of an indelible tragedy on several families with a relatively realistic tone.
"I never begin by thinking 'I want to write a piece of realism' or 'I want to write something that bends toward the surreal,'" she explains.
"I have always been leery of the sorts of boxes we like to put people into." She is "this" kind of writer.
"I'm not really interested in types. I'm interested in each particular story and how best to tell it. Maybe to my detriment? I don't know. When I told my initial idea for Little Nothing to someone in publishing, they looked at me with shock. They asked me why would I turn to something wildly improbable and surreal and 'not like me' after I'd had a good publishing experience with the more realistic novel, Mary Coin. And I thought: the last thing I want to do in my writing life is repeat myself. My publishing friend was right: Little Nothing did not fare as well in the marketplace as Mary Coin. But writing that novel made me feel like I'd discovered a whole other part of my imagination. It was a liberation."
Our conversation about her new novel took place in the same time zone, she in Los Angeles, I in Sonoma County.
*
Jane Ciabattari: I'm wondering how you've been managing during the tumultuous year we've had? Where have you been living? Have you been able to write? What have you been doing to maintain some sense of normalcy?
Marisa Silver: I've been in Los Angeles and, like everyone, I've been riding the waves of everything that's been coming at us. I'm a person who relies on a certain degree of emotional equilibrium in order to have the mental space to create degrees of emotional unruliness on the page. But this year, equanimity is not the name of the game, is it? I was in a pretty hyper-reactive state for many months as I responded to the daily barrage of pandemic news, the horrific police shootings, the dangers of late-stage Trump, and the anxiety about the election, all of which made writing a challenge.
But at a certain point, I reclaimed some focus and got back into a steady rhythm of work, which created its own kind of solace. Normalcy is an interesting word, and I've thought a lot about what it suggests, and what it means to "go back." I think we all want to go back to patterns we relied on and enjoyed because they were known, but there is also a way in which maybe we should not be looking to recreate a normal that was predicated on intolerance and take-no-prisoners individualism that so much of the upheaval has exposed.
JC: What inspired your new novel, The Mysteries?
MS: My parents are both gone now, and I think a lot about how very little, in the end, I know about their early lives. I think this is true for many people. Parents pass on certain stories but not others—they can't possibly download their entire experience to their kids, nor should they. I think about what we are trying to communicate about ourselves or the events that formed us through the anecdotes we do tell our kids. Why does one memory feel important enough, even urgent, to relate?
Of the handful of stories my father told me about his childhood, one included an event similar to the one that forms the tragedy at the center of my novel, an event he witnessed as a young boy. He described what happened, but told me nothing about how he felt, or how his mother, who was partially responsible, felt. He did not tell me anything about the aftermath. I understood—not then, but later—that what happened that day was fundamentally important to him because he chose to let me know about it. Writing a novel inspired by what he told me was a way for me to find out why.
JC: What made you choose to center your new novel around Miggy and Ellen, two best friends who are seven years old?
MS: The moment I began writing, the voice of Miggy was in my ear. It was like a piece of music. I could hear her, not just what she might say, but how she would say it, what her attitude was. I saw her stringy hair and scabby knees and her fierce desire to be heard and her sense of injustice that she can't get what she wants. I grabbed her and then just held on. Miggy has a kind of kinetic fury and disinhibition that expresses to me something about childhood, more specifically about girlhood, that felt real and raw, even brutal. She felt full to bursting and I felt the same way writing her. As for Ellen—later in the novel, Miggy's father reflects on how his daughter is the kind of charismatic, bright, and sometimes dangerous flame that attracts other kids. Ellen is that kid.
JC: Miggy is a child who is impulsive, rebellious, creative. Her friend Ellen is timid, follows the rules, tends to think before acting. Their personality differences are strong; what bonds them so strongly?
MS: What interests me in the friendship is not simply the "opposites attract" quality of it, but the way in which each girl sees in the other a way of being that feels out of reach. As much as Miggy seems to dominate Ellen, and introduces her to ever more dangerous play, she is also drawn toward Ellen's relative calm. A child as reactive and explosive as Miggy—well, it's sometimes frightening to be that child. She craves the containment Ellen seems to possess. She's jealous of it. Ellen is attracted to Miggy's willingness to walk the edge, but she is also a girl who is suffering with a remote and depressed mother and a house that ripples with a lot of unspoken tension. So as much as Miggy might frighten Ellen, there is something about the ready emotions, the noise, the life of Miggy's home that is appealing to Ellen and that allows her to do and say things she is not allowed to do or say in her home.
JC: What's the most difficult thing about writing from the perspective of a child? Do you have strong memories from childhood? Which books do you think do this well?
MS: The first challenge was deciding on a narrative stance, the distance I wanted to span between the narrative voice and Miggy's consciousness. I wanted to be right there with Miggy, experiencing what she does as she does it. Inasmuch as the readers of the novel are adults, who will have perspective and the wider view, I wanted to find a way to bring them so close to Miggy that her recognitions become theirs.
The moment I began writing, the voice of Miggy was in my ear. It was like a piece of music.
It seemed to me, then, that the book hinged on immediacy, but I also wanted to be able to use language that a seven-year-old would not use in describing certain moments. So I had to find a way to do that without sacrificing our sense of being inside of Miggy's perspective. A lot of books about children are written retrospectively, which allows for the adult perspective. There are ways in which that retrospect can soften a child's experience, or frame it with too much backward-looking knowledge. I needed to remove judgment and sentimentality from the narrative. Miggy just is. She is not bad or good or moral or immoral, easy or difficult. She is just herself, unfiltered.
I have incredibly strong memories of my childhood, so strong that I sometimes wonder if they are all real. I've often asked my sisters if they remember certain events which I can see almost photographically in my mind and they don't. So, who knows? And maybe it doesn't matter. I remember visceral things—light, weather, smells. A sense of solitude and loneliness. Fear. I was a watchful kid and did not always feel a part of a group. But that's not such a bad position to be in if you want to collect a lot of information that you can put to use one day when you write a novel about childhood.
There are so many wonderful novels that capture childhood in brilliant and different ways. A few of the books I read or re-read while working on this novel were: Justin Torres' We The Animals, Akira Yoshimura's Shipwrecks, The Bluest Eye by Toni Morrison, What Maisie Knew by Henry James, The Butcher Boy by Patrick McCabe, Black Swan Green by David Mitchell.
JC: Why set your story in St. Louis in 1973? How did you get the details right about that place in that era?
MS: I guess the simplest answer to the choice of locale is that I spent my early childhood years in the Midwest, and so there were very elemental feelings that I associated with that part of the country that I also associate with childhood. Of course, the Midwest is not a monolith, and no two places in it are alike, but I just instinctively "saw" my story in a part of the country where I was seven years old. That was Cleveland, but I actually have less of an emotional connection to that city than I do to St. Louis, which is where my husband is from and where we have spent a lot of time over the decades.
It's a city landscape that fascinates me geographically, architecturally, and politically. I'm not a native, but I have been in the city often enough to have associative feelings about light, weather, distance, seasons. There are feeling states that I associate with being there. I did research to understand a lot, but I drew on those feeling states to write about how my characters related to the place where they live.
As years go, 1973 interests me a lot. The Vietnam War was slowly and dishonorably winding down, Watergate was filling the airwaves, there was a recession. The Women's Movement was in full swing. I talked earlier in this conversation about how reactive I've felt this last year. I think there was a lot going on in 1973 that was similarly destabilizing. A child, witnessing the adults responding to enormous change would have to make her own sense of things with only drips and drabs of information. The Mysteries is a novel of a young girl's awakening to a complicated, morally unpredictable world where the question of what is fair and not fair has nothing to do with what happens to people. The worldly events of the year offered a good descant to the more intimate events that take place in the novel.
JC: You create a portrait of "normal life" for these children and their families, and then midway through you disrupt it with a horrific accident. Was this your intent from the beginning of the writing process?
MS: Always. It was, in my mind, always a novel about a collective "becoming." And I needed to know where my characters were coming from and then where they were headed to.
JC: Each of the parents in this shared situation has a distinct perspective. How were you able to create that set of four complicated characters?
The Mysteries is a novel of a young girl's awakening to a complicated, morally unpredictable world.
MS: You've hit on what was, in a way, the hardest thing about writing this book. Although there is a central and dramatic event, the story is not heavily plotted and relies, instead, on a kind of granular exploration of character under pressure. And so, I had to spend just, well, a lot of time, digging deeper and deeper into these characters and then figuring out the kinds of actions and behaviors which would not only express their complexity but also chart the small but meaningful shifts they undergo as a result of what happens in the story.
Sometimes, when I write, I go and sit in a chair I don't normally sit in. I see a familiar space from this new perspective. It's such a tiny, seemingly meaningless adjustment. At yet, it's huge, even unsettling, that altered view. That's what goes on for the characters in the novel. A small adjustment, a widened and more resonant view.
JC: You give us the tragedy from each parent's point of view. And how each marriage was changed forever by the tragedy at the core of this narrative. Did you always intend this layered approach? Or did you try other narrative approaches before settling on this one?
MS: As I said, Miggy came to me as a character almost immediately, and it was somewhat appealing just to stick with her, to write, Charlie Brown style, about her and Ellen and let the adults be indistinct chatter in the background. But Miggy doesn't exist outside of the adults around her. They are the wall she hits her head against over and over as she tries to figure herself out. It felt necessary to tell those adult stories too. In What Maisie Knew, Maisie's consciousness develops and individuates in reaction to the adult lives around her and her growing awareness about the ways in which she's being manipulated. It would be impossible to see Maisie's dawning self-consciousness without knowing those adults on an intimate level. I thought about that a lot when I wrote my novel.
JC: What are you working on next?
MS: I'm writing a novel about music. As Martin Mull tells us, "Writing about music is like dancing about architecture." So, we'll see what transpires.
__________________________________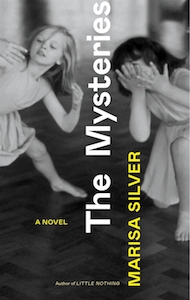 The Mysteries is available from Bloomsbury Publishing. Copyright © 2021 by Marisa Silver.
---