The Hollow Mythology of Ronald Reagan
No One Really Cared When Dutch Asked Gorbachev to 'Tear Down This Wall'
On June 12, 1987, US president Ronald Reagan was scheduled to stop in West Berlin during the celebration of city's 750th anniversary.
The history behind the date of the anniversary was highly dubious. It was ostensibly tied to the first appearance of the name of the city in court papers, in 1237, as part of a legal dispute between the church and a member of the local gentry over tithing. But as one underground newsletter in East Berlin remarked, 1987 was actually the 50th anniversary of a Nazi celebration of the city's 700th anniversary. Prior to a 1937 celebration cooked up by the Nazi propaganda machine, the year 1237 had never been regarded as significant, since the known existence of settlements on the site preceded that date by centuries. And yet for some reason the date was resurrected in the 1980s, and once it was, the celebration was taken up—inevitably—on both sides of the Wall, since neither East Berlin nor West Berlin was going to cede any aura of historical legitimacy to the other side.
It's easy to forget now—at a time when we wring our hands over bearded men in faraway deserts conspiring on such doomsday projects as crockpot bombs and knife attacks—that during the Cold War the world lived in the constant shadow of a genuine existential threat: total nuclear annihilation. And because of Ronald Reagan's faux cowboy swagger, the chance of nuclear Armageddon seemed more tangible than at any time since the Cuban missile crisis.
"My fellow Americans," Reagan had joked into the microphone in 1984 prior to one of his weekly radio broadcasts, "I'm pleased to tell you today that I've signed legislation that will outlaw Russia forever: we begin bombing in five minutes."
It was a joke many people took for a fantasy—from a man who consistently had trouble distinguishing his fantasies from facts.
By the 1980s the possibility that humanity could be vaporized in a matter of minutes occupied a dark but prominent place not only in individual consciences but also, especially in the West, in pop culture. Not surprisingly, given the fact that their country was bristling with missiles and nukes and regarded as the likely flash point for World War III, West Germans seemed to have the most angst of this sort.
A couple of huge international pop hits by German artists brought home the point. At first blush, Alphaville's "Forever Young," for instance, seemed to be a sweet ditty about typical teen yearnings. Except for one little thing: the reason we might remain forever young was because we could all be fried in a blast of mutually assured destruction ("Are you gonna drop the bomb or not?"). Or take Nena's "99 Luftballons." One minute a couple is smooching and holding hands as they watch their balloons float into the sky; the next minute an early warning system picks up the dirigibles and triggers an all-out nuclear exchange. Then there were all the British bands with songs on the topic, many of them hits in West Germany and across Europe. Ultravox's "Dancing with Tears in my Eyes" chronicled a couple's final minutes on Earth before it goes up in flames; the Smiths' "Ask" suggested the bomb would bring us together as radioactive ash; the Police's "When the World Is Running Down, You Make the Best of What's Still Around" described life in a fallout shelter; Kate Bush's "Breathing" was narrated by a fetus with a somewhat improbable knowledge of fission reactions. There was Anne Clark's "Poem for a Nuclear Romance," the Sisters of Mercy's "Black Planet," the Cure's "A Strange Day"—the list goes on and on.
This was the bleak reality of life while Reagan held the nuclear launch codes.
West Berlin authorities were so concerned about the potential scale of anti-Reagan protests that they brought in additional police reinforcements from West Germany, putting 10,000 cops on the street in full riot gear. Municipal sources said it was the biggest security operation in the city's history.
On June 11, 1987, despite rain, tens of thousands of people took to the streets of West Berlin to protest Reagan's impending visit. Demonstrators torched cars and smashed store windows. Police fought back with tear gas and batons.
"Reagan is a murderer and a fascist!" demonstrators chanted.
Feelings for Reagan were no warmer in the East.
Kids in the East had also grown up with a genuine sense of fear that the world might actually come to an end during their lifetime. That it probably would, in fact. For some, this fueled nihilistic feelings. Toster, the singer in an East Berlin band called die Anderen, shied away from getting too deeply involved in oppositional politics because he stopped giving a shit. To Toster, the posturing, especially from Reagan, was like a pissing contest, but one the whole world was subjected to. And while Gorbachev had raised hopes a little, the future still looked dim with the tough-talking Reagan in power.
As for East Berlin's activist underground, all attention was focused on the weekend of June 27, when an anarcho-punk group known as Open Work would stage an audacious, openly oppositional conference that would attract over 6,000 participants for two days of punk rock, partying, and politics. It was planned as a shadow event during an official Lutheran church conference being held to coincide with he 750th anniversary celebrations. Open Work's anti-conference was all about activism von unten, meaning "from below," and would end up galvanizing grassroots resistance and help set the stage for the aggressive protests that would eventually snowball into massive street protests and topple the Wall two years later.
On June 12, the day following the protests in West Berlin, Reagan delivered his speech at the Brandenburg Gate, with the Berlin Wall as a backdrop. Police sealed off the entire district of Kreuzberg in order to contain protesters they feared would overwhelm the site of the speech and the modest audience assembled there.
In front of the Brandenburg Gate, a hand-picked crowd provided a made-for-American-TV audience for the lame-duck, Iran-Contra scandal-ridden president. Estimates of the crowd size varied, but even the most generous were under 50,000. (Kennedy had drawn half a million.) Many of those present had been bused in; many had connections to the Allied military communities. There was little interest in, or West German media coverage of, the speech.
The previous week, at nearly the same location as Reagan's speech, David Bowie, the Eurythmics, and Genesis had headlined open-air shows on three successive nights as part of anniversary celebrations. Each night a couple thousand East Germans had tried to approach the Brandenburg Gate from the east in order to hear the music; for Reagan, they didn't bother.
"Mr. Gorbachev," Reagan intoned, "tear down this wall."
And nobody on either side of the Berlin Wall gave a fuck.
__________________________________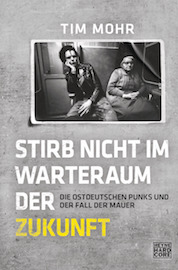 Adapted from Stirb nicht im Warteraum der Zukunft, published in March by Heyne Hardcore, an imprint of Random House Germany. Copyright 2017 by Tim Mohr.
---