The Grumpy Librarian: For Fans of Canadians and Enemies of Humor
In Which Short Fiction's Beloved Uncle is Left Out in the Cold
Caitlin Goodman, aka, The Grumpy Librarian, is here to help. The rules are simple: if you're looking for what book to read next (who isn't), just send over two books you love, and one you… don't. The Grumpy Librarian will do the math and provide you with the ideal next read. (To submit your books, email TheGrumpyLibrarian@lithub.com.)
LOVED
Jennifer Egan, A Visit from the Goon Squad · Alice Munro, Hateship, Friendship, Courtship, Loveship, Marriage
HATED
Gail Jones, A Guide to Berlin
The Grumpy Librarian can't even think about Alice Munro without becoming faintly teary. Everyone should read Munro and be dazzled; the GL is going to go reread "The Bear Came Over the Mountain" in a quiet armchair right now. A Visit from the Goon Squad is great: label-defying acrobatic fiction, darkly funny, but come on: obviously Dear Writer just should read more Munro.
On the "hates it" front: A Guide to Berlin is weightless for all of its heavy-handed tragedy. It's also weirdly dull for something that is maybe trying to be a literary thriller? So full points to Dear Writer for having excellent taste, do you also really like Reese's Miniatures Dark Chocolate Peanut Butter Cups? (Uh, maybe work on your candy titling, Reese's, that is a bad name.) They are the best cold from the fridge. Anyway, assuming you've finished all your Munro, these two favorites mean the GL can recommend Miriam Toews and be pretty much 100 percent confident that she's picked a winner. Guys, why isn't Miriam Toews more famous? She is also Canadian and also writes piercingly about women and class and love and loneliness. And Egan-ing up the recommendation, Toews's books are hilarious. In this specific circumstance, read A Complicated Kindness, which centers on a disaffected teen (like there's any other kind) in a prairie Canadian Mennonite community. And pre-portion out the Reese's, they will eventually make you sick.
RECOMMENDED
Miriam Toews, A Complicated Kindness
* * * *
LOVED
Patti Smith, M Train · Nadeem Aslam, Maps for Lost Lovers
HATED
George Saunders, Tenth of December
Dear Writer takes the rare and lonely stand against George Saunders, beloved uncle of Short Fiction. In a real readers' advisory, this would be an opportunity to find out more about the particular chemistries of taste—is it the satire DW objects to or the creepshow surrealism?—but the Grumpy Librarian doesn't have time for that. (No, really, don't send her long treatises of how a book made you feel, that's what you bore your husband with over unsatisfying bowls of whatever Blue Apron mailed you this week.)
Maybe it's Saunders's humor that's the problem? Smith's memoir ranges widely and has a more elegiac mood than Aslam's alienation poetry, but there are deep similarities in how M Train and Maps for Lost Lovers luxuriate in the visual. And neither are funny. Also not funny: Haruki Murakami's very specific memoir What I Talk About When I Talk About Running. The GL doesn't know if you run; it doesn't really matter. Murakami focuses on small moments of routine and familiar pop-cultural beats and builds a kind of prosaic poetry. The memoir avoids any of the disorienting oddness of Murakami's fiction—a wise detour for this week's petitioner—but should you want more time-traveling cats or portentous sexual temptation feel free to pick up any other Murakami title.
RECOMMENDED
Haruki Murakami, What I Talk About When I Talk About Running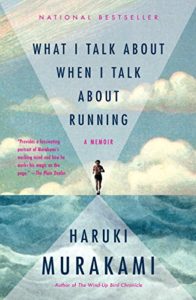 ---