The Grumpy Librarian: Books with Allegorical Animals and A Lot of Sex
Recommendations with lyricism, sentimentality, and philosophical complications
Caitlin Goodman, aka, The Grumpy Librarian, is here to help. The rules are simple: if you're looking for what book to read next (who isn't), just send over two books you love, and one you… don't. The Grumpy Librarian will do the math and provide you with the ideal next read. (To submit your books, you can email TheGrumpyLibrarian@lithub.com.)
LOVED
All the Light You Cannot See, Anthony Doerr  • The Life of Pi, Yann Martel
DID NOT LOVE
Shakespeare Saved My Life, Laura Bates
Laura Bates is doubtless a sweet and dedicated teacher working to better a dehumanizing institution, but please do not read any interviews with Bates about her "Shakespeare in Supermax" project. Hopefully the book is a little less "let's visit the zoo!" about real human beings, but the Grumpy Librarian now feels the need to donate a few dictionaries to Books Through Bars as penance. The GL can't even muster her usual ill humor to demean All the Light You Cannot See.
Ok, maybe just a little bit of ill humor: has Anthony Doerr ever met a blind person? Why wouldn't a girl who went blind in grammar school not know what dancing is? There are a lot of ways for a person to be a hero, but usually they require more of someone than "interested in snails." And just once, the GL would like to read a book about Germans in World War II where half of them weren't ahistorically virtuous anti-fascists and the other half weren't limping around psychotically in cartoon trenchcoats.
The GL liked Life of Pi though, and admits that the two books share enough similarities (lyricism, sentimentality, allegorical animals, a confusing insistence on physical description as an analogue for moral fitness) to permit some hopefully productive recommendations. Sue Monk Kidd's The Secret Life of Bees was (is?) a book club favorite and, like All the Light We Cannot See, is a plot-driven book disguised in a character-driven cloak. And bees instead of snails. Ooh, or E.O. Wilson's Anthill! It's about ants! And us! Look from man to ant and ant to man and it will be impossible to tell which is which, and also no one is made to be Trotsky.
RECOMMENDED
Sue Monk Kidd, The Secret Life of Bees • E.O. Wilson, Anthill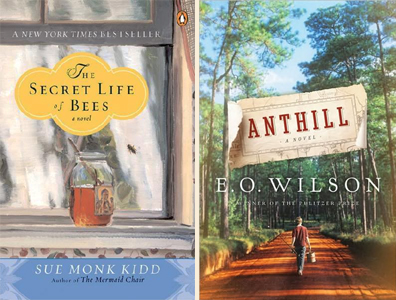 * * * *
LOVED
Written on the Body, Jeanette Winterson • 1Q84, Haruki Murakami
DID NOT LOVE
Blue Lily, Lily Blue, Maggie Stiefvater
This is one of those rare times when the GL wishes she had slightly more information. A cursory Google search reveals that Blue Lily, Lily Blue is the third title in a Young Adult fantasy tetralogy, The Raven Cycle. Did Dear Writer like the other three books? Did DW just swoop in on Book Three like she was channel-surfing and Law & Order was on? This series looks spectacular, the GL has placed a hold on a copy from her friendly neighborhood library. A copy of Book I, that is, because no one should endure just "dropping in" on a YA boarding school paranormal urban fantasy quest. The Latin teacher is named Barrington Whelk!
But okay, fine, DW didn't like it for whatever reason. Maybe there wasn't enough sex? There is a lot of sex in 1Q84 (it won the Guardian's Bad Sex award) and Written on the Body is so tightly focused on the embodiment of desire as to not even bother identifying its narrator. And the two very different novels also disrupt conventions of plot: 1Q84 is nothing but plot, a complicated scaffolding of plot that doesn't support much of anything of substance; Written on the Body is almost vacant of plot, but strewn with ornate language. Well, Michel Houellebecq's Submission is nothing but pulp and sex, but there's probably not many readers in the Venn Diagram of "Jeannette Winterson fans" and "tolerant of Houellebecq." A better suggestion: Vladimir Nabokov's Ada, or Ardor. It's more philosophically complicated (and better) than Murakami or Winterson; it plays with Russian historical epics and Henri Bergson and puns and science fiction and 65 other things the GL is too dim-witted to catch. There's also a lot of sex.
RECOMMENDED
Michel Houellebecq, Submission • Vladimir Nabokov, Ada, or Ardor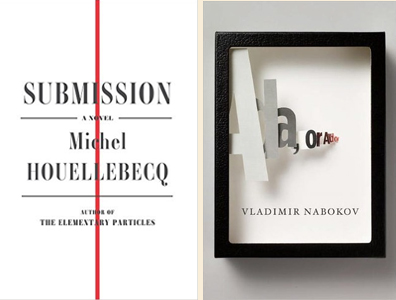 ---