The First Science Fiction Novel?
Kelly Link and John Crowley Discuss The Chemical Wedding
John Crowley, perhaps best known for his novel Little, Big, used all the available English translations and worked with a German scholar to produce a new edition of The Chemical Wedding, an allegorical romance of alchemy and magic attributed to 17th-century German theologian Johannes Valentinus Andreae. In his introduction, Crowley makes the case for the book as the first science fiction: "Unlike other contenders, it's fiction; it's about the possibilities of a science; and it's a novel, a marvelous adventure rather than simply a parable or an allegory or a skit or a thought-experiment. (Like SF, it probably appealed to a self-selected readership of geeks and enthusiasts)." Crowley found it "funny, almost Kafkaesque in its irreducible strangeness" and liked "the interaction between poor old Christian and all the mysterious goings-on in the magic castle." Crowley also found the artist for the new edition, Theo Fadel, a wood sculptor and artist who is also a trained architect. As she says in her bio, "she is the eleventh great grandniece of Robert Fludd, aka Robertus Fluctibus, an alchemist and physician who in the year 1616 rushed to defend in print the original authors. He also wrote that building wooden robots is impossible with mathematics alone. It requires 'the co-operation of natural magic.'"
Kelly Link: When I was eight or nine, I read an illustrated edition of John Bunyan's Pilgrim's Progress, which I found enormously entertaining. I was a minister's daughter, and I'd already devoured C. S. Lewis's Narnia series, and so it didn't seem particularly strange to me that the story was meant to work as a representation of Christian life. But that wasn't why I liked it. I liked the illustrations (later on I read Innocents Abroad, or the New Pilgrim's Progress, which was illustrated by Howard Pyle.) I liked the names of the places and the people: Mr. Timorous, the Slough of Despond, etc. I was also reading Sidney Sheldon and Barbara Michaels, Tolkien and Mallory. I didn't particularly make any kind of distinction between different kinds of stories. I just read them. Later on, I realized that there wasn't much in the way of contemporary allegory—a couple of Christian novels, like Hannah Gurnard's Mountains of Spices, and Calvin Miller's The Singer Trilogy. Jonathan Livingston Seagull, too, I suppose. But as a genre, it's mostly dried up, much like utopian fiction (a genre that it has some things in common with.) You've described The Chemical Wedding as the first science fiction novel. Would you talk some about that, and perhaps about the allegorical impulse of science fiction or the literature of the fantastic?
John Crowley: Unlike you, Kelly, I sort of mostly disliked allegory, except where I found it comical in its obvious designs on me. I'm only drawn to the ones that are purely self-referential, or have become so because their references have been lost—maybe like your reading of Pilgrim's Progress. I prefer Vladimir Nabokov's ideal; he said: "For me, a novel exists only insofar as it affords me what I shall bluntly call aesthetic bliss, that is a sense of being somehow, somewhere connected with other states of being where art (curiosity, tenderness, kindness, ecstasy) is the norm." He'd say that all the books you read—including Sidney Sheldon et al.—were actually fairy tales. 
The Chemical Wedding has always been thought of as an allegory of some kind. Maybe what happens in it symbolizes the physical processes of alchemy in the lab (so to speak)—what happens to the various chemicals in combinations and treatments that were supposed to turn matter from lower into higher substances. Carl Jung thought alchemy itself was an allegory of personal psychic integration, which would make The Chemical Wedding an allegory of an allegory. But to me it's not allegorical but fantastical: it creates its own world with rules of its own which resemble our world or remind us of the rules and physical laws we follow, but are pure invention. Science fiction is unique in the way its matter—space travel, robots, AI, telepathy, all that—resemble science but actually follow the laws of fiction. The wonder, the woo-woo, give it power, but it does as it likes with all of that. That's to me what The Chemical Wedding is. It uses the stuff of the science of its day to produce wonder and delight. We can't really recapture the feeling, because the science is now comically inadequate; but we know it from our own reading of fantastic science wonder tales that are just as unlikely. It's a science fiction novel.
KL: Let's also touch on the illustrated narrative as a particular genre. I had the chance to put out a collection of young adult stories, Pretty Monsters, in which each story had an accompanying illustration by Shaun Tan. As publishers, Gavin [J. Grant] and I have worked with a number of artists—Kathleen Jennings, Kevin Huizenga—on covers. When we published your novel Endless Things, you found a photograph by Rosamund Purcell that we were able to use as a cover image. And for this book, of course, we put together a Kickstarter so that we could do something extravagant in terms of design, art, paper, printing process for The Chemical Wedding. If you love books, then I think it's natural to enjoy the book as an object, whether it's an old pulp paperback, or something one of a kind. Were there illustrated novels or stories that you were particularly drawn to when you were first reading? With this edition of The Chemical Wedding, was there something that—tonally, or in some other way—you wanted the illustrations to suggest that the narrative would have lacked otherwise?
JC: I was enormously taken with the illustrations that Arthur Rackham did for The Wind in the Willows—the amazing exactness about impossible things. I was enamored too of N.C. Wyeth's illustrations for the King Arthur stories (below)—actually I mostly looked at the pictures. But what never worked for me were realistic novels like Dickens illustrated with pseudo-snapshots of the action. I couldn't see what they contributed; the images in my head were much richer. I thought that if The Chemical Wedding was to be illustrated—surely it had to be—the illustrations ought to increase the strangeness and yet ground the story in solid-seeming faces and things. You remember how we started by thinking of comic books — graphic novels—as a model. But we never found an artist who did that Rackham trick.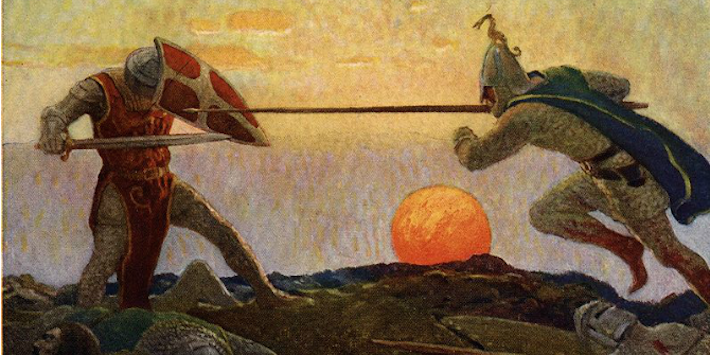 KL: And in the end, I like what we ended up with even better. I'm so very enthusiastic about the brainy, sly humor of Theo Fadel's illustrations. There's also a dryness there that seems suited to your prose. How did you come across her work?
JC: My wife Laurie and I were touring the galleries in an artist-studio building in the same town where Small Beer lives. We came upon an artist who was doing drawings, prints, and puppets—or actually the little head-on-a-stick things that jesters carry. It was modern and cartoonish work, fools in crazy cars, humans in trouble, grotesques—and it made me think of the illustrations in the German news-sheets of the era of The Chemical Wedding—dense black wood-engravings, highly detailed, at once funny and rather cruel. Theo Fadel's talent for the grotesque and drily funny to me balanced the story perfectly. They carry the sense of the past but are of now. They are the opposite of solemn—or allegorical. (I've actually never seen an illustrated version of The Chemical Wedding from the past. I think this is a real first!)
KL: You've written fantasy novels, short stories, historical novels, and essays. Do you feel any particular allegiance to a genre (or to the techniques or structures that a particular genre allows you as an approach toward narrative?) When you started out writing, what were your models for how to tell stories?
JC: I don't feel allegiance to a genre—that would be weird, like being in a cult—but I favor whichever mode or slant will allow me to do something strange and new. My first novel was actually a historical novel about the Wars of the Roses, but cast as a planetary romance (some readers got it) and the style was influenced by the weird historical novelist David Stacton. My first SF novel was a utopian/dystopian novel that simply grew out of my pondering the future (often while stoned; it was along time ago). I didn't think of it as an SF novel, though it was. When I started writing I loved history and poetry; loved T. H. White and Chesterton's The Man Who Was Thursday; wrote blank-verse tragedies like John Webster's. I don't think I ever had a model—I had inspirations, from all over the place.
KL: It does make sense to me that you loved T. H. White. I love your books for the same reasons that I love his, I think. But I don't know David Stacton at all. Making a note to track down his books, thanks. The subtitle of The Chemical Wedding is "A Journey in Eight Days" and yet the events of the book take place over seven days. Can you talk about that? 
JC: A lot of mystic dream journeys take place. Seven is a powerful magic number. Max Ernst's alchemical collage-novel Une semaine de bonté ("A Week of Kindness") takes seven days, and in some alchemical texts the Work takes that long. But one of the strange and touching things about The Chemical Wedding is that after its Seventh Day is over and the story has seemed to end, there is a little note that tells us that on the following day poor Christian, whose fate is to stand forever as a porter at the gate, went home. This seemed so mysterious and important that it constitutes for me another day in the process. I think I might get a lot of resistance to this idea.
KL: Who would have been the audience for The Chemical Wedding in 1616? What would have been their frame of reference for it? And what kind of reader do you imagine for it now, in 2016? When you read it yourself for the first time, what was your response?
JC: I'm thinking (I have no way to prove it) that the first readers were students—we'd say grad students—in Andreae's university at Tubingen in Germany. But his book—whatever its purpose—came on the heels of some other tracts that announced a "Universal Reformation of the Whole Wide World" to be brought about by a secret Brotherhood of the Rose-Cross, or Rosicrucians. These created a huge stir at the time, and since Andreae's book had references to a secret brotherhood and a Rose Cross, and because it appeared as the the writing of Christian Rosenkreutz, it was seized on as a new revelation. Of what, exactly, it can't be said; there's no revolutionary message, though the Brothers at the end go out into the world to do good. I wonder sometimes if it was intended as a spoof. If so, as spoofs can do, it escaped the writer's intention.
KL: Over the last few years, you worked on and then completed a novel told from the point of view of a crow. How do you come to realize—and then organize—book to book, the kind of project that you want to write? And what was it like to work on a contemporary version of such a very old story where the decisions to be made were more about language and points of reference, because of course decisions about structure, point of view, the events of the books themselves were already fixed in place?
JC: My own books have one thing in common—most of them come to be written years after I first think of them. I first thought of writing a book about crows some ten years ago. "Crows in a city" was all I had, until I settled to it and began thinking steadily how it would work. My most recent book—Four Freedoms—began a decade ago as I began to sense a time just before I was born, and envisioned a man working in a WWII bomber plant somewhere in the Southwest, amid all the women: heat, labor, cold beer, fedora, temporary housing. I'd thought for years about making a new version of The Chemical Wedding too before beginning, but in that case all I had to myself, so to speak, was the tone; but since the right tone is very important to me—I don't think any of my books sound like or speak like any of the others—it was a joy to do, to take stodgy and garbled old language and make it a clear and—more importantly—unique, the voice of a believable speaker, who's cranky, worried, hopeful and good.
KL: Since this is a narrative structured around a kind of mystical union—a wedding in which the guests are put to tests and shown marvels—let's end by talking about weddings, either fictional or real. I once went to the wedding of two friends who, at the end of the ceremony, walked down the hill and, in their wedding clothes, got into a small canoe and paddled away. My sister had a friend who went to a wedding and in the middle of the night awoke as beetles came pouring out of a taxidermied bird in the room of the B&B where she was staying. Do you have any wedding stories?
JC: None like the one in The Chemical Wedding—where the bride and groom-to-be have to have their heads cut off, be restored as cold and tiny wax-like beings, fed on alchemical medicines until they grow and awaken as themselves, just married. With baby Cupid in attendance. I was once asked to officiate at a spectacular (though not huge) wedding in the Colorado Rockies. In Colorado anybody can preside over a wedding if they want (I mean if the two being married want you to). I have several weddings in my books—the best are in Little, Big and in Endless Things (Small Beer Press, 2007!).
KL: What's your personal favorite moment in the book?
JC: So many. When Christian looks out the window of his castle room at night and sees the seven ships set out for the Tower Island, each with a flame burning on the top mast—the soul of the body carried in the hold. When Christian sins by looking on Venus naked. But best of all is the very end (do you need to call Spoiler Alert for a 400-year-old book?) when Christian thinks he has to stand in penitence at the porter's gate, and then . . . the text just breaks off in mid-sentence and somebody else writes a note saying, no, he thought he had to stay but in the morning he just went home.
You can contribute to The Chemical Wedding by John Crowley Kickstarter here.
---