The (Fake) Language of White Capitalist Feminism
Leigh Stein on Social Listening and Online Posturing
"Social listening" is a marketing surveillance tactic used by brands to listen to their customers on social media. It's Eavesdropping 2.0. The skincare brand Drunk Elephant uses social listening in the comments section of their Instagram posts, to respond to customer questions about product "smoothies." Uber Eats says, "You asked for a way to find Black-owned restaurants on Uber Eats. We listened."
We're living through an era in which corporations are people and people are brands. Influencers use social listening to find out what their followers want more or less of and adapt (or perish). Never has this been more true than at this moment of nationwide protest for racial justice, which is coinciding with a global pandemic. Through it all, we're scrolling.
"I'm sorry I hurt you and this community," bestselling author and entrepreneur Marie Forleo posted to Instagram after receiving pushback for turning off comments in a Facebook group for students in her business school. "I have not been listening well. I am listening now."
"I have a lot of listening and learning and growing to do before I will truly know how to thoroughly make a sustained impact in the fight to eradicate systemic racism, but that won't stop my effort," Leandra Cohen posted in a lengthy statement on Man Repeller on June 1st; the fashion site has been called out for a lack of diversity in its staffing and content. (Cohen stepped down on June 11.)
These apologies are real, but they could have come from the founders of Richual, the digital wellness startup I invented (imagine if GOOP and Instagram had a baby) for my novel Self Care.
Call me Cassandra—I monitored social media so closely for two years that I anticipated the woke keywords that white capitalist feminists are now sprinkling like coconut flakes on top of their mea culpas. They know to say that they are really listening right now because listening is in.
I collected trends: intermittent fasting, crystals, cultish fitness classes, a vibrator that's "like a FitBit for your vagina."
When I started writing my novel in 2017, I had just resigned from my role as executive director of Out of the Binders, a literary nonprofit organization for women and gender-variant writers. I went from leading a private Facebook community with 40,000 members to deactivating my Facebook account. I transitioned from nonprofit girlboss to cynical cyberlurker. I remained fascinated by online group dynamics, especially when I was no longer the one being called in to moderate fights.
After spending three years fruitlessly trying to mediate and solve conflicts in an online community of women who branded themselves feminists, I was burned out and taking medication for clinical depression. I set out to write a novel about how those in power can co-opt and corrupt the language and goals of feminist movements. I wanted to prove, via fiction, that the internet is "real" life—that what happens on social media can have real-world consequences for people's careers, livelihoods, and reputations.
To write a satire, I adopted the perspective of the little boy screaming "The emperor has no clothes!" I used social listening to create the web of characters who inhabit the imaginary world of Richual. I scrolled Instagram looking for hypocrisy and doublethink ("vulnerability is strength" generates a tremendous amount of confessional content). I searched for evidence that diet culture was never cancelled; it only went through a rebrand (it's no longer about counting calories or pounds but about #nsv or non-scale victories you get when you cut out all the "trigger" foods on Whole30). I collected trends: intermittent fasting, crystals, cultish fitness classes, a vibrator that's "like a FitBit for your vagina."
As fun as it was to go on a treasure hunt for products and programs, I also used social listening to observe how social justice issues enter the purview of wealthy white wellness influencers and witness the pushback celebrities receive from fans when they aren't sufficiently—publicly—woke (look at Taylor Swift's supposed political awakening). Just a couple of years ago, I would have been able to make you a list of wellness influencers, and a separate list of social justice activists, but those two categories are overlapping more and more. Is this because awareness of social justice issues is good for business? Undoubtedly. At the same time, I believe many of the white Instagram influencers and Twitter personalities truly do care about racial injustice in America. But online, a sincere declaration can come across as a hollow performance.
All the anthropological research that went into my novel has made me wary of the way the algorithm sorts us into silos with other people who validate and reinforce what we already believe. I'm skeptical of the way liberals surveil one another online, looking for transgressions: an opinion that challenges the group orthodoxy, an awkward word choice in a social media post, an apology that doesn't go far enough. It's always easier to criticize others than risk putting something in your own words and getting it wrong.
After all the time I've spent listening, what I've discovered is a deeply felt—but unexpressed—fear of being ostracized from the tribe, of losing our seat at the lunch table if we don't say the right thing or put the right hashtag in our profile. We look up to the influencers who make a living being themselves online as our leaders, but they are just as much followers as we are. Like us, they're reading the room. They're listening. They don't want to lose their online community, especially not now, when, for so many of us, our online community is the only community we have.
__________________________________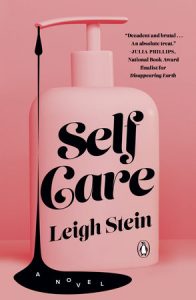 Self Care by Leigh Stein is available via Penguin Books.
---