The Existential Crisis Facing Newspapers Has Silenced Some of America's Most Distressed Areas
Alan Maimon on Covering Eastern Kentucky in an Age of Hyperlocal News and Pageviews
Up until I saw the ad for the job in the Hazard bureau of the Louisville Courier-Journal, I don't think that I had ever really known anyone from Appalachian Kentucky. On family car trips in my youth, we had nipped the corners of West Virginia and passed through some of the other more well-traveled parts of the region, but Eastern Kentucky, as I soon learned, isn't a place you pass through on the way to anywhere else. If you end up there, it's because that's where you intended to go. And not many people from outside the area have that intention.
Other than it being poor and poorly depicted in movies, particularly John Boorman's 1972 Academy Award–nominated film, Deliverance (tagline: "Where does the camping trip end . . . and the nightmare begin?"), I knew little about Appalachia. But its reputation intrigued me. I had thought a lot over the years about people's tendency to stereotype and how dehumanizing a habit it is. Few areas in the US have been as subject to stereotype as Appalachia.
I applied for the Hazard job, which entailed covering an area roughly the size of Vermont and New Hampshire put together and included eight of the poorest twenty counties in the country. The federal government has a name for places where more than 20 percent of the population has lived in poverty for the past twenty-five years: persistent poverty counties. The entire eastern part of Kentucky falls into that category. A US map highlighting the nation's most economically distressed areas shows clusters of extreme poverty in certain urban areas, American Indian communities, and the Deep South. But no other part of the country has as concentrated a pocket of distress as Eastern Kentucky.
The editors at the Courier-Journal flew me in for an interview. It was a long day of meetings in a newsroom full of clicking keyboards and harried-looking journalists. My only distinct memory of the visit was something that regional editor Gideon Gil said to me as I made the rounds:
"Most people in Louisville have never been to Eastern Kentucky and have no idea what's happening there," he said. "We would want you to cover the area like a foreign correspondent would."
Few areas in the US have been as subject to stereotype as Appalachia.
Over the next five years, I chronicled drug epidemics, political violence, environmental degradation, economic uncertainty, and morality debates. I learned about a laid-back rural culture where a large segment of the population is clinically depressed, about an area of natural beauty where the land has been stripped and the forests torched for amusement, and about a defining push and pull between fierce pride and a nagging sense of inferiority. I saw how America and its institutions have failed Eastern Kentucky, but for better and for worse, how the people of the region have remained loyal to their idea of Americanism.
Every day on the job challenged me to convey the often harsh realities of one of the most mythologized regions in the country. It was unfortunate when my opportunity to do that work came to an end.
*
By the mid-aughts, the existential crisis facing newspapers put everyone a little bit on edge. An industry that for decades had enjoyed a stable business model based on a steady stream of subscriptions and advertising revenue was now staring down an enemy from within: the World Wide Web. No longer just print products sold at stores and newsstands and delivered to homes, newspapers were residents of the infinite Internet. That meant advertisers no longer felt beholden to the local newspaper to promote their wares. And readers had many other places to go to quickly access news, usually at no cost. The idea of hiding content behind paywalls hadn't taken off yet.
Like so many other reporters, I was at the mercy of the people at Gannett entrusted with digitally and spiritually transforming the dusty old newspaper. I didn't envy them. It was a tall order in a time of transition to retain existing readers, court new ones, and maintain the integrity of the product. The difficult responsibility of putting out quality papers fell to the newsroom leaders in cities across America. As many newspaper chains scrambled to find ways to stay relevant and profitable, others simply gave up trying. In 2006, the country's second largest newspaper company, Knight Ridder, sold its thirty-two daily newspapers to the McClatchy Company.
One of Gannett's earliest 21st-century initiatives focused on newspapers providing content that could not be found anywhere else and getting those stories online as quickly as possible. This comprised part of the ill-fated "hyperlocal" strategy, engineered to fend off a new crop of websites specializing in local and community news. My good friend Chuck Myron, whom I met in Eastern Kentucky when he was an editor for the Harlan Daily Enterprise, became the face of the hyperlocal movement after taking a job for a Gannett paper in Fort Myers, Florida. In a 2006 front-page profile in the Washington Post, we learned that Chuck was a "mobile journalist," or in Gannett parlance, a "mojo." He worked out of his car, combing the streets of North Fort Myers for any morsel of news.
That mandate forced Chuck to stretch the definition of "news" to its breaking point. A small group of people at a strip mall getting their "Hunks of North Fort Myers" calendar signed by the hunks? News! A sixteen-year-old with preternatural hair-styling skills? Definitely news!
Three months after Ahrens's story ran, Chuck had so soured on being a mojo that he left newspapers altogether and never returned. As he puts it, he had become "Gannett's ill-fated bridge to the future of newspapers," and he found the task soul-crushing.
*
When not out in the field, I spent an increasing amount of time in conversation with colleagues about the future of what we did. As the "ink-stained wretches" on the front lines of journalism, we had a different perspective than the executives in corporate suites and even the editors giving us marching orders. But that didn't mean we had answers, either. Those of us on the Courier-Journal's state desk wondered what might happen to our positions if the paper started veering sharply toward prioritization of local (or even hyperlocal) news.
Sure enough, in early 2005, I started hearing rumblings about a newsroom shake-up at the Courier-Journal. I had no idea if the rumors of change had any factual basis, but I tried to brush them aside by reminding myself that the Hazard bureau meant a lot to the paper. And though slashed print runs had made it next to impossible to buy a copy of the Courier-Journal anywhere in Eastern Kentucky, that was what the Internet was for.
While I should have been focusing on the rise of the dubious Internet pharmacies flooding Eastern Kentucky with prescription pills, I was instead chasing dubious clickbait.
Season five of HBO's The Wire, whose story arc borrowed heavily from show creator David Simon's real-life experiences as a crime reporter at The Baltimore Sun, captured the zeitgeist of what newspaper journalists were experiencing in the early 2000s. In one scene, the top editor of the Baltimore paper summons everyone into the newsroom for an important announcement. "It's a bad time for newspapers. As you all know," the editor begins. "The news hole is shrinking as advertising dollars continue to decline. Our circulation numbers are also down as we compete with a variety of media. Technology is driving distribution. And the Internet is a free source of news and opinions. Seeking a balance in this new world, we're now faced with hard choices."
The editor goes on to announce an upcoming round of buyouts as well as the demise of the fictionalized Sun's foreign bureaus in Beijing, Moscow, Jerusalem, Johannesburg, and London, closures that happened at the real Sun between 2005 and 2008. The briefing ends with words heard at one time or another, and usually more than once, in newsrooms across America.
"We're going to have to find ways to do more with less," the editor says.
As the occupant of the closest thing that the Courier-Journal had to a foreign bureau, I wasn't privy to the newsroom chatter in Louisville, nor could I try to curry favor with editors by obsequiously dropping by their offices to talk sports or whatever else they were into.
Eager to please, I set out to give my editors what I thought they wanted. Along with the usual fare of hard news articles, I was going to seek out stories that make people talk, and more importantly in the Internet age, make people click. In an attempt to steer readers to websites, Gannett had started religiously tallying "page views" and compiling lists of the "most viewed" stories of the day, week, and month. This metric gave the company a direct line to readers, at least the ones consuming the online version of the paper. The articles that received the most clicks were the ones that busted out nationally and "went viral," a term that, along with "clickbait," wouldn't get coined until years later.
While I should have been focusing on the rise of the dubious Internet pharmacies flooding Eastern Kentucky with prescription pills, I was instead chasing dubious clickbait. And it was a particularly inopportune time for the nation's journalistic priorities to be anything besides serious news coverage. I remember sitting in the downtown Hazard home we rented after the birth of our daughter watching live video of the levees breaking down in New Orleans. What happened during Hurricane Katrina was a quintessential American tragedy caused by a combination of poor preparation and inadequate response, the same brand of neglect that had menaced Appalachian Kentucky for so many years.
*
In mid-December 2005, the Courier-Journal announced that it would be shutting down all of its state bureaus except for the capitol bureau in Frankfort early the following year. I got the news by phone while working on a story about efforts to make Kentucky the first state in the nation to require drug tests for coal miners.
Coverage of Eastern Kentucky was no longer considered local enough for the Louisville paper. The Courier-Journal, like many other big city papers across the country, had made a strategic decision to retrench from covering the entire state and to post local news items online as frequently as possible.
One of the reporters who preceded me in the Hazard bureau was Gardiner Harris. Shortly after winning a national award for coauthoring Dust, Deception and Death, the acclaimed series of stories on falsified coal-dust tests in underground mines, Gardiner landed a job at The Wall Street Journal as a pharmaceuticals reporter before moving on to The New York Times as a public health correspondent. When Gardiner got wind of the closure of the Hazard bureau, he pitched a story to the Times's national desk. It would have been a conflict of interest for him to write it himself, so the paper assigned it to another reporter, who came to Hazard to interview me.
In the article that resulted, Hazard mayor Bill Gorman, one of the first people I met after moving to Eastern Kentucky, lamented the closure of the state bureaus. "The Courier has had such an impact in eastern Kentucky," Gorman told The Times. "They've pulled their horns in, and closing the bureaus will hurt the regions they've been serving more than it will hurt the Courier-Journal." He compared the paper to the Bible in terms of its importance to the region and its people.
The photo that accompanied the New York Times story showed me packing up my belongings in the company Ford Explorer in preparation for one final trip to Louisville. During some recent house cleaning, I found a little silver Courier-Journal clock that the newspaper gifted me on my five-year anniversary. I decided to hold onto it, because despite how things ended for me at the paper, I will always be grateful I had the opportunity to cover Eastern Kentucky.
*
After the big announcement, I stayed on the job for another few weeks, knowing that my next stories would be my last. I had arrived in Hazard just before Christmas 2000 and would be leaving town a few weeks after Christmas 2005. The symmetry of the dates gave me an opportunity to reflect on all that I had learned about the area. During those first freezing weeks in Hazard, I felt every bit the foreign correspondent that my first editor had asked me to be. But over time, I stopped viewing my environs as foreign and recognized that life in Central Appalachia is a part of the American experience too often brushed aside or reduced to caricature.
It's a shame that too few journalists are left in Eastern Kentucky to tell these stories.
For anybody who grew up reading newspapers, and especially for those of us who went on to write for them, the decline of print journalism has been hard to accept. Where is the newspaper industry going? I don't know for sure, but it's safe to say that the future will continue to be uncertain.
In November 2019, Gannett merged with GateHouse, another large chain, firming up its sizable place in the media landscape, or what was left of it. By the time of the merger, Gannett was a shadow of its former mighty self. The total value of Gannett's more than 250 papers in early 2020 was $261 million, less than the company paid to buy the Courier-Journal and a sister publication back in 1986.
Because of its large network of metropolitan dailies, Gannett papers have reduced newsroom costs by sharing content and other resources. The company has survived. Others haven't. In February 2020, McClatchy filed for bankruptcy protection, a move that ended 163 years of family ownership and paved the way for hedge fund Chatham Asset Management, LLC, to become the majority owners of the company, whose holdings include the Lexington Herald-Leader. Compared to some of the other entities running newspapers today, Gannett doesn't look so bad anymore. A few months after the sale, McClatchy announced a controversial plan to tie reporters' pay to the number of clicks their stories get.
Since I left the Hazard bureau, there has been a lot of outstanding reporting from Central Appalachia, much of it from Bill Estep and Lee Mueller of the Herald-Leader and Ken Ward Jr. of the Charleston, West Virginia Gazette. But with so much ground to cover and stories to tell, the Courier-Journal's retrenchment from the region left a void that was difficult to fill, especially now that some small Eastern Kentucky papers have gone under.
I was happy to see that the Courier-Journal was awarded a Pulitzer Prize in April 2020 for its breaking news coverage of controversial pardons issued by Kentucky governor Matt Bevin during his final days in office. It was a solid piece of journalism that the paper's reporters executed on tight deadlines. One of the lead reporters on the story tweeted that he was in the middle of a two-week unpaid furlough when he got the Pulitzer news.
Hopefully the prize will help stave off another round of layoffs at the paper. In the first half of 2020, newsrooms across the country shed a staggering 11,000 jobs. An industry that was in crisis before the pandemic now faces an even less certain future as the news continues to leave town—at a moment in which the town is undergoing more nuanced and unforeseen realignments than ever.
________________________________________________________________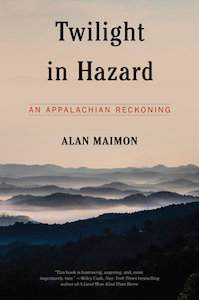 From TWILIGHT IN HAZARD: An Appalachian Reckoning by Alan Maimon, available now via Melville House.
---