The Epically Terrible Star Wars Holiday Special: An Oral History
AKA the Time George Lucas Disowned a Star Wars Production
Throughout much of 1978, things were ramping up behind the scenes in terms of bringing The Empire Strikes Back to the big screen. Ralph McQuarrie was working on a variety of illustrations that would ultimately be brought to life while George Lucas and Lawrence Kasdan were revising the screenplay. There were other elements coming into play as well. With Lucas maintaining merchandising control of Star Wars, there was some real question of how much interest there would be in the potential franchise, especially with toys from Kenner coming toward the end of the year.
It is worth pointing out that in the late 1970s, conventional wisdom said a franchise was only viable if the sequels came out every year or two at most. Lucas's notion of every three years had a lot of people worried. To "help"—if ultimately that was the end result—was the creation of a television event debuting on November 17, 1978, titled The Star Wars Holiday Special.
It has proven to be the stuff comic-cons are made of. A terrible, abysmal, yet oddly enchanting chapter of the Star Wars franchise. The Star Wars Holiday Special is a made-for-TV movie cum variety special that aired on the CBS network. The main storyline of the film transpires on the Wookiee home planet of Kashyyyk. Chewbacca and Han Solo visit the planet to celebrate the Wookiee holiday Life Day with his family, which includes his wife Malla, his son Lumpy, and his father Itchy. George Lucas himself was not really involved with the production, but did attend some production meetings, and encouraged the creatives on the special to include the character of Boba Fett in the cartoon segment (the only part of the special really worth watching).
CBS wanted to utilize the then popular variety show format, which leads to odd, almost surreal segments with Bea Arthur, Harvey Korman, and the Jefferson Starship. The Holiday Special was an epic failure, both critically and commercially, and was never aired again, nor made officially available on home video. This lack of availability helped the special achieve a "cult" status among fans, with bootleg copies becoming trophies at conventions.
Steve Binder (director, The Star Wars Holiday Special): The Star Wars movie was released and became this huge success, and Lucas evidently made a deal with Kenner toys to sell merchandising as soon as he got those rights. As a result, in order to sell toys, he made this deal to do The Star Wars Holiday Special with CBS aimed at kids to buy toys. But they didn't tell the public this.
Mark Hamill (actor, "Luke Skywalker"): Do you know that after all these years Lucasfilm is still saying, "Mark, we shouldn't be talking about the Holiday Special." I said, "No, we've got to own it." I knew when I read it, I thought it was awful. You know, "Why are we doing this?" Then I said, "I'm not doing this," but George called me and explained, "Do you realize when that came out we'd been in the movie theater for almost a year and a half?" Star Wars opened in the summer of 1977 and this is the fall of 1978, so George said, "Look, it's just a way to keep the merchandising fresh in people's minds and it's really a favor to me for those merchandisers." So I said, "Oh, all right, but I'm not singing."
"It's just one of those moments where you have to ask, What were you guys thinking?"
Bruce Vilanch (screenwriter, The Star Wars Holiday Special): They started with George. He hadn't made Empire yet and he was concerned that the franchise—they didn't talk about franchises that much in those days—had a lot of public interest and needed something to stir the pot in the two years between Star Wars and Empire. So he had in his trunk, he told me, ten stories. He was going to make six movies, which he eventually did make, and that he had another story that became a novel and another that became something else, but he had one story left that he sold to CBS as a variety special. I don't know how that happened. They talked him into it or something. It was a genre of the day. This was back when there were just the three networks and everything was an event, and if you could create an event on one of them, you'd get a lot of eyeballs. It wasn't crazy to take something like Star Wars and use it as a framework for a special. What was unusual was to take a fully formed George Lucas Star Wars story and turn it into a variety special.
Glen Oliver (pop culture commentator): Even when removing from the equation how innately shitty it ended up being, the notion of the Holiday Special was, at its core, far too disconnected from the "universe" that had already been established around the Star Wars brand. Sure, it was a fledgling brand at that point, but it was, nevertheless, bold and dramatic and defined. Suddenly songs and comedy sketches are added into the mix from out of nowhere? The whole affair was tone-deaf and ill-conceived and doomed not to work from the outset. But not simply because it was connected to Star Wars. A project like this would've been problematic when weighing any number of established properties for this kind of adaptation and treatment—especially one as newly established as Star Wars was at that point. Some ingredients simply aren't meant to be mixed together. Ever. And can't coalesce at a core, fundamental level. This is one of those instances.
Bruce Vilanch: The story they had started had the Wookiees as central characters and, unfortunately, they spoke in a language not known to man in this universe or any other known or unknown universe. So everything had to be subtitled, which at the time you couldn't do, because nobody would read subtitles. Now, of course, the Star Wars movies are half-subtitled, because they're all speaking Klingon—sorry, that's a different universe. So we had to have people translating for them. We had guest stars who would listen to the Wookiees talk and explain to the audience what they were saying. That's how it began.
They called the usual suspects who write variety shows, like me, because there were going to be a lot of variety performers on it as well as the characters from Star Wars, Han Solo and Princess Leia and Luke Skywalker. But they were only going to give us a day, I think, to shoot. Maybe two. So their dialogue was limited, and that's the way it started. The show was not being executed by Lucasfilm; it was being executed by people who did variety shows. So there was an immediate sort of culture clash. It was supposed to be held together by a director who was handpicked by George, a young Canadian guy named David Akuumba, who had never done anything in this genre before. This guy was on the floor directing, as opposed to sitting in the booth saying, "Camera three." We're just having a traditionally put together variety show, so the battle lines were drawn. Okay, they weren't really battle lines, it was just people who spoke different languages and didn't really know how to communicate what they wanted in the middle of it.
Steve Binder: The big production team in the 60s and 70s in the variety field was a terrific director friend of mine named Dwight Hemion, and his partner was Gary Smith. Dwight, I had known because he had done the New York version of the Steve Allen New York show originally. I was kind of the generation behind Dwight, who got accolades for his direction of just about every show he ever did, including Liza Minnelli and Baryshnikov on Broadway and so forth. Gary was my original producer on Hullabaloo and they're the ones who signed the contract to do The Star Wars Holiday Special. Lucas evidently chose his own director when they started production. I got a call from Gary Smith telling me that the entire production was shut down, because they were running out of money. Also, the director that Lucas hired wasn't familiar with multiple-camera directing.
Brian Jay Jones (author, George Lucas: A Life): No self-respecting Lucas or Star Wars fan is going to let him get away with not talking about that. I was ten when it aired and watched it live and I've never forgiven him for it. Boy, he was smart enough to see the wheels are coming off of this thing early enough that he can get his name off of it. But poor Harrison Ford looks absolutely miserable in every frame of that thing. Hamill is a mess, because he's just come off of his car accident, so he's heavily made up, looking like a member of KISS or something. Carrie Fisher I think is baked, but having a great time because she gets to sing, which she really wanted to do. Everybody else is just happy they're wearing masks. I watched it again just last Christmas and, I'm sorry, it's still terrible. It's just one of those moments where you have to ask, What were you guys thinking? I loved variety shows as a kid, but trying to turn this into some weird comedy variety show special? But it was a huge effin' deal. I mean, it's Star Wars on TV, even though Star Wars is only there about 18 percent of the time.
Bruce Vilanch: It was a big network variety show and the network had things that it needed to do to make the sponsors happy and needed to stock it up with star names and give them all showcases. And they were all interruptions in George's story.
Steve Binder: They had built this enormous, beautiful Chewbacca set on one of the big soundstages there, but the problem was that it never had a fourth wall, so it was a 360-degree set where you couldn't get the cameras in. Anyway, they had shut it down and were in jeopardy of the entire project going away. Would I be willing to come in and at least get the show shot if they could convince CBS to restart the production? I said yes and the next thing I know I got a call from Gary Smith asking me to meet him at Warner Bros. and that they were mailing me a history of the Chewbacca family background. I think I donated it to UCLA or USC, but I wish I had it with me.
Evidently, Lucas had done a 25-page guide to the Chewbacca family from the time they were born to the present. So I went over to Warner Bros. and they had hired the cream of television people behind the scenes. We all knew basically if you're doing mainstream variety network television, there weren't that many of us that were really doing all the shows, especially in the 60s and 70s. Same camera crews, same art directors, and so forth—just a handful of people in each area. I knew just about everybody on the crew. Who I didn't know were the Lucas people.
When I came in and saw the set, I said, "We've got to open up this set. We've got to cut out one of the walls or we've got to cut out the set and make a wall that you can bring in and bring out so everybody can get inside" and so forth. So that was step one. Step two, Gary and Dwight got permission from CBS to start the production again, but before I even got there, they did the bar scene and they did the Harvey Korman scene, which was a take-off on Julia Child and so forth. I also think the Jefferson Starship had done that musical piece.
And then I came in and I had tons of script to do in a limited number of days with no money to speak of. There was no time to do any prep whatsoever other than my own homework at home. On top of that, the opening scene was the Chewbacca family, the mother, father, and the baby—and it was all silent with subtitles. So immediately I said, "Wait a minute, is this going to work?" And it goes on and on and on and on. And I couldn't change a word of the script. I couldn't do anything.
My job was to just go in, act as the fireman and just get it shot, get it so they could put it together. And it's the only show in my entire career that I didn't have time to edit the show when I finished shooting it; I had to go on to another project.
"The moment, and it happens very early on, we see a Wookiee in an apron, we know we're in trouble."
Ric Meyers (author,  For One Week Only: The World of  Exploitation  Films): When I was with Starlog magazine, I was on the set of the Richard Donner/ Christopher Reeve Superman at Pinewood Studios. There I was befriended by production designer John Barry (not to be confused with the James Bond film composer of the same name), editor Stuart Baird, makeup man Stuart Freeborn, stop-motion animator Phil Tippett, and even on-set stills photographer Bob Penn. Over the years they and their friends, and their friends of friends (and their friends of friends of friends), would become my unofficial, off-the-record source for many rumors, reasons, and rationales. Little did I know that their input would be required so quickly. My first major cry of "wtf" came the minute after The Star Wars Holiday Special aired. Instantaneously I figured that whoever made this probably hadn't seen the movie it was based on, or certainly hadn't reacted the way I had. The result was an abomination that I credited to standard operating ignorance on the part of the television network.
Glen Oliver: Beyond this fundamental disconnect, it didn't seem to appreciate or respect Star Wars, which brought about a double doom. The moment, and it happens very early on, we see a Wookiee in an apron, we know we're in trouble. The Wookiees themselves—who drive the show—are bizarrely, unimaginatively anthropomorphic, living amidst decidedly human home appliances and fixtures. It doesn't make any sense. Their world is just this side of those cheap-ass cartoons which show kids stuff like sharks sitting on a couch in their living room watching flatscreen TVs. Which, by the way, these Wookiees pretty much do. But kudos to whoever was willing to have the Wookiees not speak English, which must certainly have been a temptation given the overall nature of this ramshackle affair. Although this adheres to the concept is bizarre and remarkable considering the shoddiness of the narrative and storytelling on the whole.
Steve Binder: I came in and I had a ball. I got to work with all the original cast, we got it all shot on time. I really wasn't objective and not to take a step back, but I definitely felt somebody should know this is not Star Wars II the movie. The budget was low, but probably pretty high for a television special and especially a children's special. I knew all the Star Wars fans were expecting to see a follow-up to the Star Wars movie. After I finished it and left, they put it together and although I didn't see it when it aired, I started getting feedback from people in terms that Lucas wanted to buy the master tapes to get it off the market. He was so embarrassed by it and he pretended he didn't have anything to do with it, practically. He was involved evidently, and approving everything from day one.
Brian Jay Jones: You know, the one thing I have to say about this is that when that special is on the draft table inside Lucasfilm, he is up to his eyeballs in The Empire Strikes Back at that point already. I mean, it's 1978, but he is in deep development of Empire. He doesn't have time to really pay attention to this special that he signed off on. And as we all know, the modus operandi of George Lucas is control. But he does with The Star Wars Holiday Special what he has never done with anything associated with Star Wars up to that point: he turns control over to everybody else. I mean, he's not doing anything. His hands are off of it, so he turns it over to producers who should know what they're doing, and writers who should know what they're doing. But without Lucas's hand on the wheel, the car goes into a ditch immediately and by that point, he's already washed his hands of it. So as the dailies come in, it's like, "I'm taking my name off of this." Again, I believe the result from his turning control of that project over to someone else is that it taught him a valuable lesson: it was a mistake he was not going to make again.
__________________________________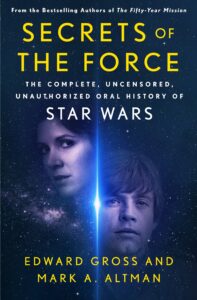 From Secrets of the Force: The Complete, Uncensored, Unauthorized Oral History of Star Wars by Edward Gross and Mark A. Altman. Used with the permission of St. Martin's Press.
---