Dispatches From a Microlanguage: An Icelandic Reading List
Thora Hjörleifsdóttir on the Art Thriving in a Nearly Lost Language
Icelandic authors write for an audience of roughly 360,000 people. They are, in many ways, hopeless romantics, writing in a tiny tongue that both matters immensely and not at all.
If these authors had spent any time studying economics, it would've been obvious that it doesn't pay to invest time and effort writing in Icelandic; no matter how well written the book, the market's so small that there's practically no chance of anyone turning a profit. As an Icelandic artist, the message or impression you want to convey will—best-case scenario—reach about 1,000 people at most. The economist would no doubt advise you to keep your day job and buy an internet advert to make said impression.
Even so, because almost no artists in Iceland are making any kind of monetary profit, our society is full of people who make art for art's sake. My ear doctor, for example, translated Dante's Inferno. My daughter's music teacher is a singer-songwriter who's toured around the world. Beyond the pleasure of having created something beautiful and maybe helping them get laid, people have pretty modest expectations about what their art is going to do for them, materially speaking. Sure, there's a select group of Icelanders who manage to live off their art, but for a big part of society, art is a side gig. The everyday is full of inspiring—and inspired—people who are just living the daily grind; we meet in kindergarten coat rooms and slurp weak coffee at the mechanic's, we worry about bills and pandemics and our relatives' twilight years.
The aforementioned economist would maybe say it'd be smart to leave off writing in Icelandic and try our hands writing in a language that has a bit more range, although most Icelandic authors would find this suggestion ludicrous and some would say it borders on treason. Because language is thought and if we switch to writing in a language that we don't have as good a handle on, everything we do will inevitably become diluted and uninteresting. We'd always lose more than we'd gain.
We actually did almost lose Icelandic for a moment there. For a long time, Iceland was a Danish colony and anyone who wanted to educate themselves, be successful, and become something other than a starving peasant had to do it in Danish. This is a well-known gambit in the colonial master's playbook: strip the natives of their language and thus weaken their shared root system, muddy the rivers that flow with their thoughts and words and sever connections within their community. A big part of Iceland's struggle for independence had to do with safeguarding our language and cultural heritage, ensuring it didn't get more and more watered down before eventually disappearing all together. A core part of the language has remained essentially unchanged for a thousand years. Which is why there's a lot riding on the handful of souls who live here continuing to speak, think, create, and play in this language.
Iceland has a lively literary scene in which a large number of authors publish books every year, many of them right before Christmas. People gift each other books and then talk about them during their coffee breaks and family gatherings. Icelandic authors are pretty ambitious, despite the fact that they choose to write in this infinitesimal language, publishing books that come out in such small print runs that they could easily distribute their life's work amongst the residents of a few, big city streets over the course of a single afternoon. Their work safeguards the thoughts, outlooks, and stories of our microsociety in the north, even though doing so wasn't necessarily their specific intention when they sat down to write.
As long as people are still writing, reading, and singing in our tiny tongue, then there's hope—then we, as a nation, still exist. Icelandic authors owe translators, who go to considerable lengths to learn this insanely complicated, miniscule language that no one understands, a debt of great thanks. Not many of our books make it beyond these shores, but if you run across an Icelandic title that's been translated into your language, it's more than likely that it has something to recommend it. But to save you a few steps, here are some Icelandic books that have impacted me, and that I particularly recommend.
*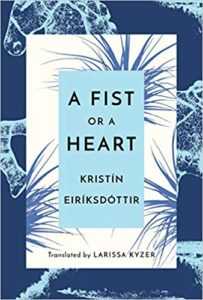 Kristín Eiríksdóttir, translated into English by Larissa Kyzer, A Fist or a Heart
(Amazon Crossing)
Kristín Eiríksdóttir is a few years older than me and I've always really looked up to her. She's a visual artist and has also written poetry, short stories, plays, and novels. A Fist or a Heart is her second novel and intertwines two stories: one about unreliable narrator and props designer Elín, an elderly woman who's isolated herself from the outside world, and the other about Ellen, a young playwright with her whole future ahead of her. The plot is relatively understated to start, but little by little, the tension builds until these two women's parallel stories overlap and we see how their lives have been shaped by trauma, an imbalance of power, memory, and forgetfulness.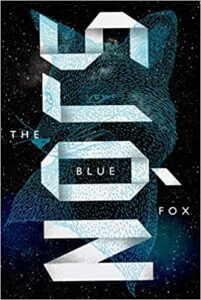 Sjón, translated into English by Victoria Cribb, The Blue Fox
(Farrar, Straus, and Giroux)
Sjón has written any number of excellent books, but I'm singling out The Blue Fox because it made such an impression on me when it came out in 2003. I was just 18 years old and was absolutely mindblown over the precision of Sjón's style—it's the kind of writing that makes you want to read the book again and again. Set in 19th-century Iceland, The Blue Fox tells the story of an eccentric botanist who defies the parish priest by putting love and humanity into action. Sjón integrates elements of fantasy and the Icelandic folk tradition in this heartfelt, poignant story, recontextualizing both in new and exciting ways.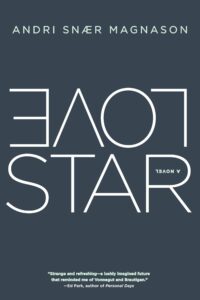 Andri Snær Magnason, translated into English by Victoria Cribb, LoveStar
(Seven Stories Press)
LoveStar is a dystopian novel with strong Black Mirror vibes. It came out in 2002 and is about a society in which there are corporate marketing campaigns for death, love has been codified, and capitalism has been cranked up to the nth degree. It's the story of Indriði and Sigríður, a couple in love, who receive a message from global corporation LoveStar telling them they aren't meant to be together—an algorithm has found them better partners. This story was written long before Instagram, but describes, among other things, a company buying access to people's personal lives in order to more effectively target their ads and propaganda. LoveStar is almost 20 years old, but its relevance to the present day is scary, to say the least.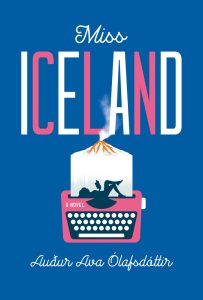 Auður Ava Ólafsdóttir, translated into English by Brian FitzGibbon, Miss Iceland
(Grove Press/Black Cat)
Set in 1960, Miss Iceland is about Hekla, a young woman who wants to become an author. She relocates from the remote countryside to Reykjavík with a manuscript, a typewriter, and a copy of James Joyce's Ulysses. She moves in with her childhood friend, a gay man, and together, they try to make their way in the world. But although Hekla's got talent and humor in spades, the men in the literary industry don't take her seriously and she's prodded to enter a beauty pageant instead of frittering away her time writing. It's a story about the desire to create and the search for beauty in an environment that was outright hostile to women, queer people, and anyone with a gentle heart.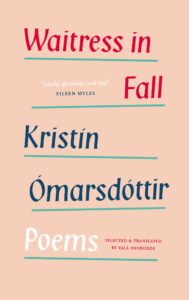 Kristín Ómarsdóttir, translated into English by Vala Thorodds, Waitress in Fall
(Partus Press)
Waitress in Fall is a collection that spans poet Kristín Ómarsdóttir's 30-year career. Ómarsdóttir uses simple, clean language to create memorable images that she sets against a backdrop of everyday situations, objects, and topics—everything from lemons and clocks to women loving women and mothers, just to name a few. Her poems are fresh and surreal, with sex and humor simmering just below the surface. This is a book to gorge on; read it often and let Ómarsdóttir move and surprise you.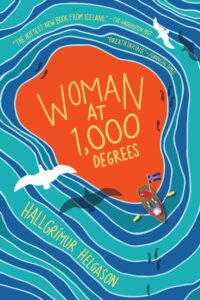 Hallgrímur Helgason, translated into English by Brian FitzGibbon, Woman at 1,000 Degrees
(Algonquin)
Woman at 1,000 Degrees is a fascinating novel about 80-year-old Herra Björnsdóttir who lives alone in a garage and amuses herself posting on social media under a fake name, reminiscing about her life and marriages, and dreaming about her death—specifically, being cremated at 1,000 degrees. Herra's traveled all over and had some truly unbelievable adventures from the Westfjords to Buenos Aires. Her story is pretty grim in many respects, but no matter what the circumstances, she's approached every incredible event in her life with that particular exuberance and pitch-black humor that you only find in people who have nothing left to lose.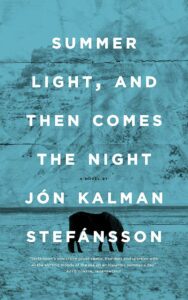 Jón Kalman Stefánsson, translated into English by Philip Roughton, Summer Light and Then Comes the Night
(Harpervia)
Jón Kalman Stefánsson writes novels that mostly take place way out in the countryside, in the olden days. His lyrical style has earned him a dedicated following of readers in Iceland who never tire of weeping over his characters' tragic fates. Summer Light and Then Comes the Night is a short story cycle. Each standalone story describes life in a small village in West Iceland, normal people—their insecurities and anxieties, their courage and loneliness. Together, these episodes create one, coherent whole; there's no set narrator, but rather, it's the village that tells these stories of hope, cruelty, life, and death.
__________________________________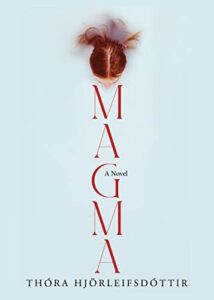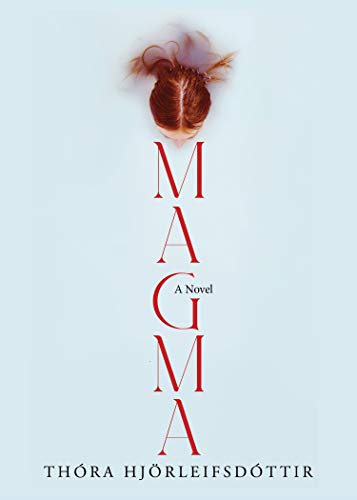 Magma by Thora Hjörleifsdóttir is available now from Grove/Atlantic Press. 
---