The DNA of Storytelling: Making the Case for Messy Family Books
Tracey Lange on the Complicated, Raw Emotional Chaos of Familial Histories
Many years ago my husband Fred, primarily a financial news and nonfiction reader, was heading off on a work trip and decided to take along one of my favorite novels of all time, I Know This Much Is True by Wally Lamb. He knew how important the book was to me and decided to finally see what all my hype was about, despite the daunting 897 pages. As soon as his plane landed at his destination I called to ask what he thought of it so far. In a slightly irritated tone, he explained he couldn't answer that yet because he had to put the book down mid-flight. Otherwise he feared he'd start crying in front of the other passengers, which he preferred not to do. He also asked, with sheer wonder in his voice, why I would seek out—never mind recommend—a book that was so full of heartache.
It's a fair question. What drives some of us to read books that put us through an emotional wringer? Sure, storytelling is part of our DNA; humans have found educational and entertainment value in stories since cave drawings. But Fred has always questioned why I choose to read and write this kind of story, the kind that causes the reader significant anguish on a character's behalf. And he's not alone; many people refrain from such books because the psychological toll is just too high. Yet novels and memoirs about messy, complicated families have only become more popular over time.
I believe this is because stories are about conflict, and our families are often the source of some of the greatest conflict in our lives. What motivates some of us to dive into these often agonizing books is likely the same thing that prompts others to steer clear: they lead us to explore the good, the bad, and the ugly in ourselves and our relationships. And this is painful at times. But, I would argue to Fred, by examining ourselves and our family dynamics we not only avoid repeating painful history, but with greater understanding comes forgiveness, and the opportunity for redemption.
Fred eventually finished Lamb's book, and he was glad he did. But it took commitment on his part. It's a gut-wrenching story about the twin brother of a paranoid schizophrenic, who's also dealing with a dying mother with a secret, an abusive stepfather, an infant death, divorce—to name a few. The protagonist spirals through self-destructive behaviors because, as much as he wants to do the right thing by the people he loves, he just doesn't know what that is sometimes—something to which most of us can relate. It's not until his brother's latest mental health crisis forces him to explore their family history going back generations, that he's better able to understand and forgive himself and others.
There's no doubt parts of the book are brutal but in a cathartic way. I very much wished the characters made different decisions at times, but I understood the choices they made, including the bad ones, and I was sympathetic to all of them, even the most unlikeable. Because, as Lamb so deftly demonstrates, no one's intentions, actions, or responses are straight-up wrong or bad, and we get at least a glimpse of the good in each character. For me, reading this book was a roller coaster ride well worth taking—twice. It allowed me to experience all that emotion from a safe distance and try to make sense of it. Who wouldn't want to dive into all this raw emotional chaos in order to better understand our own motivations and those of the people we're closest to? Admittedly Fred wouldn't have volunteered for such an excursion, but he will confess that the message of the novel is ultimately a hopeful one.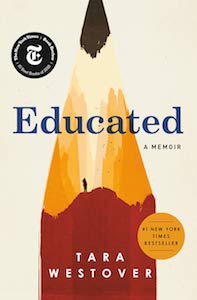 Tara Westover, Educated
Another book I've talked to him about the last few years—so often he occasionally thinks he's actually read it himself—is the memoir Educated by Tara Westover. Much of this memoir is about the author exploring her turbulent upbringing and processing the aftermath. And there was a lot to process: a paranoid, extremist father who chose to live off the grid and would not allow his many children to be educated or receive medical attention while they awaited Judgment Day; a mother who perpetually submitted to Dad's will, especially after an untreated head injury; and an older brother who was physically and emotionally abusive. My heart broke for Westover as she dug into her confusing, painful past and made brave but crushing realizations about her family. But by better understanding them, she was better able to understand herself as she struggled to build a life in the outside world after leaving home.
What was so beautiful to me about this memoir was the great effort Westover went to in attempting to depict her family and their history as accurately as possible. Despite the trauma she suffered, she portrayed her parents and siblings with grace and perspective, sharing her father's loving moments and her brother's heroic ones. Even for those of us who haven't experienced such severe circumstances, she is a lesson in how much we can learn about ourselves by exploring our family dynamics in an honest and compassionate way, particularly how those relationships shape the people we become.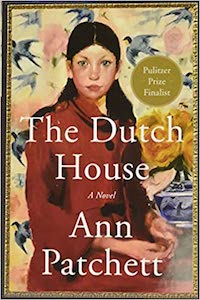 Ann Patchett, The Dutch House
By the time I finished The Dutch House by Ann Patchett a couple of years ago and desperately needed someone to talk to about it, Fred was better prepared. He knew books that have such an effect on me are bound to contain tragic moments and families that are a hot mess. So he patiently listened while I described at length a story about two siblings with a fierce connection borne out of surviving a childhood filled with abandonment and loss. Because they only have each other in the world for a long time, a codependent pattern ensues and permeates the rest of their lives. It affects all their choices and their other relationships until they're each willing to make amends with people from the past.
Although there is great loyalty and devotion in the bond this brother and sister share, it is unhealthy because it is based in part on bitterness and revenge. The narrator is obstinate and self-absorbed at times, but even when he takes things for granted we empathize with his struggle to overcome his past. It's not until decades later, after suffering more loss, that he's finally willing to try to understand and forgive the people who hurt him the most. And in doing so he finds his own chance for renewal.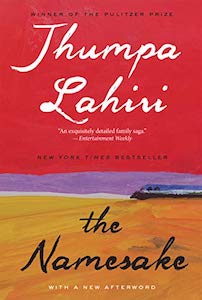 Jhumpa Lahiri, The Namesake
One book I didn't discuss with Fred is Jhumpa Lahiri's The Namesake, only because I feared it might hit a little too close to home at the time. I read it shortly after his dad died, and a father-son relationship is at the heart of the story. The novel is about a couple who leaves their home and family in Calcutta to seek opportunity in the United States. They raise their children in the suburbs of Boston while trying to maintain cultural ties and traditions. As much as this family loves each other, conflict inevitably arises as the children get older. They begin to seek out their own identities and question some of those traditions.
Their son in particular experiences frustration divided loyalties, and failed relationships while he tries to figure out who he is, but some of the most painful moments in the book are when he essentially rejects his father. After a tragic and unexpected loss, he is able to more fully connect with his parents' history and appreciate how it has impacted him. Lahiri shows us that it's never too late to understand and honor where we come from.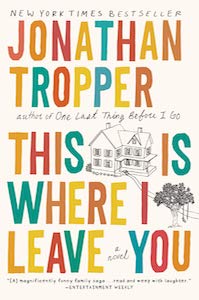 Jonathan Tropper, This Is Where I Leave You
Though Fred is still cautious about my recommendations, I'm hopeful about one other book I recently put on his radar: This Is Where I Leave You by Jonathan Tropper. Rarely have I laughed out loud so much while reading a novel, particularly one that involves the death of a parent, a cheating spouse, another mother with a troubling secret, a family business in dispute, and many, many old grudges. But we laugh through tears as, within the span of a week, this family is forced to confront various betrayals and convenient truths they've each been hanging onto for far too long.
It isn't pretty. There are fistfights, an unexpected pregnancy, rekindled romances, a most cringey encounter between in-laws, and someone contemplates suicide. But as a result they each take responsibility and find some resolution, including the protagonist, who must finally admit his own role in the demise of his marriage. With this new clarity he is ready to consider what he most wants in life.
Like the characters in these books, our willingness to engage in the emotional slog of such exploration depends on many things: age, current circumstances, certainly our own histories. There may be times when such stories are just too painful because we personally relate to what the characters are experiencing, or we sympathize so much it's upsetting, or it's simply disturbing to see what people are capable of doing to themselves and each other.
These days Fred is much more open to such books, and he no longer questions my sanity for reading and loving them. Though he doesn't choose to subjugate himself to such discomfort as often as I do, he sees the merit. They foster empathy and understanding, not just for ourselves and our immediate families, but for everyone around us. Because we are all rich, juicy characters who are full of contradictions. Messy family stories can help us find meaning and connection in a vastly uncertain world filled with vastly imperfect people, and feel a little less isolated in our human endeavor for a happy ending. Or, at the least, the hope of one.
__________________________________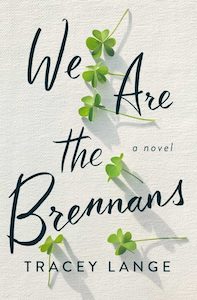 We Are the Brennans is available from Celadon Books. Copyright © 2021 by Tracey Lange.
---