The Disorientation and Relief of Owning My Submissiveness
Rachel Krantz, author of Open, on the Power of "Daddy"
Spring 2015, BROOKLYN
I was buzzing my clit with a vibrator as Adam mined me steady and deep with his usual authoritative ease. It felt so relieving to be fucked by him. He got hard when he wanted, for as long as he wanted. He never came before he meant to. This superhuman, rather freakishly unnerving talent made it possible for me to sometimes truly relax. To move as slowly or forcefully as I wanted to, not worrying about the consequences either way. He made me sit back onto him hard as I got close, gripping my ass in his fists. In his capable hands, I was Adam's rib, fertile earth smoothed to clay. [citation: "This is now bone of my bones and flesh of my flesh; she shall be called 'woman,' for she was taken out of man."] And now, this originally sinful derivative of man was coming in doggy.
"Yes, Daddy. Fuck me, Daddy!" I tried to play it off in the moment, quickly adding a "Fuck me, my man." But like saying your first "I love you," you can't exactly ignore your first Daddy.
Afterward, he held me to his chest and flashed that inverted grin. "So . . . Daddy?"
"Ugh, it's so weird I said that! It always creeped me out when people say they're 'daddy's girls,' too." I covered my face with both hands, mortified. "It must be porn culture somehow. It got to me!"
Adam whispered in the gravelly night-DJ baritone he reserved for just such occasions. "Don't worry, baby. I'll be your Daddy." I laughed and pushed him away, but damn was that delicious.
Though Adam saying he'd be my Daddy thrilled me, I resolved to use the word as little as possible. It didn't work. On the verge of orgasm, over and over like that guy Charlotte dates in that episode of Sex and the City who can't stop calling her "you fucking bitch you fucking whore" before he comes, I'd blurt it out. "Fuck me, Daddy. Yes, Daddy!" In response, he now sometimes called me his "girl." My girl, he'd say, moving his cock around in a highly personalized swirl, a method he'd quickly perfected for making me come. Yes, my girl. It turned me on and creeped me the. Fuck. Out. But perhaps I called Adam "Daddy" simply because calling him "baby" or even "babe" seemed so . . . wrong. He was anything but a baby. Adam was so dominant he'd never call himself dominant. Tasteless and unnecessary, like a guy with a big dick bragging about it.
Naturally, I googled "why women say daddy during sex." I learned there is a dynamic called a Daddy Dom/little girl relationship. (Daddy/boy and Mommy/girl pairings are also quite common; Mommy/little boy dynamics to a less obvious degree, likely because of how the genders are socialized.) The dynamic could vary in intensity, with some people only using the words "Daddy" and "girl" during sex. Others enjoy the dynamic in everyday life, too, with the Daddy Dom "taking care" of "his girl"—cooking for her, helping pick out her clothes, spanking her when she's been bad, rocking her in his lap, tucking her in. The list of ideas made me cringe. And my pussy throb.
Though Adam saying he'd be my Daddy thrilled me, I resolved to use the word as little as possible. It didn't work.
"What do you get when you have a male Dom who's not a sadist and a submissive who's not into pain? Often the result is a Daddy Dom and a little girl submissive in a relationship that focuses not only on domination and punishment, but also on nurturing and adoration for one another," one article explained. [citation: "Daddy Doms Explained—The Softer Side of BDSM," Normandie Alleman, Goodreads, Jun. 2, 2014] A Daddy Dom, as he's called, will "put the baby girl's needs first," doing everything to make her feel special and cherished and even spoiling her at times—but not letting her get away with being a brat, either. In return, the little girl submissive apparently "worships" her Daddy Dom. The word "worship" made me very uncomfortable. The throbbing grew stronger.
I had to admit this whole Daddy/girl dynamic sounded a lot like me and Adam. Hadn't he promised to protect me? Didn't he cook me dinner every night? Hadn't I confessed I wanted him to be my teacher, and already become a much better writer under his precise edits? Wasn't I dressing only as he preferred, and striving to follow all his many household rules?
Adam would add daily to the list of habits I needed to retrain: the way I spilled water around the sink when I washed the dishes; the way I left fingerprints on the bathroom mirror when I opened the cabinet; the way I forgot which dish towel was for the countertop versus drying; even the way I put the toilet paper on in the wrong direction. "Like this, see?" he'd say lovingly, punctuating his point with a spank for maximum effect. Yes, Daddy, I'd think, but never let slip outside the bedroom. And then, judging myself, Jesus, I really like to bring the armchair to the analyst, don't I?
It was obvious to me why I was drawn to Adam's strictness. There weren't explicit boundaries, rules, or punishments in my upbringing.
There were subtly shifting emotional expectations, and yelling/guilt trips when my parents' only child failed to meet them. Don't get me wrong, I'm in most ways very lucky—my biological parents were and are loving and well-intentioned, engaged, open-minded. But the quid pro quo always felt clear: Be a brag-worthy mini-adult attuned to easing our moods, and we won't do inane things like give you a bedtime or make you go to school when you don't feel like it. My mom often said I was her "do-over," destined to live out the achievements her own poor and traumatic childhood had prevented. There was a lot of love and admiration, and a lot of implicit pressure/blurred lines/sudden outbursts I felt responsible for quelling.
My parents divorced before I turned three; their custody agreement had me passed back and forth each day or two. There was a constant shift not just between homes, but between the different sides of myself that most pleased each parent. If I fought with one, I could always run between my two rooms without consequence (literally, they lived a mile apart). Either "authority figure" would readily agree that the other was nuts. It should be no surprise then that throughout my twenties I did not take to monotony or feeling hemmed in. I was hypersensitive to being micromanaged—or really, managed at all. I continued to feel caged in by walls and regular working hours, claustrophobic in my total lack of privacy within open office plans. Being glued to a computer all day, no matter how potentially influential my position as an editor at a major women's website, felt like a capitalist trap.
It was obvious to me why I was drawn to Adam's strictness. There weren't explicit boundaries, rules, or punishments in my upbringing.
All I really wanted was to be a full-time writer. But that dream seemed too rare, too precious, too unlikely to financially pan out. I was lucky to work as close to my passion as I did, to be paying down my student loans . . . even if I dreaded Sunday nights and my morning alarm and many of the hours in between. At least, with Adam, less time felt squandered. My weekends were officially a Netflix-free zone. We read and danced, ambled in Prospect Park, went out for Buddhist Chinese food. I only smoked weed socially. We went to the Blue Note monthly, along with all the other shows Adam bought tickets for without asking. (I liked that he didn't request permission, even though we split the cost on the shared card he had us get as soon as I moved in.) We had dinner with his fascinating friends, mostly academics whose stunning wit and kindness reaffirmed his specialness. We made heroic subway voyages home from Target. Though I was expected to pull my weight, bags were never carried evenly. I just tried to keep up.
In this way especially, I knew Adam was also a long-fermenting rebellion against the first and maybe only dating advice my dad gave me. We sat in the car at a stoplight as a man tugged on his girlfriend's arm when it was time to cross the street. "Never let someone treat you like that. Like you're a dog," my dad said, uncharacteristically paternal.
"Okay, Dad, sure." Still in high school, I couldn't imagine I'd date a jerk like that anyway.
Now, not only did I enjoy the way Adam lurched me around the city, but he often joked that he was "training me." I was surprised to find this idea was actually deeply relieving. Like it was no longer my sole responsibility to arrive at a destination—or even my own life. Adam never seemed lost in a way he couldn't quickly correct. Insecurity appeared to elude him completely. In this shared illusion of his infallibility, I felt safe. I worried, intellectually, that this was problematic as hell. But oh, how relieving it felt. To fully trust, for the first time since I was a very little girl, that someone knew better than me which way to walk. That someone was lovingly monitoring me.
And Adam was interested in every detail. How I often unconsciously placed my mugs on the farthest edges of tables, as if daring them to fall. How I added a bizarre array of toppings on my ice cream and oatmeal alike, opting for variety and novelty and uniqueness over vanilla with sprinkles. How I left drawers ajar and toothpaste uncapped, perhaps afraid of wasting the cumulative seconds of my life. Though he still only brought up non-monogamy abstractly, the potential implications for these traits of mine were obvious to both of us—I liked pushing limits, ample variety, advancing quickly.
"You can tell a lot about a person by the way they brush their teeth." Adam would smile at me, amused. Now I saw what he meant: my mouth foamed haphazardly; toothpaste often dribbled on my chin. I was quick, childlike, unconcerned with any reliable or couth methodology so much as the feeling that I had reached clean. He, on the other hand, was almost self-punishing; contained, effective, bicep bulging. No mess escaped his mouth. These were the kinds of character details I imagined people dissected in MFA writing workshops. I wasn't willing to go into further debt to attend a grad program myself. But oh, did it sound luxurious and liberating to be tasked with only writing. Being analyzed by a professor felt like more than a consolation prize, then. It was like absorbing wealth by proxy.
When Adam very quickly took me home to meet his parents, I was already presented as his Partner with a capital "P." I felt immediately at home in this happy, liberal Jewish family; they made it so by being incredibly hamish [citation: Yiddish for warm, relaxed, cozy, unpretentious, homey], breaking out their vintage bong as we watched The Daily Show and feasted on organic snacks. I saw the difference an extra generation of assimilation and college can make. Under their upper middle-class wings, we'd never have to worry, Adam assured me.
I'd never dated someone who made much money. But securing a more stable future was also an important element of the pressure I felt to find "The One"—The One to Help Me Manage My Mom. I'd long felt emotionally responsible for taking care of my now-single mom, and her inevitable financial dependence could only be staved off so long. How would I manage it alone when she could no longer get by? That constant question had in many ways also driven my professional ambitions—I needed to climb the success ladder quickly (she had me at forty-one). When I confessed my fears about the future, Adam told me to stick with him. We would figure out her situation together. No one had ever said something like that to me before—lover or family member. I'd felt alone with the worry for so long. But now, apparently, I had a Partner.
Wait, is this what wanting to get married someday feels like?
____________________________________________________________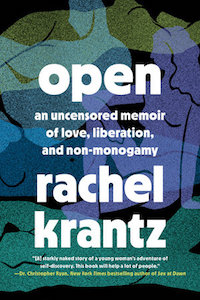 Excerpted from OPEN copyright © 2022 by Rachel Krantz. Used by permission of Harmony Books, an imprint of Random House, a division of Penguin Random House LLC, New York. All rights reserved. No part of this excerpt may be reproduced or reprinted without permission in writing from the publisher.
---