The Deep Metaphorical Power of a Good Cup of Coffee
Dinah Lenney on Coffee, Aging, and Changing Tastes
Sitting upstairs on the stove is this morning's coffee, lukewarm, waiting for me to decide that I'm ready to drink it as is, or just a bit cooler once I add a little milk; see, I'm not above adding milk to my coffee, or drinking an afternoon glass at room temp. In fact (did you know? I did not), it turns out that one of the joys of an excellent cup of coffee is to savor the taste as it cools. What I always thought? The first sip is the best; doesn't get better than this. It turns out if you're patient (don't gulp!), if you cultivate those taste buds—a cup of coffee will get better and better, different-er and different-er; the upshot being that the very best coffee really is "good to the last drop"—good! delicious!—but not the same.
Says who, you ask. Say the experts—the aficionados of coffee—moreover, they warn about the effects of the microwave: not that I'm above microwaving my coffee, god knows, although to change up its chemistry, profile, flavor, and that's what a microwave does, isn't the idea, not if it's flavor you're after, not if you appreciate flavor, unless (my gosh, this sentence, talk about caffeinated)—unless—well, maybe we like the difference, you and I. Or we think we do. Or maybe, subtle as it is, it doesn't register, quite, and we sure do like the temp. If that's so? If we don't mind our coffee slightly altered, or if we just don't notice—well, fine, okay, say those experts, those nerds, which is what they call themselves, by the way—coffee nerds (I'm not casting aspersions, not I). However you like it, they insist, we wouldn't presume, we're not the "flavor police." That's what they say. But you know—I do, too: they wince when they catch us reheating; they politely look away when we add sugar or cream (unless we're drinking a very dark roast—which is only not-suspect, itself, if we're aware that the taste we're enjoying has not a lot to do with the properties of the original fruit).
And what if you were to opt for a vanilla or hazelnut latte? (I would never.) Don't think those well-meaning nerds (farmers, roasters, Q-graders, baristas) wouldn't want to educate you: to explain that the good stuff is already sweet, complicatedly so. It already tastes of some combination of berries, or flowers, or spices, or citrus, or nuts, or tea, or tobacco (tobacco!), or varieties of chocolate; just taste it, they're dying to say, coffee tastes of so many things, depending on where it's from—the terroir—and how it was processed (natural or washed—one way isn't cleaner than the other, just more controlled), and then roasted (to bring out the various notes, or to burn them away)—and if they catch us making a pot without weighing the beans (but at least we do grind them at home, except—are they fresh? Did we use the right kind of grinder?), without exactly gauging the temperature of the water; and, just speaking for myself, my pour-over skills are not perfect—my gosh, there are so many ways to get coffee wrong.
And yet—it's pretty hard to get it wrong, am I right? So (she shrugs, throws up her hands)—so: whatever else you shouldn't do to your coffee, didn't do to your coffee, the point is, if you want that leftover cup—if I do, anyway—well then, rules shmules! Coffee is personal, what did I say? Knock yourself out. Or, rather, go ahead: drink up and be restored. Thank you, I will.
Coffee is the dock in the bay, the point of departure and return—the moment before, anticipated, extended, improvised, framed…
The thing is, though, I should get to it soon. Before three p.m., say. But what if I'm not ready by then? Shouldn't it be my prerogative to push my treat till four, four-thirty, five?
Sidebar: Some people do drink coffee all day long—it's the river running through it. But for many of us others? Coffee is the dock in the bay, the point of departure and return—the moment before, anticipated, extended, improvised, framed, casual or formal, serious or serendipitous… (Sorry, I digress all over again. But this, too, is part of the story, how coffee encourages not only focus and industry, but reverie, reflection, rambling, parentheticals…)
Re: this afternoon—re: so many afternoons when I'm lagging and dragging or even feeling actually productive and inclined therefore to treat myself—to know there's a bit of old coffee on the stove, to know I will forget-then-remember it's there, and run up to drink it, not hot, not cold, not because I'm falling asleep, but just for the taste of it—see, this is new. Today's brew, by the way, is a blend, with notes of milk chocolate, mandarin, and honeysuckle. So says the label. Someone (not I) was able to identify the exact kind of citrus and flower, dear god. I could only have told you it was different from yesterday's. (A single origin from Peru—oh listen to her; listen to me, will you?) That said, I do seem to have become a person who actually tastes her coffee! Who knows when it's good. Who wouldn't drink it if it weren't. (Except in diners, I love diner coffee, which is often excellent, but even when it isn't, I love how the waiters keep filling and filling my cup.)
So two questions: first, when did this happen to me? And second, a less thrilling development, when did I get so old that I need to factor in how much I've already sucked down and when, as in what time of day. An affront, this is, this sort of calculation: you want to know why? Ask almost anyone, coffee is for grown-ups. To be so grown-up, so old, that I can't just drink it whenever I like? Because I'm worried about sleeping through the night? That just isn't fair.
However. Back to question number one, an emerging palate at my advanced age: why, how? And that's easy—that's a recent development tied to my research, however informal. I only had to start to notice, that's all, there's a novel idea, and an angle worth pursuing besides: coffee as a metaphor for all the things a person takes for granted. On a daily basis. For the ways in which a she puts her head down, allows life to simply happen, if not exactly pass her by. To wit, for years we drank Chock Full o'Nuts at our house, because that's what our parents drank, not just mine, Fred's, too. That alone, we figured, was a sign of some sort, as if A., we needed a sign; and, B., hundreds of thousands of people didn't also drink Chock. Chock was a chain, like Schraffts, like HoJo's and the International Pancake House. (Way back when, we'd hang out after school at the New Rochelle Chock Full o'Nuts, though we never ordered coffee—blech, coffee was for grown-ups—only Cokes and fries.)
But the counters pretty much disappeared in the 70s. Only the coffee, so named for their signature sandwich (cream cheese and chopped nuts on raisin bread—no nuts in the grounds themselves, of course not), remains. In varieties, by the way, including Soho Morning, Midtown Manhattan, and Upper West Side Dark Roast; and even so, even as we pined in those years for New York (as if coffee could bring it closer, but if anything could . . .), eventually, sometime in the 90s, we got bored; or I did, anyway. Playing house in SoCal—that is married with children and dogs and a faltering career (as an actor), and looking to spice up my pantry (another metaphor)—I'd loiter in the coffee aisle at Gelson's, picking brands willy-nilly, for the names (Lavazza), or the slightly more elegant cans (Illy), or the colors (Café Bustelo).
However old a person feels, however stunned to have gotten so old, fortified with coffee, she can carry on.
Even after I discovered the second wave of coffee (and the third), I was glad enough to buy a bag of grounds—never whole beans, hell no; given the choice, who would ever grind her own?—only once in a while. The cans themselves were so useful. Where better to store chicken fat, tea bags, hardware, paper clips, tiny tubes of tempera, assorted buttons, marbles, jacks, pencils, and pens—paintbrushes, of course. Think how Jasper Johns immortalized Savarin, which, unlike good old Chock, is otherwise available no more.
When did we leave off those cans altogether? I don't remember. Gradually, I'd say. To the point, though: however much I've recently learned about coffee, including how exquisitely nuanced a flavor it is, how astounding to think of all those decades of drinking (enjoying, depending on, loving) not-so-great brands, two, three cups a day, which is proof, I'd say, wouldn't you?—my emerging palate aside, coffee is about so much more than coffee.
As to the answer to question number two: when did I get so old. Decades, I said, didn't I? Decades have passed, that's how. And I should be honest: though by now I grind the beans fresh every morning (almost); and, by now, I wouldn't dream of committing to any one brand (how did I think that sort of narrow-minded fealty was the pinnacle of adult sophistication?); though I'm curious these days about the beans I haven't tasted or tried, what I crave first thing still, is the heat, the jolt. When the coffee is especially rich or fragrant or fruity, hooray. But the reason for that very first cup? The grounding, not the grind. To get a grip on the day. If ever there were a symbol of here and now, it's coffee; standing in for every coffee that came before, preparing a person to get on with whatever comes next; holding her in between, suspending the present, whenever it is. Coffee lets us start, and start again, and start over—however old a person feels, however stunned to have gotten so old, fortified with coffee, she can carry on.
__________________________________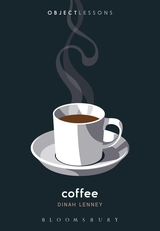 From Coffee by Dinah Lenney. Used with the permission of Bloomsbury. Copyright © 2020 by Dinah Lenney.
---