The Cautionary Patriotism of
the Presidents Adams
Father and Son Alike, Suspicious of Too Much Charisma
As critical thinkers, the presidents Adams shared a library; as political actors, they manifest a similar anti-party awareness; in observing human imperfections, their exacting manner was complementary but by no means identical. (It would be absurd to try to collapse their two personalities into one.) 
John Adams never ceased pointing out the cruel ironies of history. He flatly distrusted motives and judgments, and when he broadcast his insights, he willfully set himself above his fellows. He was, as charged, a vain man. John Quincy Adams was equally stubborn, equally driven, equally disputatious. He, too, refused to witness in silence the defective conduct of men who chose a political life. But as the one more freely bound to his religious faith, especially in the years after his father's involuntary retirement from politics, the second Adams did not give up trying to promote remedies for moral lapses and poor political judgments that beset the nation. 
The irrepressible presidents Adams were products of a culture that led wandering minds in a search for useful knowledge. As avid readers, letter writers, and diarists, they took the past as their province. A preoccupation with history spawned two inexhaustible critics who documented the excesses they saw in unchecked democratic posturing and democratic pretense. Which makes them memorably combative. 
What they learned could not be contained, even in the ever-expanding personal journals they kept. "Travel is fatal to prejudice, bigotry, and narrow-mindedness, and many of our people need it sorely on these accounts," wrote Mark Twain near the end of The Innocents Abroad. "Broad, wholesome, charitable views of men and things cannot be acquired by vegetating in one little corner of the earth all one's lifetime." Twain's lines seem entirely apropos here. It is not merely reading matter that informed the two Adamses' thinking, though reading while abroad made a better America more imaginable for them. Wandering had long-term effects: it conditioned their trust in institutional solutions; and it fed their repugnance for unthinking types whose prejudices caused them to dismissively label entire groups of people instead of sifting through, and reasoning through, differences. 
Europe produced judgments, positive and negative, about men and women of inherited wealth and power to whom they were daily exposed. A sustained immersion in distant capitals did not suck either of them in; we must underscore that they did not venerate any old-world political form. Their contemporaries were wrong who charged that any displeasure they voiced with regard to Thomas Jefferson's or Andrew Jackson's brand of democracy should be regarded as an illegitimate embrace of aristocracy. That bugaboo attaches to both father and son, for no good reason. It was the easy route for anti-Adams partisans in campaign literature and one-sided histories. It should be seen, with one backward glance, for what it was. Europe added to their inner lives but did not alter their essential personalities. In fact, foreign postings were extended opportunities to exhibit an unwavering nationalist passion. 
There is another way to put this. 
John and John Quincy Adams struggled surprisingly little in striking a balance between their New England provincialism and the age-old protocols that prevailed in European diplomatic circles. They never curried favor to gain acceptance. Adams bluffness, or Yankee hardheadedness, defined their relationships abroad no less than it was manifest in national congresses in which they both played important roles. In short, they studied the world without abandoning the moral geography of America. 
If travel swelled their heads, it was owing to (as official correspondence shows) the pride each took in his position as the dutiful vanguard of a dignified US foreign policy. John and John Quincy Adams did not feign humility; neither "plain John Adams" nor his European-reared son was "common" when he communed with others of the wandering set. In 1795, as he was preparing to embark, without his father, on his first tour abroad as a US diplomat, John Quincy wrote to his sister, Nabby, of being "once more scattered about the world" and said that he and his father were destined to live the life "of wanderers, beyond the common lot of men." Beyond common. They experienced the worlds contained in their libraries on a level beyond mere sedentary amusement. This is, arguably, what led them to become instigators—another of the terms we use to designate their shared experiences and attitudes.
*
There's a reason why, despite John's farmer persona, despite John Quincy's years as an endurance swimmer, despite the danger-fraught wanderings of both, they were not mythologized as Jackson the frontiersman was or Lincoln the log splitter would be. The inner heat that sparked the Adamses' political activity was of a skeptical nature. Their detached erudition did not appear forward-looking, or even, at times, American, because it was cautionary rather than invigorating. John Adams captured his own karmic condition succinctly in a post-presidential letter to his son: "I have always been a Prophet of ill, and punished Accordingly."
John and John Quincy Adams struggled surprisingly little in striking a balance between their New England provincialism and the age-old protocols that prevailed in European diplomatic circles.
Of those most closely connected to the presidents Adams, even the foremost chronicler of their public papers and personal writings, JQA's son Charles Francis, confirmed the public's dark appraisal of the lineage. When his father was president, Charles weighed in with an almost cruel curiosity, in characterizing supporters as "more impelled by a sense of his merit in the performance of his duty than by any art of personal popularity." The sixth president, and for that matter the second, would likely have construed (had they seen it) Charles's diary entry in a favorable light. The self-diagnosing Adamses understood that success was doubtful when knowledge went unaccompanied by glad-handing skills. But they could hardly change who they were.
"These thoughts have often occurred to me in connection with my father," Charles proceeded. "I have still more wondered at the peculiar and astonishing merit of his political abilities which in this democratical government have been able to form so complete a counterpoise." How could a personality so unwelcoming have gotten this far? "The people are," Charles wrote unabashedly, "more led by the winning graces of a flattering demagogue than by the more stern and serene character of the unbending statesman." This was just what his father and grandfather had been saying.
While the general image of JQA that descends to us is the cold fish that his son Charles confirms for us, that is not all there was to him. Not by a long shot. When the Amistad case was before the Supreme Court, a reporter covering the stolid congressman witnessed a telling—otherwise unrecorded— incident in his life. In view of the Capitol, Adams's Irish coachman was violently thrown from his seat atop the carriage after the horses took fright, crushing him beneath the wheels. The passenger's face revealed unmistakable "mental anguish" as he tried unsuccessfully to save a man's life.
Plodding along with his books, the reporter acknowledged, Adams was conventionally taken for a "walking encyclopedia"; sitting in his seat in the House of Representatives, he struck a pose like a "marble statue." But in witnessing his humanity, one was able to draw a truer picture of the man, to attest to the essential sweetness of this Adams at a moment of "domestic affliction." Following the coachman's death, Adams asked to be excused from his scheduled argument before the high court; he hoped the next session could be delayed so that he could attend the poor man's funeral. This was not a "cold- hearted, affectionless man" but one brimming with the "tenderest sympathies."
The reporter was an avowed abolitionist, which obviously colors his story. But we are bound to engage with his report, and others like it, in the context of the media's self-anointed role—yes, even then—as image makers. They affected an ability to discern a living person's essential nature, which should make every biographer suspect who seizes upon the low-hanging fruit of political stereotyping. It is true that JQA's enemies consistently portrayed him as a "worn-out politician," or as a silly old man, and then there was the simplistic claim that he retained, even in the 1840s, aristocratic pretensions that attached to his father as a perennial member of the "British Party."
It is hard to know precisely why, but the Adamses remained where nature had placed them: on the short side of manly stature and, for no particular reason, quoted insufficiently relative to the quantity of good writing they produced. As to their paired reputations for personal honor, we must note that rectitude is itself apolitical but also devoid of the raw material of so‑called greatness. That is probably why John and John Quincy Adams descend to modern times as two who were out of step with what Walt Whitman, in his poem "To Foreign Lands," called "athletic Democracy." Without a tribe of cheerleaders, they could not be associated in the public mind with the electric expectations of a warmly embellished republican empire. 
__________________________________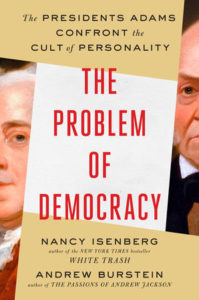 Excerpt adapted from The Problem of Democracy by Nancy Isenberg and Andrew Burstein, published by Viking, an imprint of Penguin Publishing Group, a division of Penguin Random House, LLC. Copyright © 2019 by Nancy Isenberg and Andrew Burstein.
---