George Saunders' new book, A Swim in a Pond in the Rain: In Which Four Russians Give a Master Class on Writing, Reading, and Life, is out next month and promises to be a literary master class on the short story. Drawing from his teaching career at Syracuse's MFA program, Saunders walks readers through his favorite short stories by Chekhov, Turgenev, Tolstoy and Gogol to demonstrate how great fiction has the ability to move and shape us.
In the audiobook for A Swim in a Pond in the Rain, Saunders narrates his essays, and the original Russian short stories are read by a cast of celebrity admirers.
Here's Saunders in the studio: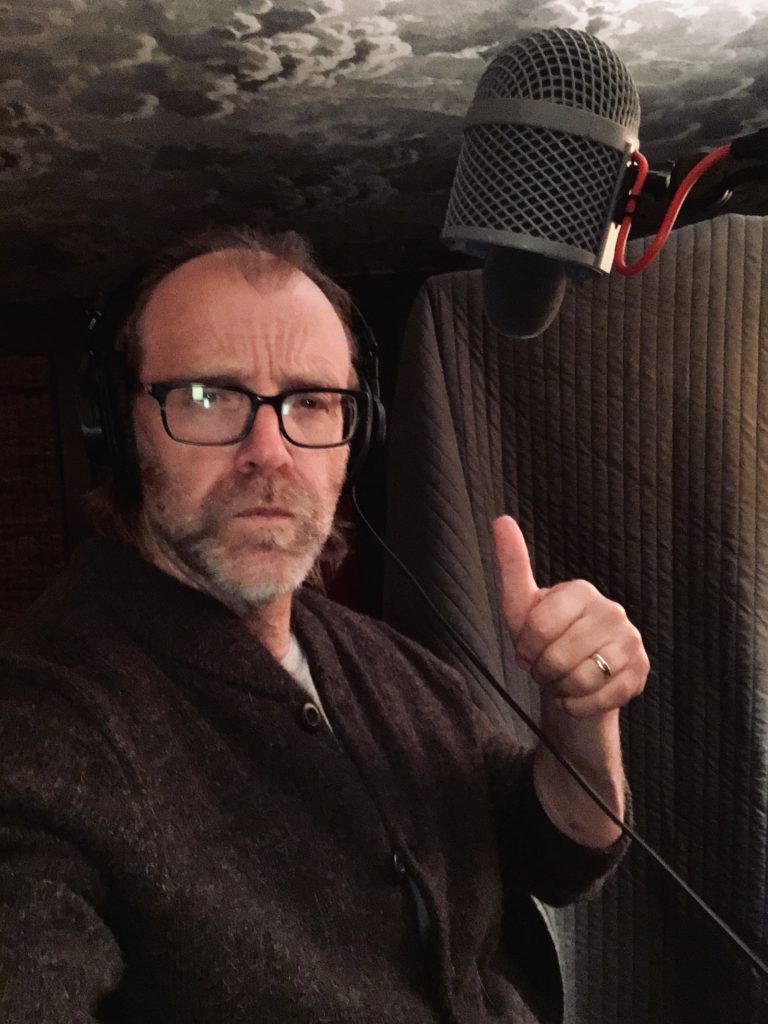 And here is the celebrity cast:
"In the Cart," by Anton Chekhov, read by Phylicia Rashad
"The Singers," by Ivan Turgenev, read by Nick Offerman
"The Darling," by Anton Chekhov, read by Glenn Close
"Master and Man," by Leo Tolstoy, read by Keith David
"The Nose," by Nikolai Gogol, read by Rainn Wilson
"Gooseberries," by Anton Chekhov, read by BD Wong
"Alyosha the Pot," by Leo Tolstoy, read by Renée Elise Goldsberry
Saunders says:
These are wonderful stories, each in a slightly different tonality, so part of the fun of the casting was trying to calibrate reader and story. The challenge for the readers, I'd imagine, is that the stories are deeply emotional but are also coming out of a distinctly different, nineteenth century, literary moment – so, in short, we needed great actors. And did we ever get them.
The fun part, for me, was connecting with these artists whose work I'd loved and getting the chance to collaborate with them (albeit indirectly). Some (Phylicia Rashad, Keith David, Renee Elise Goldsberry) I've only had occasion to admire from afar, and others I'd worked with before. Nick Offerman and Rainn Wilson appeared (brilliantly) on the audiobook for Lincoln in the Bardo and I'd worked with Glenn Close, who played Aunt Bernie in an Amazon pilot of my story "Sea Oak," (and from whom I learned so much about artistic courage). A few years back, I heard BD Wong do a jaw-droppingly great reading of my story "My Chivalric Fiasco" as part of Selected Shorts.
So, it's a great celebration, not only of these stories, but of the craft of acting. So inspiring to hear the spirit of Chekhov, Turgenev, Gogol, and Tolstoy coming through these huge contemporary talents, who made each story entirely new again.