The Book That Brought Writers' Fears and Self-Doubt
Into the Open
Christina Baker Kline and Bonnie Friedman Discuss
a Classic of Literary Craft
HarperCollins recently reissued Writing Past Dark, by Bonnie Friedman, the classic, bestselling guide to the emotional side of the writer's life, marking the book's 25th anniversary.
Three decades ago, when Friedman was fresh out of the Iowa Writers Workshop, the New York Times Book Review published her essay, "Envy, the Writer's Disease." Writers from all over the country wrote in to say that she had shifted the conversation, allowing space for honest talk about jealousy, competition, and feelings of inadequacy that they'd been afraid to discuss with other writers. At residencies, writing programs, and conferences, the piece was widely discussed.
At the encouragement of a literary agent, Friedman wrote a book about the taboo emotional topics in the writer's life, leading with that envy essay. Writing Past Dark became a national bestseller; it has been widely anthologized and included on hundreds of college syllabi. Poets and Writers calls it one of "The Best Books for Writers" and The Center for Fiction lists it as an "Essential Book for Writing." Literary Mama says: "Bonnie Friedman has saved many a writer's career with this one." #1 New York Times bestselling novelist Christina Baker Kline says that this book is "on the short shelf of books I consider essential."
Recently Kline sat down with Friedman to discuss how Writing Past Dark came about, what particular traits enable writers to succeed, and how the landscape has changed for writers since it was first published.
*
Christina Baker Kline: Writing Past Dark was first published nearly three decades ago, when you were a recent graduate of the Iowa Writers Program. Can you talk about the circumstances that led you to write this book?
"I had the gut feeling that I wasn't so very peculiar, that the fears and self-sabotage that made me suffer likely made other writers suffer, too."
Bonnie Friedman: There were a lot of things I did that made me suffer as a writer, and I wanted to learn why I did them. For instance, I routinely sickened myself with envy in bookstores. And, I was so afraid of getting right to work in the morning that I did a bunch of chores first and set everything as straight as possible before sitting down, by which point I was tired and there wasn't enough time left. Also, ambient sounds seemed so interruptive that, even in a frigid Massachusetts winter, I set an air conditioner on my coffee table and turned it on for its enveloping roar. And if a short story received more than two rejections I chucked it forever into a bottom bin, ashamed.
All these were secret things I had no way to discuss with other writers. And yet I also had the gut feeling that I wasn't so very peculiar, that the fears and self-sabotage that made me suffer likely made other writers suffer, too. At the same time in my life, I'd just discovered this incredible tool—the personal essay. It lets you go from scene to analysis to association and often epiphany. You arrive at what you might never touch otherwise. I saw it as being like a prosthetic arm (I had a boyfriend whose brother built a prosthetic arm; it made a big impression on me): the essay let me grasp what would otherwise lay beyond me. So, to me Writing Past Dark was this very exciting inquiry via essay into the nature of hidden obstacles. I was fascinated to reach into the important shadowy places and find what had been lost there.
CBK: I was in an MFA program myself when you published an explosive essay about a taboo subject for writers—envy—in The New York Times Book Review in the early 1990s. It made you instantly famous in writerly circles; everyone I knew was talking about it. How did that essay come about? How did publishing it change your life?
BF: The journal Poets & Writers had an article about how to write a query letter. For fun, I wrote one to them, on the subject of envy, for a piece to be written on spec (a term I learned in the article). For me, envy was a big problem. I felt inferior to many others in my graduate program. And in writing the essay I really came to accept the fact that even though envy feels like theft, even though it feels like something another person is doing to us because they have something we feel could or should be our own, the truth is that it's something we do to ourselves. Which is cause for hope. Because if it's something we are doing to ourselves then we can stop.
When I was done with the essay, I decided to try The New York Times instead, and the editor of the Book Review called me up with her acceptance. I shrieked with joy, and she answered, very droll, "Why are you so excited. The essay is good." Poets & Writers was very understanding. How did it change my life? It gave me the confidence to write about other verboten topics. And it was nice to have produced something my family could view as worthwhile. Before then, I think they thought I was doing the equivalent of pasting macaroni onto construction paper.
CBK: Was any special knowledge or research required to write this book?
BF: For the chapter on writer's block I drove to the Danbury Public Library and borrowed the six or seven books they had on anorexia. The two conditions seemed to have an affinity. And the more I read about anorexia, the more I understood writer's block. I was very moved by the psychiatrist Hilda Bruch's empathy for the perfectionism of these girls, and the need they had to find something they could do that made them feel special. They had felt so ordinary before then, and had discovered in restricting their food intake a way to feel in control and to have a measurable effect that to many of them felt like the first real fulfillment of their authentic selves. And so it was hard for them to give this up.
"I wanted to know what writing school had meant—that yearning for a mentor and the disappointment of not finding one, at least not among my teachers."
All this sounded a lot like my experience of the perfectionism of writer's block: the lack of tolerance for spontaneity and mess. The exultation in high standards. Sometimes I would sit and gaze at the photo of Hilda Bruch in the back of Conversations with Anorexics. She seemed to be saying that the kind of inquiry I was involved in was worthwhile, and that psychological things could have a big impact, and it was okay to acknowledge that. I also read a lot of psychoanalyst Melanie Klein in those days, and the British Object Relations theorists, who believe that people are always replaying with other people—and even with things—their earliest and occasionally even preverbal relationships. Klein's work on envy and gratitude especially spoke to me, even though it reads more like poetry than science. All of this was in the background of Writing Past Dark.
CBK: Writing Past Dark is the opposite of a "how to" guide. Instead, as you say, it concerns the "emotional side of the writer's life"—it names, explores, and critiques the different forms of self-sabotage writers experience when they sit down at their desks every day. How did you come up with your list of eight (which includes envy, distraction, and writing about the living, among others)?
BF: They were all subjects in which I had something at stake, subjects about which I needed to figure something out. I wanted to know what writing school had meant—that yearning for a mentor and the disappointment of not finding one, at least not among my teachers. And why did I feel unable to write fiction about my sister, who had multiple sclerosis? And why did I feel like I was dissolving if I went a week without writing? It was all intensely personal. Which, it occurs to me, may be why readers connected with it. 
CBK: What is one of the most surprising things you've learned since writing this book?
The role of drive in a writer's success. The students I've had who have gone on to publish and to win awards and also to get tenure-track teaching jobs all have an element of grit and determination in them. They were not necessarily the most talented writers. In fact, talent is surprisingly widely distributed, I've found. My mother used to ask me, "Do you have any talented students in your class?" Every semester, in all my classes, there were always talented students! I got tired of her question! But time and again over the years I've discovered that it is the combination of talent and a work ethic and also sheer doggedness that are determinative. If you want to succeed (and not just to write), you actually have to actually want to succeed. I do also remember my most talented students. And very occasionally one of them publishes.
CBK: I love your line, "Successful writers are not the ones who write the best sentences. They are the ones who keep writing." It reminds me of Voltaire's observation that "the best is the enemy of the good." What advice do you have for writers who are perfectionists?
BF: Look at all the published books that disappoint in some way. Even Anna Karenina goes on for too long after its heroine dies. So what?! Even flawed, lots of books have other marvels and strengths. What's most important is that they have the breath of life in them. Secondly, know that if you keep polishing that one novel or story, you are giving up writing about other things, and learning. Perfectionism comes with some real tradeoffs. Sometimes it's good to accept a degree of incompletion in order to allow new growth.
Bonnie Friedman is the author of the best selling Writing Past Dark: Envy, Fear, Distraction, and Other Dilemmas in the Writer's Life, which has been anthologized in six different writing textbooks. She is also the author of the memoir The Thief of Happiness, and, most recently, Surrendering Oz: A Life in Essays, which was longlisted for the PEN/Diamonstein-Spielvogel award in the Art of the Essay.
A #1 New York Times bestselling author of eight novels, including Orphan Train and A Piece of the World, Christina Baker Kline is published in 40 countries. Her novels have been awarded the New England Prize for Fiction, the Maine Literary Award, and a Barnes & Noble Discover Award, among other accolades, and have been chosen by hundreds of communities, universities and schools as "One Book, One Read" selections. 
__________________________________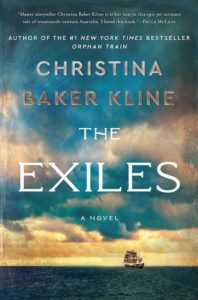 The Exiles by Christina Baker Kline is available via Custom House.
---