Storage Space for the Undead: Inside the Cryonics Business
Thomas Mira y Lopez Considers the Search for Eternal Life (and Frozen Heads)
The most secure underground vault in the world sits 650 feet below the earth's surface in an old salt mine outside the town of Hutchinson, Kansas. Inside: over 35 football fields worth of storage space, encased in a 400-foot-thick salt formation that can withstand a nuclear blast. The vault is advertised as the world's largest time capsule. Its motto: For Security, Forever.
Somewhere within the vault's 1.7 million square feet sit a hundred or so boxes, each the size of a ream of printer paper. The contents of these boxes are precious, known only to the people who assembled them. In 150 to 200 years, these people will unearth their boxes, unpack and inspect each one, and then, depending on the individual, perhaps clutch the contents to his or her chest and weep. In some cases, these boxes will save lives: they may turn these people into people again. For what makes each box so cherished—so much so that it's buried 45 stories underground in a Cold War-era vault built to withstand all kinds of earthly apocalypse—is that those who first packed the boxes at the beginning of the 21st century will be the same ones to unpack them hundreds of years later.
At least, if all goes according to plan.
*
Bree and I were already sweating. Headed north on Arizona's I-10 early on a late September morning, we were making the two-hour drive from Tucson to Scottsdale to visit the Alcor Life Extension Foundation. At nearly 1,000 members and 127 patients and counting, Alcor is the largest cryonics institute in the world and the name most commonly associated with the cryonics movement, the preservation of bodies at exceedingly low temperatures in the hopes that future technology restores them to life. Ted Williams's head sits inside Alcor's facilities; Simon Cowell and Larry King plan to end up there as well. As much as cryonics has a past or, rather, a future, it is Alcor.
The Toyota's AC kicked on in sporadic blasts and the air pulsed with heat. I'd put the same late Bob Dylan album on loop to kick us into the proper morbid mood. The two of us had yet to shower. Bree, a friend from grad school, offered me a stick of gum and texted her girlfriend, Lela, on our progress. Alcor's free public tour started at 10 am and we were both a little jittery at the prospect, unsure of how to behave in the face of something we didn't believe. Would we pretend to be prospective members in spite of our baby faces? Sign up for storage boxes in the underground vault in Hutchinson, Kansas, as other Alcor members had done? Or would we tell them that Bree, a poet, scrapped preparation for her afternoon class and came along only to indulge a nostalgia for Futurama, the show in which the lead character is accidentally cryonically frozen for a thousand years?
Taking the tour seriously, we agreed, was difficult. Cryonics was creepy and, in some respects, terrifying. But we wanted to discover just what exactly unsettled us. There existed, of course, the gruesome stories about severed heads stuck to Bumble Bee tuna cans and sawed-off frozen body parts. There was the futuristic vibe as well, the aura of stepping sideways into a science fiction plot, something out of The X-Files or Alien. We were entering a space where people focused intensely on the future—cryonicists often liken themselves to space travelers, hence the term cryonauts—but from a perspective rooted in the past, where the means and practices for reaching that future seemed medieval and macabre. Yet what frightened me the most, what seemed not just surreal but downright unnatural, was that I believed I was going to a place that ran counter to the human body's most natural instinct. I thought of my father and his seizures, his craniectomy, and how when a quarter of his skull was removed, his brain seemed to breathe of its own accord. I thought of how his body was sending a message, however much I didn't want it to, that it bore intolerable pain and wanted to rest. I thought how life meant death: that this was what we've been told everywhere, all the time, as long as we've been alive.
How then did a group of people convince itself so thoroughly of the opposite?
Cryonicists argue that death is a relative term. The Cryonics Paradigm, a theory first formulated by Robert Ettinger, the so-called Father of Cryonics, proposes that our current definitions of death are inadequate and crucially dependent on available technologies. Alcor maintains dual claims: that life can stop and start as long as a basic biological structure is preserved and that, through its research and breakthroughs, Alcor has harnessed the technology for that preservation.
On a basic level, our definition of death does change. Life may carry on in unexpected ways. We no longer assume, for example, that when breathing and blood circulation stop, life stops as well. Suffer a heart attack and you may still survive more than ten minutes of cardiac arrest. Slip under a frozen stream in Sweden and hypothermia might slow you down so that you survive 80 minutes underwater.
Death can fool us. Cryonicists merely ask we delay its declaration until "information-theoretic death" occurs: that is, only when the brain's information and memory become irretrievable should one consider a human life lost.
Cryonics is an experiment, Alcor says. We go into life knowing only that it results in death, so why not go into death hoping that it might result in life?
To our left the Scottsdale airport stretched back, charter planes dotting the tarmac. A landscaping crew worked along its fence. Our blue dot hovered over Alcor's red pin on the GPS and we parked on the street. Paloverdes and red birds-of-paradise lined the road, alongside rows of shrubbery trimmed to look like poodles. It was hard to tell if we were in the city proper; everything in Scottsdale appeared also outside Scottsdale. The office buildings had unforthcoming names like PCA Skin and Kyocera. Alcor, with its futuristic ring, was named after a distant star in the Big Dipper, one so faint in the night sky it was said that only someone with excellent eyesight could spot it.
Alcor's gray, single-story building was largely windowless; on either side, two squat towers jutted out like rooks. The anonymity felt intentional, almost clandestine. A few cars were parked in its lot and the front door was locked with a note telling visitors to ring the doorbell. We hesitated. "This is weird," Bree said. She took a picture of the facade and uploaded it to Instagram. "Would it be wrong if I made the hashtag Popsicles?"
We entered an empty lobby. A couch and some chairs sat around a glass coffee table with Cryonics, a monthly newsletter, fanned across it. Grainy portraits of men and women lined the walls, a name and date of birth under each. A cubicle crowded the middle of the room, as if lugged in from another office and then forgotten. Someone had cut out newspaper cartoons of cryonics jokes and pasted them to the cubicle wall: "I'm beginning to think this whole cryonics thing was a mistake," one shivering angel said to another. The word Alcor appeared in large blue letters on the cubicle wall. The wife of a board member recently refurbished the lobby, but for now the décor suggested it had gone untouched since the 70s.
A woman stepped out of the office as we started to wonder if there was anyone there at all. She was very tall, her hair swung across her back in a braided ponytail, and she had one of the longest faces I'd ever seen. Her eyes drooped high up on her forehead; her nose ran the length of my index finger. Her face was strangely handsome, like something you might find on an old Roman coin. She spoke to us in a loud, soothing whisper, telling us her name was Diane and that, although she usually handled sales and membership, the CEO and head technician weren't there so she would lead us on our tour. We should have a seat and relax. Two more would be joining us and then we'd begin.
The problem with the Cryonics Paradigm is that it's one thing to delay death and another to return life. Alcor bases its premise for reviving bodies from cryostasis upon the belief that "methods of repairing structure at the molecular level" are now foreseen. Through nanotechnology, the building of matter on the atomic level, cryonicists anticipate our ability to grow and manipulate individual atoms to reform a human body from scratch. The reformation process, however, remains highly theoretical.
This conviction in scientific progress' inexorable march forms a core tenet of transhumanism, the underlying philosophy of cryonics. Transhumanism argues that human intelligence constitutes a separate and more powerful force than humanity itself and so, by the end of the 21st century, it's reasonable to think humans will no longer be the most capable or intelligent beings on the planet. The machines we've designed will hold that distinction instead.
Cryonics has had a long history rooted in science fiction.
When Robert Ettinger outlined the idea for it in his 1962 book The Prospect of Immortality, he did so after reading "The Jameson Satellite," a story published in 1931 in which the last man on earth preserves his body by orbiting in a space capsule for 40 million years. But with the election of Max More, a prominent futurist advocate, as Alcor's CEO in 2011, these science fiction origins gave way to the artificial intelligence–based utopian visions of transhumanism. At this point, a movement that was once seen as the domain of DIY, tinkering-in-the-garage types attempted to gain mainstream traction.
Yet until it does, Alcor exists on the fringe. As long as it's positioned outside the dominant cultural and scientific institutions, cryonics will have trouble raising and maintaining money for both research and preservation.
This does not stop Alcor from presenting itself as affordable. It urges interested members to take out a life insurance policy so that cryonics becomes no more a living expense than, in Max More's words, a daily Starbucks latte. Still, a full-body cryopreservation costs a nonrefundable $200,000, and a neuro-cryopreservation costs $80,000 (neuro being the shorthand for a patient who wants only his head preserved—I say "his" because the percentage of male cryonauts overwhelms at 75 percent). On top of this, yearly membership dues add up to $550. Yet while that money goes to everything needed to cool and preserve the body as well as the establishment of a patient trust, it's impossible to estimate what the costs of waking and reintegrating the patient will be—a patient who, 200 years later, will possess an outdated skill and language set, not to mention most likely a need for therapy and psychological rehabilitation.
The most Alcor can do is promise it will be by your side, like some young boy-priest guarding a pharaoh's tomb. It promises that the members of its trust are not grave robbers or looters, but loved ones themselves, husbands and wives or sons and daughters of members in cryopreservation. You will enter a larger family as eager and invested to see the technology work as anyone else.
Which raises two questions. The first was Bree's. What happens if not the patients, but Alcor itself runs out of money? And the second: What if the person who returns from cryostasis does not remember the person who first died? Are they, then, the same person?
A couple was buzzed in. They were blandly attractive, in their late twenties with well-kempt hair and clear, pink skin. They looked like they met at one of the nearby offices. They sat down on the couch. The man, I noticed, wore a thick silver wedding band. I was suspicious. Why were they here? What did they come for—to sign themselves up or to get a kick out of it?
I smiled and asked the man where they drove from. "Scottsdale," he said and then, as if the conversation needed further deadening, "Not far." I said it was hot out there. They agreed. I realized, rather self-consciously, that these two thought Bree and I were another couple interested in possibly exploring the joys of eternal life together. I covered my left hand with my right. Bree flipped through her magazine.
That this couple might have been prospective members opened up some questions. Namely, wasn't it selfish to cryonically freeze yourself? Didn't one have better uses for time and money and hopes? Maybe I was uncharitable, but wasn't there some mandate as a citizen of the world, one hopefully aware of its overpopulation and limited resources as well as its ongoing climate change and probable, if inevitable, vast environmental ruin, to accept the fact that you die and turn the world over to others? If Alcor was about seeing far and distantly into the future, about a grandness and boldness of vision that rivals the cosmonauts, then there was also a myopia here, an inability to see past one's self.
Most of all, I wanted to find out this: What runs through the mind of someone who wants to live forever? What sort of person would never want to die?
I wanted to know what happens when the cryo-men and-women wake up in the Arizona heat, travel the fifteen hours and four minutes it takes to drive from Scottsdale to the Kansas prairie, ride a creaking elevator 650 feet down into the earth, and then open their memory boxes in the vast and silent mine. I wanted to know what happens when the time vault unticks and the flood of memories appear and the smell of salt lingers in the mausoleum of what was once there. When loneliness creeps into that great, underground vastness and sidles up to them to whisper that although they're not dead, everything and everyone else they know is.
__________________________________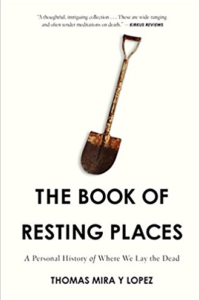 Excerpted from The Book of Resting Places: A Personal History of Where We Lay the Dead by Thomas Mira y Lopez. Courtesy of Counterpoint Press and copyright of the author. All rights reserved.
---