The Birth of a Small Town Bookstore
A Former Nurse Brings Black Dog Books to Newton, New Jersey
April 2016
There's something downright literary about waking in the middle of the night—so Catherine Cassidy was following in the tradition of writers from Shakespeare to Tennyson when she awakened to a realization: she would soon open a bookstore.
Cassidy was raised in Wyoming, where, she told me, her mother would take her to a Carnegie Library each week. They went even more frequently as her mother became a voracious reader. When her family returned to their farm in New Mexico, a bookmobile would visit on a regular basis.
She worked in a bookstore when she was 18, but didn't have a very literary career: she was a nurse for 35 years. Somehow this didn't surprise me, as it called to mind my experience teaching a college literature course, in which some of my best readers were nursing students. They tended to be reflective, patient, and simultaneously practical and realistic. All desirable traits for a bookseller.
Cassidy told me that bookstores have always been guideposts for her; whenever she travels, she seeks out bookstores because they offer a "perspective of place." The place that she chose for Black Dog Books was Newton, New Jersey, a small town that is the county seat of Sussex, the northernmost county in the state. Sussex County really puts the "garden" in the "Garden State": the area is defined by farms and forests. My family's from Newark and Dover, and I can tell you that Sussex doesn't look like the rest of New Jersey.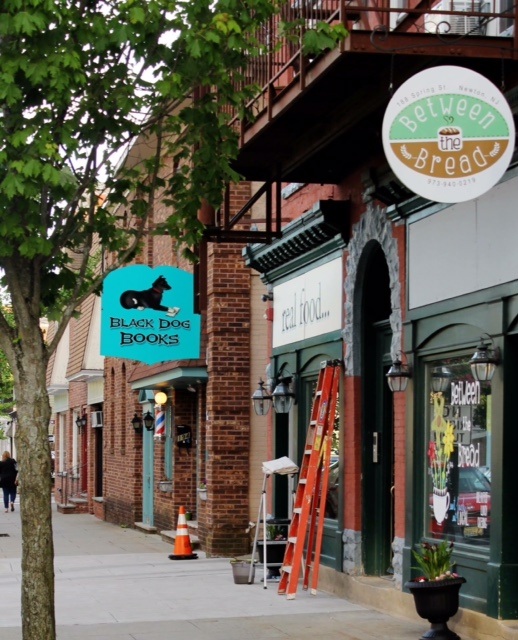 Sussex is not without bookstores—Sparta Books and Broad Street Books are two fine independents—but Newton itself has been bare of books. Since I've moved to the area, I've encountered one or two bookstores aimed at children, but otherwise, it isn't a very literary area. That's a shame: although Sussex is stereotyped as the Jersey version of redneck, it is more similar to Vermont. Rivers, streams, and lakes pattern the land. Roads wind through thick forests. Hikers trek the Appalachian Trail. Forest Service fire towers dot the mountainous horizon. Mining museums serve to memorialize the county's abandoned industry.
Most people who live here seem to work elsewhere, making Sussex an exceptionally quiet place. Perfect, one would think, for books.
* * * *
May 2016
Before there can be books, there has to be work: cleaning, sanding, painting, moving. When I think of this silent month of preparation for Black Dog Books, I am reminded of Laurence Roth, one of my favorite professors at Susquehanna University. He used to tell me stories about his father, who owned a Jewish bookstore—J. Roth / Bookseller of Fine & Scholarly Judaica—in Los Angeles.
Roth has written that he truly "grew up" in his father's bookstore. "That bookstore was not only my introduction to literature but also my introduction to the social world surrounding books . . . Literature is an embodied experience that happens between the people you meet as well as between the brain and the page." Roth's examination of his father's meticulousness in arrangement and preparation of his books suggests that bookstores are almost like museums for books: keepers of canons, while possibly flashpoints for change.
There's a lineage of literary responsibility. It might begin with teachers, who hopefully inspire and cultivate and teach. Along the way there are editors and publishers, even librarians. Independent booksellers play an important role in this lineage, a role that transcends the necessary financial concerns of owning a small business. I think again of how Roth described his father's store, "the way its stock was bought, sorted, and displayed reflected the mind and habits of a book collector." Roth references Walter Benjamin's description of a book collection as a "living library," and a "collector's attitude toward his possessions stems from an owner's feeling of responsibility toward his property. Thus it is, in the highest sense, the attitude of an heir, and the most distinguished trait of a collection will always be its transmissibility." Roth believed that his father dramatized that trait: "The store exemplified his belief that a clean, well-lighted place and the salutary order of literary categories could help remake the Jewish bookstore in America."
High hopes for a bookstore, but if we don't think of our booksellers with optimism—those who handle books holding our best words in their best order—who else can we trust to sustain literature?
* * * *
June 2016
The space for Black Dog Books previously belonged to Andre's Restaurant. It had been the one consistently great restaurant on Spring Street in Newton since 1998, but had recently moved to a nearby town. Newton has been trying for years to revitalize its town center, but the evolution of this space captures the tensions and struggles of American small towns.
The conundrum of being a bedroom community is that people who work in more urban areas certainly want the quiet of rural living, but they're also drawn to the best parts of city life. Great food, great shows, and even great reading. Newton storefronts appear and disappear within months, with the town never quite able to capture the right mix.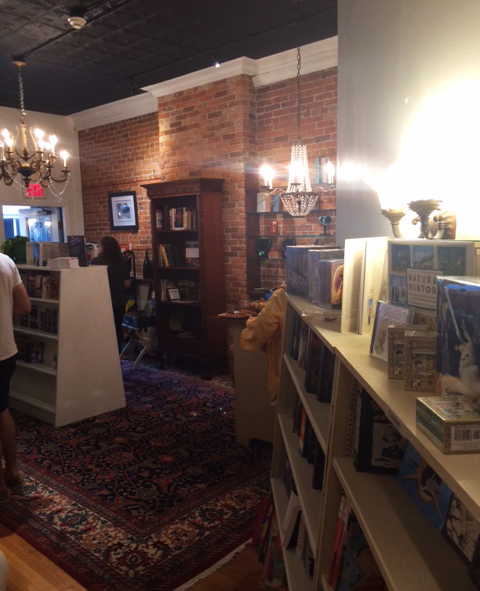 A few years ago, the long-running town cinema closed. An organist used to play at the front of the theater before films. After renovation, the theater re-opened for comedians and concerts, and has just started screening independent films. A few blocks down, Black Dog Books splits Andre's old space with Between the Bread, a breakfast and brunch restaurant that was part of the town's redevelopment (the businesses are connected by an open doorway—you can get a sandwich and then go browse the shelves). Next to them is The Style Shop, a family-owned haberdashery that closed this summer after 57 years. This is the way of small-town America storefronts: openings, closings, hopes, reality.
I visited Black Dog Books a few days after their sign went up. Walls had gone from red to white. The dark restaurant was now lit with white bookshelves.
 * * * *
July 2016
Every bookstore should have a dog. After their soft opening on July 9th, I began to notice, appropriately, a black dog inside the bookstore. Cassidy told me that Black Dog Books gets its name from her dog Yeava, rescued after a car accident in Iraq's Green Zone killed her mother. Yeava was raised on a base until the facility was repurposed in 2012, and a military contract worker brought her to the US. Cassidy puts out bowls of water in front of the store for dogs on hot days.
I returned for the bookstore's grand opening on July 30. Thunderstorms had darkened the sky all day, but the store was full. People browse the stacks—Don DeLillo's Zero K is front and center along with biographies, mysteries, and a healthy selection of children's books. People read on benches in the front of the store, a nice hideout from the rain. A chandelier softly lights the brick walls and the single dark-wood shelf, full of earlier and special editions, including Allen Ginsberg's Howl.
On the opposite wall: more DeLillo—Underworld and Libra—along with some Ursula K. LeGuin, Jane Smiley, and Kurt Vonnegut. Biographies of Supreme Court justices and essays by Roxane Gay.  A bench with shirts that read "Eat Sleep Read Local." I bought local. A copy of La Sirenita by Hayley Down for my daughters. I then went to the back of the store. A dim, brick-walled room was packed, waiting for the night's first reader.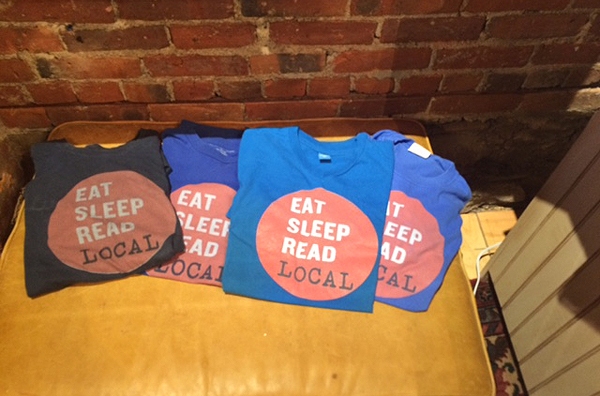 Literary readings don't happen in Newton. This was a welcome experience: people together, on a Saturday night, for books. Readings at colleges, bars, and other locations are nice, but there's something special about readings at bookstores. Booksellers live for books. Next time you're in an independent bookstore, watch how they answer your questions, how they are quick with recommendations and anecdotes. I think of where I've had readings in the past, places like Housing Works Bookstore in NYC, Watchung Booksellers in Montclair, and Clinton Book Shop in central Jersey. This is what it means to have a literary community: people who come together to talk about books, and then sit together and listen.
Readers included Jean LeBlanc, a poet who teaches at nearby Sussex County Community College. LeBlanc read from her book A Field Guide to the Spirits, containing persona poems from the likes of Dashiell Hammett and Mary Shelley. Vincent Czyz read from his new novel, an historical thriller titled The Christos Mosaic. Cassidy thought the night was a success, and that people in town "have been missing local bookstores."
* * * *
August 2016
Cassidy told me that she used to write poetry and short stories, but at some point realized that she was more of a reader than a writer. Save for Ann Patchett, most booksellers are more drawn to reading, sharing, and promoting books than writing them. Curation over creation.
She tells me that the store continues to do well. An independent bookstore helps make a small town not feel that small anymore. She wants it to be a "retreat" for people here, a place "to hold and appreciate language." An area like Sussex County might already sound like a retreat, but we need places like Black Dog Books. I go to libraries for research and writing, but I go to bookstores to see literature live. Above the store, a single relic of the previous restaurant remains, a sign that reads "Real Food." How perfectly appropriate.
---