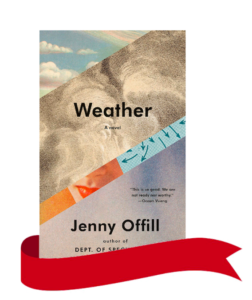 Weather by Jenny Offill
(Knopf)
Congratulations to Jenny Offill, who fought off stiff competition (in the form of Garth Greenwell's Cleanness and Emily St. John Mandel's The Glass Hotel, among others) to claim the (much-coveted) title of Best Reviewed Novel of the 2020*.
Offill's follow-up to 2014's Dept. of Speculation is a fragmented, darkly funny tale of a university librarian grappling with the prospect of a doomed earth.
A New York Times bestseller and a finalist for the Women's Prize for Fiction, Weather has received a whopping 62 professional reviews since it's publication in February: 36 raves, 24 positives, just 2 mixed, and not a single pan.
Here's a taste of what the book critics wrote about Weather:
…tiny in size and immense in scope, radically disorienting yet reassuringly humane, strikingly eccentric and completely irresistible.
–Pricilla Gilman, The Boston Globe
Offill's fragmentary structure evokes an unbearable emotional intensity: something at the core of the story that cannot be narrated directly, by straight chronology, because to do so would be like looking at the sun.
–Leslie Jamison, The New York Times Book Review
Offill's genius lies in tightly sewing together the small moments that make up a particular life and the huge questions that keep us all awake at night.
–Bethanne Patrick, The Los Angeles Times
You can check out the full list of Best Reviewed Novels of 2020 here.
*Based on Book Marks book review tracking, which is never wrong.