The Best Literary Writing About Sex
From Alice Munro to Eileen Myles, How to Write About Real Sex
When most of us think of writing about sex, our minds turn to classic authors of explicit fornication (The Marquis de Sade, Anais Nin, Henry Miller, Erica Jong) or to contemporary erotic bestsellers (Fifty Shades of Grey, The Sexual Life of Catherine M., Wetlands). But often the best writing about sex can be found in books that are not about sex at all. Rather, many great novels portray sexual encounters as an inseparable part of the extraordinary ordinariness of daily life. What follows is a collection of credible, affecting sex scenes by writers who are celebrated not for their illicit content, but for their uncommonly precise prose and insightful observations of human nature. Rather than inviting you to gape at purely physical contortions, these scenes make the reader feel the acts described as bodily, emotional experiences that inform each character's unique sense of what it means to be alive.
In The Good Mother by Sue Miller, a recently divorced woman meets a man who awakens her sexual longing for the first time. This would seem to be a familiar storyline: frigid female set free by confident, sexy hunk. But the form Anna's new passion takes is far from cliché or fantastic. Rather than swooning or feeling helpless and breathless in Leo's presence, Anna feels that her "pelvic bones got heavier, shifted somehow." And the first time they have sex, Anna does not experience multi-orgasmic fireworks, but a more realistic longing for the sex to last longer, to "feel more." With her ex-husband Brian and her prior lovers—starting with groping adolescent boys—Anna has always been passive, accepting male advances as "intrusions" to be endured, wanting the man to finish so the sex would end. But with Leo, Anna feels "left behind" when Leo comes, longing to experience the same pleasure he does. This is a far more interesting—and believable—depiction of the awakening of heterosexual female lust than, say, having your first orgasm when a man plays with your nipples (as happens to Anastasia in Fifty Shades of Grey).
For Anna, having pleasurable sex is not the magical result of good chemistry, but the logical result of wanting her own pleasure and eventually communicating her desires to her partner.
When we had danced and I lost myself—in him, in the music, in the shapes on the wall—I was also intensely aware of myself physically. I felt as though my pelvic bones got heavier, shifted somehow. And when he had pushed into me on the mattress, I was wet, though I hadn't known I would be. His warm slide in and out felt not like the intrusion it had always been with Brian, but like something that was already part of me. I hadn't any sense of wanting him to finish: I'd reached and pushed against him to feel more. Leo cried out something when he came, and I wanted to cry out too, so bitterly was I disappointed at being left behind.
Brief Interviews with Hideous Men by David Foster Wallace is so full of brilliant, multidimensional renderings of sexual feeling that it's hard to choose just one scene. But Brief Interview #51 is perhaps the most concise example of how Wallace communicates sexual impulses with such complexity that even the most disturbing behavior becomes understandable, funny, sad, and even, unexpectedly, tender. In this case, a man's concern about his sexual performance—his very desire to please his partner—causes him to behave callously and treat her roughly. In language that is both credibly colloquial and revealingly precise, B.I.#51 traces the series of feelings that lead him to coldly have his way with a woman: fear that he won't perform well; irritation at the discomfort of feeling fear; assigning blame for this discomfort to the woman he's with by imagining her silent judgments; steamrolling the unpleasant muddle of these unspoken feelings with simple, thoughtless rage.
I always think, "What if I can't?" Then I always think, "Oh shit, don't think that." Because thinking about it can make it happen. Not like it's happened that often. But I get scared about it. We all do. Anybody that tells you they don't they're full of it. They're always scared it might happen. Then I always think, "I wouldn't even be worried about it if she wasn't here." Then I get pissed off. It's like I think she's expecting something. That if she wasn't lying there and expecting it and wondering and, like, evaluating, it wouldn't have even occurred to me. Then I get almost kind of pissed off. I'll get so pissed off, I'll stop even giving a shit about can I or not. It's like I want to show her up. It's like, "OK, bitch, you asked for it." Then everything goes fine.
In American Purgatorio by John Haskell—one of the great, underappreciated novels of the last decade—a man is lost, desperate, and grieving because his wife has disappeared. In an effort at healing, he tries to get himself to cross over what he calls "the sexual membrane" that "separates our everyday life from our sexual life." He believes that feeling aroused will help him out of the prison of his own pain: "If I would have a little more desire then my thoughts—and by virtue of my thoughts, my life—would automatically focus on the world and enter the world and pull me away from my suffering." So he hits on a woman at a party, and they go into a room together and start making out. They work hard to "cross the membrane," but ultimately remain separate and unsatisfied because they're each trying to satisfy a need that has nothing to do with the other person.
It's hard to experience desire while at the same time controlling it. We were trying to lose control, and when she took my head in her hands, we thought we were on our way. We were kissing each other and holding each other and rolling on and off each other, slowly then vigorously, like two too solid worlds trying to come into each other. We were moving purposefully, into and against each other, but nothing seemed to be happening. Nothing was giving way. That thing that should've given way wasn't doing it. She was holding the top of the bed, her eyes falling back into her eyelids, and we were trying to follow our desires, such as we understood them, and we could tell we were close to something, but we weren't breaking through. I with my tongue, and she with her whole damp body, were struggling against some force inside that body, and inside mine, stubbornly blocking access to something we wanted.
And what we wanted wasn't bad. But what we needed was something else…..
So we stopped. We fell back on the small bed, staring up into the ceiling and feeling the presence of a world we weren't part of.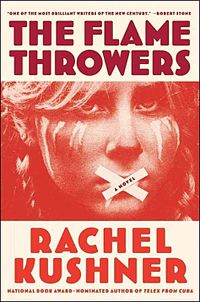 In The Flamethrowers, Rachel Kushner describes a woman getting what Kushner refreshingly calls a "handjob" (why shouldn't the colloquialisms "handjob" and "blowjob" apply to women as readily as to men?) in a movie theater in Chinatown on her first date with a compelling older man. The scene is remarkable both for its reversal of an expected erotic trope (we are used to men getting off in quick, methodical ways, but not women) and the way that Kushner's precise physical details somehow detract from the eroticism of the scene rather than adding to it; we are too interested in the act as a bodily, psychological experience to be aroused. The scene also establishes the unusual power dynamics at play in a romance that sounds cliché: older man and established artist seduces younger woman and wannabe artist. Sandro makes Reno need him not by awakening her vulnerability and longing after enjoying her body himself, but by making her feel overwhelming "gratitude" for his seemingly selfless display of "confidence and skill."
As we continued to watch the movie he began to unbutton my skirt. One button at a time, slowly, methodically, with no hesitation. He knew how to unbutton buttons. There was no fumbling, which was part of why I couldn't find the courage to say, "Hey, what are you doing?" The other reason I couldn't find the courage to stop him was that I didn't want him to. No one was in our row, or behind us. My skirt unbuttoned, he took off his coat and placed it over my lap, chivalrous and careful. His hand slipped under the coat that covered me, and found its way through the unbuttoned skirt. He pressed his warm palm firmly against my underwear. I looked at him. He looked straight ahead, his face suggesting only that he was engaged in watching this Chinese movie, in Cantonese or Mandarin, who could say? I tried to watch, too, but was distracted by the warmth of his hand, and the protective sensation of being covered by his coat, denim lined with wool, its unfamiliar scent and feel, which promised a whole world, one I wanted a place in. He concentrated on the film, or seemed to, never looking at me once, as his fingers crept into my underwear. In this manner, both of us watching the film, the act of what he did with his hand was not just erotic but also slightly melancholy, even a little grave. I leaned my neck against the back of the seat and tried to relax, to not be nervous or self-conscious. I focused on the round gold of the gongs, the rice-white faces and wax-red mouths, bleached complexions with artificially rosy cheeks that looked pinched or slapped or scalded. I watched these images in gold and red and white as Sandro's fingers fluttered and moved.
When my body began to tense, his hand understood and slowed itself down, its rhythm matching mine.
For Pulitzer Prize-winning poet Sharon Olds, the human body is an endless source of awe and wonder. Several poems in her collection The Wellspring evoke pubescent lust with a rare form of life-craving delight, as frankly lecherous ("The skin, the way the skin / thickens and thins, its suppleness, / the way the head barely fits in the throat") as it is metaphysically expansive ("to meet men / fully, as a woman twin, unborn, / half-gelled, clasped, nothing between us / but our bodies"). In "Celibacy at Twenty," even as the narrator is made helpless by desire, she feels its power over her as a kind of promise for future wholeness.
After I broke up with someone,
or someone with me, days would go by,
nights, weeks, soon it would be months since I had
touched anyone. I would move as little
as possible, the air seemed to press on my skin, my
breasts like something broken open, un-
capped and not covered, the buds floated in the
center at the front, if I turned a corner too
fast I would almost come. Swollen,
walking like someone carrying something
filled to the brim, the lip of the liquid
rocking, taut, at the edge, at the top—
and at times, in the shower, no matter how quickly
I washed I'd be over the top in seconds,
and then the loneliness, which had felt enormous,
would be begin to grow, easily, rapidly,
triple, sextuple, dodecatuple,
the palm fronds and camellia buds bent
double under a campus sky of iron.
Later, when the next first kiss would come,
it would shock me, the size and power of happiness,
and yet it was familiar—lips aching and
pulling, hands and feet going numb, I'd be
trying not to moan, streaming slowly
across the arc of the sky—it was always
a return, the face in the dashlight closer
and closer, like the approaching earth,
until it is all you can see. Each time,
I wanted to be coming home
to stay. But every time I went
from months of hunger to those first kisses,
soon there were the last kisses, and I
felt I stood outside of life, held
back—but no one was holding me, I was
waiting, very near the human,
my violence uncommitted, I was
saving it. Once I stripped and
entered the pit I did not want ever to come up out of it.
Perhaps the greatest gift of Jonathen Franzen's The Corrections is its illustration of how a middle-class, post-war marriage between two decent people becomes hell for both parties because of their conformity to arbitrary social rules and terror of the frank admission of feelings. The limits of this lack of communication and moral rigidity are nowhere clearer than in the bedroom.
Alfred goes away on a ten-day business trip, much of which he spends in an inward battle with what he sees as the brazen lewdness of the outside world: couples having loud sex in a motel room, waitresses showing off their cleavage, high school cheerleaders doing splits. Meanwhile, Enid, four months pregnant, spends the time alone both hating her husband's reserved, cold personality and lusting after his body, which she still desires with painful helplessness, although neither of them conceive of sex as something that would give a woman any pleasure aside from that of pregnancy. When they get in bed together the first night after Alfred returns from his trip, Enid can't help herself first from hectoring Alfred for various wrongdoings and then from initiating sex by taking his penis in her mouth, trying to force her husband to make some explicit display of need for her: "Everything in [Enid] was poised to melt and shut down at a loving touch anywhere on her body." But because of the intensity of their separate, unspoken unhappiness and because of each of their sexual hang-ups (Alfred does not approve of oral sex, Enid of intercourse while pregnant), Enid's provocation only results in a brief, guilty ejaculation that leaves Enid even lonelier and more desperate, and Alfred angrier at the outside world for making it so difficult for him to be a "man of virtue" who simply does his job and provides for his family.
When Enid raises her head from Alfred's crotch to make an appeal about Alfred's handling of the family finances, he "come[s] to his senses" and pushes Enid away.
The succubus reached for him again but he grabbed her wrist and with his other hand pulled her nightgown up…..
"Al, not sure it's a good idea, isn't, I don't think—"
"The book says there is nothing wrong—"
"Uneasy about this, though. Ooo. Really. Al?"
He was a man having lawful sexual intercourse with his lawful wife.
"Al, though, maybe not. So."
Fighting the image of the leotarded teenage TWAT. And all the other CUNTS with their TITS and their ASSES that a man might want to FUCK, fighting it although the room was very dark and much was allowed in the dark.
"Oh, I'm so unhappy about this!" Enid quietly wailed.
Worst was the image of the little girl curled up inside her, a girl not much larger than a large bug but already a witness to such harm. Witness to a tautly engorged little brain that dipped in and out beyond the cervix and then, with a quick double spasm that could hardly be considered adequate warning, spat thick alkaline webs of spunk into her private room. Not even born and already drenched in sticky knowledge.
Alfred lay catching his breath and repenting his defiling of the baby….. He pulled away and squared his shoulders to his wife. Under the spell of the sexual instinct (as Arthur Schopenhauer called it) he'd lost sight of how cruelly soon he had to shave and catch the train, but now the instinct was discharged and consciousness of the remaining night's brevity weighed on his chest like #140 rail stock, and Enid had begun to cry again, as wives did when the hour was psychotically late and tampering with the alarm clock was not an option. Years ago, when they were first married, she'd sometimes cried in the wee hours, but then Alfred had felt such gratitude for the pleasure he'd stolen and the stabbing she'd endured that he never failed to ask why she was crying.
Eileen Myles's novel Cool for You does not easily lend itself to excerpts, since the language—trashy and elegant, poetic and colloquial, grammatically inventive—is itself a world that the reader must fully inhabit to appreciate. But it would be remiss not to include Myles on this list, since so much of her work is suffused with its own brand of linguistic sensuality, as if her body were writing the words rather than her mind. Myles—who is primarily a poet—has written that she considers "writing a poem as a matter of devotion, an expression of desire." The "nonfiction novel" Cool for You is charged with this urgency to communicate, both with the reader and with the objects of description, an urgency that feels bodily, almost sexual—even, or especially, when Myles is not writing about sex. In fact, none of her early sexual experiences are erotic, partly because they're all with men; Myles hadn't yet come out as lesbian. "I never understood what men wanted from me," she writes of being alone in a room with a guy she'd recently met. "I mean I always knew but the unfamiliarity and predictability shocked me again and again. Why would you want to fuck someone you didn't know. Perhaps I was spectacularly good looking. I didn't think so. I was just female and relatively young." When Myles is "obedient to the situation," giving men the sex they want, she feels like she's sinning: "you're lying here and you're lying. You just can't get up."
Still, much of Myles' engagement with the world is erotic. She's turned on by Peter Pan and Little Women, by talking about sex with her brother: "My brother and I aroused each other verbally for years. In my family we talk a hot fuck." A terrible case of poison ivy is pure, not wholly unpleasant, physicality: "Deep in the bowl of that summer, I was lolling in fumes of yellow soap, thick pink calamine lotion. I was guiltily engaged in fevered scratching, the near-orgasmic itch." When Myles describes her younger self drumming on her desk in Catholic school when the nun's back is turned, we understand that her receptivity to bodily "release" in unlikely places is partly a way to maintain her authenticity in a world that tells girls exactly how they are and are not allowed to feel good:
The wood of our desks was about an inch thick. They were hollow, stuffed with old papers and half pencils, gum wrappers, school smell, and if you slapped the joints of your fingers just below the tips on the band of golden wood that surrounded the absent inkwell you got this low thudding that felt like your whole body got released in that place, it was like drawing, with no pictures, just oooooooooo strumming nervousness, a sweet sound. The desk played tight like close to the rim of my bongos which no one had ever heard. I had this record by Jack Constanza, Mr. Bongo, and he had a straw hat and a bowtie and a vest and behind him was a long-haired woman with castanets, her head flung back, really beautiful. She was dancing to Jack, and so were the kids in the room when I played. It was a joke, I knew I was being a jerk, but it sounded so good in that empty room, and I was doing my beatnik imitation, eyes closed, and the nun turned around from the board and said, Who is that boy who is banging his thumbs on the desk. I stopped. The room grew silent now. Who is that boy. The curve of the room was so loud.
In Alice Munro's novel Lives of Girls and Women, teenager Del Jordan fantasizes about an older man, a family friend who spends a lot of time at her house. Del longs for "shamelessness" and "explosions of lust" but is too young and sheltered to know what form these things take in real life. So her repeated daydream begins and ends with Mr. Chamberlain accidentally seeing her naked. The real Mr. Chamberlain, however, senses Del's childish openness and begins to grope her breasts and buttocks when no one is looking. Del invites these brief, "brutal" maulings as a secret escape from the restrictive social rules of everyday life: "this was what I expected sexual communication to be—a flash of insanity, a dreamlike, ruthless, contemptuous breakthrough in a world of decent appearances."
But when Mr. Chamberlain takes the game further, driving Del out to a secluded field and masturbating in front of her, "all the heat and dancing itch between [her] legs" dies as she stares at Mr. Chamberlain's penis, "blunt and stupid, compared, say, to fingers and toes with their intelligent expressiveness," a "naïve" appendage that "did not seem to have anything to do with" her. After Mr. Chamberlain's "performance," Del loses the liberating pleasure of fantasizing about a "single-minded, simple-minded, vigorous, obliging lecher," and instead is forced to see sex as just one more difficulty among all the difficulties of being a person.
Still watching me, and smiling, Mr. Chamberlain placed his hand around his thing and began to pump up and down, not too hard, in a controlled efficient rhythm. His face softened; his eyes, still fixed on me, grew glassy. Gradually, almost experimentally, he increased the speed of his hand; the rhythm became less smooth. He crouched over, his smile opened out and drew the lips back from his teeth and his eyes rolled slightly upward. His breathing became loud and shaky, now he worked furiously with his hand, moaned, almost doubled over in spasmodic agony. The face he thrust out at me, from his crouch, was blind and wobbling like a mask on a stick, and those sounds coming out of his mouth, involuntarily, last-ditch human noises, were at the same time theatrical, unlikely. In fact the whole performance, surrounded by calm flowering branches, seemed imposed, fantastically and predictably exaggerated, like an Indian dance. I had read about the body being in extremes of pleasure, possessed, but these expressions did not seem equal to the terrible benighted effort, deliberate frenzy, of what was going on here. If he did not soon get to where he wanted to be, I thought he would die. But then he let out a new kind of moan, the most desperate and the loudest yet; it quavered as if somebody was hitting him on the voice box. This died, miraculously, into a peaceful grateful whimper, as stuff shot out of him, real whitish stuff, the seed, and caught the hem of my skirt. He straightened up, shaky, out of breath, and tucked himself quickly back into his trousers. He got out a handkerchief and wiped first his hands and then my skirt…
My faith in simple depravity had weakened. Perhaps nowhere but in daydreams did the trap door open so sweetly and easily, plunging bodies altogether free of thought, free of personality, into self-indulgence, mad bad licence. Instead of that, Mr. Chamberlain had shown me, people take along a good deal—flesh that is not overcome but has to be thumped into ecstasy, all the stubborn puzzle and dark turns of themselves.
"Not overcome but… thumped into ecstasy:" this could also be a description of what it takes to write a good sex scene—not jotting down a stream of mindless fantasizing, but closely observing oneself and others and then doing the hard work of translating these observations into novel combinations of words. Sex should not be seen as a special category of life that can only be described by the shockingly depraved or the blindly uninhibited. Most great books contain convincing evocations of sexuality, whether explicit or subtle. Masterful examples of carnal scenes can just as easily be found in books by Vladimir Nabokov, Milan Kundera, Doris Lessing, Philip Roth, Jeanette Winterson, Goethe, Dorothy Allison, Norman Rush, Mary Gaitskill, Raymond Carver, Claire Messud, and Elena Ferrante. To write well about sexual behaviors and impulses demands the same things as to write well about yard sales or dogs: attentiveness and time.
---