The Best Books of 2020 You Might Have Missed
Bethanne Patrick Recommends Some Under-the-Radar Must-Reads
Everyone else has published their year-end lists of The Best, Our Favorites, Top 10, and so forth (that includes me individually and Lit Hub editorially, too). Why shouldn't we gather the Best from 2020's Books You May Have Missed? Choosing from the fifty-odd titles means that these ten are really the cream of a much bigger crop. A few have already gathered awards (High as the Waters Rise, Alligator), a few remain sleeper hits (Greenwood, The Comeback), while others just sleep. Wake up, readers, and check out these amazing books by a diverse group of authors from around the world.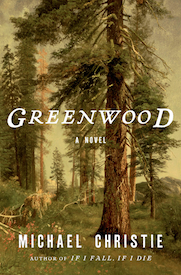 Michael Christie, Greenwood (Hogarth) 
If you loved The Overstory by Richard Powers, you might find your next lighter, but also meaningful, book in Greenwood, a family saga set in the Pacific Northwest that was longlisted for the Scotiabank Giller Prize. It was also a Best Book on That Big Site, but please don't allow that to deter you from picking up a book that figuratively peels back the bark on the Greenwoods, starting in 2038 when forests have become rare resorts for ultrarich tourists, heading back to 2008, to 1974, and finally to 1934, when patriarch Everett Greenwood first hears an abandoned infant's wail, his next action spinning readers back up to why Jacinda (Jake) Greenwood, his great-granddaughter, has become a storyteller, liar, and tour guide of the remaining Greenwood lands. Considering trees as both markers of history and commodities isn't new, but Christie finds ways to surprise, meaning that even if you've also read other "tree novels" (Barkskins by E. Annie Proulx, for example), you'll find ways to enjoy this backwards spiral.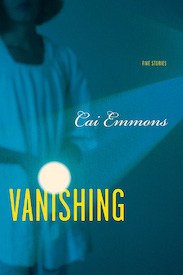 Cai Emmons, Vanishing (Leapfrog Press)
Short but very smart, Vanishing examines how modern women still disappear in plain sight, from others, yes, but also from themselves. An attorney and young mother begins to wonder if her house malfunctions when her husband is absent. An obese model for a life-drawing class terrifies a younger female student, who sees the model's body as "one massive private part." Each character Emmons creates has her assumptions shattered by prejudice, illness, violence, and each must emerge on the other side of vanishing to either build new identities, or accept invisibility. The prose is plain because the thought is deep in these pieces, perfect for those who love Lorrie Moore, Kristen Roupenian, and even Fay Weldon.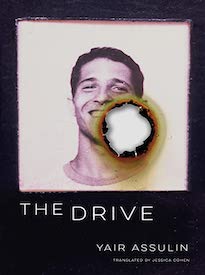 Yair Assulin, The Drive (New Vessel Press, trans. by Jessica Cohen)
The Drive follows an Israeli soldier, in a car with his father, en route to see a military psychiatrist who may or may not be able to help the young soldier in his dilemma. He wants to leave the army, but he doesn't want to leave the army, for reasons that make complete sense to him—but not to the bureaucracy. The most remarkable part of this book may be in its exploration of how impossible the mentally healthy find it to participate in the journey of the mentally ill. The soldier's parents love him deeply but cannot find a way in to their son's pain; both sides feel betrayed and isolated. A superb debut from one of Israel's younger prize-winning authors translated by Cohen, who shared the Man Booker International Prize with David Grossman for her translation of A Horse Walks into a Bar.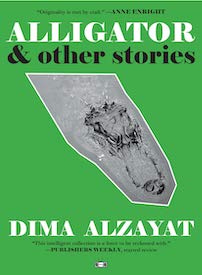 Dima Alzayat, Alligator  (Two Dollar Radio)
Alligator contains several stories of breathtaking power, worth noting since the title story alone, based on the true story of a Syrian man lynched in Florida in 1929, is worth the price of several volumes. Born in Syria, raised in the United States, and now residing in the United Kingdom, Alzayat "may be the first person to realize that our history is our own black mirror," wrote a bookseller. Start reading now and you can say you were an early fan, because Dima Alzayat combines superb writing with razor-sharp imagination and focuses on social injustice, racial violence, and global immigration.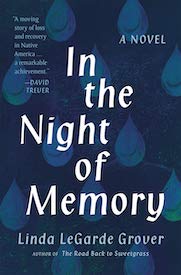 Linda LeGarde Grover, In the Night of Memory (University of Minnesota Press)
As in her previous books, the fictional Mozhay Point Reservation in northern Minnesota is author Grover's vehicle for conveying truths about the lives of Native American women. Grover, a professor at the University of Minnesota Duluth and a member of the Bois Forte Band of Ojibwe, focuses on the Gallette family, whose relationships are complex and multivarious. Here, the protagonists are Rainfall Dawn and Azure Sky, daughters of Loretta Gallette, whose background is Anishinaabe and whose specialty is abandonment of her little ones when they are three and four. Rain and Azh have been through the foster-care system, to their trauma, when a relative decides to claim and return them to the reservation. In chapters told by the women in their now-stable lives, Rain and Azure learn the hard truths of their people's situation, and also reconnect with the deep truths that sustain them through modern ills of alcoholism, domestic abuse, divorce, and more.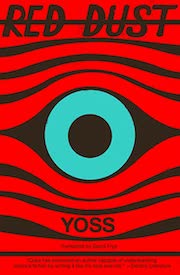 Yoss, Red Dust (Restless Books, trans. David Frye)
Red Dust is a space opera that pays homage to Raymond Chandler. Interested yet? You should be. The author, otherwise known as José Miguel Sánchez Gómez, has been writing award-winning science fiction since 1988. In his latest, the intergalactic trading station William S. Burroughs supports a profit-based economy in which earthlings bow to alien Grodos, who look a bit like praying mantises and have a limited sense of humor. Raymond, a positronic robot detective, is part of the android police force. But nothing in his "centuries of experience" could prepare him for Makrow 34, "a fugitive Cetian perp with psi powers" that mean he can make it rain indoors or turn a gun pointed at him back at his foe. Experienced translator Frye goes with the flow beautifully in a book that code-switches between languages, cultures, literary eras, and genres. An absolute joy to read.
Ella Berman, The Comeback (Berkley)
Having already said I don't usually feature titles from the big imprints, here, I'm recommending The Comeback, and I'm specifically recommending it because every single reader I showed the book to said "Oh no no no, that's not for me" after looking at its cover showing a rather tired, louche-looking female visage gazing into a mirror and touching long fingernails to painted lips. I don't think the cover is wrong for the book, necessarily, but it certainly doesn't attract all the readers it could. Berman's novel of a young woman recruited far too early in her life into the Hollywood machine may be the smartest book I've read in the past few years about monstrous men, a crystalline look behind the scenes of a full-on breakdown and climb back out of the swamp that correctly levels a gaze at the grown-up women who take part in keeping such men afloat. Consider it your final non-beachy beach read of 2020.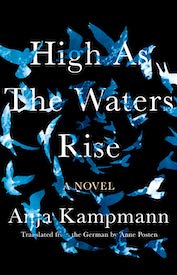 Anja Kampmann, High as the Waters Rise (trans. by Anne Posten)
High as the Waters Rise won the Mara Cassens Prize for best debut in Kampmann's home country of Germany, along with several other awards and nominations, a first novel from a poet whose dissertation was on silence and musicality in the works of Samuel Beckett, so it's wonderful to see her words translated by Posten, who works in poetry and drama as well as prose. The story is tragic: Waclaw and Mátyás work and bunk together on a North Atlantic oil rig. One night, Mátyás disappears, fallen into the sea. In his grief, Waclaw travels, searching for the reasons and meaning behind his friend's death. He can't go home: ". . .the address he had listed as his emergency contact no longer existed." His travels, which start in Morocco, are both a journey for Mátyás and their friendship, and a series of encounters with other people on the socioeconomic margins. It's a novel that manages to be beautiful and affecting without the slightest lapse into sentimentality or heaviness.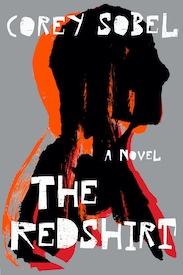 Corey Sobel, The Redshirt  (The University Press of Kentucky)
The Redshirt may be the only novel about football I'll ever read, but what a novel about football it is. I highly recommend this heartfelt, unusual, book to every American who has ever watched a football game, attended a college sports event, studied for a test, loved another person. . . In other words, Sobel's debut works for us all. Based on the author's high-school football career that continued through his years at Duke University, the novel introduces Miles Furling, who believes his life's purpose is football—despite his being deeply in the closet and well aware of that fact. Although King College's football team isn't the top-drawer program he'd hoped for, he knows deep down that the College will allow him to pursue studies in the literature that he loves. Meanwhile, no one understands why ReShawn McCoy, the country's top recruit, also chooses King. When the two young men wind up as roommates, a lot of secrets are revealed, but those secrets are less important than the picture readers will get of the brutal costs college football exacts on its players. Did I already say "Highly recommend"? I highly recommend this surprising book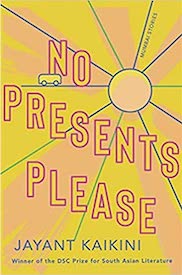 Jayant Kaikini, No Presents Please: Mumbai Stories (Harper Perennial, trans. Tejaswini Niranjana) 
No Presents Please won the DSC Prize for South Asian Literature, as well as the Atta-Galatta Bangalore Literature Festival Book Prize, and with good reason. Kaikini's tales of everyday life that open like windows onto universal truths may even demonstrate purpose through the author's language, as an afterword from the translator explains. Kaikini writes in his native language, but not with a native's perspective; rather, he uses the cadences most familiar to him as a means of observing an India more modern than any ancient tongue. The title story follows a couple whose lunchtime meeting to choose a wedding invitation should be happy, but falls into confusion and sorrow as the man and woman realize names conceal caste differences. In "Mogri's World," a young woman accepts from childhood the reality that her father has another family in a nearby city, and Kaikini quietly shows how this leads her to a life of mistakes based on male expectations of women.
---