The Beginning of the End: Who Do We Become in the Face of a Parent's Death?
Kat Chow on Losing Her Mother, Memory, and Writing About Illness
I haven't wanted to kill you, so I haven't written about your passing. I can write around your death. I can write about the events that inch up to it, and the ones that illuminate its aftermath. But ask me to write about the day itself, and I can't. I can't. I can't. It's like killing you. I want to keep you, in memory, alive.
But since this is about losing you, I need to try.
*
If I want to summon the feel of my mother's death all these years later, I listen for the sigh of the ventilator. Specifically, the mechanical whir-whir-whirring it makes when her body gives way and allows the machine to breathe for her. At Saint Francis, she was more rubber and latex than human. At the New York hospital, we were past that. Now she was a robot having a panic attack. Her automated lung. A big sigh of breath into a paper bag, slowly deflating and then inflating.
I felt the warmth of my mother's knuckles.
She is here. I took this body heat to be a sign of life, and I later wrote about this moment in my journal. "We're going to be alright." But my mother's hands were warm only because I'd been holding them.
*
It's OK, it's OK, we told my mother in 2002 after the surgery to remove the cyst.
It was like I delivered a baby, she said when she came home from the hospital, unsure how to break the worried silence. She sat on the couch in the family room beside me and closed her eyes. A couple of years before, tired of looking at the stained pink couch, its blue and green flowers faded, she bought a sofa cover from Marshalls that was the color of pine needles. She spent hours at the kitchen table with her sewing machine, trying to make it fit. She couldn't get it right. The itchy fabric popped off the cushions too easily, and she constantly had to tuck the cloth back around the pillows. Now, as my mother let the couch hold her, she didn't care that the cover was askew, or that the room was cluttered with towers of newspapers.
Later I followed her into Caroline's bedroom, where she now slept. She called each of my sisters.
What doing? she asked them in a cheerful voice. It was jarring how sticking to her usual scripts—the shortened sentences, the same chirpy lilts in her voice—made this call seem normal.
I'm just taking it easy, she said after a few beats. She sat on the edge of the mattress and looked out the window at the neighbor's fence. She tried to pull a smile onto her face, but her lips caught on her teeth and formed a snarl.
Good, I heard Steph exclaim. The conversation moved on to what Steph had eaten that day. I watched my mother slump into her familiar rhythms.
It's OK, it's OK, my mother told Lai Yi Ma at a relative's wedding just a couple of months after her cyst was removed.
I didn't hear about this story until my mother was long dead, but as Lai Yi Ma told me, the two of them sat next to half-eaten plates of dessert. I imagined my mother staring at the bowls of sweet red bean soup with tapioca while the bride and groom swished their hips to Cantopop on the dance floor. She wasn't joining them because her stitches were still sensitive and she didn't want them to tear.
How are you? Lai Yi Ma said. She and my mother were similar ages, and of the cousins, they were the closest. My mother took a slice of orange and tore into it with her front teeth.
Insurance is so expensive, she told Lai Yi Ma, remarking how the doctors told her she should return for follow-up tests. My mother gnawed on another piece of orange.
Lai Yi Ma set her spoon on a plate.
Ah Mui. She covered my mother's hand with her own. You need to go to the doctor.
It's so much money, my mother said. They want all these tests.
Money doesn't matter, Lai Yi Ma said. The only thing that matters is your health.
*
Mommy, I know that I'm still drifting from your death—that writing about the illnesses that led up to your last moments is not the same. Let me try again. 
At the hospital in New York, I pulled a chair up to your bed.
It's OK, it's OK, I said to you and our family.
Hi, Mommy, we're here, Steph said. It's Stephanie and Katelin and Daddy.
Caroline is catching a flight from Pittsburgh tonight, Steph offered. The machines beeped in response.
Mommy, I know that I'm still drifting from your death—that writing about the illnesses that led up to your last moments is not the same.
My father sat on the other side of the bed. His face was frozen as he searched his bank of memories for a solution or any indication of what had gone wrong.
He'd spent the past evening dozing in a chair, waking every now and then to tend to his wife. Steph's story about her night with our mother makes me realize that my father's last one with her had not been restful. We have never talked about this, but I realize now that it must have been nightmarish and soaked in a surreal worry.
That morning, my father had helped his wife with breakfast. She sat propped up by her pillows while he carved her waffles into squares. He dipped them in syrup and brought them to her mouth. His lips parted automatically, not unlike how he used to feed us daughters when we were little. That role reversal must not have been lost on her.
Suddenly, mid-chew, a piece of waffle caught in my mother's throat. She began to choke. Her eyes watered and the monitors screeched. She looked around the room and gasped.
My father, unsure what to do, repeated his nickname for his wife.
Ah Mo, he shouted, Ah Mo. My mother's body spiraled into cardiac and respiratory arrest. By now, the nurses had rushed to her side. They ushered my father from the room and placed defibrillator paddles to her chest. They sent a violent charge through her that shook the bed. Then another. And another.
Her body rippled with energy. Though she was unconscious, her heart resumed beating.
*
It was midmorning when I understood the end had begun. I was a hundred miles away in a European history class. I pressed my face onto the desk, not bothering to pretend I was paying attention to the lecture. Something about World War II.
That morning, Caroline was in Pittsburgh, a couple of months into her senior year of college and learning about different programming languages. Steph was home in Wethersfield, washing the dishes and readying herself for her day. That's when Daddy called Steph to relay the news. Key words: waffles, cardiac arrest, respiratory arrest.
By the time Steph's message reached me at school, our mother's body had settled into its new rhythms. By the time Steph and I were in the van racing down I-95 toward Kau Fu's house, where we would then drive with him to the hospital in New York City, the entire family had been alerted. By the time we reached my mother, the chaos of the day had flat-lined, and we soon understood there was nothing to do but wait. We had so much time now.
*
Through the gaps in my mother's hospital gown, I saw where the defibrillator irons singed her. I wanted to touch where her flesh had burned, to will her to wake and to gather her in my arms the way she used to hold me.
For hours, we sat by her side. I worked my way through a copy of Howl's Moving Castle I'd found in the lobby. I was captivated by this world of wizards and scarecrows, tearing through the pages with the same speed my mother used when she read her kissing books. I wanted to know if the young girl would be able to save the wizard, curmudgeonly and cranky, from his curse, and if their love would free him. (I fear this novel does not, like many, age well. Howl strikes me as a bit of an ass, and a misogynist.) It was a world of hope and joy and magic. I wished I could cast a spell and use this power to cure my mother. I wished I could travel back in time to warn her about her sickness.
When I finished the book, I left its world and was thrust back into my grief.
It's OK, it's OK, I told myself as I realized where I had been all along.
Meanwhile, Steph journaled in the margins of a medical school textbook. Caroline had just arrived and settled into a chair while she held our mother's hands.
Occasionally, our father stood over his wife's face. He slid one of her eyelids back and peered at her pupils. When he returned to his seat, stroking her arm in apology, disappointment heaved itself onto his shoulders.
The TV hummed in the background and countered the dings of the machines. The sitcoms I watched at home were on: Seinfeld, The Simpsons, Malcolm in the Middle. My family angled ourselves so we could see the screen. In that moment, we were briefly returned to our kitchen table, our whole unit bent over our bowls, an occasional patter of laughter dotting our silence.
Was this a family that regularly turned to their god or gods, or was it now that they were driven to do so?
When I call Kau Fu a decade and a half later to ask questions about my mother, he mentions our attempt at distraction.
We were so mad, Kau Fu says. It was so disrespectful how you guys were watching TV and smiling. It made me so mad I didn't want to come in the room and be with my sister.
In his eyes, my family's laughter meant we didn't care if my mother died, that the fact that we turned on the TV above her unconscious body for our entertainment was sacrilege.
You let this keep you from being with your sister? Seinfeld kept you away? I want to ask my uncle, but I shut my mouth. All these years later, he still froths with resentment.
*
In the New York hospital, my family congregated in the reception area. We folded our limbs into chairs to sleep while another family prayed in a language I couldn't place. They clasped hands and rocked back and forth. Was this a family that regularly turned to their god or gods, or was it now that they were driven to do so? My family did not pray out loud. We begged in silence.
We had been in the hospital for a day and a half when the last of my mother's relatives had reached the hospital. The adults in the family had decided, per the doctor's recommendation, that we would take her off life support.
Time is no longer of the essence, I wanted to shout.
Time could fuck right off. Time could wait. There was no such thing as time anymore. There was just our panic, which were thick, humid days slapped against our chests. I wanted to hurl my copy of Howl's Moving Castle at the waiting room wall.
This is what's best, Caroline said at one point. She would have wanted this done.
Steph nodded.
I felt far away.
It wouldn't be fair if we didn't. Caroline's voice trailed off, as if she were trying to convince herself. Not fair to her, not to anybody.
__________________________________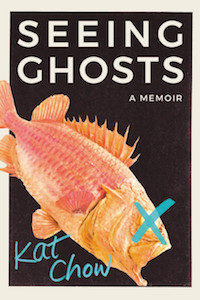 Excerpted from Seeing Ghosts. Used with the permission of the publisher, Grand Central Publishing. Copyright © 2021 by Kat Chow. 
---