The Award-Winning Novels of 2022
The Books That Took Home This Year's Biggest Literary Prizes
Awards ceremonies are back, baby.
Yes, for the first time since 2019, your favorite writers actually got to dress up and attend a fancy party or two this year. From the Pulitzer to the Booker, the Nebula to the Edgar, here are the winners of the biggest book prizes of 2022.
Congratulations to all!
*
PULITZER PRIZE FOR FICTION
Awarded for distinguished fiction published in book form during the year by an American author, preferably dealing with American life.
Prize money: $15,000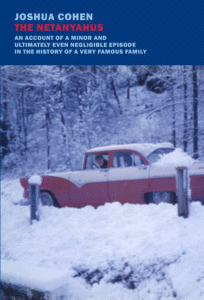 The Netanyahus: An Account of a Minor and Ultimately Even Negligible Episode in the History of a Very Famous Family by Joshua Cohen
(New York Review of Books)
"Cohen has performed a literary miracle of sorts, transforming the shadowy, dour figure of Benzion Netanyahu into the protagonist of an uproariously funny book. In its skewering of the small-mindedness of academic culture, The Netanyahus conjures up the hilarity of David Lodge, and in its piercing gaze and over-the-top, transgressive moves, it evokes the late Philip Roth, who ripped open the soul of the American Jewish parvenu—and that figure's grinding quest for respectability—like no one else …
It is striking how much Cohen gets right about Netanyahu's scholarship, the historiographical traditions against which he pushed, and the milieux in which he was formed, particularly the distinctive academic culture of the Hebrew University in Jerusalem … Cohen's narrator captures something essential about the actual Netanyahu … Cohen lays out the twists and consequences of Netanyahu's argument with exceptional acuity. But he is equally exceptional in tacking back to the comic."
–David N. Myers (The Los Angeles Review of Books)
Finalists: Francisco Goldman, Monkey Boy (Grove) · Gayl Jones, Palmares (Beacon)
*
NATIONAL BOOK AWARD
Recognizes an outstanding work of literary fiction by a United States citizen.
Prize money: $10,000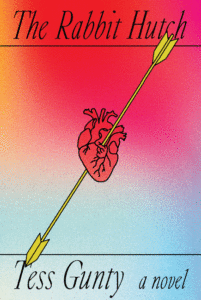 The Rabbit Hutch by Tess Gunty
(Knopf)
"The aspect of unreality—albeit carefully constructed unreality—is central to Ms. Gunty's presentation of American malaise, which occupies an unstable realm between portraiture and allegory. It is never altogether clear whether her characters are in the grip of some transformative religious awakening or simply suffering from untreated mental illness. The ambiguity is the source of this novel's remarkable nervous energy. A feeling of genuine crisis—unrooted but ferociously tangible—propels the narrative through its many twists to the catharsis of its bizarre ending …
The tension is not uniformly unflagging. An extended middle section recounting Blandine's doomed love affair with her high-school music teacher is out of proportion in both length and tone, seeming to belong to a more realistic coming-of-age debut. But this does little to offset the unnerving vision and conviction of the most promising first novel I've read this year."
–Sam Sacks (The Wall Street Journal)
Finalists: Gayl Jones, The Birdcatcher (Beacon) · Jamil Jan Kochai, The Haunting of Hajji Hotak and Other Stories (Viking) · Sarah Thankam Mathews, All This Could Be Different (Viking) · Alejandro Varela, The Town of Babylon (Astra House)
*
BOOKER PRIZE
Awarded for the best original novel written in the English language and published in the UK.
Prize money: £50,000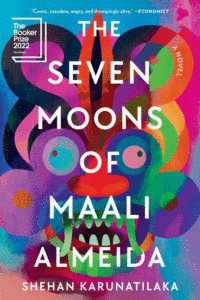 The Seven Moons of Maali Almeida by Shehan Karunatilaka
(W. W. Norton & Company)
"By striking contrast, and even if the title promises book-club exotica, The Seven Moons of Maali Almeida is preternaturally irreverent about the manifold brutalities in Sri Lanka during its 26-year civil war … Karunatilaka's novel breaks with conventional modes of storytelling to reveal humanness in a strange, sprawling, tragic situation … Karunatilaka's book is supremely confident in its literary heterodoxy, and likewise in offering idiosyncratic particularities of ordinary Sri Lankan life well beyond the serious matters of politics, history, religion and mythology … But readers everywhere will find in such demanding specificity what we all seek from great books: the exciting if overwhelming fullness of an otherwise unknown world told on its own terms, and that frisson of unexpected identification and understanding that comes from working to stay in it."
–Randy Boyagoda (The New York Times Book Review)
Finalists: NoViolet Bulawayo, Glory (Viking) · Percival Everett, The Trees (Graywolf) · Alan Garner, Treacle Walker (HarperCollins) · Claire Keegan, Small Things Like These (Grove) · Elizabeth Strout, Oh William! (Random House)
*
INTERNATIONAL BOOKER PRIZE
Awarded for a single book in English translation published in the UK.
Prize money: £50,000, divided equally between the author and the translator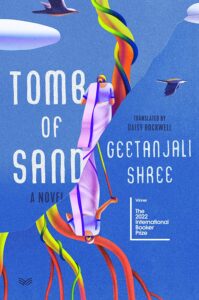 Tomb of Sand by Geetanjali Shree, tr. from Hindi by Daisy Rockwell 
(HarperVia)
"There is no one quite like Ma in contemporary literature, which is perhaps one reason why Shree, along with her translator, Daisy Rockwell, won this year's International Booker prize … Indeed, in its boldness and experimentation—and in its likelihood of influencing a new generation of authors—this breakthrough novel recalls Shree's fellow Indian-born Booker laureates, Arundhati Roy in The God of Small Things (1997) and Salman Rushdie in Midnight's Children (1981) … Geetanjali Shree's novel—which thoroughly deserves its Booker triumph—also seeks to ask who India belongs to."
–Sonia Faleiro (Times Literary Supplement)
Finalists: Cursed Bunny by Bora Chung, tr. from Korean by Anton Hur (Algonquin) · A New Name: Septology VI-VII by Jon Fosse, tr. from Norwegian by Damion Searls (Transit) · Heaven by Mieko Kawakami, tr. from Japanese by Sam Bett and David Boyd (Europa Editions) · Elena Knows by Claudia Piñeiro, tr. from Spanish by Frances Riddle (Charco Press) · The Books of Jacob by Olga Tokarczuk, tr. from Polish by Jennifer Croft (Knopf)
*
NATIONAL BOOK CRITICS CIRCLE AWARD
Given annually to honor outstanding writing and to foster a national conversation about reading, criticism, and literature. Judged by the volunteer directors of the NBCC who are 24 members serving rotating three-year terms, with eight elected annually by the voting members, namely "professional book review editors and book reviewers."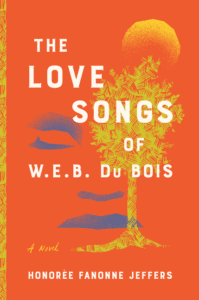 The Love Songs of W. E. B. Du Bois by Honoree Fanonne Jeffers
(Harper)
"[A] sweeping, masterly debut novel … Jeffers has deftly crafted a tale of a family whose heritage includes free Blacks, enslaved peoples and Scottish and other white colonialists … Jeffers is an award-winning poet, and she is never doing just one thing with her text … Class and colorism are constant tensions in the novel, and Jeffers expertly renders a world of elite African Americans … The Love Songs of W.E.B. Du Bois is quite simply the best book that I have read in a very, very long time. I will avoid the cliché of calling it 'a great American novel.' Maybe the truest thing I could say is that this is an epic tale of adventure that brings to mind characters you never forget …
The sign of a great novel is that the author creates a world and when she moves her hands away, the world is still in motion. The idea being that, in the very best novels, every important detail is so lovingly attended to that the novelist's intention is as invisible and powerful as gravity. The Love Songs of W.E.B. Du Bois is such a world."
–Veronica Chambers (The New York Times Book Review)
Finalists: Colson Whitehead, Harlem Shuffle (Doubleday) · Joshua Cohen, The Netanyahus (New York Review of Books) · Rachel Cusk, Second Place (Farrar, Straus and Giroux) · Sarah Hall, Burntcoat(Custom House)
*
KIRKUS PRIZE
Chosen from books reviewed by Kirkus Reviews that earned the Kirkus Star.
Prize money: $50,000
Trust by Hernan Diaz
(Riverhead)
[An] enthralling tour de force … Each story talks to the others, and the conversation is both combative and revelatory … As an American epic, Trust gives The Great Gatsby a run for its money … Diaz's debut, In the Distance, was a finalist for the Pulitzer Prize and the PEN/Faulkner Award. Trust fulfills that book's promise, and then some … Wordplay is Trust's currency … In Diaz's accomplished hands we circle ever closer to the black hole at the core of Trust … Trust is a glorious novel about empires and erasures, husbands and wives, staggering fortunes and unspeakable misery … He spins a larger parable, then, plumbing sex and power, causation and complicity. Mostly, though, Trust is a literary page-turner, with a wealth of puns and elegant prose, fun as hell to read."
–Hamilton Cain (Oprah Daily)
Finalists: Michelle de Kretser, Scary Monsters (Catapult) · Arinze Ifeakandu, God's Children Are Little Broken Things(Public Space Books) · Susan Straight, Mecca (Farrar, Straus and Giroux) · Yoko Tawada, Scattered All Over the Earth(New Directions) · Olga Tokarczuk, The Books of Jacob (Riverhead)
*
WOMEN'S PRIZE FOR FICTION
Awarded to a female author of any nationality for the best original full-length novel written in English and published in the United Kingdom.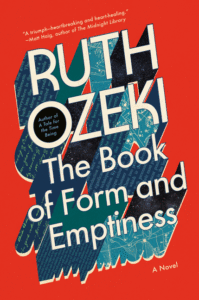 The Book of Form and Emptiness by Ruth Ozeki
(Viking)
"… [an] ambitious and ingenious novel that presents a stinging exploration of grief, a reflection on our relationship to objects, a potent testament to the importance of reading, writing, and books … The most endearing aspect of Ozeki's novel is its unabashed celebration of words, writing, and reading. A library is one of the novel's most enchanted settings, at once a refuge from the cacophony of objects that overwhelms Benny at home and in school and a magical portal to a world of self-discovery and unexpected connections …
The Book of Form and Emptiness is charming and warm, dynamic and filled with love, but over-full and a bit undisciplined. It meanders and digresses … But its heart, its ardent, beating heart, is huge. Ozeki's playfulness and zaniness, her compassion and boundless curiosity, prevent the novel from ever feeling stiff or pretentious. Clever without being arch, metafictional without being arcane, dark without being nihilistic, The Book of Form and Emptiness is an exuberant delight."
–Pricilla Gilman (The Boston Globe)
Finalists: Lisa Allen-Agostini, The Bread the Devil Knead (Myriad Editions) · Louise Erdrich, The Sentence (Harper)
Meg Mason, Sorrow and Bliss (Harper Perennial) · Elif Shafak, The Island of Missing Trees (Bloomsbury) · Maggie Shipstead, Great Circle (Knopf) · Morowa Yejidé, Creatures of Passage (Akashic)
*
PEN/FAULKNER AWARD
Awarded to the author of the year's best work of fiction by a living American citizen.
Prize money: $15,000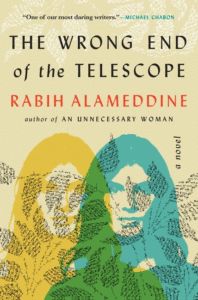 The Wrong End of the Telescope by Rabih Alameddine
(Grove)
"Alameddine's spectacular novel is rendered through the refreshingly honest lens of Dr. Mina … Dr. Mina is the storyteller the refugees deserve: respected by the Europeans, but steeped in their traditions and history … This is the first novel I've read that gives ample room to the ugliness of certain camp volunteers (the bored, the coddled, those battling pangs of uselessness) and the many humiliations some inflict on the displaced. But calling out anyone who gave up a vacation to meet boats seems ungrateful, so the refugees smile for their rescuers' camera-phones and keep quiet … Alameddine's irreverent prose evokes the old master storytellers from my own Middle Eastern home, their observations toothy and full of wit, returning always to human absurdity …
Again and again, Dr. Mina cracks open the strange, funny and cruel social mores of East and West. She shows us that acceptance and rejection exist across borders and often manifest in surprising ways … Throughout the book, Dr. Mina addresses a blocked and disillusioned Lebanese writer who, having seen too much displacement and horror, finally breaks. I found this mysterious unnamed listener deeply poignant."
–Dina Nayeri (The New York Times Book Review)
Finalists: Nawaaz Ahmed, Radiant Fugitives · Carolyn Ferrell, Dear Miss Metropolitan · Imbolo Mbue, How Beautiful We Were · Carolina de Robertis, The President and the Frog
*
PEN/ROBERT W. BINGHAM PRIZE FOR DEBUT FICTION
Awarded to an exceptionally talented fiction writer whose debut work represents distinguished literary achievement and suggests great promise.
Prize money: $25,000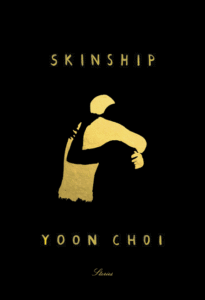 Skinship by Yoon Choi
(Knopf)
"The impossibility of fully knowing someone else, or indeed oneself (the inevitable lacunae!), is an eternal theme of fiction, framed in infinite ways. The immigrant experience, in which multicultural characters necessarily navigate these gaps, is one such frame, and Yoon Choi's beautiful debut story collection Skinship (Knopf, $26) uses it to bring a rich and engaging new voice to contemporary American letters. With refreshing amplitude, patience, and (dare I say) wisdom, Choi's stories explore the complexities of her characters' diverse experiences … In each story, Choi evokes a world entire, an endeavor that extends beyond content into form."
–Claire Messud (Harper's)
Finalists: Carribean Fragoza, Eat the Mouth That Feeds You (City Lights Books) · Dantiel W. Moniz, Milk Blood Heat (Grove Press) · Clare Sestanovich, Objects of Desire: Stories (Knopf) · Chris Stuck, Give My Love to the Savages: Stories (Amistad Press)
*
ANDREW CARNEGIE MEDAL FOR EXCELLENCE IN FICTION
Awards established in 2012 to recognize the best fiction and nonfiction books for adult readers published in the U.S. in the previous year. Administered by the American Library Association.
Prize money: $5,000 (winner), $1,500 (finalists)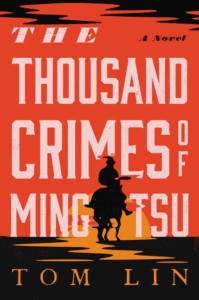 The Thousand Crimes of Ming Tsu by Tom Lin
(Little Brown and Company)
"… addictively gruesome … manages to enhance a wild, wild western with Odyssean devotion, magic realism and historical racism, to create quite the unlikely love story gone awry … Ming's story of denial becomes Lin's ingenious assertion of his own Chinese American heritage, his fiction a literal projection of the Chinese American experience onto the page. Lin cleverly reclaims the language as he marks each of the story's three parts with untranslated Chinese characters … With dexterous agility, Lin showcases Ming's multi-faceted identity as a native-born American, a builder of transcontinental railroads, a rebel against racist laws, a killer of injustice–and maybe even a hero who might finally get the girl."
–Terry Hong (Shelf-Awareness)
Finalists: Kirsten Valdez Quade, The Five Wounds (W. W. Norton & Company) · Lauren Groff, Matrix (Riverhead)
*
International DUBLIN Literary Award
An international literary award presented each year for a novel written in English or translated into English.
Prize money: €100,000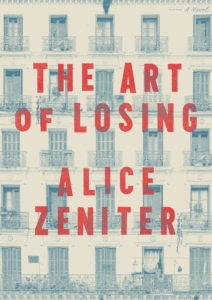 The Art of Losing by Alice Zeniter
(Farrar, Straus and Giroux)
"Zeniter has used fiction to demystify the war, its evolution and its fallout through an enthralling saga of three generations of a family from Algeria's mountainous Kabylia region who left the country in 1962 and moved to France … Ms. Zeniter's extraordinary achievement is to transform a complicated conflict into a compelling family chronicle, rich in visual detail and lustrous in language. Her storytelling, splendidly translated by Frank Wynne, carries the reader through different generations, cities, cultures, and mindsets without breaking its spell … Ms. Zeniter shows fiction's power as a hedge against loss of the past: the art of regaining."
–Liesl Schillinger (The Wall Street Journal)
Finalists: Catherine Chidgey, Remote Sympathy (Europa Editions) · David Diop, At Night All Blood Is Black (Farrar, Straus and Giroux) · Akwaeke Emezi, The Death of Vivek Oji (Riverhead) · Danielle McLaughlin, The Art of Falling (Random House) · Leanne Betasamosake Simpson, Noopiming: The Cure for White Ladies (University of Minnesota Press)
*
CENTER FOR FICTION FIRST NOVEL PRIZE
An annual award presented by The Center for Fiction, a non-profit organization in New York City, for the best debut novel.
Prize money: $10,000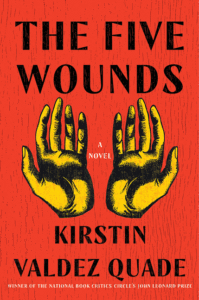 The Five Wounds by Kirsten Valdez Quade
(W. W. Norton & Company)
"In three parts that unfold over the course of a year in the aptly named New Mexico town of Las Penas, The Five Wounds is a knife-sharp study of what happens to a family when accountability to other people goes out the window. Quade's characters are experts at pushing love away, especially when intimate connection is most necessary … As each member of the Padilla family battles their personal demons, hope shimmers like a mirage over everyday life, a sweet what-if that Quade expertly suspends above the text …
It is a treat to see the author's exceptional command of pacing on display in a novel. Proof that what you say is just as important as how you say it, her precise lines are wanting in neither substance nor style, and her darkly hilarious, tender, gorgeous use of language is one of the crowning pleasures of the novel … an irreverent 21st-century meditation on the restorative powers of empathy."
–Elena Britos (BookPage)
Finalists: Priyanka Champaneri, The City of Good Death (Restless Books) · Linda Rui Feng, Swimming Back to Trout River (Simon & Schuster) · Honorée Fanonne Jeffers, The Love Songs of W.E.B. Du Bois (Harper) · Violet Kupersmith, Build Your House Around My Body (Random House) · Patricia Lockwood, No One Is Talking About This (Riverhead) · Jackie Polzin, Brood (Doubleday)
*
Los Angeles Times Book Prize
Recognizes outstanding literary works as well as champions new writers.
Prize money: $1,000
(Art Seidenbaum Award for First Fiction)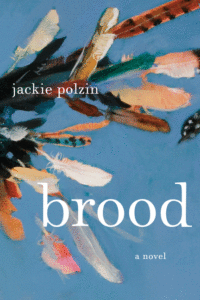 Brood by Jackie Polzin
(Doubleday)
"Shortly after I started reading Brood, the debut novel from St. Paul writer Jackie Polzin, I dashed off a note to a poet friend who used to keep a flock of Rhode Island Reds in her backyard. You will love this book, I told her, the voice is wry and rare and old-fashioned in a good way, reminds me of E.B. White's essays about his farm. And so funny! … the sprightliness of the voice had me so snowed that it took a while to realize that Brood is actually a story of unremitting loss … Has anyone ever described chickens better than Jackie Polzin? It seems unlikely … This little book was acquired by Doubleday in a two-day, nine-house bidding war, which is saying a lot for a skinny debut novel about raising chickens. But as Polzin points out, 'A chicken's life is full of magic. Lo and behold.'"
–Marion Winik (The Star Tribune)
Finalists: Natasha Brown, Assembly (Little Brown and Company) · Thomas Grattan, The Recent East (MCD) · Jocelyn Nicole Johnson, My Monticello (Henry Holt) · Benjamín Labatut, When We Cease to Understand the World (New York Review of Books)
(FICTION)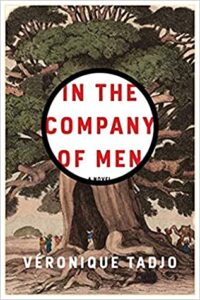 In the Company of Men by Véronique Tadjo
(Other Press)
"I was captivated by the book's multiple points of view, though I may have approached the work more like a collection of stories than a novel. Each chapter presented a different account of the Ebola outbreak, so the chapters felt more like varying personal stories, occurring simultaneously in a time of ceaseless crisis. Formally, I found the mythos of the trees centered and grounded the true-to-life narrative work in and beyond pure fiction. Indeed, the mythical turn creates a stake in poetics …
The essayistic voice of each account is quite poetic … the sentence-level overturning of words all in all shows a commitment to language and interest in repetition; the recurring sentence patterns mimic how thoughts overturn in the mind and shift to progress a beating heart forward … Tadjo's book…weaves poetry and music into the everyday experiences of healthcare workers, so its soul is rich."
–Kara Laurene Pernicano (Full Stop)
Finalists: Mariana Enriquez, The Dangers of Smoking In Bed (Hogarth) · Saïd Sayrafiezadeh, American Estrangement (W. W. Norton) · Claire Vaye Watkins, I Love You But I've Chosen Darkness (Riverhead) · Joy Williams, Harrow (Knopf)
*
Edgar Award
Presented by the Mystery Writers of America, honoring the best in crime and mystery fiction.
(Best Novel)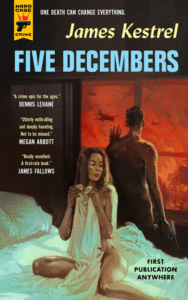 Five Decembers by James Kestrel
(Hard Case Crime)
"Some of my favorite crime novels juxtapose individual murders against the backdrop of wartime mass carnage. This is tough to pull off; it takes a skilled writer to keep the horror of such crimes vivid and stark when they're surrounded by so much other death. In Five Decembers, James Kestrel, a pseudonym for the horror and suspense novelist Jonathan Moore, does this very, very well … War, imprisonment, torture, romance, foreign language and culture are all explored with genuine feeling. The novel has an almost operatic symmetry, and Kestrel turns a beautiful phrase, too."
–Sarah Weinman (The New York Times Book Review)
Finalists: Rhys Bowen, The Venice Sketchbook (Lake Union) · S.A. Cosby, Razorblade Tears (Flatiron) · Will Leitch, How Lucky (Harper) · Kat Rosenfield, No One Will Miss Her (William Morrow)
*
(Best First Novel)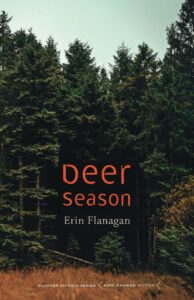 Deer Season by Erin Flanagan
(University of Nebraska Press)
"Flanagan balances the mystery and its surprising resolution with her emotionally rich character explorations. This is a standout novel of small-town life, powered by the characters' consequential determination to protect their loved ones at any cost."
Finalists: Vera Kurian, Never Saw Me Coming (Park Row) · Fabian Nicieza, Suburban Dicks (G.P. Putnam's Sons) · JoAnn Tompkins, What Comes After (Riverhead) · Caitlin Wahrer, The Damage (Pamela Dorman Books)
*
NEBULA AWARD
Given each year by the Science Fiction and Fantasy Writers of America for the best science fiction or fantasy novel.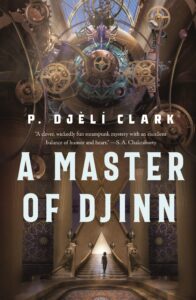 A Master of Djinn by P. Djèlí Clark
(Tordotcom)
"Clark deftly explores colonialism and the history of Cairo with an immersive setting that acts as another character in this delightful combination of mystery, fantasy, and romance. Give this to alternate history enthusiasts and mystery readers who enjoy a dose of the magical. Fans of S. A. Chakraborty, Martha Wells, and Zen Cho should be particularly pleased."
–Anna Mickelsen (Booklist)
Finalists: C. L. Clark, The Unbroken (Orbit US) · S.B. Divya, Machinehood (Gallery / Saga) · Arkady Martine, A Desolation called Peace (Tor) · Jason Sanford, Plague Birds (Apex)
*
HUGO AWARD
Awarded for the best science fiction or fantasy story of 40,000 words or more published in English or translated in the prior calendar year.
A Desolation Called Peace by Arkady Martine
(Tor)
"… themes have evolved in complexity, diving deeper into an intrigue about the very nature of life and death. The central cast is as appealing as ever, and the cats..are a delightful addition … Martine's debut showcased her consummate skill and perfect blend of narrative, humor and world-building; her second effort highlights her thematic ambition, and her abilities as a writer are more than equal to the task. Desolation is the kind of book that crouches in your mind, waiting for a quiet moment. It is hard to read slowly, but demands to be savored, lest you miss some of the cleverest and most elegant foreshadowing in modern science fiction … carries its own distinctive melody … Arkady Martine's first book was a deserving Hugo winner. Her second might eclipse it."
–Noah Fram (BookPage)
Finalists: Becky Chambers, The Galaxy, and the Ground Within (Harper Voyager) · Ryka Aoki, Light From Uncommon Stars (Tor Books) · P. Djèlí Clark, A Master of Djinn (Tordotcom) · Andy Weir, Project Hail Mary (Ballantine) · Shelley Parker-Chan, She Who Became the Sun (Tor Books)
*
BRAM STOKER AWARD
Presented by the Horror Writers Association for "superior achievement" in horror writing for novels.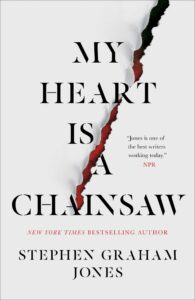 My Heart is a Chainsaw by Stephen Graham Jones
(Gallery / Saga)
"Jones's My Heart Is a Chainsaw is such an accomplishment; it makes me want to watch all the horror. This novel is a paean to slasher films, a devotional about an acolyte written by an obsessive. And it's a lot of fun … Jade's awkwardness and insecurities, her intractable obstinacy, her refusal to behave in a socially acceptable manner, all make her a believable nuisance to the adults in her life…She's respectful and patient, with an irrepressible sense of humor to balance our her sense of horror. We're so much on her side we find ourselves hoping for the worst … When things get going, they really go gonzo, and we're scrabbling to hang on by our fingernails throughout the climax. Everything promised in the first act is gleefully delivered in the third with comedy, pathos and a machete clutched in the hands of an unforgettable character."
---