The Award-Winning Novels of 2021
The Year's Big Literary Prize-Winners


The wait for a return to the raucous, glitzy literary awards ceremonies and afterparties of yesteryear goes on. Yes, for the second season running, statuettes were delivered by mail, speeches were made over zoom, and victorious authors donned formalwear to get tipsy in their apartments when they should have been spotlit at auditorium podiums, drinking in the cacophonous applause of their peers.
Still, a prize is no less prestigious for having been awarded in abstentia, and it'll take more than a protracted global pandemic to stop up from tipping our caps to the year's literary champs.
From the Pulitzer to the Booker, the Nebula to the Edgar, here are the winners of the biggest book prizes of 2021.
Congratulations to all!
*
Pulitzer Prize for Fiction
Awarded for distinguished fiction published in book form during the year by an American author, preferably dealing with American life.
Prize money: $15,000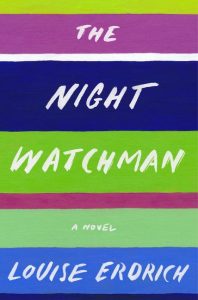 Louise Erdrich, The Night Watchman
(Harper)
"In this season of literary wildfires, when cultural borrowings have unleashed protests that have shaken the publishing industry, the issue of authenticity is paramount. Erdrich retakes the lead by offering the reader the gifts of love and richness that only a deeply connected writer can provide. You never doubt these are her people. The author…delivers a magisterial epic that brings her power of witness to every page. High drama, low comedy, ghost stories, mystical visions, family and tribal lore—wed to a surprising outbreak of enthusiasm for boxing matches—mix with political fervor and a terrifying undercurrent of predation and violence against women. For 450 pages, we are grateful to be allowed into this world … I walked away from the Turtle Mountain clan feeling deeply moved, missing these characters as if they were real people known to me. In this era of modern termination assailing us, the book feels like a call to arms. A call to humanity. A banquet prepared for us by hungry people."
–Luis Alberto Urrea (The New York Times Book Review)
Finalists:
Daniel Mason, A Registry of My Passage Upon the Earth (Little, Brown and Company)
Percival Everett, Telephone (Graywolf)
*
National Book Award
Recognizes an outstanding work of literary fiction by a United States citizen.
Prize money: $10,000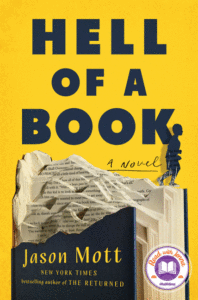 James Mott, Hell of a Book
(Dutton)
"There's an intimacy to Jason Mott's fiction, retained even when the scope of his narrative widens. But even by these standards, his fourth novel is a uniquely tight, personal story that digs into deeply emotional territory. Through two interwoven storylines unfolding in a witty, often devastatingly incisive style, Hell of a Book is a journey into the heart of a very particular American experience, one that far too many don't live to tell … You may think you see where these two stories are headed, where they will converge and knit together, and what they will have to say at the end, but you don't. And even if you could, Mott's bittersweet, remarkably nimble novel would still keep you turning the pages … a masterwork of balance, as Mott navigates the two narratives and their delicate tonal distinctions. A surrealist feast of imagination that's brimming with very real horrors, frustrations and sorrows, it can break your heart and make you laugh out loud at the same time, often on the same page. This is an achievement of American fiction that rises to meet this particular moment with charm, wisdom and truth."
–Matthew Jackson (BookPage)
Finalists:
Anthony Doerr, Cloud Cuckoo Land (Scribner)
Lauren Groff, Matrix (Riverhead)
Laird Hunt, Zorrie (Bloomsbury)
Robert Jones Jr., The Prophets (G.P. Putnam's Sons)
*
Man Booker Prize
Awarded for the best original novel written in the English language and published in the UK.
Prize money: £50,000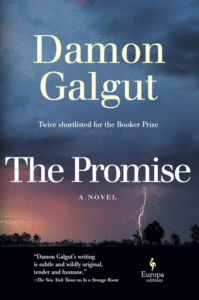 Damon Galgut, The Promise
(Europa Editions)
"Damon Galgut's remarkable new novel, The Promise, suggests that the demands of history and the answering cry of the novel can still powerfully converge. As a white South African writer, Galgut inherits a subject that must feel, at different times, liberating in its dimensions and imprisoning in its inescapability … The Promise is drenched in South African history, a tide that can be seen, in the end, to poison all 'promise' … Galgut's novel most closely resembles the work of predecessors like Woolf and Faulkner in the way it redeploys a number of modernist techniques, chiefly the use of a free-floating narrator. Galgut is at once very close to his troubled characters and somewhat ironically distant, as if the novel were written in two time signatures, fast and slower. And, miraculously, this narrative distance does not alienate our intimacy but emerges as a different form of knowing … His new novel exercises new freedoms. One is struck, amid the sombre events, by the joyous, puckish restlessness of the storytelling, which seems to stick to a character's point of view only to veer away, mid-sentence … Galgut uses his narrator playfully, assisted by nicely wayward run-on sentences … Galgut outsources his storytelling, handing off a phrase or an insight to an indistinct community of what seem to be wise elders, who then produce an ironically platitudinous or proverbial commentary … Galgut's narrator skims across his spaces, alighting, stinging, moving on to the next subject. As the novel proceeds, his narrator seems to grow in adventurous authority."
–James Wood (The New Yorker)
Finalists:
Anuk Arudpragasam, A Passage North (Hogarth)
Patricia Lockwood, No One Is Talking About This (Riverhead)
Nadifa Mohamed, The Fortune Men (Knopf)
Richard Powers, Bewilderment (W. W. Norton)
Maggie Shipstead, Great Circle (Knopf)
*
Man Booker International Prize
Awarded for a single book in English translation published in the UK.
Prize money: £50,000, divided equally between the author and the translator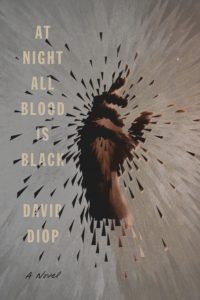 David Diop, tr. from French by Anna Moschovakis, At Night All Blood is Black
(FSG)
"… astonishingly good … Alfa understands that his revenge is growing ghoulish; he understands that France as a colonial force is exploiting his bravery and his grief; he understands, even, that he is in part responsible for Mademba's suffering, which is perhaps the novel's most harrowing thread. But Alfa's understanding cannot free him. He is, in effect, doomed by his own comprehension. Diop's prose, which is at once swift and dense, captures that effect well. He and his translator, Anna Moschovakis, wall the reader into Alfa's mind and his story, refusing even the smallest glimmer of light."
–Lily Meyer (NPR)
Finalists:
Mariana Enríquez, tr. from Spanish by Megan McDowell, The Dangers of Smoking in Bed (Hogarth)
Olga Ravn, tr. from Danish by Martin Aitken, The Employees (New Directions)
Benjamín Labatut, tr. from Spanish by Adrian Nathan West, When We Cease to Understand the World (New York Review of Books)
Maria Stepanova, tr. from Russian by Sasha Dugdale, In Memory of Memory (New Directions)
Éric Vuillard, tr. from French by Mark Polizzotti, The War of the Poor (Other Press)
*
National Book Critics Circle Award 
Given annually to honor outstanding writing and to foster a national conversation about reading, criticism, and literature. Judged by the volunteer directors of the NBCC who are 24 members serving rotating three-year terms, with eight elected annually by the voting members, namely "professional book review editors and book reviewers."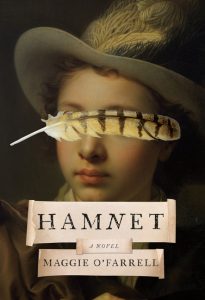 Maggie O'Farrell, Hamnet
(Knopf)
"… told with the urgency of a whispered prayer—or curse … Unintimidated by the presence of the Bard's canon or the paucity of the historical record, O'Farrell creates Shakespeare before the radiance of veneration obscured everyone around him. In this book, William is simply a clever young man—not even the central character—and O'Farrell makes no effort to lard her pages with intimations of his genius or cute allusions to his plays. Instead, through the alchemy of her own vision, she has created a moving story about the way loss viciously recalibrates a marriage … This is a richly drawn and intimate portrait of 16th-century English life set against the arrival of one devastating death. O'Farrell, always a master of timing and rhythm, uses these flashbacks of young love and early marriage to heighten the sense of dread that accumulates as Hamnet waits for his mother … None of the villagers know it yet, but bubonic plague has arrived in Warwickshire and is ravaging the Shakespeare twins, overwhelming their little bodies with bacteria. That lit fuse races through the novel toward a disaster that history has already recorded but O'Farrell renders unbearably suspenseful."
–Ron Charles (The Washington Post)
Finalists:
Martin Amis, Inside Story (Knopf)
Randall Kenan, If I Had Two Wings (W.W. Norton)
Souvankham Thammavongsa, How to Pronounce Knife (Little, Brown)
Bryan Washington, Memorial (Riverhead)

*
Kirkus Prize
Chosen from books reviewed by Kirkus Reviews that earned the Kirkus Star.
Prize money: $50,000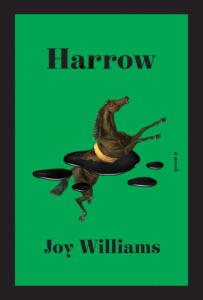 Joy Williams, Harrow
(Knopf)
"Williams' tone is caustic and discomfiting; it brings to mind the moment in which we are living, when matters of science and public health are regularly ridiculed or redirected in favor of political or economic platitudes…At the same time, her vision is too capacious for Harrow to be read so narrowly … The implication is that chaos is both our invention and our destiny, which means there can be no solace or forgiveness for our collusion with it. This is the source of Williams' fierce and unrelenting anger, and it invests Harrow with a potent moral weight … a piece of writing in the vein of Samuel Beckett or Franz Kafka, its humor weaponized by rage … 'Before the eyes can see, they must be incapable of tears,' Williams tells us—excavating, as she does throughout this magnificent and moving novel, the middle distance between silence and experience."
–David L. Ulin (The Los Angeles Times)
Finalists:
Honorée Fanonne Jeffers, The Love Songs of W.E.B. Du Bois (Harper)
Colson Whitehead, Harlem Shuffle (Doubleday)
Jocelyn Nicole Johnson, My Monticello (Henry Holt)
Mariana Enríquez (tr. by Megan McDowell), The Dangers of Smoking in Bed (Hogarth)
Pajtim Statovci (tr. by David Hackston), Bolla (Pantheon)
*
Women's Prize for Fiction
Awarded to a female author of any nationality for the best original full-length novel written in English and published in the United Kingdom.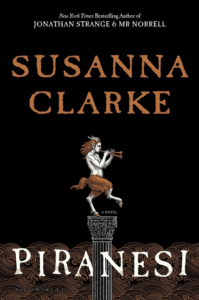 Susanna Clarke, Piranesi
(Bloomsbury)
"… the sweetness, the innocence of Piranesi's love for this world is devastating to read. Clarke's writing is clear, sharp—she can cleave your heart in a few short words. In these brief but gut-wrenchingly tender interactions we are felled by the loneliness Piranesi can't fully grasp. The concept is gone from his mind of what he longs for the most … This crossing of realms—the magical and scientific; the mystical and profane—in both Jonathan Strangeand Piranesi is an alluring combination. As if Marie Curie meets Cleopatra on Mary Anning's beach. The mystery of Piranesi unwinds at a tantalizing yet lightening-like pace—it's hard not to rush ahead, even when each sentence, each revelation makes you want to linger … Humans seek connection and knowledge—but how do we define those quests? How do we approach those paths? Both worlds in this enthralling, transcendent novel come with magic and reason, beauty and warmth, danger and destruction. However ill-gotten, Piranesi has achieved an equilibrium, a delicate peace with the contradictions of pain and love. How do we do the same? How do we bear the pain of our limits, and what must we give up to survive?"
–Vikki Valentine (NPR)
Finalists:
Brit Bennett, The Vanishing Half (Riverhead)
Claire Fuller, Unsettled Ground (Tin House)
Yaa Gyasi, Transcendent Kingdom (Knopf)
Cherie Jones, How the One-Armed Sister Sweeps Her House (Little, Brown)
Patricia Lockwood, No One Is Talking About This (Riverhead)

*
PEN/Faulkner Award
Awarded to the author of the year's best work of fiction by a living American citizen.
Prize money: $15,000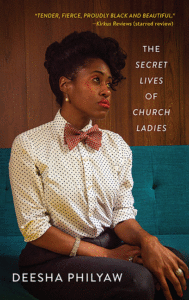 Deesha Philyaw, The Secret Lives of Church Ladies
(West Virginia University Press)
"… juicy goodness bursts from every page … While continually acknowledging the importance of the church in the Black community, Philyaw sees the contradictions it creates with clarity, sometimes painful, sometimes hilarious … This collection marks the emergence of a bona fide literary treasure. As one of Philyaw's characters might say, praise the Lord."
–Marion Winik (The Star Tribune)
Finalists:
Matthew Salesses, Disappear Doppelgänger Disappear (Little a)
Rufi Thorpe, The Knockout Queen (Knopf)
Robin Wasserman, Mother Daughter Widow Wife (Scribner)
Steve Wiegenstein, Scattered Lights (Cornerpost Press)

*
PEN/Robert W. Bingham Prize for Debut Fiction
Awarded to an exceptionally talented fiction writer whose debut work represents distinguished literary achievement and suggests great promise.
Prize money: $25,000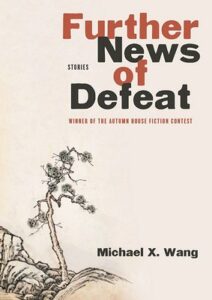 Michael X. Wang, Further News of Defeat
(Autumn House Press)
Finalists:
Dima Alzayat, Alligator & Other Stories (Two Dollar Radio)
Miriam Cohen, Adults and Other Children: Stories (Ig Publishing)
Mary South, You Will Never Be Forgotten: Stories (FSG Originals)
Shruti Swamy, A House Is a Body: Stories (Algonquin Books)
*
Andrew Carnegie Medal for Excellence in Fiction
Awards established in 2012 to recognize the best fiction and nonfiction books for adult readers published in the U.S. in the previous year. Administered by the American Library Association.
Prize money: $5,000 (winner), $1,500 (finalists)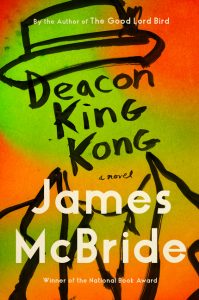 James McBride, Deacon King Kong
(Riverhead)
"… a feverish love letter to New York City, people, and writing. The prose is relentless and McBride's storytelling skills shine as he drags readers at breakneck speed trough a plethora of lives, times, events, and conversations. The novel is 370 pages, but McBride has packed enough in there for a dozen novellas, and reading them all mashed together is a pleasure … fast, deep, complex, and hilarious. McBride's prose is shimmering and moving, a living thing that has its own rhythm, pulls you in from the first page and never lets go. His story focuses on the people that make the Big Apple what it is: the strange, the poor, the insane, the mobsters. He also showcases the city's wonderful diversity, filling his pages with Puerto Ricans, African Americans, Italians, and Irish folks … McBride has a talent for writing about big ensembles … full of heart, humor, and compassion. It contains page-long sentences that sing and individual lines that stick to your brain like literary taffy. This is a narrative about flawed, poor people navigating an ugly, racist world and trying their best with the help of God, each other, or the bottle; their stories are unique, but the struggles are universal—and that makes this a novel about all of us. In Deacon King Kong, McBride entertains us, and shows us both the beauty and the ugliness of humanity. I say we give him another National Book Award for this one. It's that good."
–Gabino Iglesias (NPR)
Finalists:
Ayad Akhtar, Homeland Elegies (Little Brown)
Megha Majumdar, A Burning (Knopf)

*
International DUBLIN Literary Award
An international literary award presented each year for a novel written in English or translated into English.
Prize money: €100,000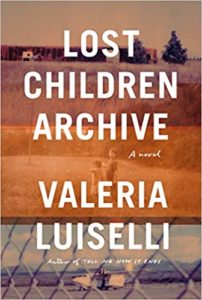 Valeria Luiselli, Lost Children Archive
(Knopf)
"I wrote down the microchemical raptures I was having, one after the next, from beginning to end of this revelatory novel … The Lost Children Archives [is] a semi-autobiographical gloss that Lueselli skillfully crafts without dipping into the pedantic accumulations that sometimes overwhelm such books … It is a breathtaking journey, one that builds slowly and confidently until you find yourself in a fever dream of convergences. The Lost Children Archive is simply stunning. It is a perfect intervention for our horrible time, but that fleeting concurrence is not why this book will be read and sampled and riffed on for years to come … The Lost Children Archive contains multitudes, contradictions, and raises difficult questions for which there are no easy answers. It is a great American novel. It is also a great human novel."
–Rob Spillman (Guernica)
Finalists:
Bernardine Evaristo, Girl, Woman, Other (Grove)
Colum McCann, Apeirogon (Random House)
Fernanda Melchor, Hurricane Season (New Directions)
Ocean Vuong, On Earth We're Briefly Gorgeous (Penguin Press)
Colson Whitehead, The Nickel Boys (Doubleday)

*
Center for Fiction First Novel Prize
An annual award presented by The Center for Fiction, a non-profit organization in New York City, for the best debut novel.
Prize money: $10,000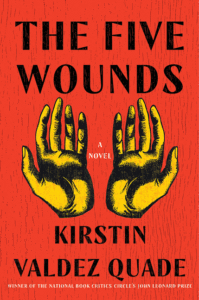 Kirsten Valdez Quade, The Five Wounds
(W. W. Norton)
"In three parts that unfold over the course of a year in the aptly named New Mexico town of Las Penas, The Five Wounds is a knife-sharp study of what happens to a family when accountability to other people goes out the window. Quade's characters are experts at pushing love away, especially when intimate connection is most necessary … As each member of the Padilla family battles their personal demons, hope shimmers like a mirage over everyday life, a sweet what-if that Quade expertly suspends above the text … it is a treat to see the author's exceptional command of pacing on display in a novel. Proof that what you say is just as important as how you say it, her precise lines are wanting in neither substance nor style, and her darkly hilarious, tender, gorgeous use of language is one of the crowning pleasures of the novel … an irreverent 21st-century meditation on the restorative powers of empathy."
–Elena Britos (BookPage)
Finalists:
Priyanka Champaneri, The City of Good Death (Restless Books)
Linda Rui Feng, Swimming Back to Trout River (Simon & Schuster)
Honorée Fanonne Jeffers, The Love Songs of W.E.B. Du Bois (Harper)
Violet Kupersmith, Build Your House Around My Body (Random House)
Patricia Lockwood, No One Is Talking About This (Riverhead)
Jackie Polzin, Brood (Doubleday)

*
Los Angeles Times Book Prize
Recognizes outstanding literary works as well as champions new writers.
Prize money: $1,000
(Art Seidenbaum Award for First Fiction)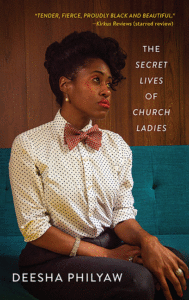 Deesha Philyaw, The Secret Lives of Church Ladies
(West Virginia University Press)
"… a collection of luminous stories populated by deeply moving and multifaceted characters … No saints exist in these pages, just full-throated, flesh-and-blood women who embrace and redefine love, and their own selves, in powerfully imperfect renditions. Tender, fierce, proudly Black and beautiful, these stories will sneak inside you and take root."
Finalists:
Maisy Card, These Ghosts Are Family (Simon & Schuster)
Meng Jin, Little Gods (Custom House)
Douglas Stuart, Shuggie Bain (Grove)
Shruti Swamy, A House is a Body (Algonquin)
(Fiction)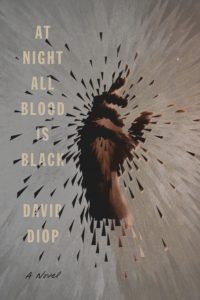 David Diop, tr. by Anna Moschovakis, At Night All Blood is Black
(FSG)
"From the very first pages, there is something beguiling about At Night All Blood Is Black, a slim, delicate novel by the Senegalese-French writer David Diop … This transgression against the dead—or the delusion of such—fills the story with a mythic affliction that recalls the old sailor's in Samuel Coleridge's epic poem The Rime of the Ancient Mariner. The narrative voice brims with innuendoes and habitual repetitions like 'I know, I understand' and 'God's truth,' which imbue the character with an edgy eccentricity … But this book is about more than a lone man's spiritual burden. Diop realizes the full nature of war—that theater of macabre and violent drama—on the page. He takes his character into the depths of hell and lets him thrive there … As violent and disturbing as these encounters are, they are rendered with such artistic grace that one derives a strange pleasure in reading about even the bloodiest of nights. The novel, though originally written in French, is grounded in the worldview of Senegal's Wolof people, and the specificity and uniqueness of that culture's language comes through even in Anna Moschovakis's translation … By the time we reach its shocking yet ultimately transcendent ending, the story has turned into something mystical, esoteric; it takes a cyclic shape … More than a century after World War I, a great new African writer is asking these questions in a spare yet extraordinary novel about this bloody stain on human history."
–Chigozie Obioma (The New York Times Book Review)
Finalists:
Peter Cameron, What Happens at Night (Catapult)
Akwaeke Emezi, The Death of Vivek Oji (Riverhead)
Danielle Evans, The Office of Historical Corrections (Riverhead)
Sarah Shun-lien Bynum, Likes (Riverhead)

*
Edgar Award
Presented by the Mystery Writers of America, honoring the best in crime and mystery fiction.
(Best Novel)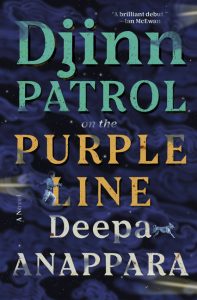 Deepa Anappara, Djinn Patrol on the Purple Line
(Random House)
"In Jai, Anappara has created a boy vivid in his humanity, one whose voice somersaults on the page. Rich with easy joy, Anappara's writing announces the arrival of a literary supernova … Telling a story from the perspective of a child always risks a descent into sentimentality. There's not a lick of it here … We marvel at…threads, so vibrantly woven by Anappara … This is the power of this novel, how it keeps us grounded—not in the flats of the hi-fi dwellers but in something closer to India's heart, which she locates in the minds of children with bony shoulders and dirty feet."
–Lorainne Adams (The New York Times Book Review)
Finalists:
Caroline B. Cooney, Before She Was Helen (Poisoned Pen Press)
Richard Osman, Thursday Murder Club (Pamela Dorman Books)
Ivy Pochoda, These Women (Ecco)
Kwei Quartey, The Missing American (Soho Crime)
Heather Young, The Distant Dead (William Morrow)

(Best First Novel)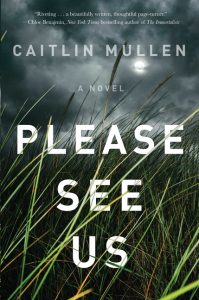 Please See Us by Caitlin Mullen
(Gallery Books)
"What Mullen's debut gives readers is a wrenchingly detailed, utterly credible story of women whose peril comes from poverty … Mullen is brilliant at depicting their points of view … Mullen builds almost unbearable suspense about whether the two friends will join the women in the marshes."
–Connie Fletcher (Booklist)
Finalists:
Nev March, Murder in Old Bombay (Minotaur Books)
Elisabeth Thomas, Catherine House (William Morrow)
David Heska Wanbli Weiden, Winter Counts (Ecco)
Stephanie Wrobel, Darling Rose Gold (Berkley)

*
Nebula Award
Given each year by the Science Fiction and Fantasy Writers of America for the best science fiction or fantasy novel.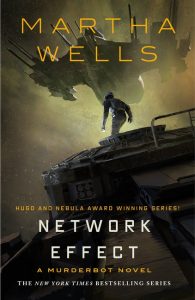 Martha Wells, Network Effect
(Tor)
"Like the series-to-full-length movie format it follows, everything is a bit wider and a bit heavier, but all the hallmarks of the series are there. We get a return of some beloved characters, more dodgy corporate interlopers, more robots-on A.I.-on-robot…action, and a bigger mystery. But now, with a little more room to breathe, Wells draws out all of those elements in a way that extends the enjoyable experience of the novellas, yet doesn't drag. Network Effect is more than twice the size of All Systems Red, but you'll come to the final pages and hardly notice … what makes it all stand out is the way Wells writes Murderbot's engagements with the world and the humans that inhabit it. It feels legitimately the way I imagine a sentient computer system that is smarter than all of us—but also watches a lot of trash TV—would view the world … The other strength of the series is a bit more subtle; it lies in the way Murderbot approaches gender …This approach continues in Network Effect, with what appears to be the beginnings of a non-traditional romantic relationship that has been bubbling since early in the series, and that I hope Wells will give us more of. And that's the hallmark of any good series—it leaves you wanting more. Murderbot and the world it inhabits constantly leave you wanting more, in the best possible way … Network Effect is a wonderful continuation of the series, and I highly recommend it if you enjoyed the first books. But if you haven't read those yet, you really should before trying this on for size. It's OK, we've got time. Not done yet? Sigh … humans."
–Steve Mullis (NPR)
Finalists:
Susanna Clarke, Piranesi (Bloomsbury)
N. K. Jemisin, The City We Became (Orbit)
Silvia Moreno Garcia, Mexican Gothic (Del Rey)
C. L. Polk, The Midnight Bargain (Erewhon)
Rebecca Roanhorse, Black Sun (Saga)

*
Hugo Award
Awarded for the best science fiction or fantasy story of 40,000 words or more published in English or translated in the prior calendar year.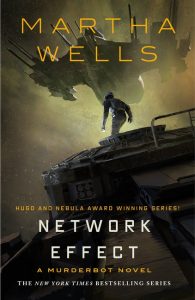 Martha Wells, Network Effect
(Tor)
"As always, Wells is deftly skilled with her characters, showing us compelling people with very human needs and fears—even when some of them aren't human. But she's even defter with humour: perhaps my favourite part of Network effect happens after Murderbot ends up freeing another SecUnit from its governor module … And, as always, Wells has written some really great, tense action. This is a perfectly paced space opera adventure novel, one in which Murderbot continues to grow as a person. An enormously relatable person. The conclusion is deeply satisfying while also holding out the possibility of more Murderbot stories to come. I could read about Murderbot all week. While I recommend Network Effect highly, and while I suspect that a reader could start here and still enjoy the story, this is a novel that will work best in the context of what has come before."
–Liz Bourke (Locus)
Finalists:
Rebecca Roanhorse, Black Sun (Saga)
N. K. Jemisin, The City We Became (Orbit)
Tamsyn Muir, Harrow the Ninth (Tor)
Susanna Clarke, Piranesi (Bloomsbury)
Mary Robinette Kowal, The Relentless Moon (Tor)

*
Bram Stoker Award
Presented by the Horror Writers Association for "superior achievement" in horror writing for novels.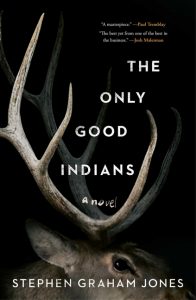 Stephen Graham Jones, The Only Good Indians
(Gallery/Saga Press)
"Jones, a Blackfeet writer who has published more than 20 books, 'likes werewolves and slashers,' according to his author bio, but he has also spent a lifetime interpreting Native American culture and mythology for contemporary readers. So he does here, exploring Native American deer and elk mythology and delving into the importance of elk ivory … Jones writes in clear, sparkling prose. He's simultaneously funny, irreverent and serious, particularly when he deploys stereotype as a literary device … The Only Good Indians is splashed with the requisite amounts of blood and gore, but there's much more to it than that."
–Martha Anne Toll (The Washington Post)
Finalists:
Alma Katsu, The Deep (G. P. Putnam's Sons)
Silvia Moreno Garcia, Mexican Gothic (Del Rey)
Todd Keisling, Devil's Creek (Silver Shamrock Publishing)
Josh Malerman, Malorie (Del Rey Books)
---