The Annotated Nightstand: What Nina Mingya Powles is Reading Now and Next
A New (at Lit Hub) Series by Diana Arterian
Magnolia, 木蘭 by Nina Mingya Powles is out from Tin House this month, and this debut poetry collection explores a wide variety of themes, employing an equally wide variety of forms—from sonnet to prose poems to poems in a kind of dialog. Some of the most compelling moments of the book are her descriptions of food, and how they intersect with place, emotion. From making scallion pancakes, to unwrapping sticky rice dumplings from lotus leaf wrappers. "Bright skins and leaves sucked clean, my hands smelling tea-sweet," Powles writes. "Something inside me uncurling. A hunger that won't go away."
But the predominant concern in the book is Powles' identity as a mixed-race woman, and the many directions it takes her. One poem is just a list of questions she faces ("Is your hair colour natural? // What does this country mean to you?"). Powles also writes about female figures in media who, to some degree, are telling Powles how to be—the Joi ad from Blade Runner 2049, Mulan in the Disney movie, Princess Mononoke, Lin Mei in The Great Wall.
The portion of title of the book that is "magnolia" in traditional Chinese, 木蘭, becomes "mùlán" in simplified Mandarin, Powles explains. This touches on the other major theme of the book: language. Powles has several poems about learning/exploring the Mandarin and Hakka languages, and the many layers the characters of Mandarin, in particular, can bear. "Some things make perfect sense," she writes, "like the fact that 波(wave) is made of skin (皮) and water (氵), but most things do not."
On her to-read pile, Powles explains, "This summer I'm reading lots of fiction, especially novels by poets—one of my favorite sub-genres. I've never written fiction but I'm interested in how novels work; the mechanics of them, how characters are shaped. I'm always dipping in and out of poetry, because when I'm stuck with writing, poetry is what usually gets me unstuck. Tayi Tibble and Victoria Adukwei Bulley are two of my favourite poets right now, each with a new book coming out in the US this year."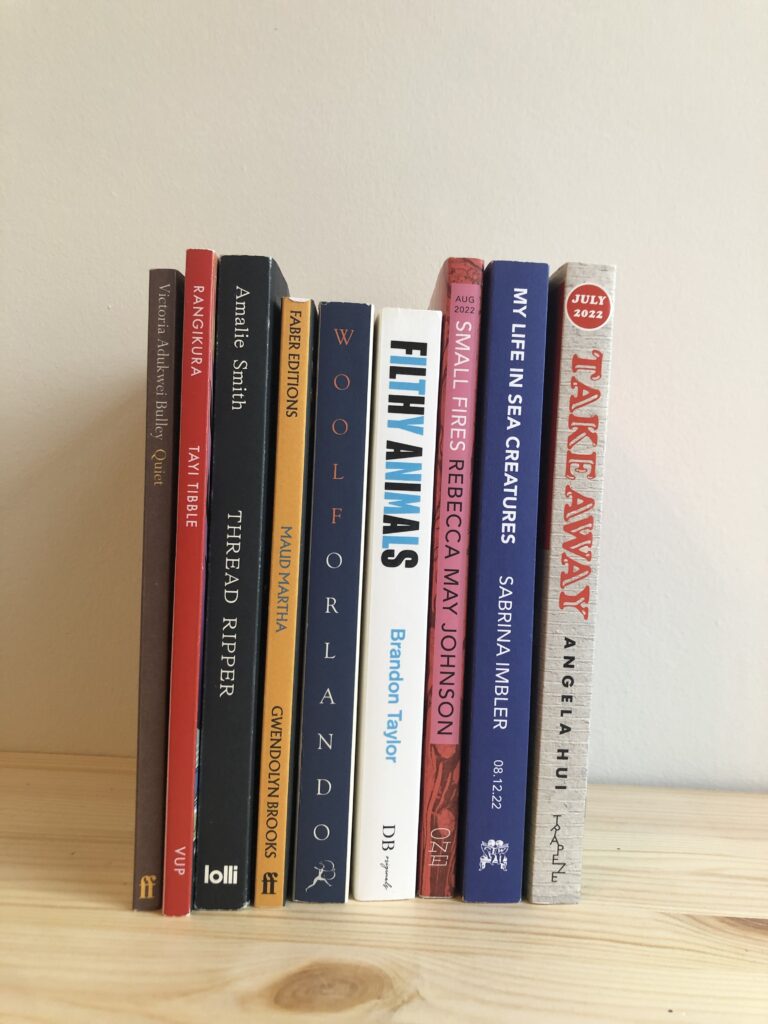 *
Victoria Adukwei Bulley, Quiet
Powles' endorsement of Bulley's collection definitely will have me looking for it in bookstores. In his review, Rishi Dastidar of The Guardian writes, "Victoria Adukwei Bulley's debut is an exploration of the power of silence as a means of resistance, a way of carving space for the self in a hostile world. Rooted in Black feminist thinking, the poems have a clear-eyed elegance, buttressed with a controlled ferocity that is acute on the damage done by institutional blankness, and how it forces an uncomfortable conformity."
*
Tayi Tibble, Rangikura
This cover art by Xoë Hall alone has me sitting upright, with its comic book-like glory that seems to encapsulate a desire for summer (a femme figure fanning herself with money while atop a rad pink car that laps from a pool). "These poems are elegies to a trauma so large that it can only be comprehended in small sips and the odd, sardonic, witchy cackle," writes Faith Wilson in The Spinoff.
 *
Amalie Smith, Thread Ripper (trans. Jennifer Russell)
This novel is two stories told en face, with a protagonist investigating what ties together her fiber art work, DNA, and technology. I loved an interview with the translator, who gave a very blurb-like description of the book: "Then there is a poetic quality to Smith's writing; the books are not particularly long and her sentences are often quite brief, clipped even, and at the same time, very vivid and evocative. This is even clearer in Thread Ripper, where so many sentences stand on single lines, reverberating in all the blank space around them. Translating it feels like translating poetry; I am working very much word by word, attentive to how it sounds, how it works in the sentence."
* 
Gwendolyn Brooks, Maud Martha
I first read Brooks' novel a few years ago. Should I have been surprised such a brilliant poet was also a brilliant fiction writer? The novel follows a Black woman as she grows up in Chicago in the 1940s. How she experiences the painful realities of racism and colorism. As Asali Solomon writes for NPR, "Like Gwendolyn Brooks' poetry, Maud Martha shows a passionate love for ordinary people: hairdressers, hoodlums, snobs, plainly pretty girls and homely little boys…[T]his novella is not only the chronicle of one small life, but a mirror reflecting for each reader what shines and shimmers at the edges of his or her everyday existence."
*
Virginia Woolf, Orlando
While I have read Orlando, a novel that is having an earned renaissance as its protagonist is gender nonconforming and switches between a man and woman throughout their life—as well as lives for centuries and with adventures and glory. But I didn't know Orlando was based on the aristocratic family of Vita Sackville-West, a woman who had a decade-long relationship with Woolf. Sackville-West's life alone feels like a novel, not to mention her family. There are some excellent Wikipedia rabbit holes here, if you're in the mood.
*
Brandon Taylor, Filthy Animals
The author if Real Life and Booker Prize finalist has a collection of linked short stories out. Thomas Mar Wee in Los Angeles Review of Books writes, "The stories in this collection pulse with life. Neither cold nor detached, these stories are suffused with a warmth and humanity that recalled for me the uncanniness of Raymond Carver, the empathy of Alice Munro, and the meticulous irony of Chekhov."
*
Rebecca Johnson, Small Fires: An Epic in the Kitchen
This memoir comes out this month, in which Johnson attends to the bright intelligence cooking can offer. As the jacket copy states, "Cooking, we are told, has nothing to do with serious thought; the path to intellectual fulfilment leads directly out of the kitchen… Playfully dissolving the boundaries between abstract intellect and bodily pleasure, domesticity and politics, Johnson awakens us to the richness of cooking as a means of experiencing the self and the world."
*
Sabrina Imbler, How Far the Light Reaches: A Life in Ten Sea Creatures
When looking up Imbler, I realized I have consistently clicked on their New York Times science articles over the years. In her blurb for the book, Kristen Arnett writes, "Compulsively readable, beautifully lyric, and wildly tender, How Far the Light Reaches asks the reader to sink down, slip beneath, swim forward with outstretched hands, trusting that Sabrina Imbler is there to guide us through the dark." This is another forthcoming title that I'm really excited to see hit the shelves.
*
Angela Hui, Takeaway: Stories from Childhood Behind the Counter
This recently published memoir traces Hui's experience working in her family's to-go Chinese restaurant in rural Wales. The drama of the community's racism is likely no surprise, along with the undeniable impact this would have on Hui as a young child. But Hui attends to that while also illustrating the joys of working together with her family—and how much the store shaped their lives from Hui's childhood until they closed the restaurant 30 years after opening.
---