The Annotated Nightstand: What Elamin Abdelmahmoud is Reading Now and Next
A New (at Lit Hub) Series by Diana Arterian
For some time, I ran a series at Entropy in which I would post my own to-read pile along with a guest's. Entropy folded last year, and Lit Hub has graciously agreed to host this funky little project. Below, you'll find a writer's TBR stack, followed by my own commentary on the titles.
*
When I began this column at Lit Hub last month, I realized it was only a matter of time that a guest's to-read pile I was set to annotate would impact my own to-read pile. I suppose I shouldn't be surprised it happened so quickly. When reading up on Elamin Abdelmahmoud's memoir, Son of Elsewhere (out today from Ballantine Books), for author and editor Tajja Isen's TBR pile, I knew I needed a copy of Son of Elsewhere for myself.
In it, Abdelmahmoud charts his experiences as an immigrant tween. The particulars are defined by his leaving Sudan with his parents to the remarkably white Canadian city of Kingston, where, he quickly learns, he is racialized and othered for the first time in his life. Early on, Abdelmahmoud has a conversation with his cousin, who lives in a major city and has been there for a few years. She explains, "Over here, we're Black." "The words over here, we're Black rang around my head," Abdelmahmoud writes. "Before I could ask the million questions that swirled in my brain (Wait, what do you mean we're Black? Does it come with rights and responsibilities? Do I get a card?), she handed me two CDs: The Miseducation of Lauryn Hill and Illmatic."
With relatable, wry humor, Abdelmahmoud describes being forced to speedily locate his identity in this strange new place which, solely because he is in the very small minority, he is considered the oddity.
Abdelmahmoud explains about his pile:
My TBR pile is basically the tapestry to the things I'm thinking about. These books help me with the ideas I'm walking around with. When I'm working through something, I like to keep books around that have given me—or promise to give me—illuminating language and a solid base to start from.
Abdelmahmoud graciously also provided annotations to his own TBR pile. Those notes are below.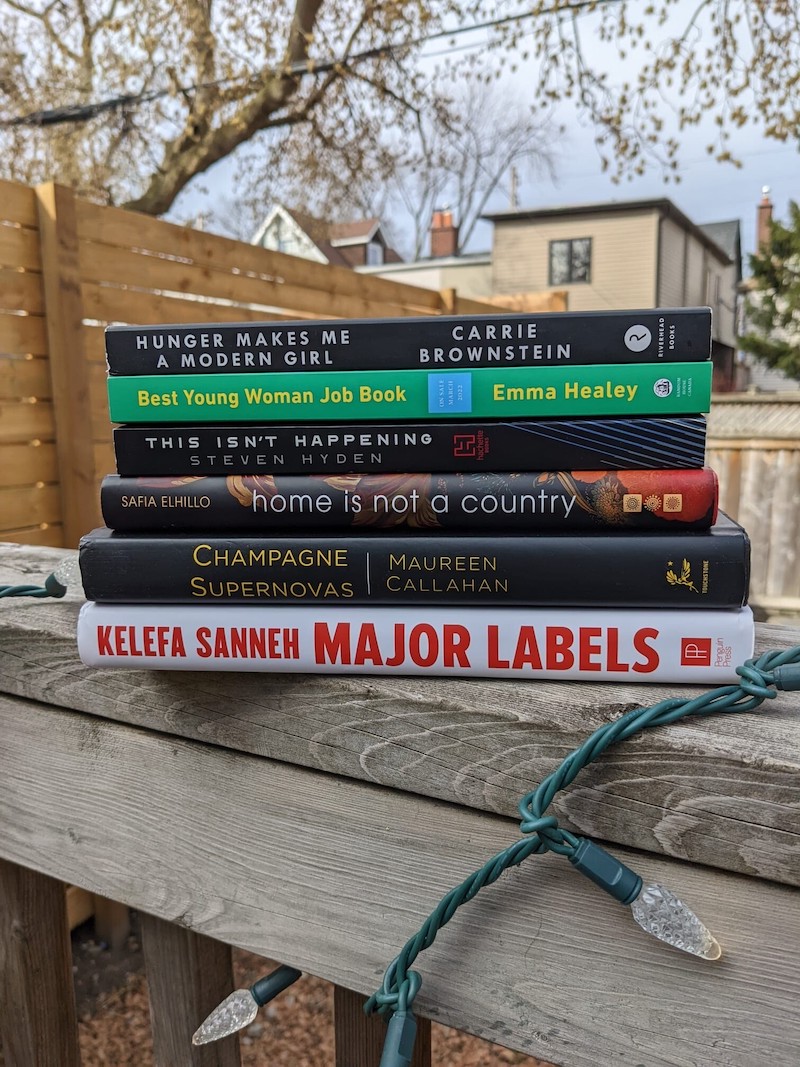 Steven Hyden, This Isn't Happening: Radiohead's "Kid A" and the Beginning of the 21st Century
I like Radiohead but have never bought into the mythology of Kid A. In the Radiohead narrative arc, Kid A is often understood as the start of something transformative—not just a Radiohead turning point, but a cultural turning point. I am not convinced this is true, but I also might just be wrong on that! Certainly, so far into Steven Hyden's book, my conclusion is that I am definitely wrong on that.
Safia Elhillo, Home Is Not a Country
I've been spending a lot of time with this novel in verse. I crave books about diaspora, especially the Sudanese diaspora, and Safia Elhillo is a brilliant Sudanese-American writer whose sentences feel familiar and urgent to me.
Carrie Brownstein, Hunger Makes Me a Modern Girl
In general, I love musician memoirs. But even in a genre I gravitate towards, this offering from Sleater-Kinney's Carrie Brownstein stands above the rest. She's funny, she's heartbreaking, she's often quite startling, but most importantly, she's deeply vulnerable, and she remembers everything. It's been a pleasure keeping this book as a companion. Heads up, though: if you came by Brownstein during her years as creator and star of Portlandia, there's relatively little of those years.
Emma Healey, Best Young Woman Job Book: A Memoir
Emma Healey is working through the tension between the joys of writing for a living and the reality of navigating the gig economy and the world of publishing. But she's doing it with flare and style and an incredibly infuriating amount of skill. This is the kind of book where you'll finish a stretch and pause and think wait, how did she do that, and go back and try to piece it together for yourself.
Maureen Callahan, Champagne Supernovas: Kate Moss, Marc Jacobs, Alexander McQueen, and the '90s Renegades Who Remade Fashion
I read this book years ago, but with this surprising and unstoppable return of the 90s and early aughts, I wanted to revisit it. Like any fashion history book worth a damn, it elegantly pulls together the threads of social anxiety and the big cultural questions that were happening at the time to advance a compelling story of what this moment gave us. I'm rereading it trying to mine for an answer to this question: why do we remember the 90s the way we do?
Kelefa Sanneh, Major Labels: A History of Popular Music in Seven Genres
The New Yorker staff writer somehow manages to pull together the story of popular music in the last 50 years—yes, all of popular music—while finding space to weave in memoir and essayistic critiques. I write about music for a living but because I wasn't born in the West, I take seriously the idea that I have historical blind spots in music. Sanneh's book is a gift in filling those in, and making some unexpected connections along the way.
---