The Annotated Nightstand: What Tajja Isen is Reading Now and Next
A New (at Lit Hub) Series by Diana Arterian
For some time, I ran a series at Entropy in which I would post my own to-read pile along with a guest's. Entropy folded last year, and Lit Hub has graciously agreed to host this funky little project. Below, you'll find a writer's TBR stack, followed by my own commentary on the titles.
*
We're arguably at a fever-pitch regarding how we concern ourselves with language—to the point that companies built on exploiting protected groups will tweet a black square, employ phrases like "BIPOC folx" in their site copy. Tajja Isen's new collection, Some of My Best Friends: Essays on Lip Service (One Signal), investigates the concept of "lip service" beyond the snappiness the phrase often conjures. Isen breaks this phenomenon down to consider the ways in which lip service is a screen from substantive parity in North America—notions of "colorblindness," "diversity," and what receives the reward of attention in white supremacist (sub)cultures often focused on "moving on." Miraculously, Isen, the editor-in-chief at Catapult magazine, is able to give this collection humor along with her vital work and rigor.
Isen writes: "My to-read pile is a mix of books I've recently started, ones I've lately finished but don't yet want physical distance from, and ones I hope to get too soon. There's also a robust selection, here, of books I'm presently thinking with—authors I'm slated to interview, have recently had conversations with, or whose books I hope to share with other people."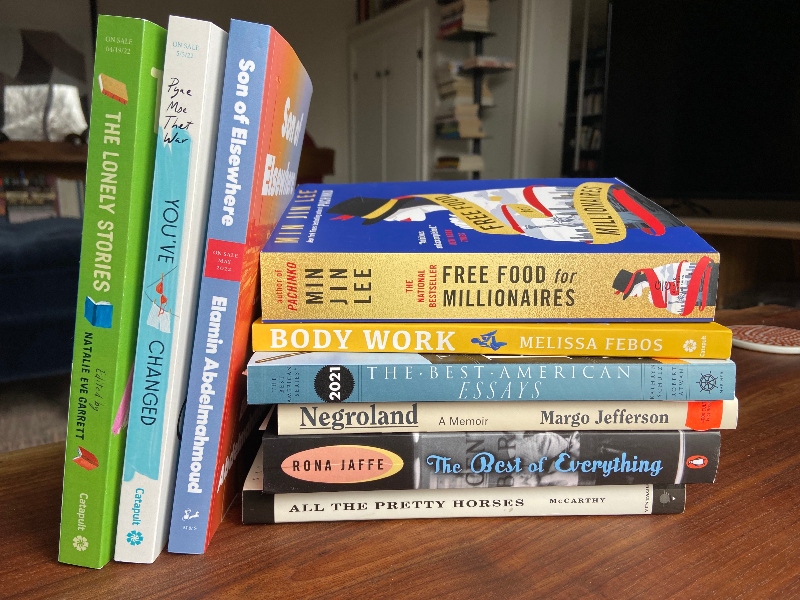 Natalie Eve Garrett (ed.), The Lonely Stories: 22 Celebrated Writers on the Joys & Struggles of Being Alone
The Publishers Weekly review illustrates the variety of approaches to aloneness this collection contains. PW writes, "In bringing together the wide range of perspectives, Garrett has made a subject often feared into something uplifting: 'While loneliness can be devastating, I find it deeply moving that it can also function as a portal to beauty and discovery,' she writes in the introduction. Fans of the personal essay will want to check this out."
Pyae Moe Thet War, You've Changed: Fake Accents, Feminism, and Other Comedies from Myanmar
This seems like a really exciting debut essay collection. From the jacket copy: "What does it mean to be a Myanmar person—a baker, swimmer, writer and woman—on your own terms rather than those of the colonizer? These irreverent yet vulnerable essays ask that question by tracing the journey of a woman who spent her young adulthood in the US and UK before returning to her hometown of Yangon."
Elamin Abdelmahmoud, Son of Elsewhere: A Memoir in Pieces
The BuzzFeed culture writer Abdelmahmoud's memoir describes his experience as a 12-year-old Sudanese child who settles with his family in an extremely white city in Canada. "At the airport, [Abdelmahmoud] is handed his Blackness like a passport, and realizes that he needs to learn what this identity means in a new country." Hanif Abdurraqib says of Son of Elsewhere, "A memoir that is immense in its desire to give . . . a rich offering of image, of music, of place." This book isn't out yet, but I aim to get it on my own shelf once it is.
Min Jin Lee, Free Food for Millionaires
Lee recently discussed her novel at NPR and explained the general ethos of her first book. She states, "[W]hat's bizarre to me about life is that sometimes you have to have everything taken away before you experience grace or before you actually recognize that grace can happen to you. And so, throughout the book, each of my characters will experience a sense of dispossession. He or she will actually lose many things in order experience a kind of favor that occurs to him or her."
Melissa Febos, Body Work
This was definitely on my list for a book to get at AWP, but by the time I made it to the table they were fresh out. In its starred review, Library Journal wrote, "A book for both writers and readers who feel like their bodies are telling stories … Wide-ranging in its theoretical and historical breadth yet intimate in all ways, Febos's book offers the tools readers need to identify, access, process, and articulate hard-won stories of trauma and of love that their flesh holds."
Kathryn Schulz (ed.), Best American Essays 2021
It must be wild to go through a collection that is meant to generally capture our first year of the pandemic, the resurgence of the Black Lives Matter movement after the murder of George Floyd. The collection has essays from knockouts like Elizabeth Alexander, Hilton Als, Claire Messud, Patricia Lockwood.
Margo Jefferson, Negroland: A Memoir
This memoir is one I continually try to remember to get ahold of and read, so I'm taking this as a final reminder. Jefferson writes, "Negroland is my name for a small region of Negro America where residents were sheltered by a certain amount of privilege and plenty." In her review in the Times, Tracy K. Smith writes, "[The] manner of instilling in children the understanding that with privilege comes responsibility…strikes me as the true impetus for Jefferson's book. For once we become accustomed to delicious glimpses of Negroland's impeccable manners and outfits, the meticulously orchestrated social opportunities and fastidiously maintained hairstyles, what we begin to notice is the cost and weight of this heavy collective burden."
Rona Jaffe, The Best of Everything
In her New Yorker review, Michele Moses describes Jaffe's book as "what you would get if you took Sex and the City and set it inside Mad Men's universe… In order to write it, Jaffe interviewed 50 women about 'the things nobody spoke about in polite company': losing their virginities, getting abortions, being sexually harassed. 'I thought that if I could help one young woman sitting in her tiny apartment thinking she was all alone and a bad girl, then the book would be worthwhile,' Jaffe wrote."
Cormac McCarthy, All the Pretty Horses
While I'm obsessed with Blood Meridian, I've never gotten around to All the Pretty Horses. It's an American classic at this point, so I don't know I'm going to provide much insight into the text that isn't already out there in copious amounts. But I didn't realize it was named after a (likely) Black American lullaby, and that is the source of McCarthy's title.
---