The American Universities That Took in Scholars from Nazi Europe
Laurel Leff On Academia's Refugees During World War II
Back in Vienna in December 1933, Leonore Brecher wrote to Leslie C. Dunn, a Columbia University zoologist with whom she had worked in a Berlin laboratory six years earlier. Dunn had even invited her in 1930 to spend part of her Yarrow fellowship in his Columbia lab working on pigment production with the possibility of permanent employment there. The 40-year-old Dunn was building Columbia's zoology department into one of the country's best. Brecher never made it to the States, however, because of a "very unfriendly" Hamburg consul who had denied her a visitor visa. Brecher apparently had suggested to the consul that she might stay in the United States. Instead, she had headed to Kiel.
But just for a year and a half. When the University of Kiel fired Rudolf Hober and shut the lab in which Brecher was working, she turned to Dunn. "On 1 November I had to leave Kiel and to return to Vienna because I had no more to live," Brecher wrote, noting that she was staying in a room in Vienna's Institute for Experimental Biology. Its director, Hans Przibram, allowed her to live there and gave her some administrative work so she would not be completely destitute. "I wish very much to go to the United States and continue there research," Brecher wrote Dunn, "and I beg you, if possible, to help me to a research place in the United States."
Across the continent, European scholars took up pens and turned to typewriters to compose pleading letters to dispatch to the States. Concerned American academics realized immediately that they had a special obligation and a unique opportunity to help German scholars by facilitating their hiring at US universities. Hiring efforts took place at three levels: through individual faculty members assisting friends and acquaintances, through disciplines organizing to help colleagues in their respective fields, and through national and international organizations dedicated to helping scholars escape. These three levels often interacted. As happened with Columbia zoologist Dunn, individual faculty members would hear about friends or colleagues who had lost jobs, first at German universities and then at Austrian, Czech, Polish, Italian, Danish, Dutch, Belgian, and French ones. American professors would start writing to other academics to discover whether any university was able to hire the displaced scholar.
The efforts of Arthur Compton, a Nobel Prize–winning physicist at the University of Chicago, were typical. In November 1938, he appealed on behalf of Bruno Rossi, an Italian physicist who had lost his position at the University of Padua because he was Jewish. Compton described the then-35-year-old Rossi as "the leading investigator of cosmic rays in Europe, perhaps in the world." Compton acknowledged that "bringing additional Jews into this country" could "promote serious antagonisms," yet it "would really be a world tragedy to have his abilities go to waste." Rossi did not immigrate to the United States immediately, going first to Denmark and then to Great Britain. He arrived in the United States in time to participate in the Manhattan Project through his work at the Radiation Laboratory at the Massachusetts Institute of Technology (MIT). Similarly, Northwestern's Melville Herskovits helped Mieczyslaw Kolinski, Yale Law School's Edwin Borchard helped Max Fleischmann, and Princeton's Rudolf Ladenburg helped Hedwig Kohn.
At some universities, faculty members started funds to pay the salaries of displaced scholars. Columbia University was one of the most active. In 1933, 125 Columbia faculty members contributed a total of almost $4,000, or almost $80,000 in contemporary dollars, for temporary fellowships. Dunn, a committed refugee advocate even apart from his interactions with Brecher, was secretary of the Faculty Fellowship Fund, which John Dewey chaired. The fund supported five visiting professors, including theologian Paul Tillich and mathematician Felix Bernstein, without any university contribution. A few professors went beyond their initial contributions. Anthropologist Franz Boas, for example, instructed Columbia's secretary to withdraw $104.70 from his monthly pay during the 1935–1936 academic year to support sociologist Julius Lips.
The refugee work often came at the expense of the Americans' own academic duties.
Some American professors devoted extraordinary amounts of time and effort to the refugee cause as well as to individual refugees. Among them were astronomer Harlow Shapley and government professor Carl Friedrich at Harvard; David Riesman, then at the University of Buffalo law school; Max Radin at the University of California law school in Berkeley; Borchard at the Yale Law School; Boas, Dunn, and law professor Joseph Chamberlain at Columbia; and mathematicians Oswald Veblen and Hermann Weyl at the Institute for Advanced Study. "God knows I would retreat from the nervous burden of worrying about academic refugees if my conscience would let me and anyone else would carry on—anyone with academic connections and efficient machinery comparable with those at my disposal," wrote Shapley, who directed the Harvard College Observatory. During his two decades of leadership, Shapley had turned the Cambridge observatory into an essential destination for every major astronomer. In a somewhat more optimistic tone, Shapley wrote, "These refugee scholars, to be sure, take some of my time from the stars, but the stars will not be of much good to us if we do not preserve the minds with which to comprehend them."
The refugee work often came at the expense of the Americans' own academic duties. Chamberlain, who became chairman of the umbrella refugee organization the National Coordinating Committee, acknowledged as much. "My time has been so taken up with meetings and conferences and handling cases that I have had little chance to see anybody in these last 12 months, or indeed to do very much work in the university," he wrote in January 1939. "The need, however, is so great and the conditions so terrible that I am glad to be able to do what I can to cooperate with those who are doing so much."
That the faculty members assisting the scholars were feeling pressured is evident from Chamberlain's response to John J. White, a Park Avenue physician, who complained to Columbia University president Nicholas Murray Butler. Chamberlain passed over White's "violent references to me" and insisted that his work on behalf of refugee scholars "is but another application of the maxim that 'charity begins at home,' for I am quite confident that American colleges and universities of the future will be better for the bringing in of these few eminent teachers from abroad." Riesman faced repeated complaints that the Buffalo law school was getting the reputation that it cared more "about refugees than about its duty to its unemployed graduates or its students."
The then-untenured Riesman was told that the refugee work was "taking too much of my time for the good of the school" and that it "exposed me to criticism, which the school could ill afford." (Riesman recovered from any career setback, becoming a sociologist, author of the classic of cultural criticism The Lonely Crowd, and a Harvard professor.) Anthropologist Boas's activism ultimately did not sit well with Columbia University and probably brought a premature end to his distinguished career. He retired with emeritus status in June 1936 and found his pay reduced and his office reassigned, which Boas considered a response to his criticisms of the university, particularly in a letter to The New York Times.
Sometimes entire disciplines rallied around hiring refugee scholars, or even one individual scholar.
Some professors, such as Chamberlain and Shapley, led or worked through existing organizations. Others, such as Phoebus Levene of the Rockefeller Institute for Medical Research, seemed to be one-man placement agencies, in Levene's case for chemists and physicians. (Norbert Wiener, an MIT mathematician, took a similar approach to helping mathematicians.) Levene received pleading letters, often from strangers. "It is the first time in my life, that I apply to people, I don't know personally, for support," Victor Egon Fleischmann wrote Levene sometime after November 1938, explaining that he had "neither friends nor relatives in USA." Fleischmann described himself as being 51 and single, with degrees in medicine, law, and history from the University of Vienna. Levene apparently did not help Fleischmann, who was deported to the Dachau concentration camp on August 31, 1940, and died there four months later. Levene also received an entreaty from Gustav Kollmann, a 44-year-old Viennese biochemist whom Levene knew only because Levene had placed nucleic acids in Kollmann's lab. Still, Kollmann asked Levene to pay his fare to the United States from Utrecht, Holland, where he had fled after the Anschluss "with small luggage" and no money. "I am sure you will believe me, if I say, it is the most impleasant [sic] thing for a man of my social position to be forced to write such a letter as this," Kollmann wrote. Levene sent him $30. Kollmann's fate could not be discovered.
Regine Kapeller-Adler, who headed a medical diagnostics laboratory in Vienna and developed a widely used pregnancy test, acknowledged immediately her discomfort in writing to Levene. "I should be extraordinary obliged to you, if you could procure me any call even very modest, that I may come with my husband and my girl of four years to your country as quickly as possible," the 38-year-old physician wrote after the Anschluss. "I am aware of my request, but I dare make it because of the actual situation in my country. I entreat you to do your possible." Levene declined, noting that he had "already given out all the affidavits I can possibly afford" and that the possibilities of obtaining  a medical position were "practically negligible." Kapeller-Adler and her family immigrated to Great Britain, and she obtained a position at the University of Edinburgh. Levene claimed that he had "good luck" in placing about five of the forty scholars who had contacted him.
Sometimes entire disciplines rallied around hiring refugee scholars, or even one individual scholar. Mitchell Ash noted the "many aid committees organized within individual disciplines, for example in mathematics, psychology and psychoanalysis." The American Philosophical Society prepared and circulated digests of exiled scholars in philosophy, which its exile committee described as "so variously gifted and [an] interesting group of scholars." In early 1939, the American Psychological Association sent a statement to all psychology departments in the United States, listing the roughly one hundred psychologists in need. The association's Committee on Displaced Foreign Psychologists had assembled the list and planned to hold a conference at Bryn Mawr at the end of March on placing psychologists. At that time, six psychologists had been placed. By the end of April, the list of those in need had grown to 150. The committee had corresponded with and had curricula vitae for a majority of those on the list, a third of whom were in the United States. By the end of the year, the Committee on Displaced Foreign Psychologists took credit for a total of 12 placements.
American mathematicians provide another  example. Although anti-foreign, antisemitic, and protectionist sentiments were prevalent in US mathematics departments, the discipline still managed to bring 120 to 150 mathematicians to the United States. The reason: prominent mathematicians—including Max Mason, president of the Rockefeller Foundation from 1929 to 1936; Oswald Veblen of the Institute for Advanced Study in Princeton; and Roland Richardson, a math professor at Brown University and dean of its graduate school—pushed for their hiring to fill gaps in the U.S. curriculum. American geographers raised enough money so that Alfred Philippson, a 77-year-old geography professor at the University of Bonn and his family could be transported to and supported in Switzerland. The plan failed, however, when the Swiss Finance Ministry would not issue a license to allow the funds to be deposited in a Swiss bank. Philippson and his family were sent to the Theresienstadt ghetto. He spent three years imprisoned there not too far from Prague and survived the war.
By contrast, American historians did very little to help their European colleagues, as evidenced by the fact that almost no historians came on non-quota visas after being invited to join American institutions. The success of refugee historians in the States resulted from their own efforts to help one another and their strong professional profile.
——————————————————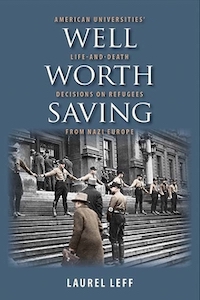 From Well Worth Saving: American Universities' Life-and-Death Decisions on Refugees from Nazi Europe by Laurel Leff. Reprinted with the permission of the publisher, Yale Books. Copyright © 2019 by Laurel Leff. 
---