The American Booksellers Association has made their Twitter account private after promoting a scientifically inaccurate anti-trans book, apologizing, and then deleting the apology.
The controversy started when the ABA, as part of their July "white box" promotional mailing, sent 750 bookstores a copy of freelance journalist Abigail Shrier's Irreversible Damage: The Transgender Craze Seducing Our Daughters, whose cover features a doleful-looking girl with a big hole cut out of her center. The mailing also included the book's sell sheet, which claims that "Abigail Shrier is the single voice exposing the lies that lead these young girls to question their own value and go down this self-destructive path [of transitioning genders.]" In reality, Shrier's book pays minimal attention to science or statistics and misleadingly cites studies and anecdotal evidence. (Shrier has a history of spreading disinformation.)
Booksellers responded poorly to Irreversible Damage's inclusion in ABA's mailing. First, Greenlight Bookstores' Casey Morrissey weighed in on Twitter: "I'm seething," said Morrissey to the ABA's Twitter account. "I was excited to open our July white box, and then the first book I pulled out is 'Irreversible Damage.' Do you know how that feels, as a trans bookseller and book buyer? It isn't even a new title, so it really caught me in the gut. Do better." Many other booksellers joined in, condemning ABA's choice and describing their horror at receiving the book in the mail.
Later that day, the ABA released a public apology on Twitter: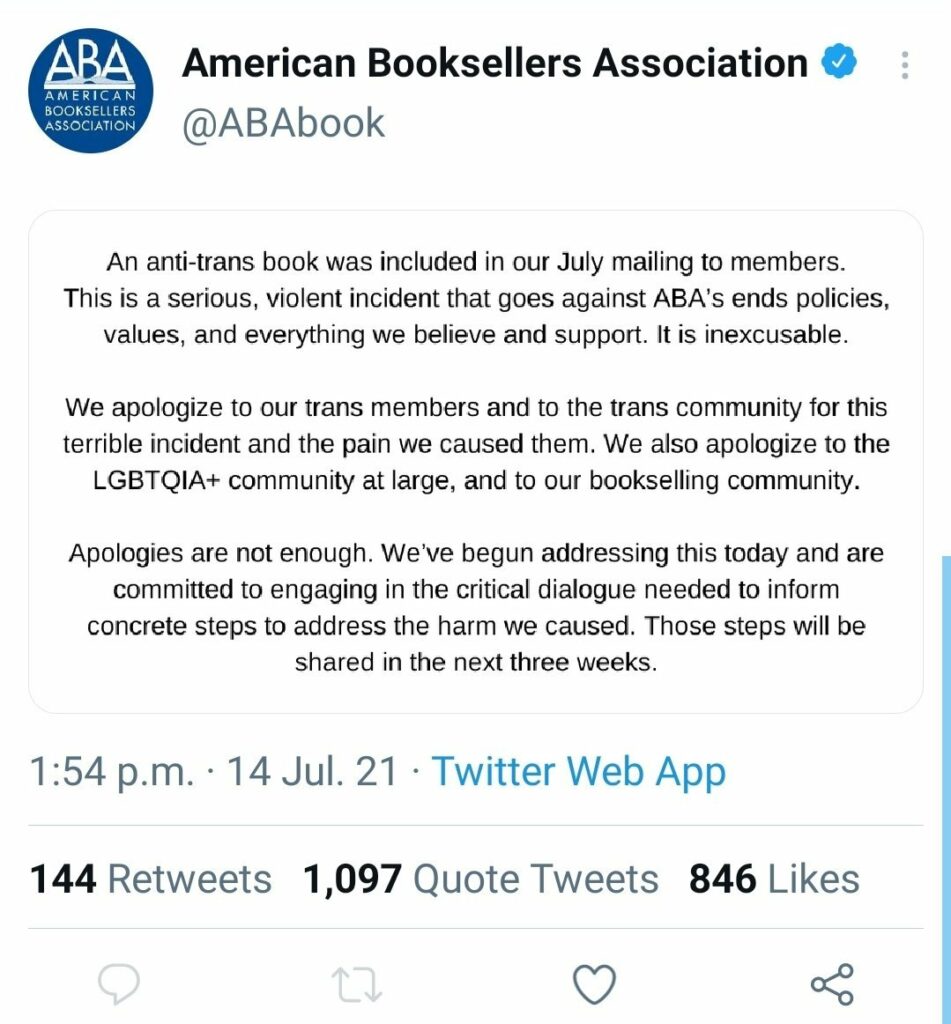 The apology received widespread criticism, from several angles. Many booksellers and readers found the statement toothless; some noted the passive language of the statement, and some suggested the ABA should promote trans authors' books for free. (Generally, publishers pay the ABA to include their promotional materials in ABA mailings.) From the other side, gender skeptics took issue with the statement's description of the event as a "serious, violent incident," calling it "modern-day book burning" and saying the apology was an intermediate step to people being arrested for thoughtcrime. Claims of ABA censoring free speech by retroactively apologizing for including the book are undermined by the fact that ABA's "white boxes" are curated; not every new book gets included in a white box mailing.
Hoping to minimize the parallel pile-ons, ABA deleted the apology, and then locked their Twitter account—pretty much unheard of for a trade association. As of now, the ABA Twitter account remains private.
This is not the first time this week the ABA has apologized for causing offense. On its Indie Next bestseller list, the ABA mixed up two books by Black authors with the title Blackout, displaying the information about the romance anthology Blackout by Dhonielle Clayton, Tiffany D. Jackson, Nic Stone, Angie Thomas, Ashley Woodfolk, and Nicola Yoon next to the cover of Blackout by conservative commentator Candace Owens. Who knows what next week will bring?