The Abnormalizing of the World: A Conversation On Mental Illness
Marin Sardy and Sarah C. Townsend on Personal and Familial Psychosis, Memoir Writing, and More
Two celebrated memoirists of mental illness—Marin Sardy, author of The Edge of Every Day: Sketches of Schizophrenia, and Sarah C. Townsend, author of Setting the Wire: A Memoir of Postpartum Psychosis—discuss writing, families, and the struggle to make meaning out of madness.
*
Sarah Townsend: The Edge of Every Day begins with an essay that is a list: "Strange Things I Have Encountered." Through this tight lens, we encounter the subtleties of living with a schizophrenic mother. Other items listed remind us of times when we too experience the world as strange, those moments we tend to label surreal. There is the matter of perspective. Can you say more about this edge you are describing?
Marin Sardy: The "edge," for me, points to some quality of loving people who live with schizophrenia—this feeling that every day, something could go dramatically and unpredictably wrong. But it also suggests a kind of horizon, something just beyond the periphery that can be beautiful and also hopeful. In this list I was really trying to get, as you say, at the "matter of perspective" involved with mental illness.
I was only ten years old when my mother had the psychotic break from which she never fully recovered, so as a child, not knowing what was happening and not being able to trust my mother to tell me what was real was difficult. As I grew older, however, I appreciated what her illness revealed to me about the ways we construct truth.
 But I do think people with little experience of mental illness often fail to grasp how traumatic psychosis tends to be, from both perspectives. I appreciated that in your book, Setting the Wire, you not only wrote about your episode of postpartum psychosis but also detailed your struggles to approach those difficult memories, even after 14 years. You write poignantly of a moment when a friend asked about your illness, "I speak with the flatness of a woman who cannot make full contact with the demon standing just behind the words."
ST: It surprised me how little I had spoken about my illness and how rarely I was asked about it.
MS: You've told me that Setting the Wire, while it is a memoir, can also be described as a "lyric essay." Some of the chapters in The Edge of Every Day could be considered lyric essays, and I think I intuitively made that choice because the form seems to communicate something integral but intangible about both mental illness and psychological trauma. Why did you choose to write your own book this way?
ST: For the most part, that is just how the writing came out: wisps of memory, sketches of my parents, scenes from childhood. My book found its form without conscious planning and with the undoubted influence of other writers. I admired the memoirs of poets generally—June Jordan, Mark Doty, Bhanu Kapil—for the economy and precision of language, as well as experimentation with form. I also thought about language as sound and most often read my writing out loud to myself. As was the case for you, I found that the form of my book reflected the fragmentary nature of psychosis and held gaps in a way that is consistent with traumatic memory.
We develop "psychic skin," it's been said. One way psychosis can be understood is as a rupture of this membrane, a kind of inversion leading to overstimulation.
You write about an appreciation for precise language as well. You mention the desire to "nail things down." At other times, you note the failures of language: "What we saw defied articulation." We both endeavor to speak about the ineffable.
MS: It's true that, while the mental illness I write about wasn't my own, I very much feared for my own mind. It is unsteadying to witness psychosis as a young person and I'm still prone to that unsteadiness. So writing it down provides me an anchor, a reminder that I can identify what is real and stay connected to it.
I'm intrigued that you're a licensed therapist, your expertise on mental illness having come by way of both personal and professional experience. You have said that Setting the Wire is ultimately "a meditation on containment." What did you feel needed or still needs to be contained?
ST: As a writer, I work much the same way as I would as a psychotherapist. I trace themes and metaphor, the responses of the body, identify "through lines," work to make meaning from experience.
The notion of psychological containment comes from British Object Relations Theory. Psychotherapists and physicians who have completed sustained observations of infants over a period of years argue that containment—how we are held physically and in the mind of our earliest caregivers—facilitates the awareness of oneself as a separate being in the world. We develop "psychic skin," it's been said. One way psychosis can be understood is as a rupture of this membrane, a kind of inversion leading to overstimulation.
Childbirth is also a time when the lives of new parents are blown apart, and women's bodies quite literally, but with sufficient "holding," we find ourselves again. We also seek containment in everyday living: a bath, a book, a heated yoga studio. We find ways to hold ourselves together.
With respect to schizophrenia, you describe your mother as "stolen." In the case of your brother, we might say he was "lost." Most often, we ignore the outliers of human experience. By contrast, The Edge of Every Day offers intimate renderings of a schizophrenic worldview seemingly just out of reach. What stands out is the immense compassion of your stance. Did you have a specific intention in the writing of this book?
MS: One friend who read my book said that instead of "normalizing mental illness," I was "abnormalizing the world." I love that way of saying it, because it expresses exactly how I see things—that mental illness is strange, but so is everything. And I wanted to place schizophrenia, and psychosis in particular, within a broader context—really all of human experience. I feel psychosis to be just one aspect of existence, something that doesn't have to be thought of as wholly separate from everything else.
Mental illness is an integral piece of the human story, one that has shaped culture and how we view ourselves in the world probably since the beginning of our species. So part of what I'm trying to do, and which it seems you try to do as well in your book, is to integrate psychosis back into that human story.
I realized it was important to me to make readers feel the chaos of mental illness, the confusion, and the incoherence that are so much a part of the experience of witnessing it.
It's interesting because, as memoirists, we're so connected to—beholden to, in thrall of—the "I." Really everything hinges on it. And yet, your book begins: "The first thing I must tell you is that with psychosis there is no I." What sorts of challenges did that create for you in finding ways to communicate the experience?
ST: I thought it was useful to announce to the reader—and by extension to myself—that the experience of psychosis is one of expanded consciousness, together with an existential terror associated with the loss of a coherent self. There is no longer the capacity to distinguish between reality and fantasy, although this is not an entirely static state. As a matter of craft, the challenge was how to mediate such a lack of boundaries with an integrated "voice of now"—the voice of the narrator who is reflecting on the past. I found it useful to think about Cubism and the way that we come around our lived experience repeatedly and from different angles.
In The Edge of Every Day, I admire the structural play of your "sketches," which provides momentum and underscores a continued effort to represent and interrogate mental illness. Of your grandmother, you write, "How could I tell her that a fragmented narrative was the only kind that would ever do her justice?" How did you arrive at that?
MS: I deeply love the essay as an art form. But the shape of these essays was also important to me specifically in discussing schizophrenia, as I felt that, if I got it right, it would enable me to express some things about the illness that easily get erased in the retelling. I realized it was important to me to make readers feel the chaos of mental illness, the confusion, and the incoherence that are so much a part of the experience of witnessing it, in a way that just doesn't happen if you tell a story straight.
And it was partly because my history with schizophrenia-type illnesses is so complex, spanning three decades and including relationships with several family members. I think some aspects of what it was like could only be communicated through form. My grandmother's utter disorientation, for instance.
One of the most poignant aspects of Setting the Wire is that your psychosis was postpartum, occurring immediately after your daughter was born. So the specter of her living without you in the very first weeks of her life is felt throughout the book. Has the writing of the book yielded any new insights about your daughter's position in the story, or your own feelings about it?
ST: This is an astute question, as my greatest fear was of not remembering my psychotic experience. I equated the absence of memory with my absence from my daughter, something I did not want to be. It's painful to consider the impact on Sophie, because despite all the assurances regarding how well she was cared for in my absence and my husband having negotiated visiting privileges for her during my hospitalization, her life began with the temporary loss of her mother. Still, this book has become our book now. I also have the benefit of witnessing how she has indeed thrived.
__________________________________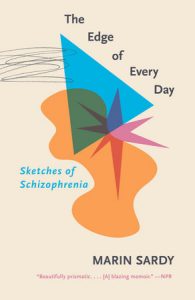 Marin Sardy's The Edge of Every Day is out now in paperback.
---