The 2020 Oscar Nominations Prove That Hollywood Still Hasn't Seen Through the Smoke
The American Film Establishment is Everything But Progressive
Donald Trump's 2016 presidential campaign slogan, "Make America Great Again," appealed to a dangerous brand of white, male nostalgia that evoked a mythologized time that was good for them and no one else. The 2020 Oscar nominations are an embarrassingly transparent primal scream by the Hollywood establishment hearkening back to the same.
Despite two uncomfortable years of being asked to confront their demons in the wake of #MeToo and the Harvey Weinstein revelations, this is Hollywood's elite saying, "We gave Moonlight Best Picture and Greta Gerwig already got her directing nomination. We've earned the right to get back to important stories about the anxieties and anger of white men." Three of the four most-nominated films this year are a magical mystery tour of white male nostalgia.
InThe Irishman, Martin Scorsese aged his favorite actors in reverse. This enabled him to not only make the kind of mobster film about Real Men doing stoic and violent things with hardly a woman in sight so beloved in the 1970s—but to also use many of the very same actors, looking as they did at the time.
Once Upon a Time in Hollywood finds Quentin Tarantino keening for the better times of yore. Times in which genius male auteurs could objectify their female characters without complaint, give a supposedly sympathetic leading male character a backstory in which he murders his wife (don't worry, she was a total bitch, so harpooning her off a boat was cinematically justified), and get away with lines such as, "Don't cry in front of the Mexicans."
Article continues after advertisement
More subtly, 1917 makes use of the time-tested Men Going to War technique of telling a "universal" story without having to contend with the experiences—or physical presence—of women, people of color, or any other such narratively complicating humans.
Were you to calculate the amount of time female characters speak in the eight hours it takes to watch these three films, I'm guessing it would ring in at around 20 minutes. Once Upon a Time… may raise this total since Tarantino allows his female characters to speak on occasion, though only if they are simultaneously having their bodies objectified with almost impressive levels of rigor (see the extended scene in which Margaret Qualley's butt fills the foreground of all Brad Pitt's reverse shots).
This brings us to the most-nominated film of this year's Oscars, Joker, which is nothing less than a deification of lonely white male rage. The Academy lavished that film with honors while overlooking the rich body of work made by and about women and people of color. In doing so, their message is unequivocal: having empathy for even the most reprehensible white man is more important than giving respect and attention to the voices that such men have silenced throughout history.
While the Oscars have always been an absurdist exercise in elite self-congratulations, for the bulk of their 92-year-existence they have also been important. They have wielded the awesome power to shape our cultural ideas about which kind of films can be great, which stories matter, and which stories do not.
The past decade has seen the Academy flailing in its attempts to recapture its dwindling viewership and cultural consequence.
Producers and investors are willing to lay tens of millions of dollars down for awards campaigns precisely because an Oscar nomination or win has tended to elevate a film's profit margins, as well as the career prospects of the artists involved. And yet, while the Oscars still retain some of their former importance, with each passing awards season, they become ever more irrelevant.
The past decade has seen the Academy flailing in its attempts to recapture its dwindling viewership and cultural consequence. They have expanded the number of Best Picture nominees, trying to squeeze in nominations for films that the viewing public outside of Los Angeles actually cares about. They have careened between different hosts, younger hosts, two hosts, and no hosts at all.
This year, in desperation, they moved the awards ceremony up several weeks to the beginning of February, lest the last week of February should prove to be their lingering curse. Their thinking here was that maybe they needed to be timed closer to the other awards shows. But the root cause of their vanishing audience isn't that straightforward
The content explosion of the past decade has introduced audiences to viewpoints, narratives, and perspectives that have rarely, if ever, been given a platform. This new world of diverse narratives has provided the 70-ish percent of the US population who are not white and male with some of the very first opportunities to discover the experience of being seen and represented in the stories they consume.
Against this backdrop, the Hollywood movie machine—whose films are still mostly directed, written, and produced by white men—seems outdated and sad. Fewer of us are willing to clear an evening to watch these movies receive awards.
Los Angeles has a reputation for being a hot-bed of liberal thinking, but if this was ever true, it most certainly isn't now. The reality is that Hollywood insiders are clinging to a bygone time of unquestioned white, male dominance as tightly as they are clinging to the dredges of their prestige.
As they make speeches from awards stages against the values of the #MAGA crowd, they should be aware that, not so unlike those folks, with every awards season vote and failure to promote systemic change, they are upholding the status quo and digging their heels in to resist a world turning quickly towards a new day.
Change is coming to the world and to Hollywood, whether they're ready for us or not. The Academy voters should know that change looks a lot like Mati Diop, Greta Gerwig, Alma Har'el, Marielle Heller, Kasi Lemmons, Melina Matsoukas, Céline Sciamma, Lulu Wang, and Olivia Wilde.
__________________________________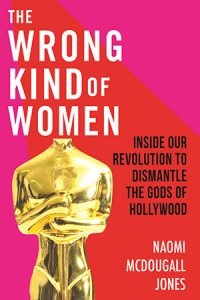 Naomi McDougall Jones' The Wrong Kind of Women is available from Beacon Press.
---