The Books That Kept Me From Falling Apart in County Jail
Mary Oliver, Maya Angelou, Anthony Doerr, and More
On January 12, 2014, I was sentenced to 90 days in Century Regional Detention Facility—Los Angeles County jail—for charges related to driving drunk. I'd committed my offenses while in a 414-day relapse from double-digit years of sobriety. It was one of the most harrowing and holy experiences of my life.
As an inmate, I was allowed to receive three books a week from the outside. All told, between the books sent to me by friends and family, and those I read that were left behind by other inmates, I devoured about a book a day during my incarceration. Literature saved me in that place. The arrival of each book was better than anything I had ever known. Better than sex. Better than drugs or alcohol. Better than recovery. Better than daytime. Better than the moon. When I opened these books, I imagined my entire cell filling up with the words inside. They were brand new so I took a deep whiff of the paper and glue.
I had a lot of time on my hands. A Jail-Day was the rough equivalent to three really shitty Normal-Life-Days. So when I started a book, I read every word very slowly. It was the first time I felt cursed by my ability to read fast. The books taught me how to slow down. I felt the sentences stretch along the space-time continuum. Each word filled my mouth. A vowel was confection: flan or frosting. Consonants were piquant and crunchy: sauerkraut. The words blocked out the noise, the constant sound of toilets flushing, the incessant crinkle of plastic unfurling from the commissary candy, the click of the locks, the doors slamming, the deputies shrieking their never-ending insults. And the sad, overmuch laughter of the girls penetrating through the cinder block walls.
I had time to think about these things. To think about the way a book feels in my hand, or tastes, or sounds. I had never loved so hard and with such fidelity and reciprocation. Books can break your heart, but they never leave you.
Each book I received had a destiny. Each taught me what I needed to learn at the moment, most especially when it came to rising above the challenges and cruelty of county jail. Without them, I may have fallen apart, and I surely would have left there a lesser person.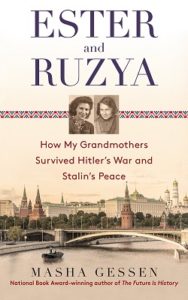 Masha Gessen, Ester and Ruzya: How My Grandmothers Survived Hitler's War and Stalin's Peace
Two Russian Jewish women, born in separate countries, meet and become friends in 1949, after fleeing persecution and war in Poland and Russia. The terrors strengthen their friendship. Both have children, who then fall in love with each other and have children of their own.
During my first week in jail, I received no mail. No books. No visits. And I was unable to make phone calls. Then one day, I discovered a shelf, hidden under the stairs to the upper tier cells, overflowing with books. Overjoyed was too paltry a word to describe stumbling into that motherlode. I began shoving a few surprisingly interesting books, hidden among the copious number of romance and murder mysteries, into my jail-issued XXX-L blues. (At 100 pounds soaking wet, an entire other person could have fit inside my jail-issued clothes with me.) A young, pregnant black woman was gazing into the shelf. She did not acknowledge me. In moments she walked away. I assumed it was because I'm white, but I was wrong, as I would be throughout my incarceration about so many things. A few minutes later, she returned, holding a book. "Here," she said. "You might like this one." She handed me Ester and Ruzya, a book it would turn out that spoke to me culturally as a Jew. How had she known? Before I could even thank her, she was gone. This was only the beginning of the end of my tired, old ways of thinking about the world; as if it did not hold surprises, or that it was not a place of wonder and magic. How closed and uninformed I'd been. How much more breathtaking and enchanting my life could be if I just invited wonder in.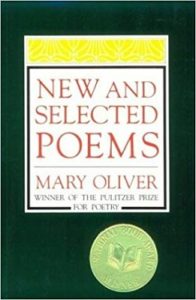 Mary Oliver, New and Selected Poems
Oliver's stomping grounds were nature. Once, she said, she found herself walking in the woods with no pen. After that, she hid pencils in the trees so she would always be able to stop and write. Pencils in the trees—better, I think than gold nuggets. In Oliver's poem, Rain, one of many in this collection that brought me peace, I read about myself. Divided into seven "chapters," it is a winding poem about incarceration and freedom, both literally and metaphorically. It takes courage, she seems to say, not just to escape the literal bars of barbed wire and detention, but the deeper, more oppressive jail of poverty, disease, hunger, isolation. She is speaking of that wild country of pain. But it is more than that. In the poem she is careful to point out how it is only when we walk through that pain (or climb the fences over it) that we find abundance and joy and fearlessness. Defeat is not the end. It is, the poem reminds me, only the beginning.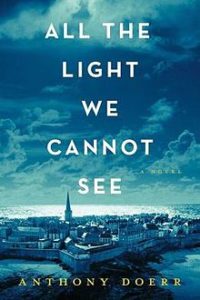 Anthony Doerr, All the Light We Cannot See
This book is gloriously long, I think it will last forever. I read it as if I am counting snowflakes. Slowly, with a luxuriousness that bathes me. The book makes me feel weightless. It almost ruins my eyes. At night, the deputies turn down the lights—never off, just down—but I have a galactic case of insomnia so I read the book beneath the brown wash of haze that filters from the dimmed night lights above. I keep telling myself as I read it, slow down, slow down. To make it last, I often close the book and gaze longingly at that beautiful cover. Sometimes I think I can hear the tide swell and close in on little Saint-Malo. Sometimes my experience with it is so bittersweet that I have to put it aside, to ease my melancholy and my yearning. When I realize Doerr's masterpiece is moving too fast, I feel scared. What will I do when it's over? Should I skip parts so that I am forced to read it again? And, alas, in two days, I am finished. Still, there is enchantment in this book: you can open up any page, whether you've read it before or not, and get lost in its lusciousness and light.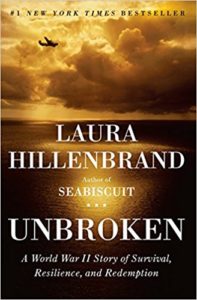 Laura Hillenbrand, Unbroken
My favorite part of this book is when Louie and Phil, the two survivors of the downed plane, are drifting in the ocean and they decide to start killing the sharks that have become their daily, circling, ominous companions. The two men worked together, dangling bait, luring one of the most hateful of the sharks to them. When the shark grew near enough, Louie grabbed it around the tail and dragged it into the raft. Moving quickly, Phil smashed a flare cartridge into the shark's mouth while Louie used pliers to stab the screwdriver end into the boneless monster's eyes. The shark's death was instantaneous. The men rejoiced. They had food, for one, but more importantly, they had triumphed over their nightmare. It was enough to keep them going for a few more days.
As I read this, I thought; So it is with addiction. In the first 30 days of recovery, when all you can think about is simultaneously giving up or staying the course—an agonizing medley of urges—you do what Louie did. You take a sharp object and you plunge it into all your old ideas about your monsters. And then you eat them. When I read that particular passage, I felt brave. I knew that all the sharks in the world could not take me down anymore. They could journey with me, but I had a choice and once I'd made my decision to try something else, to seek out spiritual answers for my problems, I never had to invite them on board again. The thing I learned in recovery, that was confirmed for me in jail—and that Hillenbrand so eloquently, and metaphorically detailed about Louie's experience—is that the monsters are always there. But we survive in spite of them because we know they have no power over us unless we give it to them.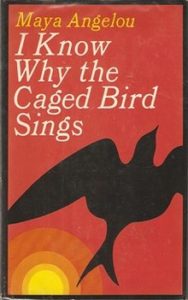 Maya Angelou, I Know Why The Caged Bird Sings
One day, my bunkie Wynell found Maya Angelou's I Know Why The Caged Bird Sings left behind by another inmate. She read it out loud to me, and each time she did, I could find no words to express the sadness and frustration that swept over me. I was ashamed of my whiteness, and compared to so many of my fellow inmates, my privilege. I only had to look around me and see the reality of imprisonment. I was almost wholly surrounded by black and brown women, and of the few white women, most were uneducated, impoverished, or addicts. It seemed to me that little had changed since slavery and indentured servitude, that it was only the rules of enslavement that have changed.
Wynell reading this beautiful, savagely honest book to me, inviting me into her world and trusting me with her rage and depression about the way white people treated her, opened me up to myself. A new knowledge took shape, a deeper peeling back of my complacency. I was floored again by the power books had to unite, to heal, and to reveal even the things that we don't want to see. I had to acknowledge a certain level of ignorance, where I had previously considered myself tolerant and fair. Angelou, (and Wynell) allowed me to go deeper, to understand more wisely, the issues, the frustration, the anger that people of color experience every single day of their lives. What amazed me, of course, and what I loved because I am a writer, was that these discoveries were ironically coming alive and finding their freedom by reading precious books behind a locked-down jail cell door.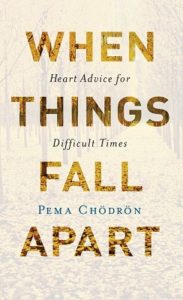 Pema Chödron, When Things Fall Apart
Chodrön writes: We begin to find that, to the degree that there is bravery in ourselves—the willingness to look, to point directly at our own hearts—and to the degree that there is kindness toward ourselves, there is confidence that we can actually forget ourselves and open to the world. I understood, after all I had been through, what Pema meant about turning inwardly with kindness, creating compassion toward ourselves as a road toward understanding our attachments and the blame and hurt we carry when the things we love are taken or lost. If I could forgive myself first—for hurting my family and friends, for the risks I took that might have hurt or killed another person, for straying from my own holiness—then wasn't it easier to let go of all my cravings? My craving for material comforts, my craving for the ease of my suffering, my craving for love, for attention. It made sense now that if I held myself with compassion for all my flawed humanness—including my attachment to things and ideas—then my heart would be open to forgiveness and compassion when others took from me those things that I loved the most. When Things Fall Apart, read at the halfway point of my incarceration, was the placemark of my changing condition, the beginning of forgiveness, for myself and for those who had harmed me.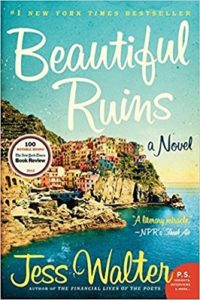 Jess Walter, Beautiful Ruins
In jail, movement is essential for control. It disrupts. It causes anxiety and fear. It limits the chances for friendships and alliances. In the short time I am there—37 days—I was moved five times. I read Beautiful Ruins in a new cell with a new bunkie, Tiffany. Tiffany and I traded stories about what it might be like to live in the cliffs above the sea in Italy. We talked a lot about that book and read passages to each other that we liked. The writing is good; funny and smart. The theme was a monument to love and love's disappointment. Definitely not my world: I have been lucky in love. One of the things I liked most about it was that the innkeeper of the only pension on the rocky island kept everyone loaded on wine and stories. It made me feel good that I could still enjoy vicarious drunkenness, that I didn't need to get loaded to appreciate why it works so well for regular people who can, from time to time, bliss out of reality with a little wine.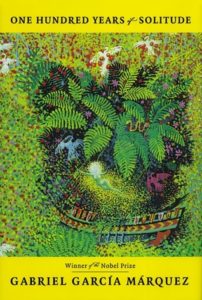 Gabriel Garcia Marquez, One Hundred Years of Solitude
Non-linear structure might appeal to me because as an addict and a drunk, nothing in my life seems to have forward momentum. Even as a kid, being raised in a wildly capricious alcoholic home meant time and momentum, memory and history were excessively warped. Truth could never be understood because the story was always changing, and it went back to generations of family members ruined by addiction. One Hundred Years of Solitude is about many things. Big themes: Family, education and wisdom, the intersection of fate and free will, love, sex and death. It's about the value of persistence, of never giving up in spite of the losses, a theme that appeals to me. One of the most powerful details was the rain that lasted for five years. There was one moment of eerie prescience that stopped me in my tracks: "'Science has eliminated distance,' Melquíades proclaimed. 'In a short time, man will be able to see what is happening in any place in the world without leaving his own house.'" This was published in 1967. How did Marquez know? His prediction from a world that barely had television sets was spooky.
For Marquez, "surrealism runs through the streets. Surrealism comes from the reality of Latin America." It is not something disguised as reality. The surreal is the reality. I realize, sitting there in the most surreal place on Earth, that Americans, (or anyone living in a first world country) can't write magical realism. Because our lives are too literal. Wealth, good fortune and peace diminish our capacity to experience the magical. When something strange happens we call it a "coincidence." We don't accept the surreal as a matter of course. Instead we dismiss it as a trick, an anomaly in our normally realistic perspectives. In the west, we measure phenomena; we put it in beakers and actuarial tables. We strip the miracle out of things. Reading this book for the second time, under a far different set of circumstances, I realized I was dealing with—and had chosen without thinking about it—a nonlinear story, one about time, memory and forgetting. Miracles and wonder are everywhere. If every great book is both public and personal, I began to realize as I read One Hundred Years of Solitude, locked up behind bars, that the personal had become universal once again.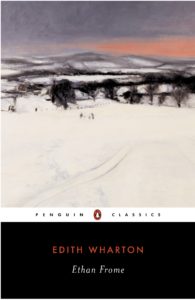 Edith Wharton, Ethan Frome
If you ever feel like crap about your own life, this is the book to read. Everything will look better afterward. This book, in large part about not being true to yourself in love, and not following your dreams, is about two people in love who, rather than be forced apart, decide to kill themselves by sledding into a tree. The only problem? They don't die. Instead they are horribly injured and stay that way for the rest of their lives. In the end, this is a book, in large part, about the oppression of women, and a society that manages relationships through money—who has it and who doesn't.
After reading it, I ponder what I know, and what my eyes will never unsee: that women's lives are so devalued, in jail so over-prosecuted, out there, so hobbled by isolation and dependency that we have internalized our status in the world to the point of acting counter to our own best interests. Shame and fear keep us living with secrets; the secrets of chronic abuse, of chronic misogyny, of being chronically underpaid, chronically raped, sexualized and brutalized—these secrets kill us. The shame blisters, flames and burns. Sometimes the only way to deal with that is to adopt the prevailing culture's abuse and incarcerate our own self-worth and ram ourselves into our own metaphorical elm tree on our way down the icy path.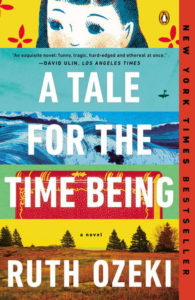 Ruth Ozeki, A Tale for the Time Being
A Tale for the Time Being is many stories in one book. It is about Japanese Manga culture, Buddhism, global warming, the Japanese earthquake, and the subsequent horror of the tsunami and nuclear meltdown. Sometimes it is about bullying, culture, identity, and female empowerment. If you want to, you could say it is about island manners or human encroachment on the environment. It could be simply about barnacles and black crows, if that is where your mind is headed. And no one would mistake its passionate anti-war theme. But, for me, this book was about love and loss, and a friendship transacted through time. I saw that I was being handed instructions about how to work with pain. Impermanence, change, time: these were the concepts I grasped for and held onto from Ozeki's work. In one extraordinary passage of this book—about shame and what it means to be a person of conscience, I am utterly changed. I learn that shame comes from the outside. I realize that shame has no evolutionary function. It simply wants you dead. It is axiomatic that incarceration manufactures bitterness and shame. As I learned from Ozeki, bitterness and shame stand in the way of humility, acceptance and transformation. Change is only possible through self-forgiveness. After reading A Tale for the Time Being, I abandon my shame to the jail cell, and on the day of my release, I leave it there.
---