The 10 Most Famous Bookstores in the World
For Dedicated Tourists Who Also Want to Buy Books
Yesterday was the anniversary of the birth of Sylvia Beach—probably the most notorious bookstore owner in modern history, and the founder of what is still arguably the most famous bookstore in the world: Paris's Shakespeare and Company. On the occasion of this, her 131st birthday, I was inspired to look into the history of Beach and the bookstore—as well as the stories behind some of the other best, most visited, and most talked-out bookstores around the world. NB that fame, literary and otherwise, necessarily depends on your viewpoint, and because of where I'm standing, this list has something of an American bias. Which is only to say that I'd love to hear about which international bookstores are most famous in the minds of readers in other countries—whether the list is very similar or very different.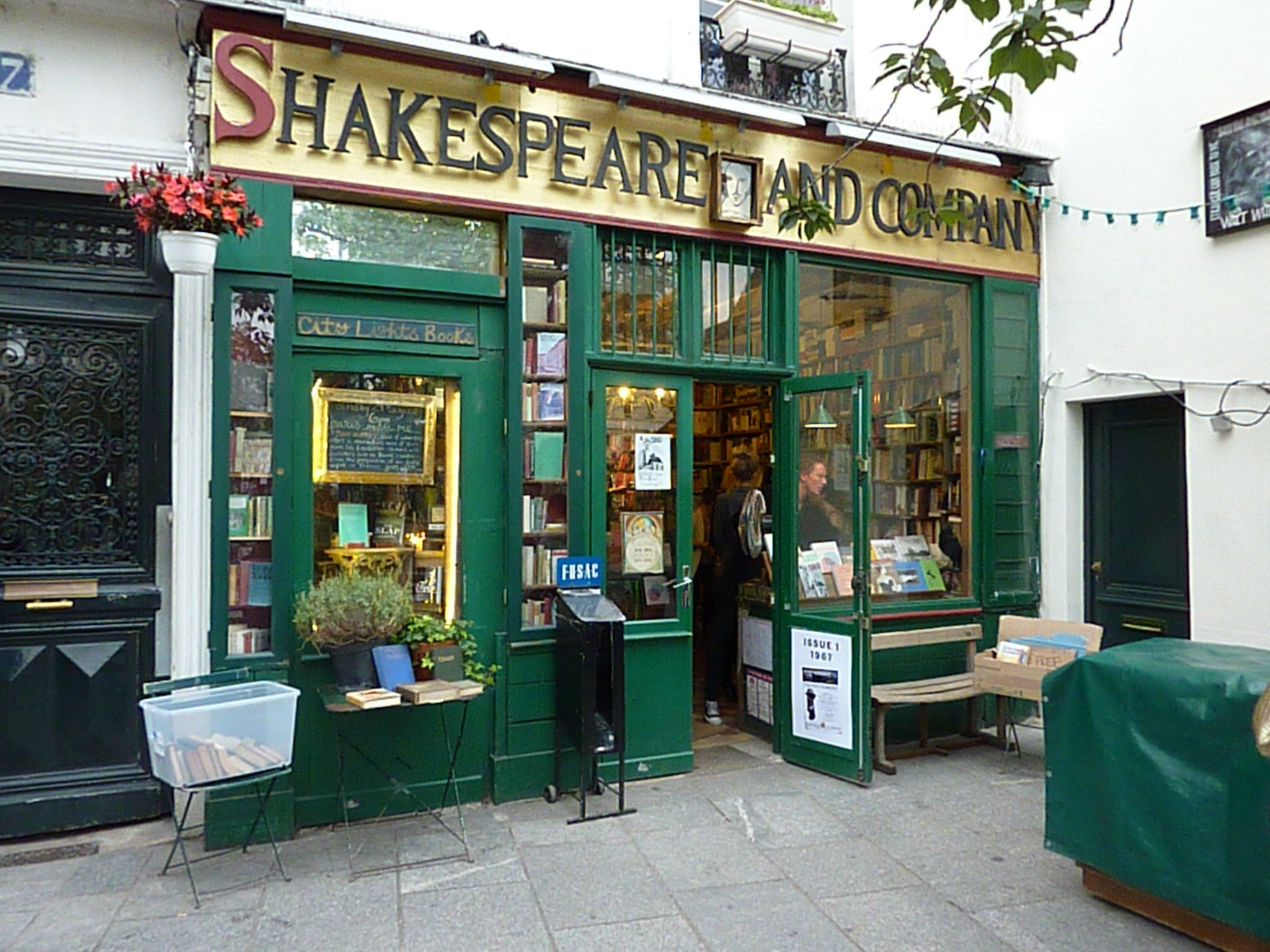 Shakespeare and Company, Paris
Shakespeare and Company is often described as the most famous bookstore in the world—but which one is the most famous? There have actually been three versions of what is often described as the most famous bookstore in the world: the first was opened by Sylvia Beach in 1919 on the rue Dupuytren. When the store outgrew its walls a few years later, she moved it to the rue de l'Odéon. It was from this location that Beach published Joyce's Ulysses, and where Joyce, along with Ernest Hemingway, Djuna Barnes, Ezra Pound, Anaïs Nin, Julio Cortázar,James Baldwin, etc etc etc, hung out. But the bookstore was forced to close during the occupation of Paris in WWII. According to the store's website, it was because Beach didn't want to sell book to Nazis:
One day that December, a Nazi officer entered her store and demanded Beach's last copy of Finnegans Wake. Beach declined to sell him the book. The officer said he would return in the afternoon to confiscate all of Beach's goods and to close her bookstore. After he left, Beach immediately moved all the shop's books and belongings to an upstairs apartment. In the end, she would spend six months in an internment camp in Vittel, and her bookshop would never reopen.
But in 1951, a man named George Whitman opened a bookstore, called "Le Mistral," on the rue de la Bûcherie, and in the late '50s, Beach offered Whitman the name. "I created this bookstore like a man would write a novel, building each room like a chapter," he told The Washington Post. "I like people to open the door the way they open a book, a book that leads into a magic world in their imaginations." Shakespeare & Company was reborn, and readers and writers have been flocking to it ever since, even sleeping there. In fact, some 30,000 "Tumbleweeds" have spent some amount of time living in the store, "sleeping on intermittently bedbug-infested cots and benches scattered throughout the store in exchange for a couple of hours of work a day and a promise to spend at least some of their downtime reading and writing; a one-page autobiography is mandatory." Whitman died in 2011; the bookshop is now run by his daughter, whom he named Sylvia Beach Whitman.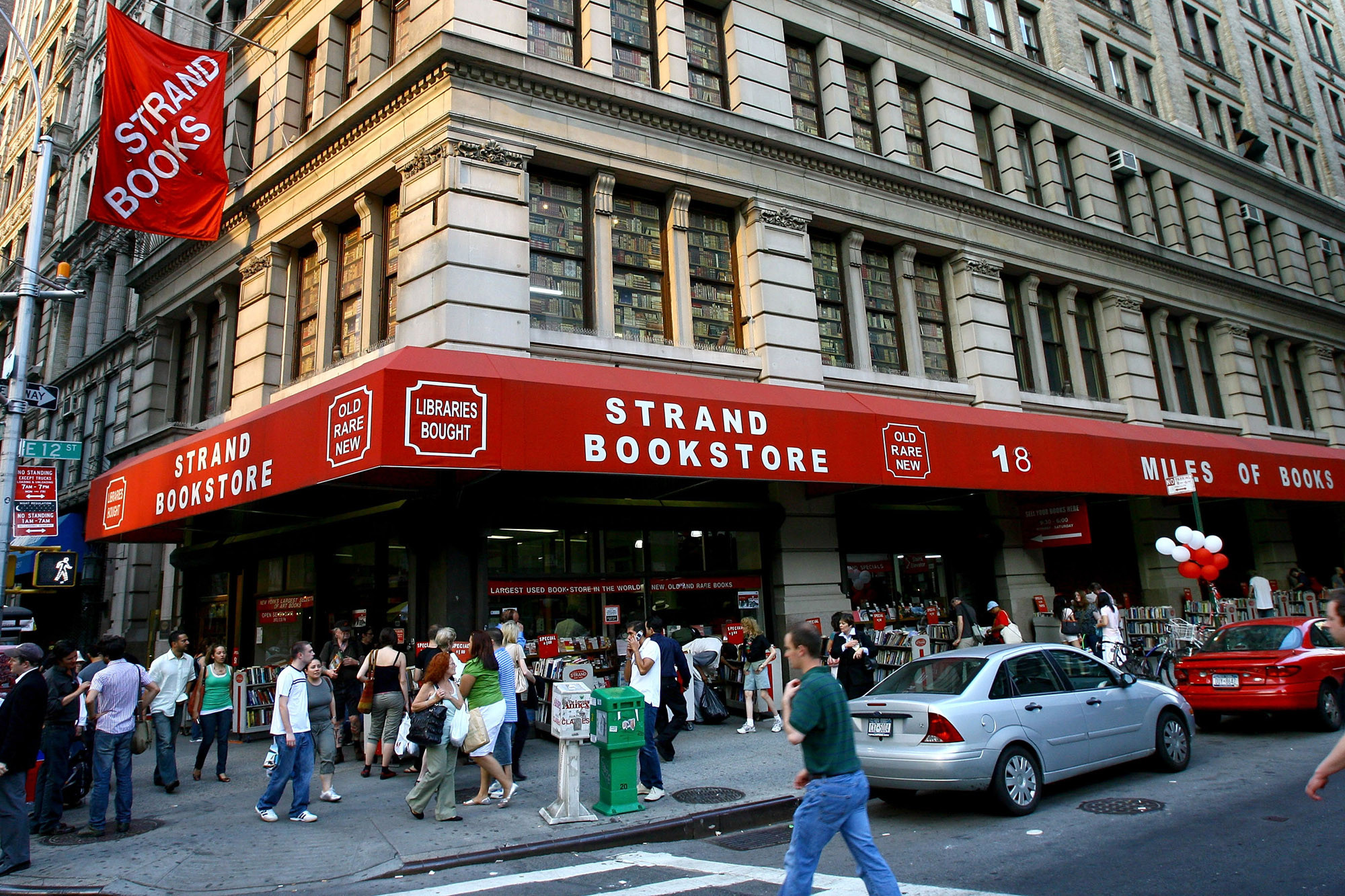 The Strand, New York City
Imagine a New York City in which 48 bookstores were happily (and, one presumes, profitably) crammed into a five-block stretch of what was then Fourth Avenue, a stretch known as "Book Row." It was here that a Lithuanian immigrant named Benjamin Bass founded the Strand in 1927. It is now the only bookstore from Book Row left in business (due, apparently, to the Bass family's relationship to the family that owned many of the buildings on the blocks in question). With its famous 18 miles of books, it seems it may have eaten a few of the others. In 1956, Fred Bass, Benjamin's son, took over bookstore operations, and the next year, he moved the store to its current location. Now, the Strand famous not only for its enormous selection of new, used, and rare books, but also its "books by the foot" sales and the quiz its employees have to ace. Fred Bass died earlier this year; his daughter Nancy Bass Wyden is now the owner.
"The Strand is part of an extinct breed of bookstores in New York City," one employee told Literary Hub. "We have the best range of used books, including recently published titles. We also have the best and most diverse art book selection in New York, and possibly in the world."
But what about the future? As Christopher Bonanos put it in New York Magazine in 2014: "the Strand is, when you get down to it, a real-estate business, fronted by a bookstore subsidized by its own below-market lease and the office tenants upstairs. The ground floor of 828 Broadway is worth more as a Trader Joe's than it is selling Tom Wolfe. When a business continues to exist mostly because its owners like it, the next generation has to like it just as much. Otherwise they'll cash out. If Nancy stays, the Strand stays. If her kids do, too, it stays longer. Simple as that."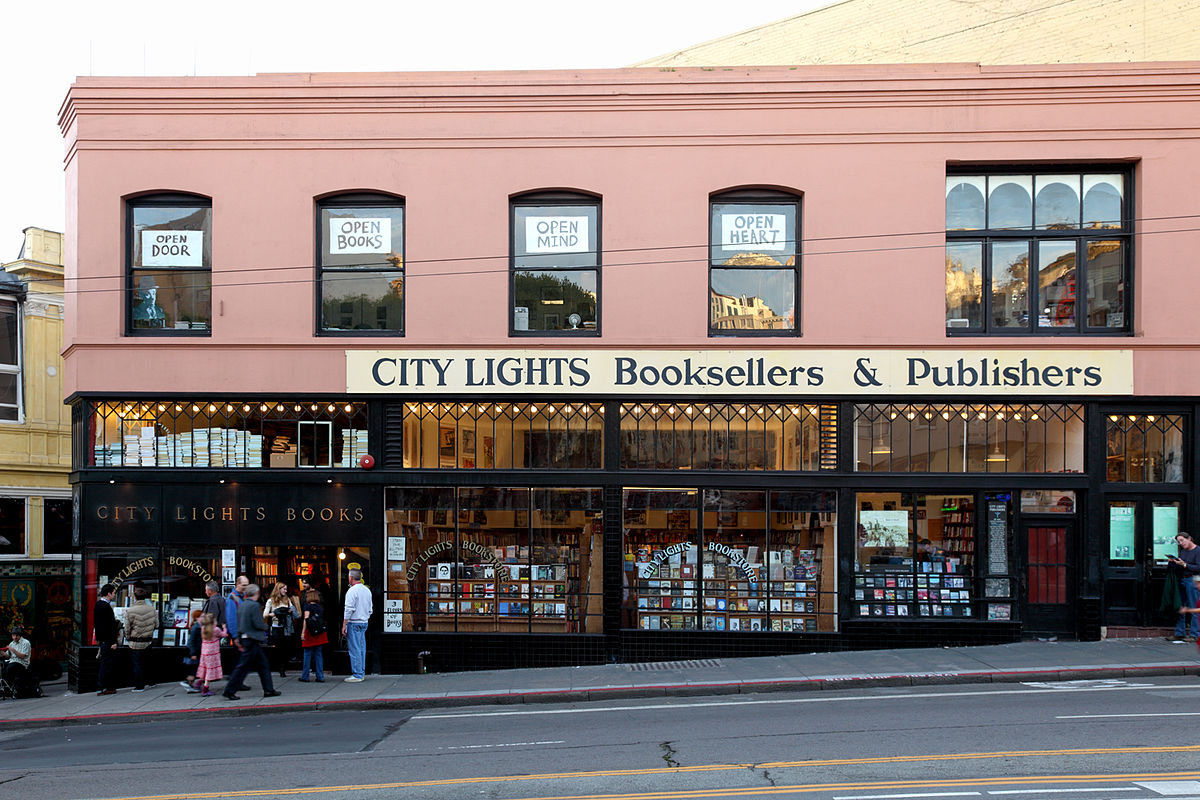 City Lights Books, San Francisco
One of the most famous Beat strongholds, City Lights was founded in 1953 by poet Lawrence Ferlinghetti (and Peter D. Martin, who named the store—after the Chaplin film—but sold his share after two years), and was, according to its website, the country's first all-paperback bookstore. This, Executive Director Elaine Katzenberger told Literary Hub, "was an intentionally democratizing move at a time when most books were still sold in hardcover only."
Quality paperbacks were very new at the time, and mostly unavailable outside of news racks in New York and spinners in drugstores here and there. Bookshops in San Francisco at the time kept banker's hours, serving a businessman's downtown clientele, and the atmosphere wasn't particularly welcoming for the young writers and readers who wanted a place to congregate and engage with books—and with each other. The idea from the beginning was to create a "literary meetingplace," which became the City Lights masthead.
Like Shakespeare & Company, City Lights was not just a meeting point for many of its talented clientele, but also their publisher: City Lights published Allen Ginsberg's Howl in 1956, and the ensuing obscenity trial made the bookstore-cum-publishing house—and the Beats—notorious. It's been a major tourist spot ever since, and in 2001, San Francisco named it an official historic landmark, citing its "seminal role in the literary and cultural development of San Francisco and the nation, for stewarding and restoring City Lights Bookstore, for championing First Amendment protections, and for publishing and giving voice to writers and artists everywhere."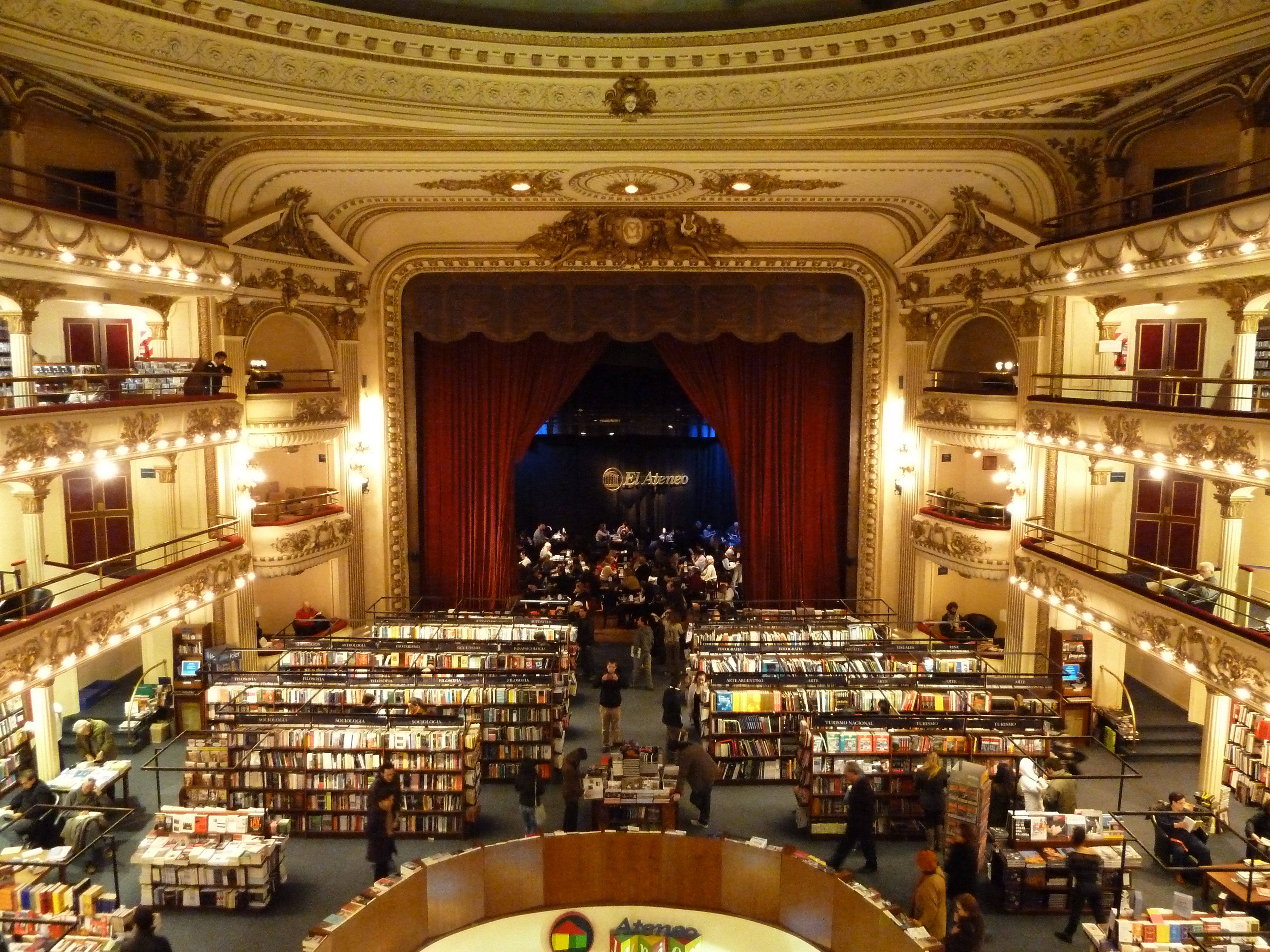 El Ateneo Grand Splendid, Buenos Aires
Buenos Aires has been dubbed the bookshop capital of the world—containing, as it does, more bookstores per capita than any other city: in 2015, the Guardian listed the figures as 734 for a population of 2.8 million, or about 25 bookstores for every 100,000 people. The most famous (and not coincidentally, the most beautiful) of these is El Ateneo Grand Splendid. Built by architects Peró and Torres Armengol, it first opened as an opulent theater in 1919, particularly famous for its tango performances. Ten years later, it was converted into a cinema, and was the first in the city to screen films with sound. In 2000, the theater was in danger of demolition, but it was purchased by Grupo Ilhsa, refurbished and reopened as a bookstore, with the beautiful original opera boxes and ceiling frescoes intact. It now draws 1 million visitors a year.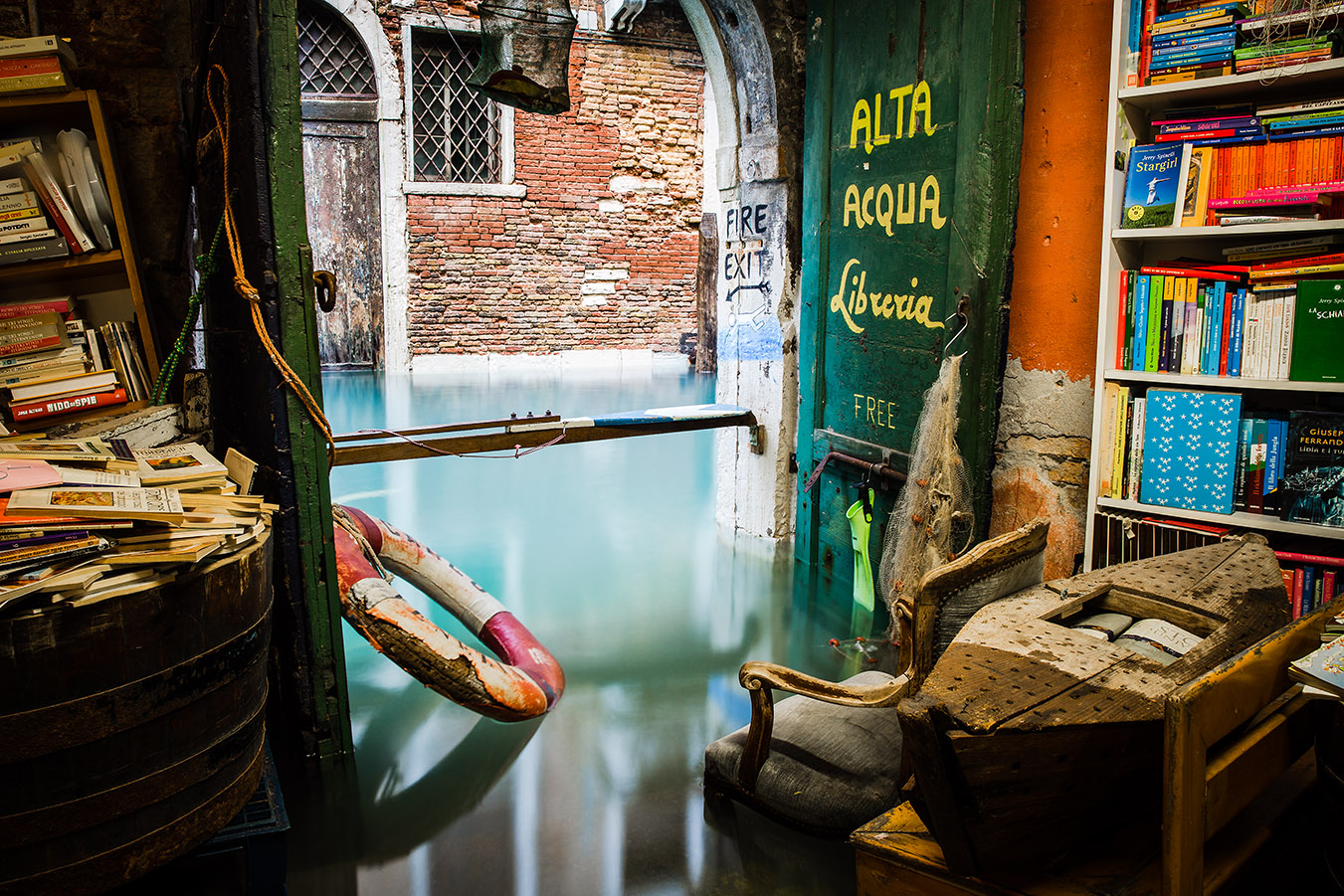 Libreria Acqua Alta, Venice
Tell a certain sort of person that you're going to Venice, and the first thing they'll ask you is: are you going to the floating bookstore? Your answer should be yes, though of course the bookstore, founded by Luigi Frizzo in 2004, isn't really floating (or at least, not any more than all of Venice is floating). It's the books that float, because they're kept in bathtubs, and rowboats, and plastic bins, and one full-size gondola—all so that when that acqua alta (Venice's famous periodic high water) comes, they'll rise above it.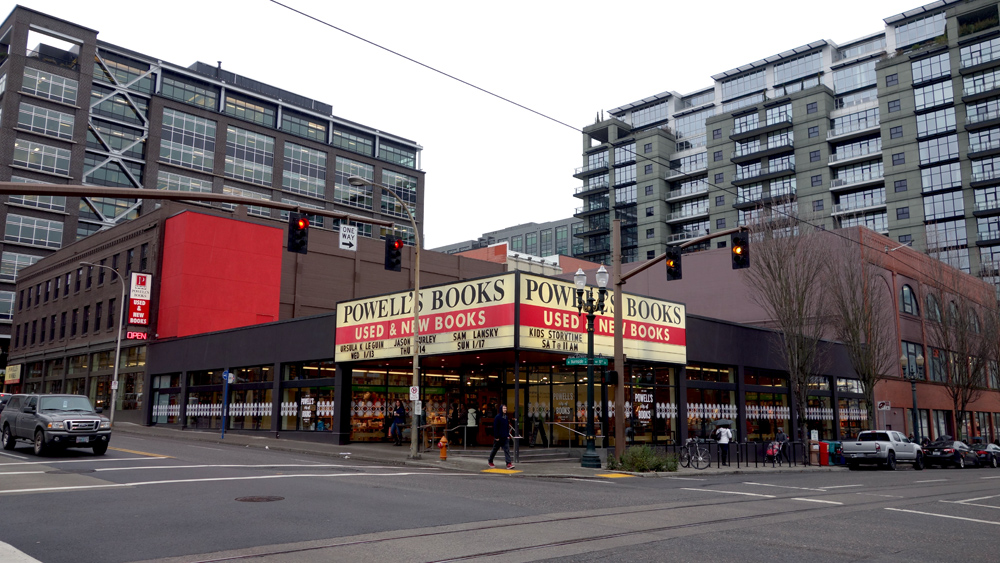 Powell's, Portland, Oregon
There's a reason people call it the City of Books—Powell's is the largest independent bookstore in the world (according to them, anyway—but I've never heard the claim disputed, and anyway it occupies a whole city block), which makes it a shoo-in for this list. Powell's is a family business, but in this case the bookseller's itch was passed upwards, from son—Michael Powell, who started his first bookstore on a $3,000 loan in 1970 in Chicago)—to father: Walter Powell, who worked with his son for a summer in his Chicago store and liked it so much that he went home to Portland and opened his own bookstore the year after. Soon, Michael joined his father, and now the store is run by Michael's daughter, Emily.
"We have about a million books at our flagship store, the City of Books," CEO Miriam Sontz told Literary Hub. "I don't think any other bookstore comes close. But size is not the issue—we have picked a million of the best books. That's an accomplishment, and because we sell some every day, we need to be constantly choosing the next best books to put on our shelves."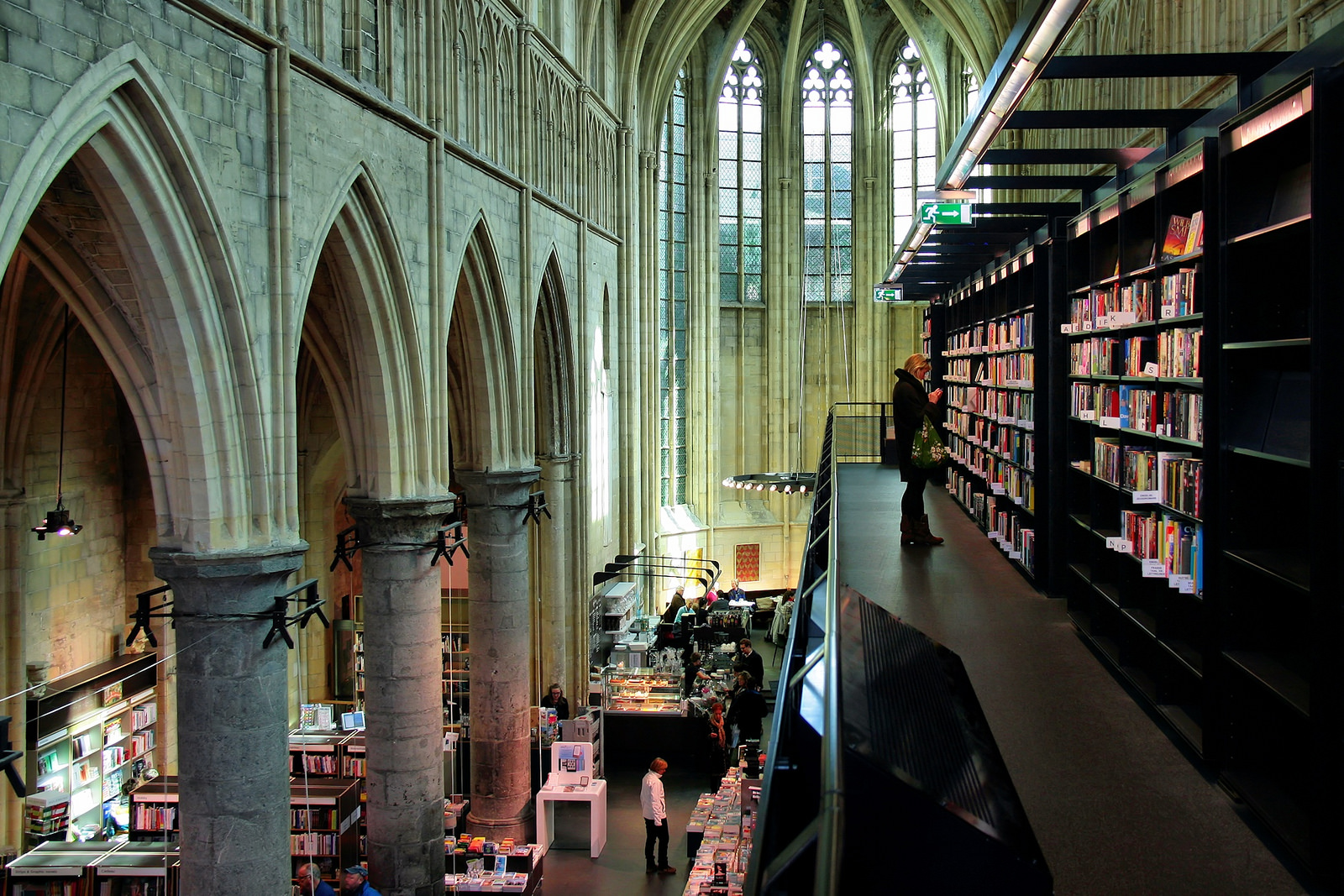 Selexyz Dominicanen, Maastricht, The Netherlands
If you worship books, look no further. This 13th-century church served as a grand place of worship until Napoleon Bonaparte turned it into a storage space in 1794; and after he abandoned it, it was used as a warehouse. By 2005, when it was turned into a bookstore designed by architecture firm Merkx + Girod, the church was being used to stash bikes. These days, according to the Guardian, the space "could hardly be more popular.  The beautifully restored building is an attraction in its own right, and yet the installation of a towering, three-storey black steel bookstack in the long, high nave, together with a fashionable if somewhat noisy cafe in the choir, works extraordinarily well. Church and bookshop look as if they might have been made for one another."  Merkx + Girod won the Lensvelt de Architect Interior Prize in 2007 for their work on the site.
Atlantis Books, Oía, Santorini, Greece
In 2002, two American undergrads (philosophy majors, natch) went to Santorini, soon ran out of reading material, realized there was no bookstore on the island, and—over wine—decided to move there and open one. Sure, we've all been those undergrads—but Craig Walzer and Oliver Wise actually made it happen. They enlisted a few partners, built their own bookshelves out of salvaged wood. Inspired by Shakespeare and Company, the beautiful store comes complete with beds, where the rotating staff members sleep. But it's safe to say that the view, of the Aegean sea, is better than any other bookstore's in the world.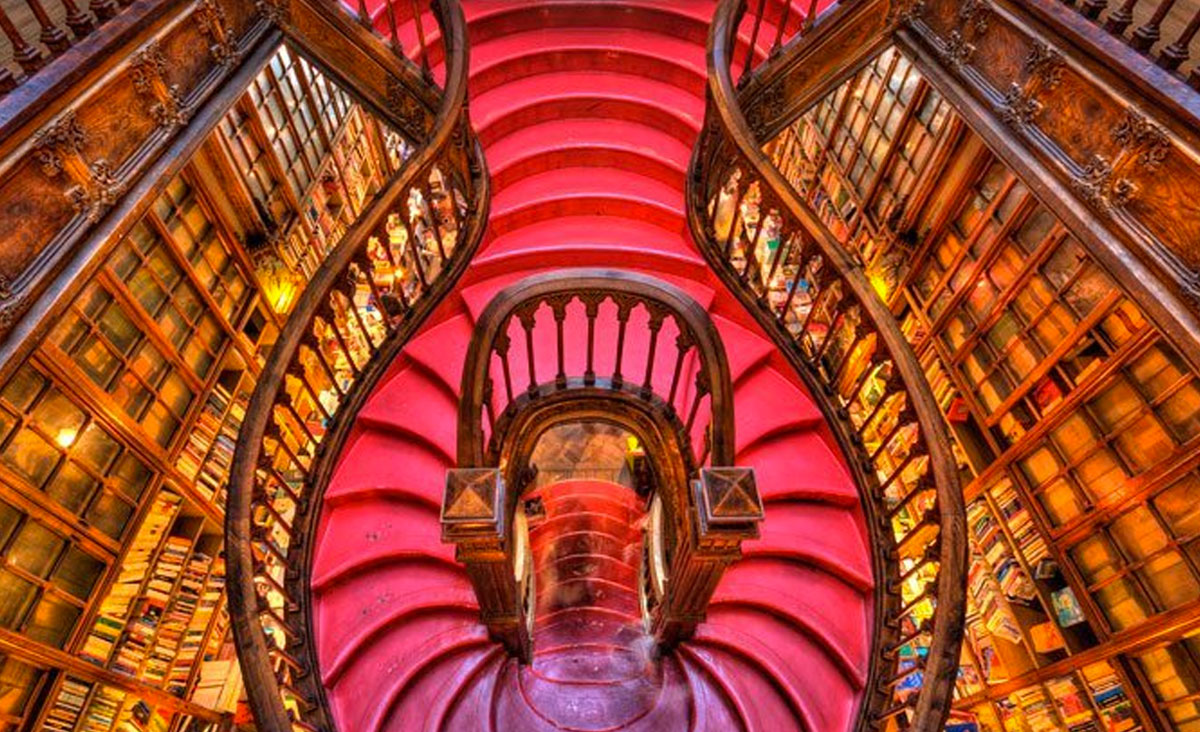 Livraria Lello, Porto, Portugal
Another bookstore frequently name-checked as the most beautiful in the world, Livraria Lello is famous for its old-world opulence—and its undulating staircase, which reportedly inspired frequent customer J.K. Rowling's descriptions of Hogwarts. Opened in 1906 by brothers José and António Lello—by then already booksellers and part of the intelligentsia of the era—and designed by architect Xavier Esteves, Livraria Lello is now such a successful tourist destination that they can charge three euros to get in (this can be recouped if you buy a book).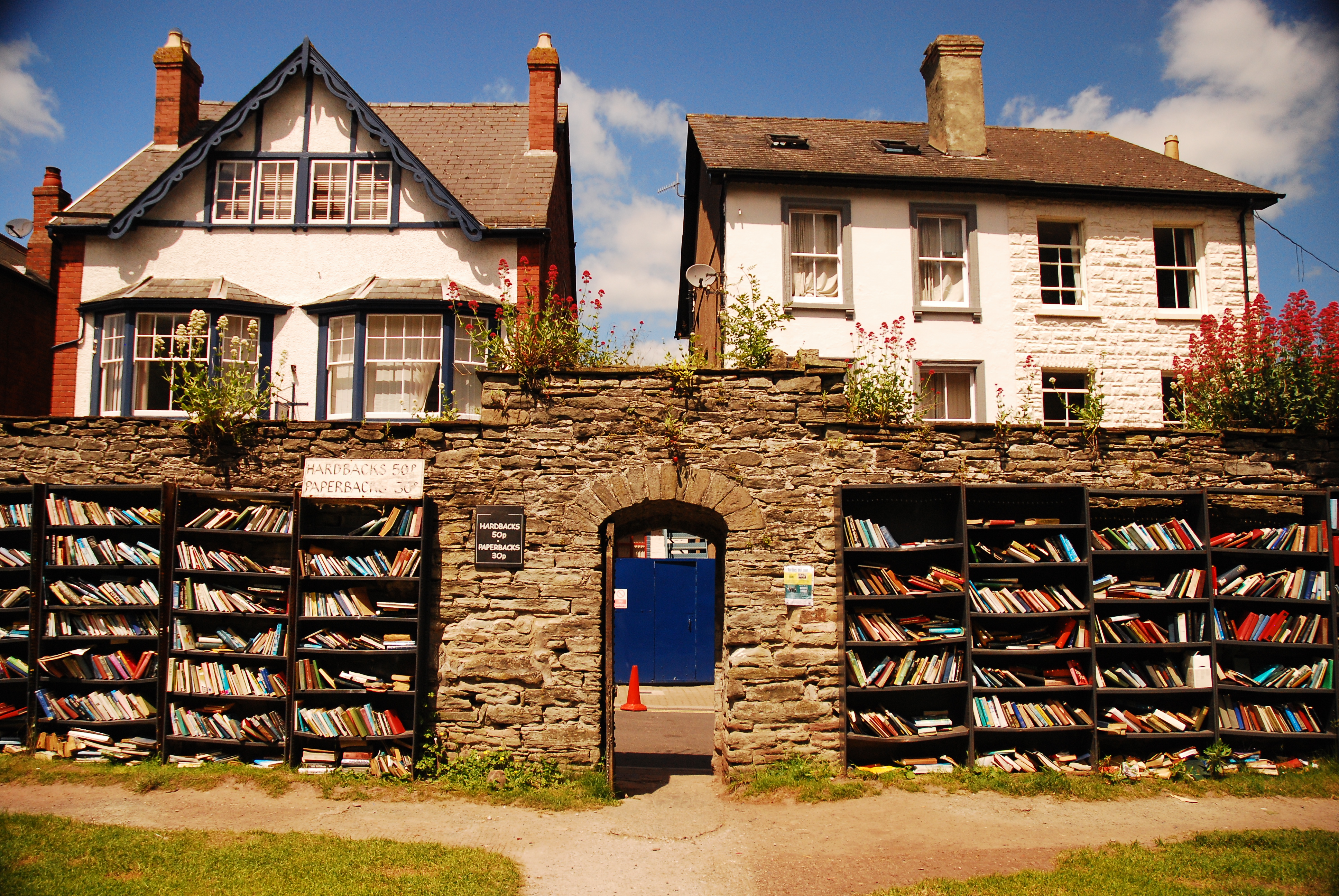 Honesty Bookshop, Hay-on-Wye, Wales
Really, the little town of Hay-on-Wye should count as a single famous bookstore itself, its shelves merely split up by streets and pubs—it's by far the most famous of all the "book towns," with some 40 bookshops in a town with 1,400 residents, as well as the annual Hay-on-Wye literary festival, which draws tons of tourists. If I have to narrow it down, one of the best bookish attractions they have going is the Honesty Bookshop, which has been around in various forms since the '60s. It's exactly what it sounds like: a huge outdoor swath of books, each priced at one euro (paperbacks 50p), the bookshelves unmanned. There's simply a box for you to drop your payment, which goes to the Hay Castle Trust.
---