Thanks to the Plumber Who Slept in My Bed: How a Surprising Trespasser Inspired My First Novel
Beck Dorey-Stein on the Unexpected Muse Behind Rock the Boat
My mother discovered the crime scene first. Horrified, she called me immediately with the details: A Lonely Planet Thailand guidebook, abandoned, facedown, next to the bathtub at our family beach house. Jagged white lines ran the length of the book's backbone so that its once-smooth surface resembled a car that had been keyed. In an act of quiet violence, a spine had been savagely maimed.
"You can tell me if you did it," my mom murmured into the phone, her voice quivering with the fear of a parent who has just realized she's raised a psychopath.
"How can you accuse me of such a thing!" I shouted into the receiver, realizing too late that I should have excused myself from the office for this conversation, as worried colleagues exchanged will-we-need-to-testify glances behind my back. I lowered my voice slightly: "I could never break a spine! And if I did, do you think I'd leave the evidence at your house?"
When I was a kid, my mom kept strict rules about a few things. She only bought healthy cereal and forbade any TV shows that might give me nightmares. Oddly enough, however, her first commandment was about book spines: Thou Shalt Not Break Them. Ever.
As a young adult, I rebelled against my mom's authoritarian regime by consuming my body weight in Cap'n Crunch and finally binge-watching all those verboten episodes of Are You Afraid of the Dark? But I still couldn't break a book spine. As an avid reader, I too had developed a passion for protecting the integrity of literary vertebrae everywhere. "Use this!" I once yelled, holding up a crumpled receipt and lunging at a stranger on the D.C. metro, just as he cracked a fresh novel across his lap.
I had become just as vigilant about the ethical treatment of books as my own mother—so she should have known, when she discovered the crime scene, that it wasn't me who had been soaking in Epsom salts and planning a jaunt to Phuket.
Eventually, after all the evidence was laid before them, my parents concluded I was not, in fact, responsible for the cracked book spine. My siblings also provided strong alibis with several eye-witnesses. But if none of us had committed the crime, who had?
For a while, it was all a bit spooky because we couldn't find any signs of forced entry. The neighbors hadn't seen anyone coming or going. Despite sky-high heating bills in January (when the house was vacant), and the time I arrived only to find my sheets notably mangled (I'm a pious bedmaker), no windows had been shattered, no locks had been broken. Perhaps we had a ghost?
Or, okay, slightly more likely, maybe the culprit had a key?
The list of keyholders, however, consisted of just our immediate family.
And the local plumber.
Given the insurmountable evidence, he was guilty beyond a reasonable doubt. I think most people in this situation would have fired the plumber, changed the locks, Cloroxed the bath, and called it a wash. But my parents are not most people. They did nothing (except scrub the tub).
The following winter, when several movies were rented through the beach house TV, my dad considered driving down to catch the plumber in action. He considered it but instead decided he'd just pay the bill. We are folks who loathe confrontation and, to be fair, cannot be trusted to properly winterize a beach house so the pipes don't burst. We needed that plumber. It was a pickle.
A general prude and particular protector of bookbinding, I was infuriated that this plumber abused my parents' trust, my books, and my bedsheets. But as a writer, I devoted countless hours to wondering who he was and what circumstances led him to use our house for his bachelor pad. It would have been easy to dismiss him as a sneaky, careless, gross cad who was laughing at the out-of-towners behind our backs, using our house as a place to impress his dates. But what if that wasn't the case?
One of the greatest pleasures of writing is the ability to take up residence in someone else's head. For this, writers do not ask permission. Instead, we often force entry. If challenged, we are unafraid to declare squatter's rights. You cannot stop us by changing your locks or hiding your keys—we will always figure out a way to infiltrate.
I'd never met my parents' plumber, but after the Book Spine Scandal, I couldn't stop thinking about him. Suddenly, every stranger was a potential suspect. Whether it was the short man in paint-stained overalls who held the door for me at the post office, or the sunburned redhead using both hands to carry a box turtle across the road, someone in this small town had slept in my bed and cracked the spines of my books. Who was this guy?
To be clear: I didn't want to meet my parents' plumber so much as be him for just long enough to understand what had compelled him to bathe in a stranger's house. What had driven him away from his own home? Where were his friends? I brainstormed answers to these questions and, as an aspiring novelist, the truth mattered less to me than a good story. So instead of trying to track down my parents' plumber, I allowed him to inspire someone new. Someone who could answer my inquiries without creating a super awkward dynamic next time our washing machine broke. Someone with a big heart and a decent rationale for using his spare key to hang out in our house, because I didn't want to dislike him; I wanted to learn from him.
So I created him.
Suddenly, my parents' plumber was irrelevant. Instead, I fixated on my figment and named him Ziggy. A bit of distance from reality, I decided, would bring me closer to a greater truth about small towns, heartbreak, and compassion. (If I'm being honest, I also wanted to make sure Ziggy ended up happy, and in his own house, for the sake of my book spines.)
Here's what Ziggy and I came up with after a few months of walking around town together: A third-generation plumber, Ziggy grew up in the business and learned early on from his dad that the number-one rule in their line of work was to earn and maintain a client's trust. But then his dad dropped dead. A man with no health insurance suffered a fatal heart attack in front of his business partner, who was also his only child. The bills started adding up just as Ziggy moved back home to take care of his grief-stricken mom, who was only slightly more sentient than a piece of toast thanks to the parade of sleeping pills.
One of the greatest pleasures of writing is the ability to take up residence in someone else's head.
Isn't it understandable, Ziggy asked as we stared at the tourists playing miniature golf in the scorching midday heat, that he would find himself not only crumbling under the pressure and pain, but also questioning all the rules that left him with nothing?
After all, he continued, why did he work so hard to earn the trust and respect of his customers, only to get exactly nowhere and lose everything? And why were the customers with the nicest houses always elsewhere, even after he and his father spent years turning their cold mansions into thoughtfully curated and thoroughly customized homes? Even now, Ziggy confessed to me, he still felt most connected to his father while installing new dishwashers and snaking shower drains. Was it really trespassing if it was to commune with his dead dad in a place they'd brought to life with their own hands?
I listened to Ziggy throughout the summer as we licked soft-serve cones on the crowded boardwalk. And then, in what felt like one game of Skee-Ball, the ice cream melted. The summer evaporated. The tourists went home, but they left their lights on.
Walking to the lighthouse late one night, Ziggy and I shamelessly peered into the illuminated living room and kitchen of a big house belonging to rich people we'd never meet. I found myself asking him, Were those ivory-colored sofas somehow spill-proof, or did kids born into gobs of money simply not spill, the way a purebred poodle doesn't shed? Why was the hot tub still on, steam billowing along the edges of its vinyl cover if no one was home? Was it true they had a home theater? Standing in the dark and staring up at the mansion lit by aggressively tasseled lamps on 24-hour timers, I couldn't help but wonder: If I had a key and could find out without getting found out, wouldn't I?
Soon thereafter, Ziggy became Ziggy William Miller, and he peeled himself wholly away from the silhouette of my parents' plumber. As my creation, he became his own man, and in his heart-sick state, his behavior wasn't justifiable, but it was human, which made it worth exploring on paper.
So yes, years ago, my parents' plumber broke the spine of my Thailand travel book, but he's since inspired the pages for my first novel. What most would consider murky behavior I deemed an invitation to examine the politics of a small-town community, the latitudes of compassion, and the legacy of the people we love and lose.
If my parents' plumber quietly stole time in their beach house, I callously plundered the possibilities of his motives. Maybe he trespassed, but I most certainly did. He never took a thing from the house, while I repeatedly looted the contents of his existence, because there is no thief as brazen or as cut-throat as a writer. The plumber slept in my bed, but I lived in his mind, which is why I think it's only fair that we call it a wash. And for what it's worth, Ziggy agrees.
__________________________________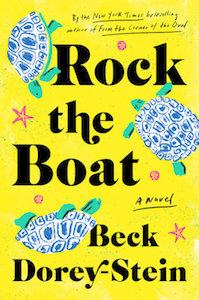 Rock the Boat is available from The Dial Press, an imprint of Random House, a division of Penguin Random House LLC. Copyright © 2021 by Beck Dorey-Stein.
---