Ten Plays You Can Read Like Novels
On the Pleasures of the Script as Literature
After having Shakespeare foisted on them in school, plenty of serious readers let go any and all interest in engaging plays on paper—and understandably so. Scripts can come across as little more than two-dimensional blueprints of a production, a series of inert stage directions and scraps of dialogue just waiting for theater practitioners to bring them life. Maybe it's the many formal contrivances of the play script itself, or the annoyance of toggling the eyes between bits of ping-ponging dialogue, but for many, plays are meant to be seen not read. After all, Hamlet did not catch the conscience of the king by dropping the folio edition of "The Murder of Gonzago" in his accursed stepfather's mitts and pacing around until Claudius got to the juicy bits.
Ignoring the published editions of playwrights' work, however, is to turn away from an entire realm of literary possibility. As the U.S. is not a huge play-reading population, it's easy to forget that good playwrights exhibit as much imagination and literary prowess as so many of their verse and prose-writing peers. To await some or other play's production at a local theater is to await your inevitable death. And to give over to just one director's vision, or just one actor's choices, is to surrender your imagination to whomever would inhabit the text. (Envision a world in which the only Gatsby you knew was Leonardo DiCaprio.)
This list is a (re)introduction to a number of playwrights who don't just write great plays but make for exciting reading. Most are modern picks, which helps to make room for a larger range of voices, though there are a couple old white guys worth revisiting for unexpected reasons. Some of the writers invent their own theatrical languages; some are masters of dialogue; some prove that the theater embraces journalism, poetry or prose; some of their formal inventions just dazzle the eye on paper. Collectively, they bring something powerful to their playwriting which stretches the boundaries of theater and just might encourage you to pick up a play when in search of your next read.
* * * *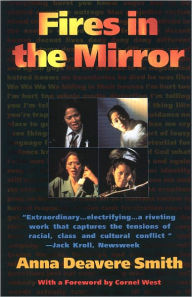 Fires in the Mirror, Anna Deaveare Smith
Performance artist Deaveare Smith began her career as a mimic and a social critic, and ended up a pioneer. Shortly after the 1991 race riots in Crowns Heights, Brooklyn, Deaveare Smith recorded hours and hours of interviews with everyone from anonymous Orthodox Lubavitchers to Al Sharpton. She then crafted a one-woman show in which she recreated portions of her interviews, transforming her subjects into characters. With some judicious editing and thoughtful arranging, Fires feels like a real-life potboiler as dictated by Studs Terkel. And her protean abilities aside, the play is an excellent introduction to the format Deaveare Smith brought to mainstream theater: the docudrama, or verbatim theater. While reading, one can sense the thin line between the naturalistic speech of the real world and the elevated language of the stage. (Deaveare Smith even arranges the transcripts like verse, too, which highlights the grace and urgency of the spoken word.) In just about every scene, the reader is also treated to a little editorial aside, as with Smith's backstage evaluation of Sharpton, below.
The Reverend Al Sharpton
Me and James's Thing
Early afternoon. Fall. A small room that is a part of a suite of offices in a building on West Fifty-seventh Street and Seventh Avenue in New York. A very large Black man with straightened hair. Reverend Sharpton's hair is in the style of James Brown's hair. He is wearing a suit, colorful tie, and a gold medallion that was given to him by Martin Luther King, Jr. Reverend Sharpton's face is much younger, and more innocent than it appears to be in the media. His humor is in his face. He is very direct. The interview only lasts fifteen minutes because he had been called out of a meeting in progress to do the interview.
James Brown raised me.
Uh…
I never had a father.
My father left when I was ten.
James Brown took me to the beauty parlor one day
and made my hair like his.
And made me promise
to wear it like that
'til I die.
It's a person family thing
between me and James Brown.
* * * *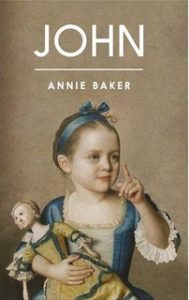 John, Annie Baker
Of all the young writers who employ modern manners and colloquialisms to hint at deeper, universal longings, none is as articulate or successful in what she does as Annie Baker. From the moment her characters step into a scene, they are who they are—it just takes time for their minute gestures and elliptical phrases to reveal what that is to the reader. Dialogue is abbreviated, but every new exchange provides a little bit more evidence of what each person yearns for and what they will sacrifice in order to get it. Baker allows her dramas time to unfold, and unlike the oft-inscrutable Harold Pinter pause, Baker's silences are friendly invitations to a reader's fancy. Baker's latest, John, brings a certain sense of haunted mystery to love's loneliness. This story of a couple's visit to a B&B is especially good for reading because one crucial moment involves a man assaulting a creepy doll in a grotesque way; no individual production will be able to top what your mind's eye conjures here.
Elias: What story are you telling?
Jenny: —he was sitting in one of the tubs with his mom and dad, this is when they were still together, / and there was this GUY in the tub with them, one of the guests, and he—
Elias: Jenny.
JENNY!
Jenny: —asked if he could kiss Elias because he was such a beautiful boy and his parents said yes and this guy kissed Elias. On the mouth.
Pause.
Mertis: Oh my.
A long silence. Elias stands there. Jenny bites her thumbnail. She is gleeful and still tipsy but also terrified. 
Elias: I'm.
Um.
Okay.
Thank you.
* * * *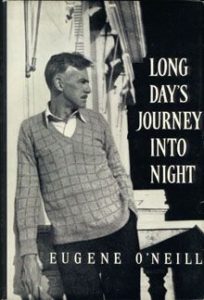 Long Day's Journey into Night, Eugene O'Neill
The bard of booze and concealed skeletons (which lurch from the closet after a good dose of the aforementioned hooch) loved his stage directions. Though these unspoken interjections are full of adverbs and notoriously heavy-handed—and consequently infuriating to directors—O'Neill's haunting, lyrical descriptions of character behavior and environmental circumstances provide more than just color to the typically fraught circumstances. Take the opening of O'Neill's weepy melodrama Desire Under the Elms, and the poetic gravity it lends to the titular trees encroaching on the farmhouse they frame:
They bend their trailing branches down over the roof. They appear to protect and at the same time subdue. There is a sinister maternity in their aspect, a crushing, jealous absorption. They have developed from their intimate contact with the life of man in the house an appalling humaneness. They brood oppressively over the house. They are like exhausted women resting their sagging breasts and hands and hair on its roof, and when it rains their tears trickle down monotonously and rot on the shingles.
Oh yes, O'Neill was a micromanager, but this aspect of his writing reveals the secret corners of the playwright's mind for the curious reader. While all of his plays have deep, dark, wonderful moments, his opus Long Day's Journey into Night remains the most compelling read. It's as long as a novella and therefore a commitment, but once this autobiographical tale of blowhard actors and morphine-addicted mothers gets rolling, it's as intimate, lurid and melancholy as any family saga the US has produced. And no stage production can whisper stage directions like these in the ears of their audience members:
[Mary's] face lights up with a charming, shy embarrassment. Suddenly and startlingly one sees in her face the girl she had once been, not a ghost of the dead, but still a living part of her.
* * * *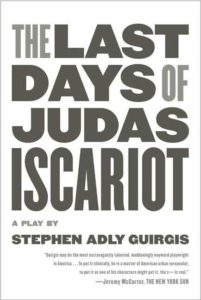 The Last Days of Judas Iscariot, Stephen Adly Guirgis
Dialogue and desperation: two things that Stephen Adly Guirgis understands innately. In his writing, Guirgis pushes his suffering souls to the edge of a cliff. Often, his characters are frightened, needy and full of defiant bluster even as they wish for something or someone to pull them back from the edge. Guirgis's signature character is a wicked, around-the-way dude like the repentant Rooftop from Our Lady of 121st Street, who smokes weed in the confessional and offers his confessor a toke. But Guirgis's stories offer a kaleidoscope of personalities with many different voices, and nowhere is that more apparent than his ambitious, fantastical play that puts Jesus's betrayer on trial. The multicultural purgatory of The Last Days of Judas Iscariot brings broken souls into a courtroom to argue with Freud and Mother Theresa about the nature of forgiveness. The Saints talk trash and Satan trashes everyone. It's as nasty and fun as it sounds, and the words leap from the page.
Pilate: …Question my veracity and my character?! I am a Roman, lady! One hundred percent, 24/7, we never close! Underneath my ball sack is stamped: VERITAS! And that means TRUTH! And that means my honor is defined by my integrity and my integrity is defined by my truth! And I defy you—here and now—to produce one shred of evidence to support your wild and defamatory claims! Shit! You better check the resume two times before you start tryin' ta sweep your dirt under a Roman's rug! I am clean like Dove and ready for love, missy!
* * * *
for colored girls who have considered suicide when the rainbow is enuf, Ntozake Shange
When poets write plays, their experiments range from opulent and lyrical (e.g. Dylan Thomas's Under Milk Wood) to the clipped and insistent (e.g. Gertrude Stein's Doctor Faustus Lights the Lights). When Ntozake Shange wrote her first and most influential play in 1975, she landed somewhere in between—the free verse of for colored girls brings the momentum of a spoken-word poem to a group of female characters struggling to survive love and find unity. On the page, Shange's work toys with spelling, syntax, white space and line breaks; the result looks as much like a book of poems as it does a play. (In fact, the glossary list is not acts or scenes but "poems by title.") In addition to Shange's passion, it's this sort of visual diversion that makes her "choreopoem" such a delight to read; even while the seven women—identified only by colorful titles, i.e. "lady in red" or "lady in brown"—share their joy and pain, the reader is dropped into a world of singing, dancing verse that gave introduced many theatergoers to a new and heightened mode of linguistic expression.
lady in brown
… de library waz right down from de trolly tracks
cross from de laundry-mat
thru de big shinin floors & granite pillars
ol st. louis is famous for
i found toussaint
but not til after months uv
cajun katie/ pippi longstockin
christopher robin/ eddie heyward & a pooh bear
in the children's room
only pioneer girls & magic rabbits
& big city white boys
i knew i waznt sposedta
but i ran inta the ADULT READING ROOM
& came across
TOUSSAINT
my first blk man
(I never counted george washington carver
cuz i didnt like peanuts)
* * * *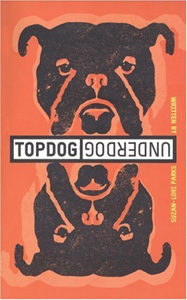 Topdog/Underdog, Suzan-Lori Parks
In her plays, Suzan-Lori Parks creates circumstances that feel at once recognizable and larger-than-life. Her stories swirl together snippets of American history, legend, and the literary canon, and regardless of the era in which they're set, Parks lets her language pop with present-day rhythm and diction. Whether examining the life of Sarah Baartman or The Scarlet Letter, this Kentucky-born playwright re-contextualizes our established world order into something both welcoming and startling. Parks is great fun to read in part because, like innovators such as Caryl Churchill before her, the playwright found her own stage shorthand. (In the preface of many of her plays, she describes her "Elements of Style," including the notion of silent, heightened moments for each character—which has, as she says, an "architectural look.") Her Pulitzer-winning Topdog/Underdog, the story of two hustler brothers locked in a love-hate relationship, brings an author as stripped-down and concentrated as she can get.
Booth: I didnt mind them leaving cause you was there. Thats why Im hooked on us working together. If we could work together it would be like old times. They split and we got that room downtown. You was done with school and I stopped going. And we had to run around doing odd jobs just to keep the lights on and the heat going and thuh child protection bitch off our backs. It was you and me against thuh world, Link. It could be like that again.
Lincoln
Booth
Lincoln
Booth
Lincoln: Throwing thuh cards aint as easy as it looks.
Booth: I aint stupid.
****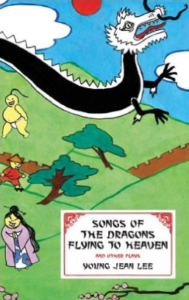 Songs of the Dragons Flying to Heaven, Young Jean Lee
Young Jean Lee is a button pusher. She wants to entertain her audiences, but she also wants to keep them off balance while taking in her work. Whether she's playing with the image of a profane, black stand-up comic in The Shipment or a white klan member in Straight White Men, her plays explode commonly held stereotypes and then tape the scraps back together to see how they hold up. Her first big show of this sort, Songs of Dragons Flying to Heaven, is a series of probing sketches and dance numbers that play with cloistered notions about Asians, Asian-Americans and Lee's own feelings about growing up in America as the child of Korean immigrants. (Meanwhile, a pair of white people can't help themselves—vapid quibbles about their relationship encroach and eventually take over the entire production.) Plowing into the Lee's playful avant garde on paper gives the reader room to be confronted and understand her intentions for the theater audience—a nice way to have your cake and eat it, too.
Korean American: Have you ever noticed how most Asian-Americans are slightly brain damaged, from having grown up with Asian parents? It's like being raised by monkeys—those retarded monkeys who can barely speak English and who are too evil to understand anything besides conformity and status. Most of us hate these monkeys from an early age and try to learn how to be human from school or television, but the result is always tainted by this subtle or not so subtle retardation. Asian people from Asia are even more brain-damaged, but in a different way, because they are the original monkey.
Anyway, some white men who like Asian women seem to like this retarded quality as well, and sometimes the more retarded the better.
I am so mad about all of the racist things against me in this country, which is America.
* * * *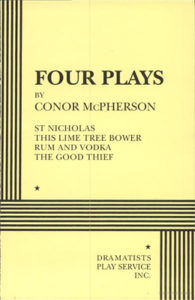 Four Plays, Conor McPherson
Why didn't Conor McPherson become a short story writer? The Irish playwright has a keen eye for detail, a way with linear narrative, and, well, nearly every one of his plays features a storyteller delivering an intimate tale to the audience. Recommending Four Plays is kind of a cheat—as the collection includes shorter pieces St. Nicholas, Rum and Vodka, This Lime Tree Bower and The Good Thief—but it's a bit like extolling the virtues of a short story collection. Fueled by lust, loneliness, financial woes and more than a bit of booze, the corruptible men of Four Plays survive ill-fated heists and vampiric fever dreams. Though each tale is morally knotty, McPherson insists on simple prose. Verbal fireworks are eschewed in favor of straightforward, propulsive prose that builds momentum as it goes along. The intimacy of the plays might leave the reader feeling as though the characters are perched on barstools, leaning in and whispering their stories for only one pair of ears.
Looking back, I don't know why I put the cartridge in the shotgun.
My revolver was always loaded and I had it in the back of my jeans.
But I never trusted the shotgun.
I had very few cartridges anyway.
Maybe I wanted to make some noise if this Mitchell guy knew how to take care of himself.
I'll never know, but it was one of the luckiest things I ever did.
I pulled on the balaclava and put the shotgun inside my jacket.
I thought I saw a curtain move upstairs but I wasn't sure.
I was ringing for about a minute when the door opened.
And there was a bloke in a balaclava.
(from The Good Thief)
* * * *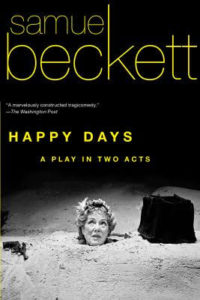 Happy Days, Samuel Beckett
Moan if you will—go ahead, it suits Beckett's cosmology—because alongside the Immortal Bard, Waiting for Godot was surely another undergraduate requirement. But things have changed since school. More accurately, you've changed. As an undergraduate, time had not yet put its thumbscrews to you, and Beckett's scorching visions only become more potent with age. Take Happy Days, the story of the middle-aged Winnie. Buried alive, she chatters to her husband and studies the contents of her beloved bag as she tries to make sense of the present. Though he has influenced many, no one looks or sounds just like Beckett. As he documents Winnie's empty rituals, his minimalistic stream-of-consciousness, his bleak ironies and clownish gags leave an indelible impression. For most, a two-act play proves to be just enough Beckett, and reading about the beautifully futile tap dance of life in private just feels right.
Winnie: … How often I have said, in evil hours, Sing now, Winnie, sing your song, there is nothing else for it, and did not. (Pause.) Could not. (Pause.) No, like the thrush, or the bird of dawning, with no thought of benefit, to oneself or anyone else. (Pause.) And now? (Long pause. Low.) Strange feeling. (Pause. Do.) Strange feeling that someone is looking at me. I am clear, then dim, then gone, then dim again, then clear again, and so on, back and forth, in and out of someone's eye. (Pause. Do.) Strange? (Pause. Do.) No, here all is strange.
* * * *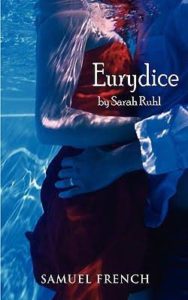 Eurydice, Sarah Ruhl
Fans of magical realist writers will find much to like in the plays of Sarah Ruhl, even if realism isn't what she is after. Like fellow playwrights Tony Kushner and José Rivera, Ruhl dreams up fantastic images, and transforms her characters' emotional landscapes into something corporeal. Once her audience is locked in, Ruhl's subtle sense of irony, whimsical jokes and surreal flourishes carry the reader into another realm altogether. The simplest introduction to the poet and prose writer might be her unexpected and lovely retelling of the Eurydice myth. While Ruhl has more ambitious and structurally stunning projects (e.g. her epic Passion Play), falling under this melancholy Eurydice's spell is just so easy. In Eurydice's Hell, there's a chorus of stones, an elevator in which it rains and a house made out of string. The latter is constructed by Eurydice's father, in an attempt to make his estranged, disoriented daughter feel at home. The scene in which it happens, happens in silence; this is the lyrical way Ruhl makes it happen in the script:
Scene 3
The father creates a room out of string for Eurydice.
He makes four walls and a door out of string.
Time passes.
It takes time to build a room out of string.
Eurydice observes the underworld.
There isn't much to observe.
She plays hop-scotch without chalk.
Every so often,
the father looks at her,
happy to see her,
while he makes her room out of string.
She looks back at him, polite. 
---