Telling the Real Stories Behind the Birth of America's National Parks
Rolf Diamant and Ethan Carr Recommend Books That Go Beyond the Myths
Are national parks "America's best idea"? Who are they for? Who do they serve? Where did they come from? Most people have little knowledge of how our system of 423 national parks originally got started. For far too long, the credit for the national parks has been attributed to either mythic "rugged Western pioneers," or a "visionary" like John Muir or Theodore Roosevelt. We decided to team up to dispel the misperceptions and tell the more complex story of the birth of our national park system. We have known each other for 25 years and both have extensive careers connected to America's public landscapes and national parks.
The result of our collaboration is Olmsted and Yosemite: Civil War, Abolition, and The National Park Idea. Our book connects the dawn of the parks movement to the dramatic transformation of the United States brought about by the Civil War. These revolutionary changes were contingent on extinguishing slavery and remaking the fatally fractured political system that supported it. Without a Union victory—aided by the mobilization of nearly 180,000 Black soldiers and sailors—the legislation for Yosemite in 1864 and Yellowstone in 1872 might never have been enacted.
The idea of making Yosemite Valley into a park drew inspiration from New York's Central Park, which was still under construction during the Civil War. Both projects were guided by the anti-slavery journalist—and then landscape architect—Frederick Law Olmsted. When Olmsted first visited Yosemite with his family in 1864, he was overwhelmed by the compositions of perfectly juxtaposed types of scenery and landscape experience that made Yosemite, for him, "the noblest park or pleasure ground in the world." Olmsted completed his Yosemite Report the next year to guide the future management of the valley as a park.
Olmsted asserted the republic had a duty to make scenic places and natural landscapes accessible to everyone, not just the privileged few. His groundbreaking report laid the intellectual foundation for a system that fueled the creation of parks at every level of government for the next century.
Marking the bicentennial of Olmsted's birth, the more inclusive history we tell in Olmsted and Yosemite is even more relevant for today, as the public that the parks serve—like our country—grows ever more diverse. For Olmsted, the essential approach to planning and developing parks was to allow the public to have the transformative experience of natural beauty without destroying what they had come to enjoy in the process. To follow is a list of books we recommend to readers curious to know more about our extraordinary national parks and their stewardship.
*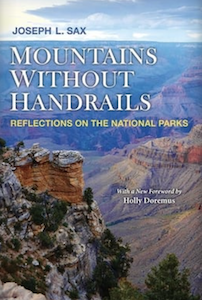 Joseph L. Sax, Mountains Without Handrails: Reflections on the National Parks
(University of Michigan Press)
Classic philosophical reflection on the meaning of national parks in a modern world of clashing values. This slender volume has had a global impact on how people think about national parks today. Some consider Sax the Thoreau of his day.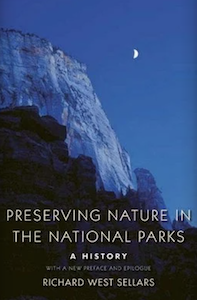 Richard West Sellars, Preserving Nature in the National Parks
(Yale University Press)
Sellars tells the story of how the national parks, initially established for their magnificent scenery, belatedly recognized the stewardship of nature as an essential element of their purpose. Preserving Nature is recognized as perhaps the most influential book ever written about national parks. Sellars explains how national parks have been shaped and reshaped by evolving views of nature and resource management. No other book so carefully chronicles the early history of our national parks.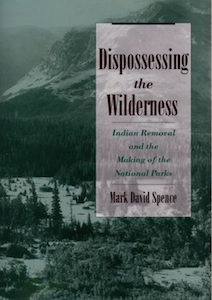 Mark David Spence, Dispossessing the Wilderness: Indian Removal and the Making of the National Parks
(Oxford University Press)
Early nature writers and conservation legends, such as John Muir, who described national parks like Yosemite and Yellowstone as untrammeled wild nature, willfully overlooked generations of human occupation. This is the story of how Indigenous people across the West endured dispossession of their tribal homelands and exile to create these "wilderness" national parks.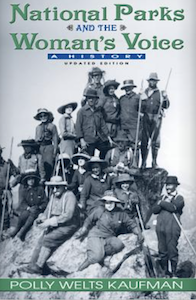 Polly Welts Kaufman, National Parks and the Woman's Voice
(University of New Mexico Press)
Finally, the recognition women justly deserve in the history of national parks. Kaufman profiles the stories of women who championed the creation of national parks and the National Park Service. She also introduces the reader to a handful of modern-day women conservation leaders within the ranks of the National Park Service.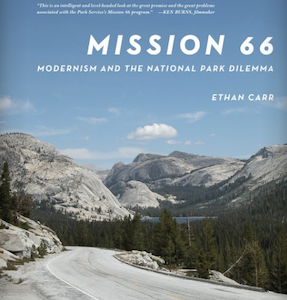 Ethan Carr, Mission 66: Modernism and the National Park Dilemma
(Library of American Landscape History)
The untold, in-depth story of one of the most influential periods of growth and development of America's national parks following World War II. This well illustrated story chronicles how the infrastructure of national parks was drastically expanded to meet a postwar wave of automobile tourism and how a growing environmental movement attempted to apply some brakes to this huge transformation.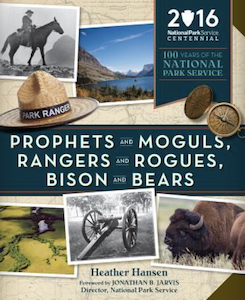 Heather Hansen, Prophets and Moguls, Rangers and Rogues, Bison and Bears
(Mountaineers Books)
Amazing stories of people who devoted their lives to making national parks and building the National Park Service. Along the way, we are introduced to a host of colorful characters who left their mark on America's greatest treasures.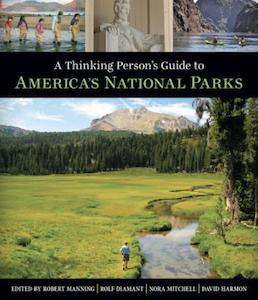 Robert Manning, Rolf Diamant, Nora Mitchell, & David Harmon (eds.), A Thinking Person's Guide to America's National Parks
(George Braziller)
The essential book to have if you love national parks. This lavishly illustrated journey across 400 national parks delves into their backstory, their secrets, and their future. More than two dozen of the nation's leading national park experts serve as your guides in this book and reveal to the reader many of their most favorite places.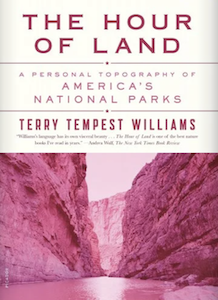 Terry Tempest Williams, The Hour of the Land: A Personal Topography of America's National Parks
(Sarah Crichton Books/Farrar, Straus & Giroux)
A deeply personal narrative tour through America's national park system by one of the country's most talented writers. With prose that often reads like poetry, Terry Tempest Williams turns her attention once again to her beloved and often troubled national parks.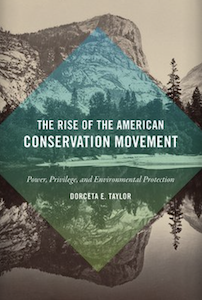 Dorceta E. Taylor, The Rise of the American Conservation Movement: Power, Privilege, and Environmental Protection
(Duke University Press)
Taylor has written a powerful and candid account of American conservation through the lenses of environmental justice and multicultural activism. For far too long, this story has been dominated by the narrative perspective of conservation elites. You will find this long overdue historical revision is in step with our times.
__________________________________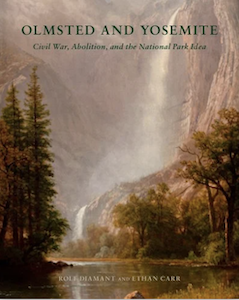 Co-authored by Rolf Diamant and Ethan Carr, Olmsted and Yosemite: Civil War, Abolition, and the National Park Idea was published in March 2022 by Library of American Landscape History.
---