Teju Cole: "We are Made of All the Things We Have Consumed"
The Blind Spot Author on Fragments, Memory, and Creativity
Teju Cole, who I interviewed just a few weeks before his visit to Australia and appearance at the Adelaide Writers' Week, is cold. "It's an ice-box in here," he begins. "Give me a moment to shut the blinds so I can keep the heat in." This allows me time to gather my thoughts. My flat, on the other end of our internet connection, is hot and humid. My palms leave damp imprints on the surface of my laptop.
In an interview with The Paris Review, the famously reticent William Gaddis was asked why he had consented to the interview when it was clear that he had no interest in the exercise. After going through the usual problems of the form (putting the writer in the place of their work, ruining the deliberate ambiguities of the text with explanations, and so on), Gaddis implied that he didn't actually have that much to say about his work, and that interviews to him served as a sort of shield: "I've the hope of laying a few things to rest; an interview I can simply refer people to when the threat of another appears, without having to go through it again."
But Teju Cole isn't a writer who's invested in laying things to rest. There are always new avenues to explore, new ways of approaching a problem. This careful curiosity extends to his four books, all of which seem to be chipping away at a certain set of concerns ("the limits of vision," as he refers to it in his new book Blind Spot) in continuously interesting ways. Perhaps it's disingenuous of me to begin by comparing Gaddis and Cole, as they're quite dissimilar writers (another point of difference: Gaddis, for all his inventions in form and style, writes novels—whereas 'novelist' is only one in about a half-dozen words that describes Cole's creative output), but in the many differences between the two I think there emerges a kind of truth: there really isn't such a thing as "laying a few things to rest," at least, not if you're engaged in a creative life. Cole's wonderful mobility makes him a great noticer of the world around him, and in his photography as well as his writing, there's an ethic of deferred judgement—an idea that, while there are conclusions, there are also always more questions, and more ways of seeing. It is also this quality, I learned, which makes him such a fascinating person to talk to.
Khalid Warsame: I wanted to talk to you about a specific section in Blind Spot that really opened up the book to me. It's the photo of those two PVC pipes, accompanied by the passage where you wrote about Seamus Heaney and his poetry, about seeing him read from a poem just before his death, and about his body as it was failing him. Something about the text and that image, the unification of an abstract sort of perspective: the mundane elegance of the pipes, the arresting empathy of the passage, and the way it fit into the larger concerns you have as a photographer and as a writer. There are a lot of those kind of moments in the book, which surprised me in a way that I couldn't have anticipated. I want to know how that came together as you were composing the book: were you deliberately constructing these moments or were you letting serendipity guide you?
Teju Cole: I'm glad you pointed that one out. It was a kind of a strange one, because when you look at that picture, it depends so much on a kind of sensitivity towards the environment, as if you had a radar attuned to the weird ways an object might speak. It's just two pipes, it's just drainage or whatever . . . and yet, if you're in conversation with yourself about your life and about literature and about loss—then there's a strange way in which everything starts to make sense together. So there was very much a hunter–gatherer aspect to this project, where I tried to find the things that belonged to each other, that were specific to me.
In my photographic style I am drawn to a kind of gentle, everyday surrealism. From bits of tarp, bits of construction, the way mundane things feel like still-lives, and so on. As far as the writing goes . . . I'm not a poet, but poets matter so much to me and Seamus Heaney has been particularly important in my life, so it's a pleasure to bring what I've gained from poets into my work.
This book is being translated into German right now, and the translator says to me, "I know half of these passages are allusions or quotations but I can't figure most of them out." I'm like, "Don't worry about it; just translate it." Because there are some things, like the Seamus Heaney thing, people can just figure that out, and then there are other things that are just buried in there—poems, fragments of things that I've read.
"It's a pleasure to bring what I've gained from poets into my work."
KW: There's a sort of back-loaded elegance to that, where it's there in retrospect a few dozen pages on, and other times you'll signal the reader's attention in advance. The essays, like the photographs, sometimes emerge in the whole and other times emerge in the specific, and in the case of the Seamus Heaney passage, it emerges in the specific.
TC: Absolutely, and that's very nice of you to say. Thank you. For me the goal of it is to say: actually, this is how the insides of our heads are. You know, when we sit down to make work we are made of all the things we have consumed. Our creative, artistic, musical, filmic diet goes towards our intellectual formation.
But the other thing is that I also wanted to say that the game of allusions or half-allusions or any of those things is also completely different in our time now, because we can always look things up, you know? And in fact that passage that you're talking about: I don't mention Seamus Heaney. Like you said, it's obvious in this case that I'm talking about somebody specific, and I actually quoted something—some people might recognise it, and for those who don't? They can look it up, and that's fine. But even if you don't look it up, it still works as an evocation of what it means to think about physical fitness or mobility or walking, which is very much a secondary concern in the book, side-by-side with the primary concern which is the limits of vision.
KW: I'm very interested in what you mentioned about the ways in which we're in conversation with texts nowadays. Like, I had to look the Heaney passage up. I saw the poem and I was like, "Alright, this seems interesting," so I plugged a line of the poem you quoted into Google and found it. But as soon as I did that I remembered that I actually had read that poem before, that I actually have Seamus Heaney on my bookshelf, and it made me think that if this was twenty years ago, before Google, I would have just thought about it for a bit and left it aside and then a week later I would have suddenly, in a flash, remembered it organically. But because I have this instinctual urge to look things up now, I am robbed of those flashes of remembering, which is a very pleasurable aspect of reading.
TC: Yeah, I think that is a little bit unfortunate. In a way we're dealing with the abolition of memory, aren't we? And for writers—and you're a writer as well?
KW: Yeah.
TC: Oh, that's a pleasure. Yeah, so for those of us who are creative—well allusion and layering and references have always been part of writing, but also in photography as well, because a photo will evoke for us a useful aspect of photographic history, right?
KW: Oh yes.
TC: But now we have this new challenge where we know that people can look things up, and not only can readers look things up, we as writers can look things up, right? So how do you give the work an organic feeling? Where it doesn't become like you're regurgitating Wikipedia. So, sort of like the David Foster Wallace or even before him, the James Joyce or William Gaddis or William Gass encyclopedic approach to knowledge and to evocation of information. It becomes tricky.
KW: And of course those examples you gave are all male authors. I feel like it's a very masculine approach.
TC: I was about to say that . . . not a lot of women do that, right? Of course, female authors whose work is very densely knowledgeable abound. I mean, if you think of someone like Helen DeWitt, with The Last Samurai, which is a very very smart book full of all kinds of information and knowledge—but I think for the people who are really going for the maximal world-spanning knowledge, it does tend to men trying to prove something.
KW: I'm reminded of Hannah Arendt who once said that her goal isn't to sit down and be influential and important, but to actually, through her writing, attempt to come to an understanding of the issues she explores.
TC: Right, and I think that's also why it's less impressive, especially nowadays, to sit down and write a 500-page encyclopedic novel. You could have two computers, one of them open to Wikipedia, and the other one open to a Word document, and just bang away. So for me the more interesting challenge is, how do you evoke the internal states of somebody who knows the things that they know and are interested in the things that they're interested in? And there's things that they know quite well, and then there are other things that they know less well.
In virtually all the work that I do, there are things that are very accurately conveyed that the reader might know or not know about—I have to look things up too, we all do—but there are also parts where I leave in uncertainty. I think half-remembered things are such an important part of my practice, and for me to resist the urge to pin it down is vital. And so for example, in Open City there's a lot of, "I don't remember . . . " or "I seem to recall that . . . "—you know? And it's not too tightly woven with perfect recall.
KW: Yes. I noticed this even in Every Day Is for the Thief. There's moments of selective sharpening and blurring—I'm thinking specifically of that last chapter, which is precise on a sentence level, but very blurry in the sense that that there's a platform extending out where you guide the reader to leap off and allow the conversation to continue, which is a conversation that gets to your concerns as a writer and thinker—and you do pick that conversation back up in Open City somewhat, but there are gaps of "not knowing," which is where the pleasure of the text lies.
TC: Absolutely. Thank you. For me that's a very satisfying reading to have from somebody who has been with the work. In fact, that last chapter of Every Day Is for the Thief . . . something very strange happened to me after that book was published in that I can no longer tell for sure if that street exists. And in fact, I have gone back to that neighborhood in Lagos and I cannot find any street meeting that description. I've found where the coffins are being made, but the particular vision I described so clinically in that chapter . . . it appears that I made most of it up. And, you know, I think it's really important to defend this space, where things are happening a bit more organically if we're bringing in information, and in Blind Spot what helped me a lot with that—and it's helped me with any work I've done—is understanding that in fact there's no such thing as encyclopedic writing. What you really want to do is have a few reference points and use those as the scaffolding for the work. So in Blind Spot, it's Homer, right, it's The Iliad, it's The Bible—there's a lot of that, a lot of Christian theology—and then stuff having to do with neuroscience and vision. And I keep coming back to things with people who have trouble walking and things like that.
And usually with any work I do has five or six things like that, so that when somebody is reading it, they might be like, "Wow, this is all over the place," but in the afterglow of it, it's clear that there have actually been points of emphasis.
"There's no such thing as encyclopedic writing."
KW: I wonder how it's different with photography? I know for me, that the way I notice things is guided by the people or ideas that I'm in conversation with, and I find it hard to escape that sometimes, and I'm not even sure if I even want to escape it to be honest. For example, a few months ago I was in the back of an Uber and I had my camera on me and the window was down, and a bright yellow car pulled up next to us, and the man in that yellow car had this fascinating expression on his face. But in that moment, I wasn't thinking so much of the scene as it presented itself to me, but of a Saul Leiter photograph—
TC: —Yes, you're right!
KW: There's a very similar one in your book as well.
TC: The one at the airport?
KW: Yeah.
TC: That's funny, I never connected it so Saul Leiter, but the moment you mentioned it, I was like, Oh yeah, of course.
KW: So, as soon as I saw that yellow car pull up and I raised my camera, I was suddenly in this dialogue with Saul Leiter, and it was guiding what I noticed and created. And I feel like it's a lot more organic with photography as opposed to writing, because you can parse writing: you can, you know, cut it up and put it into search engines, and you can look things up. But with photography and visual art in general, I don't really have a sense of that—of course there are tools online such as Google's reverse image search, but that's not as immediately useful.
TC: Maybe photographers are going to keep their memory a little bit longer than the writers are? But you're right . . . with things that can actually be put into words, it's different. We've all had this experience where we're at a dinner party, and somebody can't remember something, and then somebody looks it up on their phone, and then we find out. But what I've also experienced is somebody at the party saying, "Ugh, don't look it up. Let's just sit with not knowing it." But inevitably someone does look it up, because it drives us mad not to know.
During my ill-fated attempt to become a doctor, there was so much we had to cram into our heads, and me and my fellow students would say, "Well, we could always just look this stuff up." But of course that's not the point, the point is to put the information there in the first place, so that when you're looking something up, you're not looking everything up.
KC: Yeah, and when you have it in your head you can sort of draw links organically, and that's much more fruitful during the creative process, as opposed to doing it specifically or with purpose, because you don't really want to rely on serendipity or shoe-horn things in just because they fit. You want things to come out organically and have them emerge through the process of everyday living.
TC: Yeah, it reminds me of Chris Marker—do you know his work?
KW: Oh, no I don't.
TC: So Chris Marker is a French filmmaker who died just a few years ago. But he did La Jetée, which is really considered one of the classics of French filmmaking. I think it's from the 70s or maybe from the 60s. It's only about 25 minutes and is done almost all with still images. But the work by him that I really love is called Sans Soleil. And Sans Soleil is a documentary, with a voice over, it's in color, and it's shot all over the world; it's really the direct inspiration for Blind Spot.
But the reason I think about it now is because there's a part in Sans Soleil that, in fact, I think I had watched the film five times before I really got what this part was saying. It has a slightly sci-fi vibe near the end of the film, and it talks about a man who came from the future, and he said he was visiting from the future in order to experience a time—and this film is miraculous because it was made in 1983—so he comes from the distant future to 1983 in order to experience a time when humanity could still forget things. Because he comes from a future where forgetting has been abolished. So this is related to what we're saying: we're saying that people don't really remember anything, but actually, what we're living in is the abolition of forgetting. And the ability to forget is actually part of what makes us human. You've had that experience of sitting on your computer and suddenly Facebook tells you something like, A year ago blah blah blah, and you're like, Shut up—you know?
Or like the new iPhone says, You have formed a new memory, or something. And so everything is crowding in on us. Everybody we've ever dated has a whole long email thread with them, every silly conversation we've had, every string of text messages, every tweet, an endless stream of photos—both ours and those of others. You meet somebody once at a dinner, and the next day he adds you on Facebook and now you have to be permanently familiar with all the detritus of his daily life. We cannot forget our lives, and now I can't forget Mr Random's life too.
So that becomes a crisis for our creativity, so much of which has to do with strategic forgetfulness.
KW: I feel like that's a big topic, but there's one specific way I'd like to open it up, by exploring the counter-narrative to that. So in 'Memories of Things Unseen' you write about the curious thing that happens to photos when they outlive the body, and going back to Open City, you explore this idea of a city as an accumulation of bodies and the structures that house bodies over time. And one of the beautiful things about walking around a city is observing how the toll that time inflicts on people and the built world intersects and combines and recombines. I'm interested in the limits of that vision. If we're talking about being limited by "not forgetting," then what's the limit of forgetting? What do we lose when we see a photo of someone whose name and story and body is lost to time? Or of an old heritage-listed building being replaced by an apartment tower and the old building fading into memory. What's the other side of that story?
TC: I suspect that, well, I'm not at all religious but so much of that language still helps me here—I suspect that nothing ever goes away. The city for so many of us, maybe for all of us, can sort of be like a damaged hard-drive, where the information is there but we're unable to retrieve it, you know? What do I know about the Native Americans who used to live on the island of Manhattan, or in Brooklyn? What do we really know about them? A few artifacts, some historical records written by the Dutch, and then what? But they were here for generations, they had lives and they had families too. I mean, that's in deep history, but right now I'm living in a house that's over 100 years old, on a street in Brooklyn, and you know, I'm obsessed about the fact that we're living like hermit crabs in other people's worlds.
I mean, this house was built by someone else, probably in the 1890s, for their own purpose, and everybody for whom the house was built has died now, but because of practices back then, probably children were born in this house, and delivered in this house, probably people died in this house, maybe exactly where my bedroom is where I sleep every night. So it's not retrievable, and I think maybe the ethical position is just to be present with that not-knowing.
So for example in Blind Spot, that's gone well beyond just the city—I don't want to be typecast as a city guy because these concerns touch everything. All of terrain is marked by deep time and you just have to approach it with awe and respect, because it puts our present into a kind of sharp relief. And it might also even point to the fact that when we say that the time will come when there's a record of everything . . . then what? We're still going to be human beings with limited time, so what are we going to do with these deep records? What are we going to do a hundred years from now when there's going to be vast, vast electronic archives of incredible detail about people who are completely gone?
We have a lot of records of people who lived in the 19th century, but not most people who lived in the 19th century. Maybe in countries like Germany or the UK or whatever, maybe everyone got written down in some kind of census book. In the US, very many people did, but not, I don't think, the majority of Native Americans or black slaves. And in a place like Nigeria or Somalia or Sudan or whatever, the vast majority of people who lived in the nineteenth century in those places have not been recorded. Now, skip forward by two centuries and almost every single one of us is going to leave behind a digital trail—and not just a name or date of birth, right, which is what you have in county parish records.
"The city for so many of us, maybe for all of us, can sort of be like a damaged hard-drive, where the information is there but we're unable to retrieve it."
KW: And we also have governments who count on surveillance as a strategy for their own survival.
TC: And they have so much information. They have your voice on tape, your likeness, you know? But then what? Still dead at the end of it, still gone, you know? What happens to that information? For me the most interesting thing about this is that the human problems have not shifted at all. I mean, there's still envy, pride, lust, jealousy, anger, there's still compassion, we're still moved by poetry, we still like music, we still laugh at jokes. All of that beauty, all of that complication, has not really advanced in any particular kind of way, and in fact our weaknesses have not really been improved on at all.
KW: Which is actually the scary part.
TC: Yeah, because our powers have increased amazingly, but our weaknesses have not.
KW: There's one thing I wanted to mention here if you could allow me to shift the conversation. I'm struck by the differences in your photography as it appears in Every Day Is for the Thief and Blind Spot. In the former your camera is very forward, very bold, and there's a lack of shyness to the perspective that sort of fits in to what the narrator is all about. But that's obviously a corollary to the fictional narrative of Every Day Is for the Thief. However, in Blind Spot, which is wholly different kind of work, the camera is almost reticent, almost shy. I'm thinking of how you focus on the incidental detritus of the built world, how mountains peak out from behind tarp, how you focus on the delicate motions of fabric and the background perspective of people and cities. If there are people in your photos, we only see their backs, and so on. This sort of hints at the feeling of awe you mentioned earlier, which brings a sort of . . .
TC: Hesitance, I'd say.
KW: Yeah, exactly. There's a hesitance to your camera-work.
TC: Yeah, well, it's interesting you should say that, because I also find the text of Every Day Is for the Thief to be a bit raw and visceral and very forward. It's kind of an angry book. I recognize it. It's my work and it's fictional, and the biggest reason that it's fictional is that I don't actually share the rawness of that character's anger. But I really wanted to write a book about a guy who goes back to Nigeria and is kind of mad about it, you know? So I think the photos and text matches in that way in the novel. Because there's a veil over those images but they're kind of dramatic and direct in a way. They're melancholy, but dramatic.
For Blind Spot I also do feel like the images and the pictures are speaking a similar language. Because even though there's a way in which Blind Spot is sort of more learned and more philosophical than Every Day is for the Thief, its point is a bit more elusive. I think it's working with fragments. It is, for me, trying to think through this material, which is what the pictures are doing. They have a searching kind of quality to them.
One of the writers I feel like I've learned a lot from is J. M. Coetzee. And there's an aspect of Coetzee's work that I've really not seen a lot of scholarship about because very often people are talking about his themes—they might sometimes talk about his style, but there's a particular thing that's often glossed over. I think he's actually very interested in dryness, in having a very dry surface to his work sometimes and, you know, he did his PhD on Beckett, you know . . .
KW: [Laughing] I didn't know that.
TC: Yeah, yeah, yeah! So he knows what he's doing there. And certainly my style isn't as dry as his, and in fact occasionally my style can be kind of elegant and quite inviting but I'm also very interested in having these moments of having a dry approach. Because I think that when the work is relatively unfriendly in that way, it can just open up a space for something else to happen. So the photos can be quite dry, the writing can be quite dry, but a lot of it is about creating a space through that. I'm not talking just about simple sentences, because Every Day Is for the Thief is built from simple sentences, but is not dry at all. I'm talking about decisions that we make about how often to return to a subject, or how long to hold a thought, or how much to slow down the spin on the rotation of the narrative—you know?
Decisions like that and the relative unfriendliness of the narrative of Blind Spot is definitely something that . . . well I don't know if I've achieved what I'm after, but it's something that is interesting to me as my own style develops four books in. And I think that Every Day Is for the Thief is a lot easier to read as well, and the images are much easier to get a hold of than some of the ones in Blind Spot, where you could just sort of look at them on the surface and say, "Well, so what? What's happening here? Nothing."
__________________________________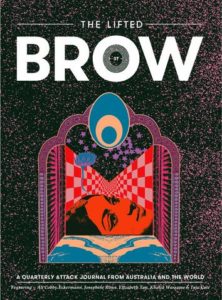 This interview originally appeared in The Lifted Brow #37.
---