Tara Westover on Rachel Cusk, Jennifer Egan, and Madame Bovary
Rapid-fire book recs from the author of Educated


Welcome to the Book Marks Questionnaire, where we ask authors questions about the books that have shaped them.
This week, we spoke to the author of Educated (out this week in paperback), Tara Westover.
*
Book Marks: Favorite re-read?
Tara Westover: At this moment, probably The Sense of an Ending by Julian Barnes. I read it for the first time a few years ago, and I have read it several times since. I never tire of it; his language and point of view are just so captivating. It is a book full of beautiful ideas.
BM: A book that blew your mind?
TW: I recently read Playing with Reality, a short book by the famous British psychoanalyst D.W. Winnicott. That book is about so many things, but at its core I suppose it is about early life and development—the habits we develop early on that define how we relate to ourselves and to others. A truly mind-blowing book!
BM: Last book you read?
TW: Last week I read H is for Hawk by Helen Macdonald for the second time. It was even better than I remembered it being.
BM: A book that made you cry?
TW: A memoir called Why Religion? by Elaine Pagels. Pagels is a scholar of ancient religious texts and philosophies. She suffered great losses in her life, and in her memoir she brings together her personal biography and her scholarly expertise, delivering a beautiful and thoughtful book about loss and meaning. I cried at several passages. Such a beautiful book.
BM: What book from the past year would you like to give a shout-out to?
TW: Well, technically it's from this year, but I just got my hands on an advanced copy of Jennifer Egan's new book, The Candy House. It's a novel about technology, and it is a companion to her Pulitzer Prize-winning novel, A Visit From the Goon Squad. It does not disappoint. Egan is such a marvelous and inventive writer. I'm a huge admirer.
BM: What's one book you wish you had read during your teenage years?
TW: Allison Bechdel's Are You My Mother? Although it's doubtful I would have understood it.
BM: Favorite book to give as a gift?
TW: I have become a little phobic of technology recently, as I have noticed the unhealthiness of my relationship with it. A bizarre and brilliant book that I love on this subject is Jaron Lanier's You Are Not a Gadget.
BM: Classic book on your To Be Read pile?
TW: Madame Bovary. Somehow I have never read it!
BM: Favorite book no one has heard of?
TW: It's quite possible that lot of people have heard of it, as I'm sure professors are assigning it in psyche classes, but last year I read Tali Sharot's The Influential Mind and I can't stop thinking about it. I love books about the mind, books that ask us what sort of creatures we are, and this is one of the best contemporary books on that subject.
BM: Book(s) you're reading right now?
TW: The other day, I found a book in my apartment which I had never seen before, and have no memory of buying. It was Second Place by Rachel Cusk. I opened it and read the first sentence and could not believe how beautiful it was. Cusk is an incredible writer. I am so grateful to whoever left it at my house!
*
Tara Westover was born in Idaho in 1986. She received her BA from Brigham Young University in 2008 and was subsequently awarded a Gates Cambridge Scholarship. She earned an MPhil from Trinity College, Cambridge, in 2009, and in 2010 was a visiting fellow at Harvard University. She returned to Cambridge, where she was awarded a PhD in history in 2014. Educated is her first book.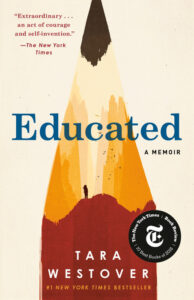 Tara Westover's Educated is out this week in paperback from Random House
*
---