Tales of Medical Gaslighting: Chronic Pain, Sexism, and More
A Conversation Between Caren Beilin and Amy Berkowitz
Caren Beilin's new book, Blackfishing the IUD (Wolfman Books, 2019), is a memoir about reproductive health and the IUD, gendered medical gaslighting, and activism in the chronic illness community. Beilin considers the copper IUD's role in triggering her sudden onset rheumatoid arthritis. She shares her own research and patient testimonies that suggest the copper IUD is triggering various illnesses in women.
In this interview, originally conducted for the Blackfishing the IUD podcast (produced by Wolfman Books and executive producer, Claire Mullen), Beilin speaks with Amy Berkowitz, whose memoir Tender Points was recently rereleased by Nightboat Books. Tender Points details Berkowitz's experiences with fibromyalgia, a condition characterized by chronic pain and fatigue that hasn't always been recognized by the conventional medical community. The interview has been edited for clarity and length.
*
Caren Beilin: I wonder if I could just ask you to say a little bit about what fibromyalgia is and this moment when you decided to write about your disease.
Amy Berkowitz: I wrote Tender Points because I wanted to untangle this puzzle that I was experiencing in my life. When I was 21, I came down with vulvodynia, which is chronic unexplained vulvar pain. It resolved in a couple of years, but then, after an experience where a doctor was really nasty to me and I confronted her, I went home that night shaking and had a flashback to being sexually assaulted by my pediatrician when I was a kid.
The next day I woke up with pain all over my body that was diagnosed as fibromyalgia, which is pretty much that, it's pain all over your body.
It can feel different for different people. My experience with it is best described as [feeling like] I had a really hard workout yesterday, even if I didn't exercise. I was always really interested in the connection between my chronic pain and my experience as a rape survivor. I love thinking about [Cindy Patton's idea of] reclaiming the conspiracy, or at least that's how I think about it, because I developed fibromyalgia the morning after I recalled being raped as a child. You want to tell me that's a coincidence? Okay, you can tell me that, but it's not a coincidence, and the fact that I can't medically explain to you what happened isn't that much of a concern to me—I know what happened.
It took me a long time to feel ready to write about it because it's a coming out as a chronically ill person. Then, for me, also a coming out as a survivor of sexual assault. It was scary because it's not something that I hide, but it's also not something I try to foreground.
I was in a car accident in 2013. Thankfully, everybody survived and we were just scratched up. But the car flipped, we totaled the car, and we very nearly died. After that I was like, okay, it's time to write the book. I might as well be dead. I have to do it.
CB: One of the things that I was so interested in, and that I thought was so delicate about the book, is that you are insisting on something that's really complicated and difficult, and then at the same time not complicated for you. There's something really not complicated about remembering your assault and then waking up with pain.
You were asking people to hold a complication which is that, yes, fibromyalgia is real even though some doctors don't treat it as if it is real. It's so overlooked, but it is connected to trauma.
AB: It's something that makes everybody a little uncomfortable. It especially makes many people with chronic pain uncomfortable for me or for anybody to insist on the fact that it could be related to emotions or something mental or psychological or traumatic. Because of that fear, because of this history we have of dismissing anything related to emotions or psychology or trauma as hysteria, as not real, psychosomatic, being thrown out as nonsense.
That's our job, to connect everything and to say that everything is actually the same thing or somehow can be made into that through the force of seeing or adjusting.
But your brain's a part of your body, it's not a separate thing. If you experience a trauma, you're going to have physical changes in your brain and those physical changes are going to affect the rest of your body. I'm not a scientist but that seems pretty easy to figure out. But I understand that people aren't necessarily comfortable just sitting with that because of all of the work we've had to do historically to prove that we're not crazy and it's not"all in our heads."
Can I share with you this experience I had many years ago with an online illness group?
CB: Yeah.
AB: This is really reminding me of it, and specifically reminding me of how beautiful and necessary a space it was. Before I had fibromyalgia I had vulvar vestibulitis, which is chronic vulvar pain. I was 21 and I had just started seeing my first serious partner and I was devastated. I thought I'd never be able to have sex again and the doctors I was seeing—one told me the only solution was surgery, which didn't seem to be a good idea. He literally said, "Cut out the nerves that feel the pain." Like, what?! And the other one was just sort of creepy and didn't seem invested in helping me.
Then I found this group, and it was all of these women who were having the same problem that I was, and they were sharing solutions and sharing their grief about it. Sharing what worked, supporting each other, and I was getting all of this medical advice that no doctor I had seen was able to provide.
It's kind of amazing how much empirical medicine is actually practiced on these message boards. And at the same time they're seen as a totally unsubstantial source of medicine and healing. Any doctor would just make fun of you for getting advice on a message board, I guess because they don't understand that there's literally nowhere else to get that healing.
CB: It's very striking the different approaches and ways that one might find on there, outside of the realm of conventional medicine that is often really invasive, like cutting off the nerves or something like that. Have you found doctors who understand that?
AB: I think so. Right now I'm not, knock on wood, having health problems that I need to seek treatment for. I still have fibromyalgia, but I manage it. My gynecologist is great, never doubts anything I say. After our first appointment, I found out I had an ovarian cyst.
She sat down and said, "I just want to make sure we sit for a minute and you ask me any questions you have, because I know that you're processing a lot and I want to make sure you have the time to use me as a resource and make sure all your questions are answered before I leave." No doctor has ever said that to me before! So that was a really special moment. And I'm laughing because of course it shouldn't be, but. . .
CB: That's really beautiful.
AB: I'm so curious because you could have written a book that's about the IUD, RA [rheumatoid arthritis], your experience with the IUD and RA, other people's experiences. And you did, but it's also about Nazis, and Deleuze and Guattari, and bookselling. I really enjoy how varied it is and how we get to see everything contextualized in your life and the world at large, but I want to hear your thoughts about taking this approach.
CB:I don't know if I set out to do that. In fact, I think I set out like, I'm so mad I want to write a book that warns everybody about the IUD and that it might trigger autoimmunity or, if not that, cause depression, anxiety, joint pain, and other health problems!
The big thing was reading J.A. Baker's book, The Peregrine, the classic birdwatching book from the 1960s that's been reissued, which I was pursuing for completely different reasons—just something that had been on my list.
I was reading and loving it, and then all of a sudden I began wondering,What is the deal with this guy? This guy is amazing—who was he? Then I read his little bio and it just devastated me! It was just something like, "John Alec Baker wrote The Peregrine, but suffered so badly from RA that he couldn't ever really write again, and then died in pain."
I want to connect all the various ways that women are hurt by men, and patriarchy, and the patriarchy of Western medicine in our society.
And something happens I think when you get diagnosed, where all of a sudden your disease is everywhere.I remember I was with my partner and we were watching Sister Act. And then in the middle of Sister Act, during a hard RA week, there's a line where somebody says, "I hate you. I hope you get RA, because that would be the worst thing that could have ever happened to you!"
AB: Oh my god!
CB: It's out of nowhere, it's just some line in Sister Act! But this stuff just starts happening when you have something. I've been loving The Peregrine, and now I'm just so horrified; it is the most scary thing to be reading this beautiful writer, and to know that he couldn't even write anything again because he was in so much pain. I wasn't far away from my pain at that point, I was really close to it. I felt really scared and definitely closed that book and was like, "Never."
And then maybe a month later the writerly side of me—that's like, I'm so mad this is happening to me—thought I might as well do something, just use this feeling to touch my terror, because then I can actually think, or feel, or write, or something. I had some creative energy around it and I started writing journal entries about The Peregrine, just trying to write like The Peregrine because it's beautifully written.
At some point I sat at my desk and never looked at those journal entries again, and was like, I know what gave me RA: it was the copper IUD! And I started practicing saying, "I know this and I'm warning you too, and I'm going to blackfish this thing."
That's the writer's mind. That's the poet's mind. That's our job, to connect everything and to say that everything is actually the same thing or somehow can be made into that through the force of seeing or adjusting. For Tender Points, did you have to plan a way to write it that would work for you?
AB: Yeah, the way that worked for me was similar. It was like, I want to connect my rape to my sickness, but I also want to connect all the various ways that women are hurt by men, and patriarchy, and the patriarchy of Western medicine in our society. I knew it had to be an accumulation of fragments, so I started this Google doc and started throwing things into it.
It was very helpful because I would keep scrolling down, and if I wrote something about my assault, for example, that was very scary for me to look at I would just be like, okay, let's just scroll up in the document, I don't have to ever look at it if I don't want to. And then I accumulated those fragments, printed the whole thing out, and cut it up.
CB: So it's something about being able to say things quickly and to leave them quickly that's allowing you to say them.
AB: The way I dealt with it was like, it's my choice, I never have to look at this again. It's just a Google doc. It's temporary. 
But back to your readership, this is really the first book about the serious health problems associated with the copper IUD. You must be imagining it getting into people's hands.
CB:I really do have faith in culture as the thing that can change policy—that happens all the time. I am really honored to be in any way part of a change in perception.
AB: It's exciting to think about how these ideas spread. I know somepeople who wrote a little zine about how to provide good care to non-binary patients, and Medicaid approached them asking what their licensing was, saying they wanted to distribute it to all their doctors.
CB: Oh my god!
AB: So there are these sites—I think it's the exception to the rule, maybe—but sometimes medical institutions want to do better. I'm hoping that some of them get their hands on your book.
__________________________________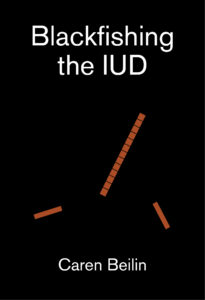 Caren Beilin's Blackfishing the IUDis out now from Wolfman Books.
---