Tired of the subtweets? The peevish reviews? The [gasp] indecorous email sign-offs? Do you wish the literary world would just conduct its brawls out in the open for all to see? Well, now you can fight along at home with Street Writer, Maxwell Neely-Cohen's absolutely wonderful literary homage to late 80s classic video game, Street Fighter.
In Street Writer you can play with one of eight "fighters" who are, in fact, writers: Saeed Jones, Alexandra Kleeman, Chelsea Hodson, Amy Rose Spiegel, Jia Tolentino, Tony Tulathimmute, and Arabelle Sicardi. Once you've chosen your writerly avatar you can set your literary battle against such sacred bookish backdrops as the East Village's KGB Bar, used bookstore Housing Works, and an imaginary "bookstore row" in which Greenlight sits across the street from WORD.
Sure, it's really weird to watch Tony Tulathimutte land a roundhouse kick on Alexandra Kleeman while she holds a book in one hand and punches him in the nuts with the other but… it's also super-fun. And holy shit we could all use a little mindless fun right now.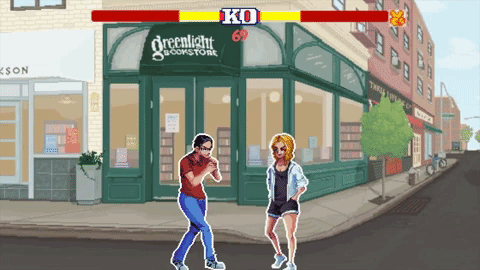 Neely-Cohen began work on the game back in 2017 "as part of a show that never happened, for an art institution to remain nameless" and the work continued through to 2019. Neely-Cohen tells me part of the inspiration for Street Writer came while hanging out at KGB Bar: "It suddenly occurred to me how much the decor looked like one of those levels." He continues: "It was originally meant to be a surprise to show my friends, so I kept it under wraps for a long time, even from the folks in the game."
Frankly, the release of this delightful diversion couldn't come at a better time—THIS is the literary community we need right now, in the middle of this pandemic winter.