Steph Cha on Choosing the Best of Mystery and Suspense During an Unprecedented and Harrowing Year
"If mystery writers are paying attention, it should have a transformative effect on the genre."
When The Best American Mystery Stories series began in 1997, I was eleven years old and an eager consumer of the criminal and the macabre. I'm glad I spent my childhood without the Internet for many reasons, but one of them is that I didn't have access to Wikipedia's list of serial killers by number of victims. Instead, I savored whatever I could get from my closed universe of resources: reading materials chosen by elementary school teachers and my easily scandalized Korean immigrant mother. I treasured my mass-market collection of Edgar Allan Poe stories, and over twenty years later, I remember "The Lottery" by Shirley Jackson and "The Landlady" by Roald Dahl—a creepy story about a boardinghouse owner who makes taxidermy  of  her  handsome  male  guests—better  than  I do whole months of my childhood.
My sixth-grade teacher, who read us the Edgar-winning murder story by our favorite children's author in class, explained that the taste of bitter almonds in the narrator's tea came from cyanide. I later subjected this teacher to my first (and considerably less subtle) attempt at prose fiction, the opening of a story about blood-spattered walls. It was really more of a mood piece than a story, without the benefits of a plot or even any characters I can recall, but I did delight in the details.
Over the past 24 years, I've learned just about everything I know about crime fiction, storytelling, and the relationship between our twisted imaginations and the terrifying, beautiful, unpredictable real world. I've glutted myself on mysteries and thrillers and written four crime novels and a handful of short stories of my own. I've reviewed books, served on judging panels, edited the noir section of the Los Angeles Review of Books, and worked with friends and students on crafting their stories, taking every opportunity to promote and champion this glorious, versatile, dynamic genre.
And almost that entire time—every single year since the Backstreet Boys' US debut and the film adaptation of L.A. Confidential, up until mid-2020—my predecessor Otto Penzler presided as the first and only series editor for The Best American Mystery Stories. He worked with some of the greatest and most famous names in crime fiction, who offered their time and expertise as guest editors: Robert B. Parker, Sue Grafton, Ed McBain, Donald E. Westlake, Lawrence Block, James Ellroy, Michael Connelly, Nelson DeMille, Joyce Carol Oates, Scott Turow, Carl Hiaasen, George Pelecanos, Jeffery Deaver, Lee Child, Harlan Coben, Robert Crais, Lisa Scottoline, Laura Lippman, James Patterson, Elizabeth George, John Sandford, Louise Penny, Jonathan Lethem, and C. J. Box. The resulting anthologies showcased the talents of hundreds of wonderful writers—I'm sure many of you have favorites you first encountered through this series.
I am proud to introduce myself as the second series editor of this illustrious anthology, which, in the spirit of new beginnings, will now be known as The Best American Mystery and Suspense. The intention is the same—to share the best American short crime fiction published in the previous calendar year. The execution, of course, will be different, for the very simple reason that I am a different editor. We know the world's fastest runner, the world's richest man, but when it comes to art, there is never an objective best. Every reader, from your mother to the head of your favorite publishing house, looks for quality according to their own taste, and taste inevitably folds in life experience and personal bias in addition to aesthetic preference—an endlessly wide-ranging variable in itself, even if we pretend that others do not exist. You might see more stories by women and writers of color (both categories I happen to belong to) in this series going forward, but not because of some secret agenda to sacrifice quality for diversity. I gravitate toward some stories over others because I have opinions, a worldview, and a pulse.
When it comes to mystery and suspense, I tend to like stories that use crime—acts of transgression and violence that both occur under and create extreme circumstances—to highlight character as well as social and, yes, political realities. I understand that some people prefer to keep their reading segregated from politics, but storytelling is inherently political, even when fiction is methodically scrubbed of real-world context. Crime reveals the cracks in our characters, our relationships, our communities, our countries, and it is this quality that drew me to the genre in the first place. Of course, I also read for entertainment, and I enjoy juicy plots and pulsing thrills and rich, interesting writing. The stories in this book were chosen for a multitude of reasons—the bottom line is that they moved and excited me, and I'm pleased to be able to share them.
The year 2020—I don't have to tell you—was unusual and traumatic. COVID-19, a cold, faceless killer, took over 300,000 lives in the United States alone, and many of us spent most of the year in social isolation (I am still in lockdown as of this writing, and the death toll has passed 500,000). The pandemic came with widespread job loss and depression, and in its midst, we witnessed the fatal consequences of structural racism in the deaths of Ahmaud Arbery, Breonna Taylor, and George Floyd, Black Americans killed by white vigilantes and police officers. We closed the year with a contested election and a lame-duck president resisting a peaceful transfer of power, sowing the seeds for a violent attack on the Capitol. The year of Everything Going On Right Now, 2020 was full of desperation and injustice and crime, and if mystery writers are paying attention (and I know we are) it should have a transformative effect on the genre. All this tragedy and terror, all this pathos and story—we are already processing this crude ore so we can understand our new world, and we will do what we do and turn it into words.
While Everything Going On went on, our crime writers got to work and produced an outstanding array of stories. As this was my first year editing for Best American, I can't say how the 2020 harvest compares to others, but I was deeply impressed with the level of artistry on display. I reviewed countless short stories—I don't have a tally, but if you had an eligible story in a mystery publication or anthology last year, I can almost guarantee you that it got some level of consideration (the exceptions, this year and going forward, were stories by me, my guest editor, and our direct family members). It was a challenge selecting fifty to share with my guest editor, let alone the twenty we chose for the final anthology.
When Nicole Angeloro at HMH approached me about this position, I had very little idea of where to find all these stories. I knew that my predecessor and his assistant reviewed thousands every year, and I was intimidated, not only because I gave birth during a pandemic and wasn't sure when I'd find the time, but because I just didn't know where to look. I am grateful to Nicole for getting me started by giving me a list of sources and hooking me up with publications like Mystery Tribune, Ellery Queen Mystery Magazine, and Alfred Hitchcock Mystery Magazine. I also knew to seek out Akashic's excellent noir series. This initial batch kept me occupied until September, when I was announced as series editor and started soliciting submissions.
I started receiving stories, journals, and anthologies from both writers and editors, and used individual submissions to seek out more journals and anthologies. I also combed through lists of short story collections and literary journals without a particular genre focus, contacting editors to submit stories that might fall under the broad crime/mystery/thriller/suspense umbrella. I reviewed every individual story submitted by an author or editor (I say "reviewed" because I didn't read every single one from beginning to end, but I did at least skim most of them) as well as many stories I sought out on my own. Reading the traditional legacy sources, I began to understand why this series has tilted so heavily male and white. Anthologies and newer publications, many of them online, seem to feature a more diverse set of voices, and interestingly, I found a wealth of superb crime stories by women in mainstream literary journals.
As I read, I shared my favorite stories with this year's guest editor, the brilliant, multitalented thriller luminary Alafair Burke. She's the internationally best-selling author of the Samantha Kincaid and Ellie Hatcher series, as well as several stand-alone novels, including the recent powerhouse domestic-suspense trifecta of The Ex, The Wife, and The Better Sister—three of the most compelling page-turners I've read in the past several years. Alafair is also an accomplished attorney and a professor of law at Hofstra University, where she teaches criminal law and procedure. I have a legal background too, and let me tell you, that is a monstrously impressive day job. I feel lucky that she agreed to work with me on this first anthology—it was an incredible honor and a lot of fun too.
There are so many things we've missed over the past year, but one of them, for me anyway, is the casual pleasure of reading something great and talking about it with other book people. This was once a constant in my life that I look forward to getting back, and it was nice to talk stories with Alafair, who is a friend and a reader and writer I deeply admire. We both loved many more stories than we could fit into this single volume, and they gave us a lot to discuss. After several enthusiastic conversations, in which we extolled the merits of dozens of stories, Alafair selected the twenty you find printed here. You will also find a list of thirty honorable mentions at the back of the book. These stories are all worth tracking down, and any combination of them would have made a fine Best American anthology.
Thank you for reading and writing and keeping this genre we love alive and vibrant and thriving.
___________________________________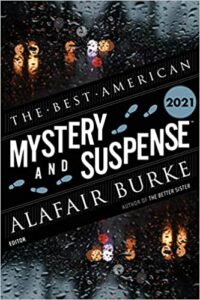 Foreword by Step Cha to THE BEST AMERICAN MYSTERY AND SUSPENSE 2021, by Alafair Burke (guest editor) and Steph Cha (series editor). Copyright © 2021 by HarperCollins LLC. Reprinted by permission of Mariner Books, an imprint of HarperCollins Publishers LLC. All rights reserved.
---