Soccer-Playing Bees? Elephant Joy? What Animals Feel
Henry Mance on Humanity's Dwindling Claims to Superiority
There's a famous psychology experiment where children are left in a room with one marshmallow each. The children are told that if they wait and don't eat it straight away, they will be given a second one. On average, preschool kids resist for less than ten minutes before eating it. It showcases a quintessentially human experience—our struggle to control our desires and plan for the future.
Except how quintessentially human is it? A comparable test was designed for chimpanzees, who were shown rewards, which would accumulate next to them, if they waited patiently. The chimpanzees performed roughly as well as children—some resisted for up to twenty minutes. They even used the same tactics as children, distracting themselves with toys so they didn't eat the treat. Meanwhile, an African grey parrot, told to "wait" for a tastier nut, managed to withstand temptation for up to fifteen minutes. Such experiments suggest that at least some animals have a sense of the future—they can evaluate different options and exercise what in humans we happily call free will.
Over the years thinkers from Aristotle to Karl Marx have tried to identify things that only humans can do. We were once the tool-making species. Then Jane Goodall saw a wild chimpanzee shaping a stick to extract termites. It's now clear this was not a one-off: indeed there's a theory that cobras evolved to spit as a defense against tool-wielding primates. Other animals don't just use tools, they also make them. In recent experiments New Caledonian crows assembled tools out of multiple parts, in order to take food from a box. Using tools is something they seem to enjoy.
Other animals grasp mental concepts too. Kea, large parrots native to New Zealand, have an instinctive understanding of probability. Presented with two jars containing a mix of treats and non-treats, the birds chose not the jar with the most treats, but the one with the highest ratio of treats to non-treats. The kea also realized when the researcher selecting from the jars tipped the scales, by always picking treats. The size and shape of the birds' brains are much less limiting than humans once imagined. Some parrots and chimpanzees are capable of using words: after being taught the words "green" and "banana," a chimpanzee devised the phrase "green banana" to refer to a cucumber. Prairie dogs have different alarm calls for coyotes, dogs, humans and red-tailed hawks.
What's more, when presented with an object that they have never seen before, they independently come up with the same alarm call to describe it. Complex communication stretches beyond mammals. Bumblebees have a method for communicating to each other the location of nectar effectively a form of dance inside the hive, which plays on the position of the sun. They can remember different locations over a number of days. Experimenters have even set up a form of "bee football": in a task where bees receive sugar water for putting a ball in a hole, a bee who has never done the task before can find a more efficient route to the goal. This is a task that bees will never have experienced in the wild.
Yet "there seems to be some sort of appreciation of the desired outcome, rather than simply copying," says Lars Chittka, a psychology professor at Queen Mary's, University of London. Spiders use all eight of their legs spinning webs, but regularly lose legs and still manage to spin similar webs. One interpretation is that they have a mental image of what they are trying to construct and adapt their behavior to the circumstances. Their brains may be small, but they may be more efficient at using what capacity they have.
Are animals individuals? Every pet-owner knows the answer.
We know, with some certainty, that some animals can recognize themselves in mirrors, a sign that they understand their own existence, itself a prerequisite for them understanding the emotions of fellow creatures. Animals can learn useful behaviors and pass them on: when foil-capped milk bottles were introduced in Britain, blue tits and great tits worked out how to peck them open, and the practice spread across the country. From this form of learning and imitation, the same species can develop different cultures. Because of their environment, or simply experimentation, one group of elephants or whales may do things differently to another group—echoing the way that one human society differs from another. So other animals are smart, but what can they feel? We cannot get inside a gorilla's head, just like we cannot get inside another human's. We cannot ask them what they feel. What we can do is observe animals' behavior and study their bodies, free from an assumption that they are limited beings. We can also try to dig into the rationale behind their behavior, for example using tests that force animals to choose and therefore reveal their preferences.
Humans experience pain through specialized nerve endings, a central nervous system and the neocortex part of the Other mammals have similar structures. Birds have a part of the brain that seems to perform equivalent functions. When subjected to a painful stimulus, many animals will learn to avoid it—or will pay a cost to access pain relief, just as we will drag ourselves to a pharmacy when a headache gets bad enough. The evidence now takes us most of the way to concluding that animals have emotions. When African elephants encounter one another after periods apart, they measure their greeting depending on whom they are greeting and how well they know them. "I have no doubt even in my most scientifically rigorous moments that the elephants are experiencing joy when they find each other again," wrote Cynthia Moss, one of the pioneering researchers into elephant behavior. "It may not be similar to human joy or even comparable, but it is elephantine joy and it plays a very important part in their whole social system."
As recently as 1987, the Oxford Companion to Animal Behaviour stated that animals were "restricted to just a few basic emotions": fear, maybe anger. I had university contemporaries like that. But if grief is defined as acting differently following the passing of a relative, then African elephants can be said to grieve. In 2018 a baby orca died near British Columbia; her mother repeatedly dived down into water to retrieve her. It must have been clear to the mother that her calf was dead, nonetheless she carried her baby for at least seventeen days and 1,000 miles. Other orcas and dolphins have carried dead calves for up to a week. We do not know how widely such behavior is found in the animal world, but maternal instinct is not even limited to mammals: some snakes have been seen to guard their young.
Fairness might seem the kind of complex calculation that is limited to humans. But there are logical reasons why other animals would have evolved to co-operate, rather than to risk resentment among their fellow animals. Some primates and dogs show an understanding of fairness—sharing food, for example. Indeed, we may not even be the only species willing to act altruistically towards members of other species: the researcher Joyce Poole documented how a female elephant stood guard next to a herder with a broken leg. (To be fair, the elephant was the one who had broken it, albeit accidentally.)
Can animals have swings? Humans respond differently to ambiguous stimuli, if they have received positive stimuli before—which is why people buy lottery tickets when they're having a good day. Similarly, pigs become more optimistic—eagerly exploring new objects, for example—if they are well housed with plenty of straw and space. Bees can act optimistically too.
Are animals individuals? Every pet-owner knows the answer. One of my favorite examples came from the Chinese artist Ai Weiwei, who said of the forty or so cats in his Beijing home: "One knows how to open doors … if I had never met this cat that could open doors, I wouldn't know that cats could open doors." I have lived with several cats, only one of whom enjoyed playing fetch with scraps of paper thrown across the room. But they were all undoubtedly individuals.
In human psychology, personalities are sets of behavior that remain stable over time, and which can be contrasted to the mean in the population. Some decades ago, observing great tits in the Netherlands and wild bighorn sheep in Canada, researchers started to realize that some individuals had equivalent sets of behavior—they were, for example, bold or aggressive. The very word personality seems specifically human. Some scientists are so instinctively uncomfortable with the idea of animal personalities that they prefer absurd workarounds such as "behavioral syndromes." But individual variation is how evolution works.
"We think that humans are special. If you look at the biological underpinning of behavior, we are just like many other mammals, and many other mammals have similar underlying systems to, for example, fish," says Niels Dingemanse, a behavioral ecologist at Ludwig Maximilian University of Munich, and one of the pioneers of animal personality research. "If we see that fish have exactly the same stress response system as humans, we say, that's amazing. It's not amazing. If there's an optimal way to evolve something, why would it not evolve in multiple species?"
The other essential part of closing the gap between ourselves and other animals is to understand that we are not as smart as we think. In a 1977 classic study, shoppers were asked which of four pairs of nylon tights was the best quality. Although all the pairs were identical, the shoppers were much more likely to say the pair on the far right was the best quality. asked why, they talked about the tights' fabric; no one mentioned their position. We humans delude ourselves about our own instincts.
Many of us find it instinctively easy to accept similarities in intelligence, emotion and social relationships between humans and other mammals, but harder to extend the principle to fish, birds and insects, who look so different to us. Yet some traits and abilities may go further back in the evolutionary tree than we had imagined. In 2016 Todd Feinberg, a neurologist, and Jon Mallatt, an evolutionary biologist, proposed that it's not just humans who have a sense of experience, it's not even just mammals and birds—it is every animal with a backbone. Consciousness, they argue, has existed for at least 520 million years, long before the forests grew and mammals evolved. It has existed since the first fish-like vertebrates swam in the oceans of the Cambrian period.
Human superiority is not what we once thought.
Consciousness is the slipperiest of concepts; trying to pin it down is like trying to solve a jigsaw with the pieces the wrong way up. Suffice to say that consciousness involves an ability to bring together information from different senses, and to process information about the world and the animal's place within it. Feinberg and Mallatt note that fossil records show early vertebrates had high-definition eyes, whose images were then processed by a more sophisticated brain. They could form a picture of the world. The stimulus for this appears to have been the evolution of the first predators—worms that could eat other worms, at the bottom of the ocean; this created "an arms race" for greater senses and processing power. Some invertebrates—including insects, crabs and octopuses—seem to have evolved consciousness separately from vertebrates. It means that there is such a thing as seeing the world as a crow, a cod or a crab. A few decades ago, this might have been a ludicrous idea.
Occasionally marketers organize match-ups between an Olympic swimmer and a shark, or a pacey sportsman and a cheetah. The humans lose, obviously. There are countless things that animals can do better than us: dogs can detect the presence of diseases, including coronavirus, and turtles navigate thousands of miles (although they often get lost on the way, like humans with sat navs). This principle extends further. Birds, fish, reptiles and amphibians have receptors for ultraviolet light. Hummingbirds may be able to see colors that we cannot even imagine. Is it possible too that animals have experiences and emotions that we do not? Or that the intensity of their experiences might be stronger than ours?
Human superiority is not what we once thought. African elephants have many more neurons in their brains than we do; other mammals also share our brain structure. Fish, birds and insects have fewer neurons, and do not have a cerebral cortex, but their brains do appear to be capable of performing many analogous functions. Now we know that parrots and octopuses have developed intelligence, we can no longer judge animals by how genetically close they are to humans. One day, if or when humans are extinct, other species—perhaps descendants of rats or crows—may even evolve into ones that dominate the planet as we do today. To quote the American conservationist Aldo Leopold: humans "are only fellow voyagers with other creatures in the odyssey of evolution."
__________________________________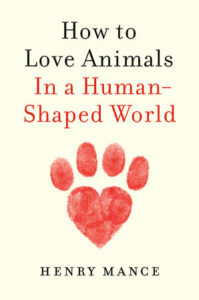 From How to Love Animals in a Human-Shaped World by Henry Mance, published by Viking, an imprint of Penguin Publishing Group, a division of Penguin Random House, LLC. Copyright © 2021 by Henry Mance.
---