So You've Decide to Write: What I Learned Editing Hunter S. Thompson
Terry McDonell on the Origin of 'Gonzo' and Late Night Calls from Hunter
There are conflicting stories about the first use of the word gonzo to describe Hunter's journalism but all credit fellow journalist Bill Cardoso. Maybe it was on the press bus during the 1968 New Hampshire primaries, maybe it was in a letter praising Hunter's 1970 Kentucky Derby piece, maybe it was just one night in a bar, but it was definitely Cardoso who used gonzo first, and he and Hunter agreed on that. It came to mean more than the lack of objectivity in the amped-up first-person voice that Hunter's work personified, but Cardoso would say only that he meant the word scatologically—as in crazy shit—and that he had used it many times before he applied it to Hunter's journalism.
Cardoso rose at the Boston Globe to edit its Sunday magazine, quit to open a jazz club in the Canary Islands, then returned to journalism and famously become the most unfamous practitioner of the New Journalism among the New Journalists. I wish that sentence were as sharp as it is true in the way Cardoso wrote that the Tournament of Roses Parade on New Year's Day in Pasadena was "the meeting ground of Babbitt and Costello."
Cardoso and the journalist and promoter Harold Conrad painted layers of polish on the word hipster—or, as Cardoso sometimes put it when describing himself, wordhipster. Conrad was less unfamous, since his friend Budd Schulberg had based the cynical fight press agent in The Harder They Fall on him, and Humphrey Bogart had played him in the movie. Conrad introduced Cardoso, Thompson, George Plimpton and Norman Mailer to Muhammad Ali, and put them in ringside seats. His idea was that if you get important journalists to cover the fights, the rest takes care of itself—especially after a toke or two.
All of the writers mentioned above wrote careful, crafted pieces that came in clean. Unsurprisingly, not Hunter. Likewise those same writers helped to speed the editing process while Hunter turned it into theatre, saying that there were far fewer good editors than good writers, and that he had learned some nasty lessons from their incompetence. He had a riff about it, about how he would suck editors into his pieces as conspirators, all of us wanting to prove ourselves good enough—hip enough—to edit him.
As a young writer, Hunter had read his writing aloud as he worked. Later it was easier hearing friends read it. He said it was a technique he used to see how his sentences played, and that he had taught himself to write by reading The Great Gatsby aloud as he typed out the entire novel. When he got you on the phone in the middle of the night to listen to someone in his kitchen read to you what he had just written, all you could say was that it sounded good and that he should send it to you.
"Ho ho," he'd say. "So you can fuck it up before it's finished?"
But he knew he needed editing. When he filed, the pieces came in as a series of false leads. They were good, sometimes flashy, fragments, but they didn't connect. So you ended up having to string them together to make a piece, and you knew the work in the kitchen with his friends was valuable, even if it stretched out the deadlines. For Hunter, if he had pages at dawn, it had been a good night.
"A weather report can make a good lede. Strange behavior amplified by dramatic weather is better…"
Hunter loved weather and used it in everything he wrote. Hells Angels with their stripped Harleys rolling past you on the highway like a burst of dirty thunder. Palm trees were lashed by wild squalls from Florida to Hawaii. His ledes were often weather reports from wherever he was writing. It was what he called "fundamental reporting," before you got to "the Wisdom." Lightning at night meant fear in the morning.
There were hurricanes of changes and details of weather throughout the pieces. Freezing cold outside; patches of ice on the road and snow on the sidehills in New Hampshire. The rain and gray mist at Super Bowl VIII in Houston. A big window in New York City looking out on the savage, snow-covered wasteland of Central Park. The paper in his notebook limp with the humidity at 3:55 on a hot, wet Sunday morning in Saigon.
Strange behavior set up and amplified by dramatic weather was even better. Hunter driving in a drenching, blinding rain on US 40 east of Winnemucca, his fingers like rotten icicles on the steering wheel. Hunter in a fast red car on a moonless night in a rainstorm roaring through a flock of sheep on the sleazy outskirts of Elko. It was like running over wet logs. Horrible, horrible . . .
Way too many young writers tried to imitate Hunter, and eventually as an editor, I became very tired of gonzo. I mean just hearing the word, but I could never get enough weather. I even loved the stretched metaphors: Hunter enduring a shitrain of perjury that led to a blizzard of strange publicity. Weather, I told other writers, use it as often as you can.
Head here to read more writing advice from Terry McDonell.
__________________________________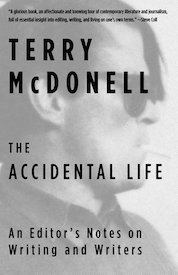 Adapted from The Accidental Life: An Editor's Notes on Writing and Writers, by Terry McDonell (who is a cofounder of this website), published this month by Vintage. TerryMcDonell.com.
---