So You've Come Out to Yourself as Genderqueer. What's Next?
A Love Letter to Twentysomething Me
Notes to self
Hey you.
I know you just graduated college and are terrified about the world beyond school, but I wanted to drop in to give you some reassurance and a touch of spiritual guidance. I'm gonna do my best to be Oprah for you: to hold your hand and comfort you with my life wisdom, to let you cry against my perfect, billionaire bosom.
I want to start with lipstick, because where else would I start? These days, you keep a compact in your book bag so you can apply makeup on the go. You've started doing this new thing where you put a little Chapstick down and then lipstick, because the resulting red is a touch more subtle. Subtlety is something you're learning, by the way. You're cool with being more subtle about your gender now, not because your gender means less to you, but because you've emancipated yourself from the idea that you always have to prove something to other people. You've finally begun to realize that you don't owe anyone shit, and you don't have to wear bright lipstick all the time in order to demand to be seen and heard and validated. You only wear bright lipstick when you damn well please—which, to be fair, is still pretty often.
It's surprising how well you're doing these days. I mean, your life is still messy because you're changing careers for the fourth time in as many years, but you're holding it together pretty well, all things considered. Weathering the turbulence like a pro.
The coolest thing about where you're at now is that your identity has begun to feel sorta, I dunno, natural? You've done the internal work of naturalizing your own gender to yourself. You've told yourself enough times that you are beautiful and worthy of love, and at some point recently, you started to actually believe it. It'll take a few more years for you to understand this, but the thing about humans is that we have to learn everything at least three times. First, we learn it intellectually in our brains. Then, often months or years later, we learn it emotionally in our hearts. And then, sometime after that, we learn it instinctually in our guts. Your brain knew that your gender was beautiful in college. Your heart learned it a few years after that. And at the tender age of twenty-seven, your gut, your instinctual self, your subconscious thoughts, have started to get on board with the idea, too. Which means you're actually starting to feel happy on the regular.
You've learned that strength doesn't look like never getting hurt; it looks like being able to recover more quickly when you do. It's not about whether you fall—it's about getting better at picking yourself back up.
Writing a book has helped immensely. You were holding on to a lot of unsorted, messy baggage when it came to your identity. In the process of writing a book, you've forced yourself to pull those old suitcases out of the attic, dust them off, dump them out on the carpet, and begin the arduous process of sorting it all out. It's been helpful, edifying, cathartic. You've cried in cafés on at least a dozen occasions; the intensity of your (re)discoveries surprising even you.
But it's also been a bit discombobulating. Thinking about your gender for too long can be like spelling. If you write out any word and then look at it for too long—tomato, paucity, preponderance, disintegrate—the spelling will start to look funny. Are you sure tomato doesn't have an "e" at the end? Are you sure you put all those vowels in the right spot? Does something look weird to you? It looks weird. I don't know why it does, but it does. Does. That's a weirdly spelled word, too. Hm.
Humans are messy. Gender is even messier.
There will still be days when you aren't sure if you've gotten everything quite right when it comes to your gender, but the beauty of who you are now is that you're not really worried about it anymore. So what if you didn't get everything right in this book? So what if your gender changes tomorrow and then changes again twelve years from now? So what if you didn't describe every single facet of your being perfectly? Who you are changes. Humans are messy. Gender is even messier.
You've let go of a lot of your anger, too. You're less angry at people who still believe in the gender binary and more exasperated by them. Like, if they're not gonna get on board, can they at least have the courtesy to get the fuck outta your way? You feel this way toward casting directors and producers and editors and politicians and a lot of people. But fewer people than you think, actually.
Because the world's learning to be better to you. Sure, you still get catcalled when you walk around in New York, but there are literally and figuratively way more people on your team than there used to be. Figuratively, it feels like people are coming around to a world where gender nonconforming people are an accepted part of daily life. Literally, you have an actual team: a literary agent, an editor, two acting agents, two TV writing agents, a movie writing agent, a branding agent, an agent for breathing, an agent for eating, and a separate agent for bowel movements.
You finally stopped fighting the fact that, above all, you are a storyteller. And after a tough stint in DC and a few challenging years in New York, you've admitted to yourself that creating better culture is as important (if not more important) than creating better policy. Policy is formal and on paper, but culture; culture you can feel. So now you make TV and art and written work (including this book) that change hearts and minds and reach further than you fully understand. You're still kicking ass and taking names on behalf of trans and gender nonconforming people, but instead of doing it on Capitol Hill, you're doing it in the Hollywood Hills. Sure, they're both narcissistic cesspools, but at least the Hollywood Hills come with actual pools, too.
Which is to say that your life is kinda, dare I say it, glamorous now? You know lots of really incredible people. You've been to lots of fancy parties. You haven't just walked red carpets, you're actually kind of good at it now. You get seriously texted questions like "hey are u going to Sundance this year?" or "what's ur Golden Globes weekend plans—u going to anything?" and you respond to these questions without your head blowing up. One time, you chatted with Neil Patrick Harris about leg hair.
The bleak news is that your dating life is still a disaster. Gay boys won't touch you with a twenty-foot pole and you don't have the right equipment for straight guys, so you're stuck trying to find all the beautiful bi-/pansexual dudes out there, and even though, statistically speaking, millions and millions of people are bi/pan, bi erasure is real, and finding actual bi/pan guys on dating apps is really hard. So you haven't gotten laid in a lot longer than you'd care to publicly admit.
At this point, your only hope dating-wise is to Mindy Kaling it. You just have to become a national sensation and write a show for yourself where you get to date Chris Messina and Glenn Howerton and Seth Meyers and a bunch of other traditionally gorgeous guys and then everyone will figure out that they actually wanted to fuck you this whole time. That's how it works, right, Mindy? Right?
Every now and then, you will still struggle with silly gender stuff, like going into women's stores on your own. Even in New York City, the supposed center of the queer universe, some women remain supremely uncomfortable when they see you browsing the gowns beside them at Saks Fifth Avenue or Bloomingdale's. They see a male person looking at dresses and immediately think, What are you doing here?
God is genderless, or rather, genderful.
The irony of their what are you doing here glares is that they are actually pretty deserved, but not on account of your gender. They are deserved on account of the fact that, though you talk a good game and pretend very well, you still do not actually have enough money to purchase anything at Saks or Bloomie's off the rack. I mean, you could buy a three-thousand-dollar gown if you wanted to. You'd just have to skip paying rent for a few months. Maybe your landlord wouldn't mind, if you looked pretty enough?
And, obviously, some things about femininity will still annoy you. Like the fact that, even though you only put it on an hour ago, you're already taking off your lipstick because you want a snack, and if you don't take off your lipstick, you'll end up eating it. You're fairly good at preserving your lipstick while eating these days, but sometimes—like when eating a giant Rice Krispies treat, for example—it's not worth it to try.
*
They say that the moral arc of the universe bends toward justice. You're not sure if you always agree with that idea. There are some moments when that feels ridiculous, when it feels like all the evidence is indicating otherwise. But on the good days—when the world is gentle with you and you've managed to avoid hearing about tragedy through the internet—there are certain things in your life that compel you to think it might be true after all.
These days, you feel more connected to your herstory and your community than ever before. You celebrate, claim, and live in community with your transcestors. Their spirits dance in your head, encouraging you, leading you forward, reminding you that you are loved. With each passing day, you are more and more grateful for all the trans and gender nonconforming people who have come before you, how they poured love out of their souls and into the world, often at great personal cost, so you could be surrounded by it. You owe everything you are to Marsha P. Johnson and Sylvia Rivera and Flawless Sabrina and Miss Major Griffin-Gracy and Bamby Salcedo and Joan of Arc and Walt Whitman and Christine Jorgensen and Holly Woodlawn and Candy Darling and Mary Henly and Joseph Lobdell and Jennie June and Billy Tipton and Virginia Prince and two-spirit people and every gender nonconforming person who rioted at Compton's Cafeteria and every trans person who rioted at Stonewall and thousands and thousands and thousands of others.
While you may not have learned their names until adulthood, your trans elders have informed everything in your life. You carry their mantle proudly. They are with you every step of the way. Their brilliance and courage and love are baked into every single word of this manuscript.
Through reconnecting with your community, you've also begun to reconnect with spirituality. Today, you are stronger in your faith than you've ever been. You don't exactly know whether Jesus was the child of God or whatever, and you don't really know if the word Christian is exactly the term you should use to describe yourself, but here's what you do know:
You know that Jesus was dope as fuck. Jesus was a radical hippie who hung out with a band of working-class weirdos, hated the Roman Empire and corrupt religious leaders alike, embraced sex workers and saw their humanity, and wore flowy-fabulous robes perfectly accessorized with strappy leather sandals.
You also know that Jesus was nonbinary. It's kinda obvious to you, actually, at this point. God is clearly too big, too wise, too omnipotent to have an easily discernible binary human gender. I mean, God made all the genders, so clearly God isn't just one. God is genderless, or rather, genderful.
And, according to Christian theology, Jesus is the child of God—God's spirit manifested in a human body that just happened to be male. So Jesus was a genderless, divine soul living inside a male body. Which means that Jesus was nonbinary and a member of the trans community.
The way I see it, either you believe Jesus is the child of an omnipotent, genderless God and was therefore trans, or you're denying the full divinity of Jesus Christ. Boom. Take that, haters.
You also know that going to church when you're back in North Carolina is something you adore, and that you have the best congregation ever. Going to church with Mom when you're home kinda rocks now. She's still singing in the choir, so she heads in thirty minutes before you do to rehearse. Then you roll in five minutes before service and sit in section B, near the middle aisle. You save Mom a spot, and when the choir finishes the anthem, she joins you in the pew. She usually makes it to you in time for the New Testament reading, and she's always back in time to hear Pastor Donna—your black, female pastor (and fellow Dukie!)—give the sermon. The other Sunday, when one of the pastoral interns was giving the sermon, she discussed Eric Garner and #BlackLivesMatter as an example of our duty as Christians to stand with oppressed people. It was fuckin' awesome.
Mom has even learned to goof off a bit during service. You whisper jokes to each other, make each other laugh, and hold hands on and off throughout. Even if you didn't believe in God, you'd still go to church with her, just to make her happy. At this year's Christmas Eve service, she even tolerated your recent edits to "Joy to the World":
Joy to the world
The Lord has come*
Let Earth receive her Queen!
Let every heart prepare Her room
And heaven and nature sing
And heaven and nature sing
And heaven and heaven and nature sing!
* Get it?
__________________________________
What's remarkable about the routine is just how normal the whole thing has become. That you can come to church in a Sunday dress and wedges, pick a seat, and simply enjoy the time with Mom is a reality that you don't take for granted. You know it hasn't always been like this. Church wasn't always a fun place for you to be or a welcoming place for your budding queer spirit. But it also could've been so, so much worse, and for many of your queer/trans friends, it still is.
These days, church is a celebration. Each time you sit together in church—you in your lipstick and dangly earrings, Mom in her choir robe—you are celebrating your love, your perseverance, how hard you've worked and how courageous you've been in transforming your congregation.
The greatest gift is that your sense of self and your spirituality no longer feel oppositional; instead, they feel inexorably linked. In one way or another, you've always understood yourself to be the gorgeous creation of some higher power, and nowadays you know for a fact that She doesn't make mistakes. The words you wrote when you were seventeen ring more true with every passing day: You are fearfully and wonderfully made.
With that spiritual peace comes the ability to reclaim your pain, and the pain of your community, as a blessing. Because, in fact, trans and queer people aren't normal.
Whenever we are afflicted, whenever we fight, whenever we are hurt, we don't bleed blood: We bleed glitter. Arteries bursting with sparkles, our injuries blanket the world around us in shimmering bits of crystal. Our wounds are never in vain, because the moment pain escapes our bodies, it is transmogrified into flecks of gold, of silver, of diamonds and ruby, pearl and opal and sapphire cascading, emerald and tourmaline and amethyst encrusting everything in sight.
So even when we're at our weakest, even if we don't make it, even when the world gets the best of us, it gets the best of us. We are never really gone. We leave so much glitter in our wake that no one can ever hope to fully clean it up.
To this day, your divine conviction in your own self-love makes you kinda arrogant and a little bit of an asshole. Right now, as you're sitting in Cup A Joe in Raleigh finishing up this chapter and listening to "PYNK (ft. Grimes)" by Janelle Monáe, there are three teens who just came in and are being loud and taking up too much space at the table where you're sitting.
And because you are an arrogant, millennial asshole writing your book in a coffeehouse, all you can think is, Y'all need to go be annoying somewhere else. Can't you see that I'm doing the Lord's work right now? I am literally writing gospel.
Arrogant, divinely ordained, radical self-love is not always a flattering look, and it certainly doesn't make your life any easier.
But goddammit, is it ever fierce.
__________________________________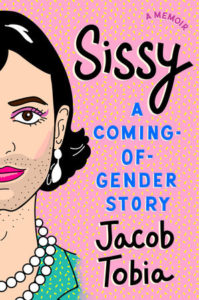 From Sissy. Used with permission of G.P. Putnam's Sons. Copyright © 2019 by Jacob Tobia.
---