So You Think You're Cool? On Referencing Pop Music in Fiction
Robert Haller on Nick Hornby, Jeffrey Eugenides, Zadie Smith, Jennifer Egan, and More
I was 14 or 15 when I became predictably insufferable about music. By which I mean: determined to like only music that had been deemed "good" or "cool" by some higher authority, and determined that at least some of my identity would be wrapped up in my "good taste." I already knew I wanted to be a writer—was writing constantly—but there was some small part of me that dreamed of being a rock star. Seeing as my fingers were too clumsy and uncoordinated to learn an instrument, seeing as I hated standing in front of crowds and didn't enjoy being the center of attention, even as a fantasy I knew it was pretty shaky. I loved music. I cared about music. But besides wearing T-shirts displaying the names of my favorite bands—in the age before Spotify playlists or Instagram stories—there was no way for me to express this devotion publicly.
So I remember the excitement I felt when I first picked up High Fidelity, Nick Hornby's 1995 novel about a sad-sack owner of a record store who is horrible with relationships but excels at compiling top five lists of his favorite B-sides. It was the first novel I'd read that was overtly about pop music, and I felt cool and sophisticated catching all the Lou Reed and Clash references (although, looking back, I probably wasn't all that sophisticated—I'm sure half the references went right over my teenage head).
After reading that novel, I began actively trying to employ and reference the music I loved in my stabs at writing fiction. I remember a certain song I was listening to would inspire a story, or a certain scene, and I would go about trying to make it work. And I remember after it was clear the music reference wasn't working, that after beginning the story it had taken off in another direction and simply didn't want to go that way anymore, I would struggle to make it work anyway. I was, of course, going about it all wrong.
Article continues after advertisement
I'm not going to name titles, but there are certain books I've read and films I've seen where it's quite obvious that particular passage or scene was written in service of the song it employs. As in: the story is built around the song instead of the other way around. It's like the writer or director was so intent on sharing the song with the audience, so hell-bent on having us listen, they'd do just about anything to squeeze it into the story. As a reader or viewer, this never fails to irritate me, probably because it's a mistake I used to make all the time when I first started writing.
Now, my fiction still tends to make pop music references. Lots of them. I'm not sure how many there are in my novel, Another Life, but catching all of them would probably make a decent drinking game. Over the years, though, I've learned to only use music when it will serve the story and the characters.
Here are 6 novels that reference pop music in interesting, effective ways.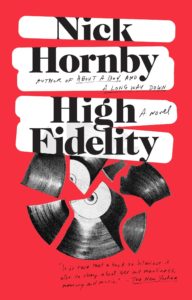 Nick Hornby, High Fidelity
Undoubtedly, this is still the first book many readers think of when it comes to pop music references in fiction. There are almost as many band references as there are pages, but Hornby gets away with it because of the nature of his narrator. Rob is such a music junkie that it's become the primary way he relates to other people. He's the sort of the narrator who will tell the reader his ex-girlfriends' top five recording artists but not their political or religious convictions. Part of the humor of the book is how much the reader is able to draw from Rob's insights. Turns out we can learn a lot about a character by knowing her favorite singer is Joni Mitchell. In one particularly funny scene, Rob reorganizes his record collection in the order in which he bought them, which he likens to writing his autobiography without picking up a pen. A major theme of High Fidelity is how much of our identities are wrapped up in the things we like.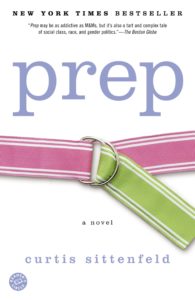 Curtis Sittenfeld, Prep
Music is deployed much more sparingly in Sittenfeld's Prep. The narrator, Lee, is a fourteen-year-old girl trying to navigate her way through the social hierarchies and complicated relationships of an elite prep school in the 1980s. Lee is not overly interested in music, and when she wears her dad's old T-shirt with the words "The Times They Are a-Changin,'" she isn't even aware of the reference until a classmate, Conchita, asks her if she's a Bob Dylan fan. Conchita ends up inviting Lee back to her dorm room to play her a few songs. Conchita's love for Dylan gives the reader some quick insight into her character—independent and freethinking—but Sittenfeld also uses the scene to say something about her narrator. Lee is not all that taken with most of the music, except for one particular song: "Lay Lady Lay," a song that is unusually tender and earnest for Dylan.
By simply employing this one song, Sittenfeld builds a bridge between the narrator and reader, and gives us a gateway into the longing and melancholy Lee experiences throughout the course of the narrative.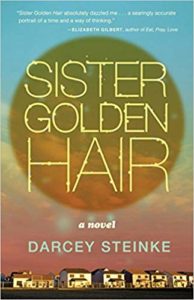 Darcey Steinke, Sister Golden Hair
In Darcey Steinke's Sister Golden Hair, music is one way she grounds the reader in a specific time and place. Set in the 1970s, Steinke's narrator, a girl named Jesse, has a deep love for music, but she lacks access. Times are hard for her family, and they live in rural Virginia, where Lynyrd Skynyrd and the Allman Brothers dominate the radio airwaves and teenage car stereos. Throughout the novel, bands such as these appear in the background of the action, amplifying Jesse's disconnection from the place she lives and the people around her. At night, she stays up listening to her transistor radio through headphones, praying that between the wall of ubiquitous southern rock the DJ will play Cher, (which Jesse says hearing at night is like a "religious experience"), David Bowie, or Elton John. That Jesse gravitates towards distinctive artists such as these, rather than the conventional fair of her area, speaks to her alienation and estrangement.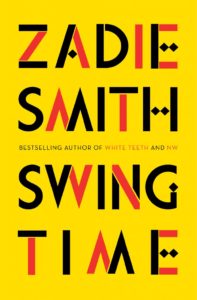 Zadie Smith, Swing Time
In Swing Time Zadie Smith employs an unnamed narrator who grew up in public housing in North London in the 1970s and 80s. During her childhood she falls in love with tap dancing and meets her best friend Tracey at a dance class; the two girls spend their time together watching old musicals on VHS—Fred and Ginger, Judy Garland. Numbers from these musicals make up the soundtrack to their childhood friendship. An early pivotal scene in the novel comes when the two girls see Michael Jackson's Thriller video on TV for the first time, and are introduced to a new way to dance. As they grow up, the two girls' friendship is severed, and in college, the narrator substitutes dancing to show tunes to the then contemporary music of Gang Starr, Nas, and NWA. As an adult, Smith's narrator gets a job as a personal assistant to a pop superstar named Aimee who bears some resemblance to Madonna. During the interview, Aimee asks the narrator who her favorite singers are, and the narrator lists Billie Holiday and Sarah Vaughan. "Real singers," she says, before stopping herself.
A novel that deals with memory, loss and the way people change, the narrator's vast and divergent music taste can be seen as one way Smith illuminates her character's conflicted feelings towards her past.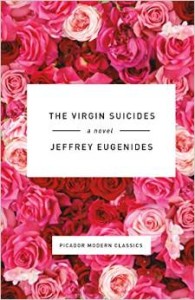 Jeffrey Eugenides, The Virgin Suicides
Jeffrey Eugenides's The Virgin Suicides is the story of five sisters who are effectively confined to their house by their overbearing, religious parents in the 1970s. Perhaps the most memorable passage in the novel (and similarly in Sofia Coppola's 1999 film adaptation) is when the neighborhood boys, who collectively narrate the story, play the girls records through the phone. While the sisters have been forced to burn most of their records, they still have a few inoffensive ones to respond with. A musical conversation ensues between the girls and boys involving the Beatles, Carol King, Simon and Garfunkel, and others. The novel is short on dialogue, but the songs chosen here by Eugenides gives the reader another, deeper sort of conversation.
Jennifer Egan, A Visit from the Goon Squad
Jennifer Egan's A Visit from the Goon Squad is a non-linear narrative that travels back and forth through space and time in a collection of interconnected stories. Music is one of the book's guiding forces, as one of the central characters is Bennie, a former punk rocker turned record executive. Rhea, a girl who knew and was in love with Bennie when they were young and he was in a band, narrates one of these interconnected stories. One night after a gig for Bennie's band, he, Rhea, and their friends are invited back to a music producer's apartment. The song "The Passenger" by Iggy Pop plays. It's the only song in the novel Egan chooses to quote lyrics from, and its prominence in the passage is there for a reason. One of the themes of the novel is how people are swept up and changed by the events around them; Egan's use of "The Passenger" underscores this idea.
*
A good writer can slip in the music into the narrative so that the reader can hear it in their head without even thinking. A good writer can give insight into their characters through the music they listen to. I'm a big fan of employing music in fiction. There's nothing better than picking up a book and finding you and your favorite character have similar tastes. But a writer needs to do it skillfully and with purpose. Otherwise, there's always those Spotify playlists to share.
__________________________________
Robert Haller's Another Life is out now from Blackstone Publishing.
---