So Many Damn Books Revisits Ali Smith's The Accidental
A "Backlist" Episode on This Week's So Many Damn Books
Drew won the annual Tournament of Books bet and chose Ali Smith for this year's "backlist" episode, so the guys read The Accidental in a nod to this fall's SuperRooster Tournament of ToB Champions. It's still pandemic times, too.
(NB: This episode was recorded in late May, just before police brutality protests went national. SMDB proudly stands with the protestors and we believe Black lives matter.)
A note at the top
Christopher: This episode is largely a regular episode but we wanted to start the show with an acknowledgement of what's going on in the world. We think of this show and of reading as a place of respite and comfort, but also books are where we can go to learn more about the world and ourselves. We stand in solidarity with the protests going on around the country.
Article continues after advertisement
Drew: And if you, like so many of us, are wondering what you can do, there are a thousand resources out there—but if you're looking for things in particular, we recommend donating to your local community bail fund, to the Black Visions Collective, to Reclaim the Block, to the Bail Project.
We also donated our last month's Patreon earnings to PEN America, the Food Issues Group, and the Emergency Release Fund. […] And remember that stories are one way that we can change the world and change people's minds.
Christopher: We hope you'll join us in doing what you can—and we hope you stay safe, stay strong.
*
What'd you buy?
Drew: Wild Milk by Sabrina Orah Mark // The Constant Rabbit by Jasper Fforde
Christopher: The Lightness by Emily Temple // Again Again by E. Lockhart // The List of Things That Will Not Change by Rebecca Stead
*
The Bet and the history of the Backlist Episode
Drew: As long-time listeners of the show will know, we do a bet every year during the Tournament of Books—is this the fourth year we've done this particular bit?
Christopher: It is.
Drew: Wow. Time flies. Anyway, whoever predicts the winner of the ToB gets to pick an author for us do to a Backlist episode on.
Christopher: It's how we got to Lonesome Dove by Larry McMurtry, we did a Jonathan Lethem book…
Drew: Yeah, Motherless Brooklyn. And we did Donna Tartt, The Little Friend. This year, in keeping with the fact that this fall will see SuperRooster Tournament of the sixteen winning Tournament of Books books, I've been meaning to re-read one of these books in particular, an author I've come to appreciate a lot in recent years who I didn't initially: Ali Smith.
Christopher: So we're talking The Accidental.
*
Why Drew chose The Accidental and a note on finding maturity
Drew: I re-read this book almost to the day from when I first read it eight years ago and I read it the first time because it'd won the ToB and I was trying to read all the winners… and in 2012, I fucking hated this book. Just loathed it.
Christopher: You used to run a book review website, Raging Biblioholism, and it's Drew trapped in amber—and that review is so funny. You were furious with it.
Drew: I had no patience. I was like "fuck this trying to do all these meta things"—I think I said something horrible like "lipstick on a pig" and that it was all flash, no substance. And I swore off ever reading another Ali Smith book.
Christopher: 2020 Drew has something to say to 2012 Drew…
Drew: Seriously! I took a chance maybe three years ago on reading Autumn, the first of her seasonal quartet, and… I mean, I think that quartet is one of the most amazing achievements of the 21st Century in literature. So I knew at some point I'd need to come back and re-read this books and… what an immature little shit-head I was.
*
This Episode's Recommendations:
Drew's pick: How to be an Antiracist by Ibram X. Kendi // pre-order Ring Shout by P. Djeli Clark
Cristopher's picks: Any snack subscription service // Any collected Peanuts or Moomin // getting a dog
*
This week's themed cocktail: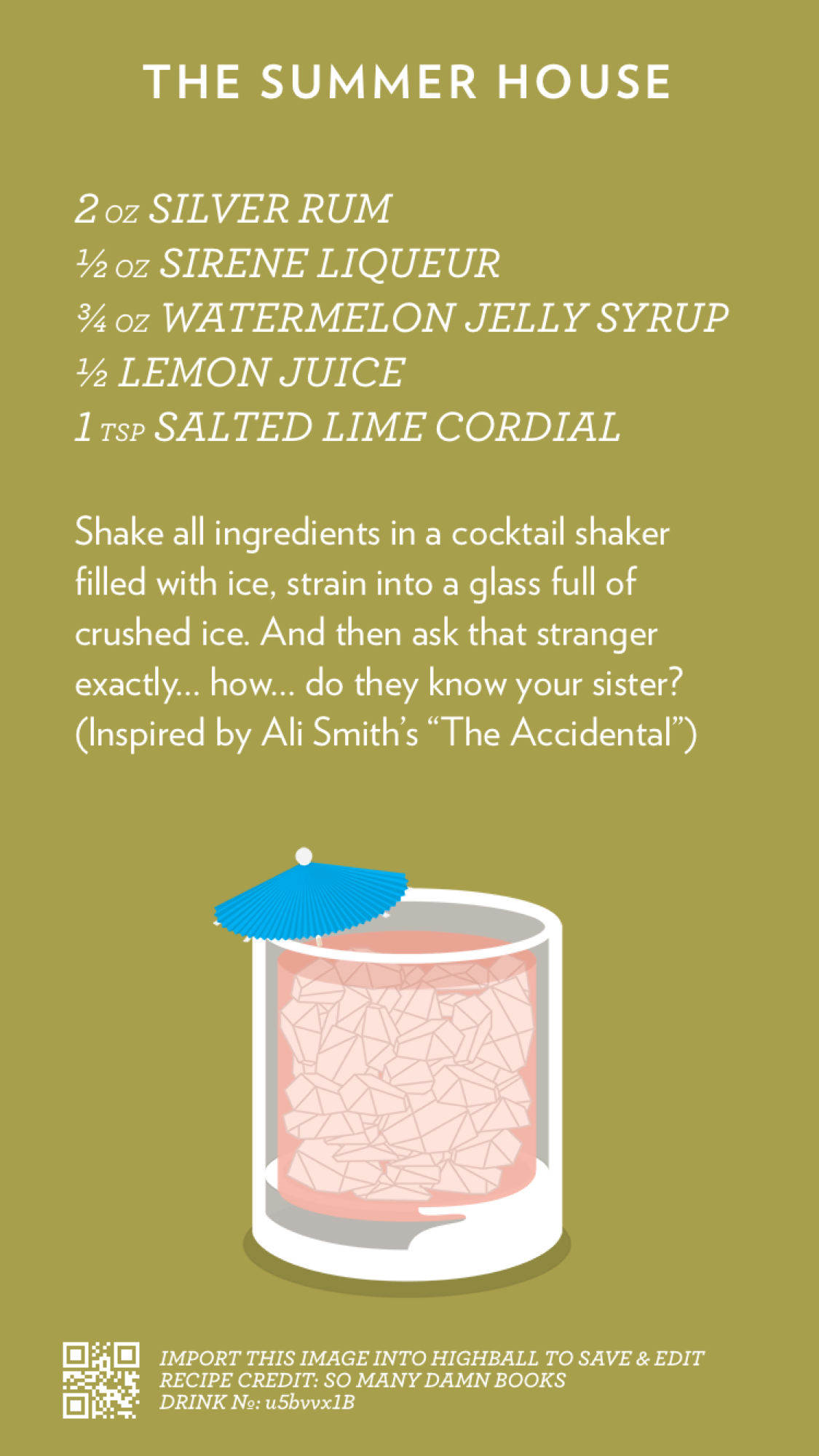 ---