So, Do Our Dogs Love Us?
Adam Rutherford and Hannah Fry Debate an Age-Old Question
Dogs have been part of our lives for tens of thousands of years. The science is not settled yet, but it's thought that dogs evolved from a form of wolf that is probably extinct, rather than from the lineage of present-day wolves. Our best theory for how this happened is that the less timid members of these packs began hanging around human settlements, receiving scraps and leftovers when food resources were hard to come by during the peak of the Ice Age.
We don't know exactly what these wolves looked like, but they were probably smaller than the wolves of today. We have contested evidence of ancient dogs from at least 36,000 years ago, and definitive bones from a burial site in Germany that is around 14,000 years old. The remains include a jawbone: the teeth are less crowded than a wolf's, the snout is shorter, which we think reflects selective breeding by humans to reduce aggression in them. We think that these dogs were used for hunting, as well as being companions; small, fast hounds could bound through forests too dense for us to navigate.
We domesticated dogs before we were farming, and they've been our best friends ever since. Modern versions of dogs are of course hugely varied and lovely; we've bred them over the last few centuries, and their changing facial anatomy is very obvious—from the snub nose of a pug to the achingly handsome, long face of a whippet, of whom the best-looking of all is Jesse Rutherford. Those faces, adorable as they are, have been bred by us, for looks, for function, or a bit of both. But we now know that we have inadvertently selected facial characteristics for the dogs to communicate with humans.
All dogs, from Cavachons to Rottweilers, have a muscle that allows them to move their eyebrows that is completely absent in wolves. The eyebrow movements of dogs generate what is known as paedomorphism, that is, looking like a young pup or even a baby, and this encourages us to empathize with and nurture them, as we would a baby. The sad look a dog can give you is part of a genetic repertoire that encourages you to love it. Puppy-dog eyes are our own creation.
We have also changed dogs' brains through breeding according to what we want from them. In 2019, scientists decided to apply some of the techniques we've been using on ourselves for years to have a look inside the heads of 33 dog breeds. Some areas correlated with guarding and some with companionship. Whippets, which are the best dogs, showed developed brain areas associated with sight and spatial movement. Cockapoos, which are also the best dogs, were not included in the study as they are a cross-breed, but poodles scored highly in terms of brain networks for olfaction and vision. All the dogs had highly developed areas of their brains for being very good boys or girls.
The sad look a dog can give you is part of a genetic repertoire that encourages you to love it. Puppy-dog eyes are our own creation.
Now, while we can't include an emotion as inscrutable as love in this, the selection preferences applied by us have made dogs capable of certain desirable behaviors, such as loyalty, companionship and affection.
So, back to the question: do our dogs love us? Science is not just about collecting data and analyzing it. Science is an ever-moving target. We lean into the truth, while simultaneously acknowledging that we don't ever reach it. Science is also an inherently social activity. It's as much about disagreement, discussion and argument as it is about data. A subject such as emotions, and the inner mental state of a dog, is opinion-rich yet data-poor, which means it is a fertile ground for debate. And this is a topic that your authors disagree with each other about, which is a rare but happy occurrence.
Adam: Because love—as defined in any way—is necessarily a human concept and can only be expressed by humans, the answer has to be no, Jesse does not love me. Only humans are capable of love because it is a human condition. The feeling that Jesse has for me is a dog feeling, and therefore ineffable to me. Until he learns to speak, he can't describe to me how he feels. We have selectively bred dogs over thousands of years and millions of generations to be loyal, useful and effectively to mimic children, but much more obediently, and his relationship with me is based upon safety and protection, and provision of food, treats and scritching.
Even though all these things nurture a behavior that resembles love in so many ways, that is the limit of what we can say about Jesse's feelings for me. He is, predictably, a maniac, but one with such charm and adorableness that he's impossible not to love, unless you are a cat. But in attempting to train this beautiful, joyous idiot I employ a strict reward system; it's clear to me that the love we share is heavily based on the small, chicken-flavored treats that now fill my pockets.
It is impossible to understand the inner experience of another human, but we agree through consensus the sense of tastes, or colors or emotions, or even what love feels like. We cannot establish a consensus with a dog, in the same way that we cannot know what is going on in his lovely little brain when he sniffs the balls of other dogs in the park. This is dog stuff, and whatever Jesse feels for me, that is dog stuff too.
Hannah: What an absolute load of nonsense. Of course Molly loves me. A child's relationship with their carer is also based on safety and protection, but it would be preposterous to propose that our love for our parents only engages once we develop the capacity for the language to express it.
Love is a two-way connection. It is biological vanity to define the action of loving by how it feels to experience it within a human body, rather than how it manifests itself outwardly, through the shared experience of loyalty, companionship and attachment. And by the latter metric, there is no doubt that dogs are entirely capable of love.
More importantly, even if Adam is right, this is a real-life situation akin to the philosophical thought experiment, known as the Chinese Room, in which a message, written in Chinese characters, is passed through a letter box into a sealed room. Inside the room is a person who composes meaningful responses, also in Chinese, and posts them back out. The conundrum is that with no way of looking inside the room, you cannot tell whether the person inside is fluent in Chinese or has no understanding and is simply googling how to respond so that the reply makes sense.
In the same way, even if Molly has no understanding of the messages of love that I give her, she gives the right response every time. A dog who possesses a brain that is capable of truly loving its owner is indistinguishable from one that is not. Therefore, we may as well believe that they do.
*
This conflict is in the file marked "To be continued." We cannot know what it is like to be another, be it cat, dog or human. What we agree on is that, though we disagree, it doesn't matter. Love is pretty difficult to pin down and define. Science's supremacy in understanding the universe is not best reflected in the study of love, and neither does it supply the best language to describe it. We are going for a walk with our respective pets and will leave this one to painters, pop stars and foppish poets.
_______________________________________________________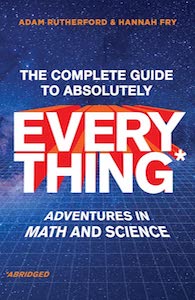 Excerpted from The Complete Guide to Absolutely Everything (Abridged). Copyright © 2022 by Adam Rutherford and Hannah Fry. Used with permission of the publisher, W. W. Norton & Company, Inc. All rights reserved.
---