Sixteen Words
By Nava Ebrahimi
At the Festival Neue Literatur, a Crash Course in Contemporary German Literature
Nava Ebrahimi will be appearing as a featured writer at The Festival Neue Literatur, March 23–25. The following is translated by Marshall Yarbrough.

Prologue
At first it was just a word. The word ambushed me, swift and cunning, like all these sixteen words. I had never once managed to fight back. Each time they forced their message on me anew: there is still this other language, your mother tongue, don't start to think the language you speak is your own. I was always at their mercy, these words that had nothing to do with my life, nothing to do with the way I lock my bike up every day, with how I order food in a restaurant or put my winter clothes away in the spring. They had nothing to do with my life, but nevertheless, or maybe even for that very reason, they took control of me, again and again.
On a sudden impulse, I would translate a word, and it was as if I had disarmed it. Why only now, why I'd never had the idea before, I can't say. Maybe I was afraid of facing the word in my other language, the word stripped bare. All at once it lost its power over me.
Maman-Bozorg
Cheers and applause reached my ears, muffled and distant. I opened my eyes. Dawn was breaking. The brass chandelier—there was one hanging in every room here—cast a shadow on the bedspread. I scrambled to get up, as if I'd overslept for an important appointment, and felt my way through the hallway to the living room. My grandmother sat in near darkness on the couch, lit up in bluish colors by the images on the television. She had turned the volume up so high that the casing rattled to the beat of the music. She snapped her fingers and moved her shoulders rhythmically forwards and back. A butterfly sparkled against the low-cut décolletage of her black blouse. With it she wore the pink terry cloth sweatpants she had gone to bed in.
"Come sit with me!" she cried, still moving back and forth.
"Maman-Bozorg, isn't it a bit too early for . . ." I didn't finish the sentence, just rubbed my eyes with both hands.
"It's evening in Los Angeles, and the gala has just begun. Nobody cares how early it is in Mashhad." She continued snapping to the beat.
I sat down next to her and watched her from the side. Her eyelashes were clumpy with mascara. Her lipstick ran off into the wrinkles above her mouth and formed a little red delta. She had powdered her face so much that the powder had collected in the creases on her forehead. She had always spent a lot of time doing herself up, but the older she got, the more it got out of hand.
On the television was an Iranian channel out of Los Angeles named Tapesh—"heartbeat." Three girls in short sequined dresses danced to Persian pop music, hopping around an old man in a tuxedo. I knew who he was, his name was Aref. The girls bounced around like they were playing hide and go seek in a wheat field. Aref acted like he didn't notice them. He sang of a woman, the ruler of his heart, who was slowly killing him with her coquettishness. My mother loved this song. For a long time she would put the cassette on several times a day, listen to it, rewind it, listen again, rewind again. The song fed longings of my mother's that to this day I still know nothing about. I would sometimes try to dance to it in front of the mirror, awkwardly twisting my little kid hips. I imitated Maman; when we went to see Iranian bands at concerts in Cologne, I would stand at the edge of the dance floor and watch her dance for hours. Watch her lithe hands drawing figures in the air, see her circling her hips, shimmying her shoulders. I fixed every detail in my memory.
Aref made a face like his heart was suffering under foreign occupation. Or maybe from the fact that he had been forced to sing this song for decades, first in Tehran cabarets, now on American sound-stages, as if nothing had changed, as if time had stood still.
"Her lipstick ran off into the wrinkles above her mouth and formed a little red delta. She had powdered her face so much that the powder had collected in the creases on her forehead."
Aref had barely finished singing the last syllable when the program was interrupted by a commercial for a workout gadget. American abs with a Persian voiceover. My grandmother seemed satisfied and fanned herself.
"Aref has captured all their hearts, but I'm the only one he loves. After his big New Year's show a couple of weeks ago he proposed to me from on stage. He told me I was a woman beyond compare and an excellent artist!"
She looked at me expectantly. Her eyes were shining. I avoided her gaze and stared at the screen, where the number to order the ab machine was flashing in red, 676881. The phone number of my friend Clara from elementary school had been 767881. That was the first number that I learned by heart. And it, unlike Clara, will be with me for the rest of my life.
I sensed that my grandmother was looking me over.
"Go comb your hair. You look like a beat-up hooker."
"Maman-Bozorg!"
"And put some tea on, please. I have to go on stage in a second and my mouth is so dry." She smacked her lips several times, and something popped. Probably her jaw was out of joint. "Dry as an old maid's kos."
On the stovetop were stacks of plastic containers from the kebab delivery place. Once, at this time of day, there would already have been lamb knuckle simmering in the pressure cooker. I filled a pot with black tea and put water on to boil. While I waited, I leaned against the countertop and closed my eyes. I was tired. Instead of ten p.m., as planned, the plane I had boarded in Istanbul hadn't landed in Mashhad until two in the morning. The plane had made several loops around the city; the mausoleum of Imam Reza shone many-colored in the darkness, and each time we passed it seemed close enough to touch, an open treasure chest. But then the pilot explained that he wasn't permitted to land in Mashhad and now had to fly to Tehran. Groans, sighs, muttering, finally people crying out from all directions.
"Maybe the weather is bad."
"Did it look like the weather was bad to you?"
"I was speaking with my mother on the phone earlier. She said the sky was clear."
"It's the middle of the night. The sky under your mother's bedspread might be clear."
"We shouldn't get off in Tehran. If we do we'll have to see for ourselves how we get to Mashhad."
"If you don't get off, they'll accuse you of being an enemy of the revolution."
"What's happening with the bodies on board?"
"What bodies?"
"Two bodies are being transported on this flight."
"I guess they've just been refused their burial rites."
"This stopover is our punishment for having a good time in Istanbul."
A few laughed.
We landed in Tehran. The plane sat there for a while without anything happening, then the engines started up again without any further announcement.
The kettle whined. I poured the boiling water into the pot and waited till it had turned the color of amber. I brought a glass to my grandmother, plus two sugar cubes. She held the glass up to the light of the rising sun.
"Just right, now's the time to marry. Or when were you thinking of getting married? At thirty?"
"Maman-Bozorg, I'm well past thirty now."
"Every woman says she's younger than she is, only you say you're older."
"Don't you remember? I was born before the revolution."
"Before what?"
She put a sugar cube in her mouth and sipped her tea, her gaze fixed on the television. A moderator with gelled-back hair told jokes about Ahmadinejad.
"Come now—you do have a khastegar, right? Or at least a boyfriend? No? You can't expect me to believe that. What's wrong with these German men? You're young, you live in azadi and you've got no man?"
She said that often, "You live in azadi," but there was nothing pathetic in her voice when she said it. She said it with a mix of curiosity and envy, and I had a sense early on that she imagined it as more exciting than it actually was, life in freedom.
"I had a khastegar once. He wanted me, but I didn't want to marry him."
I said it to calm her down. How was I supposed to give her any sense of what it was like to be single and in your mid-thirties in a Western metropolis? How was I supposed to explain something like fear of commitment to her? It already sounded ridiculous in German. Fear of getting too close emotionally. When someone runs away as soon as a relationship becomes more serious. In Persian it just wasn't possible. The language wasn't made for such nuances.
*
My grandmother would never have understood the truth about my German love life—after all, I barely understood it myself—and the sheer number of men I've slept with would have made her heart stop on the spot. So I thought at least.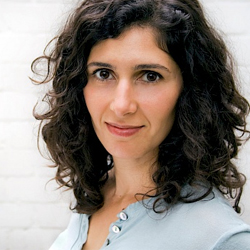 About the Author
Nava Ebrahimi was born in Tehran in 1978. She studied Journalism and Economics in Cologne, Germany. Following her studies, she worked as an editor for The Financial Times Germany and as a Middle East consultant for the German Office for Foreign Trade. Ebrahimi has published short stories in anthologies and magazines. In 2007, she reached the finals at the "Berlin Open Mike," the most important young author's competition in German-speaking Europe. She was also part of the class of 2013 at Bavaria's Writing Academy.
Her first novel, Sixteen Words, received the Austrian Book Prize for the best debut of 2017. Nava Ebrahimi lives with her family in Graz, Austria, and is currently writing her second novel.
---