Six Novels to Widen Your View of Wales
Beyond the Religious Zeal, Noble Drunks, and "Ugly, Lovely" Towns
For many readers, the idea of Wales has been defined by a small handful of voices. In truth, for most, by the voice of Dylan Thomas. Don't get me wrong. That's an astonishing voice by any standard. But it's one. Add this to the saccharin mawk of Richard Llewelyn's How Green Was My Valley, throw in a scattering of "boyos" and a rugby ball and. Well. You get my point. Wales exists in the mind of most as a sentiment. A sing-song site of slipping youth, of "ugly, lovely" towns, slightly comedic religious zeal, and noble drunks.
Wales, though, is not one thing. (And rarely that thing). The country is geographically small, but the terrain changes dramatically from region to region. As if a far wider country has been compressed in the hands of a giant. Its people, and the relationship they have with "Welshness," are as varied as this landscape.
So! In an effort to dismiss notions of valleys filled with hymns and arias, home fires kept burning, and wistful looks across lush pasture, here are six novels to knock your ideas of Wales about a bit.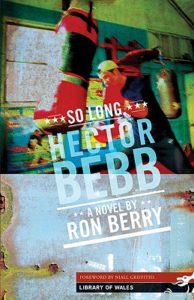 Ron Berry, So Long, Hector Bebb
(1970)
It's incomprehensible to me that I didn't know this masterpiece until my thirties. (For reference, ten or so years ago). It just wasn't on anyone's shelves. Thanks to The Library of Wales project, and the commitment to keep classic works of Welsh writing in print, that, I hope, will change. I read this book and was dumbfounded. Punch drunk.
Berry builds his sparse, uncompromising story of a Valley's boxer from 14 interior monologues. An astonishing technical achievement that bludgeons English into all sorts of mess and leaves the language bloody-nosed and reeling. The narrative is utterly free of bullshit working class valor, throbbing instead with a determined kind of realism without judgement. It lands big, swinging hits, but mostly it's the footwork in the writing, and the in-your-face humanness of it that makes it so incredible.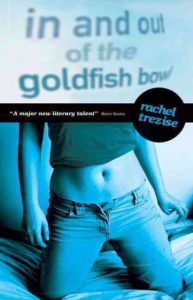 Rachel Trezise, In and Out of the Goldfish Bowl
(2000)
Trezise is one of the most startling voices writing in Wales today, and her debut made it loud and clear she would be. Set in the same region as Berry's novel, this is a story of abuse and the mechanisms for getting through it. But while the teenage girl at the centre of the story finds ways to cope against a backdrop of alcoholism, dysfunction, and exploitation, the society into which the story is bedded cannot.
This gives the book its key power. And it's heartbreaking. That individuals are able to rebuild themselves, to suppress things that could break them; but meanwhile, community—stripped of purpose and, most destructively, stripped of choice—cannot. It's an extraordinary novel and vital to any understanding of post-industrial 1990s Wales.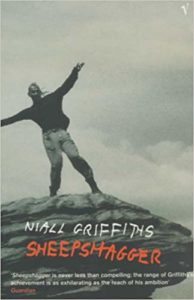 Niall Griffiths, Sheepshagger
(2001)
There are more than 10 million sheep in Wales, and 3.8 million people. Therefore we have sex with sheep. So goes the joke. But you wouldn't want to make that joke to the wrong person. Certainly not to Ianto, the central character of Griffiths' resounding second novel, bent on reclaiming his ancestral home, his grandmother's once near-derelict cottage now renovated by Yuppies as a weekend retreat.
Ianto is a troll under the bridge. Dispossessed, druggy and near-derelict himself. It's a violent story, told through feral, vernacular voices (influenced, as the author acknowledges, by Ron Berry's approach) that brutalises the bucolic ideal of incomers here to buy second homes.
Holiday cottages were burned to the ground in Wales in the 70s and 80s, and the Cambrian mountains, setting for the book, were the scene of Operation Julie, one of Britain's biggest ever drugs busts. Given that, this reads as a fable, a culmination. A sort of desperate last Act.
Stephen Gregory, The Cormorant
(1986)
The dream of (escaping the rat race and moving to) a Welsh cottage is also a fulcrum in Gregory's novel, tipping characters into one of the most extraordinary stories I've read for years. A couple are bequeathed a house in North Wales with the proviso they take on the care of the dead uncle's cormorant. It's as insane and uneasy as it sounds. To say any more will diminish the effect.
Gregory sets the elements of his Somerset Maugham Award-winning book at odds with each other, yet somehow manages utter coherence. Man against nature, (both bird v. human and industry v. landscape); incomer and local, (foreign/bird and native/human); history (marital relationship/medieval castle) and change (infant child/distraught industry). The more I try to pin down what exactly this book is, the more flighty it gets. I give up. Just read it.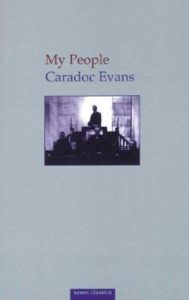 Caradoc Evans, My People
(1915)
Published in 1915, Evans's dark, viciously wrought collection pours vitriol on the rural Welsh-speaking Cardiganshire community in which he grew up. Evans's father died when he was four, and his mother was left to work their tenant farm in extreme poverty, bringing up five children. By all accounts, horribly treated by the local congregation. The stories Evans wrote in revenge made him "the best hated man in Wales."
He drew ire, not just for the searing portrayal of characters and events, which he claimed were based on truths, but—as many saw it—for making Welsh people sound backward, (chiefly achieved by bending spoken English to Welsh rules in his dialogue). To make matters worse, the English loved him. Critics compared him with Zola and Joyce, but more than a hundred years on, his name still raises hackles at home.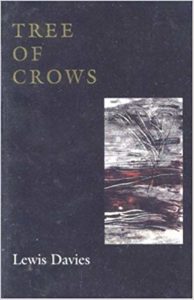 Lewis Davies, Tree of Crows
(2003)
In this Ballardian myth, Davies paints a future that casts us somehow backward, to Frontier times, medieval marketplaces and prehistoric rage. The very rock of the story is shot through with myth, and laden with characters haunted by more than their eyes can see. Meanwhile, an Orwellian News bureau marshals the truth. A figment of the imagination tears sheep apart. A blind man hunts for crystals in the rock. And towering over all of it, the High Vans—the bleak, immovable landscape of the mountains.
One of the best descriptions of the book could be lifted from a rant by poet R.S. Thomas, that despite it being in the future, "There is only the past, Brittle with relics, Wind-bitten towers and castles, With sham ghosts; Mouldering quarries and mines; And an impotent people, Sick with inbreeding, Worrying the carcase of an old song." With that, the story can almost be seen as a continuation of Wales's earliest prose inheritance, The Mabinogion.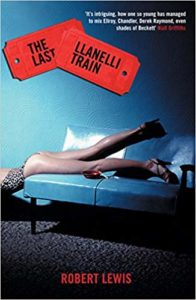 Robert Lewis, The Last Llanelli Train
(2005)
In this riotous noir crime thriller, Lewis's down-at-heel gumshoe Robin Llewelyn has escaped across the border to Bristol from a Wales and a past that sucks, and now threatens to suck him back. It's easy to say this darkly humorous, sometimes sordid, sad bright book is Chandler-esque, but the only thing that's slick is the slope Llewelyn's on. His wisecracks don't leave the gun, backfiring instead in his own mind, barrelling him into drink, self-defeatism and sexual disgrace. And it's only the first book of a trilogy.
Addiction and melancholy, the struggle to repent, and ultimately to pin down an identity he can only just hang on to. I can't help but feel the central character might just be a little like Wales is sometimes.
---